The Sexiest Movies on Netflix
Netflix has the uncovered covered.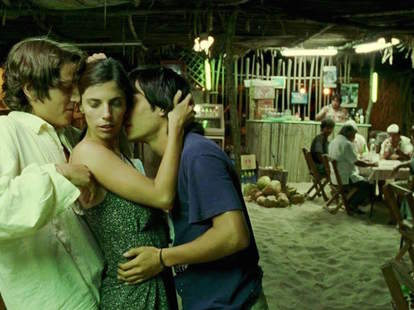 Naked bodies can be pretty easy to find on the internet. But some of us like our skin flicks to have a great story, and enjoy watching arty movies that are equal parts hot and highbrow. For films that are vaguely challenging to the mind and very easy on the eyes -- which are best enjoyed from the comfort and privacy of your own home -- Netflix has the uncovered covered.
These titles run the gamut from sad-movie-with-one-super-spicy-scene to we-know-you're-fast-forwarding-through-most-of-this, so sit back, pour yourself a nice glass of wine, and steam up your streaming queue -- and don't worry, it's easy to clear your viewing history when you're done.
A24
American Honey (2016)
Writer/director Andrea Arnold lets you sit shotgun for the travels of a group of wayward youth in American Honey, a seductive drama about a "mag crew" selling subscriptions and falling in and out of love with each other on the road. Seen through the eyes of Star, played by Sasha Lane, life on the Midwest highway proves to be directionless, filled with a stream of partying and steamy hookups in the backs of cars and on the side of the road, especially when she starts to develop feelings for Shia LaBeouf's rebellious Jake. It's an honest look at a group of disenfranchised young people who are often cast aside, and it's blazing with energy. You'll buy what they're selling. 
Focus Features
Anna Karenina (2012)
Adapted by renowned playwright Tom Stoppard, this take on Leo Tolstoy's classic Russian novel is anything but stuffy, historical drama. Keira Knightley, Jude Law, Aaron Taylor-Johnson, Domhnall Gleeson, and Alicia Vikander are all overflowing with passion and desire, heating up the chilly backdrop of St. Petersburg. But it's director Joe Wright's unique staging -- full of dance, lush costuming, fourth-wall-breaking antics, and other theatrical touches -- that reinvent the story for more daring audiences.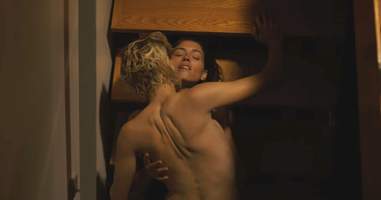 Gunpowder & Sky
Below Her Mouth (2016)
One review for this light-weight, Canadian romance, which played the prestigious Toronto Film Festival back in 2016, describes the film as giving "cinematic voice to the female orgasm." The story's nothing new -- curious girl meets confident girl, whirlwind romance, sex galore, and plenty of introspection. Directed by April Mullen, Below Her Mouth is the rare erotic drama that give the female gaze its due.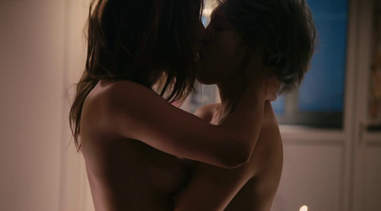 IFC Films
Blue Is the Warmest Color (2013)
While best remembered for its stamina-filled, seven-minute sex scene, this movie features Léa Seydoux and Adèle Exarchopoulos figuring stuff out (about their bodies, about themselves) in the most exciting, French way possible. It does a pretty good job of destroying you with its love story, too. If you're unaware of the seedy logistics of how these scenes were produced, stay innocent and watch with fresh eyes.
Scree Gems/Sony Pictures Releasing
Burlesque (2010)
Burlesque stars Christina Aguilera opposite Cher, and the two work in a classy, old school LA burlesque joint -- which is basically all you need to sell this sizzling contemporary musical. But Burlesque really is a showstopper. The movie follows Aguilera's small-town girl journey to try to make it big in Hollywood, having her own "a star is born" moment when she gets a gig at Cher's burlesque club where she decides to actually sing during her act instead of the traditional lip-syncing. There's a couple romances that play out, but they're all secondary to the film's extravagant production of glitzy costumes, seductive choreography, and confident sex appeal that revitalizes the sultry art form.   
Netflix
Cam (2018)
Unlike the Unfriended films or this summer's indie hit Searching, this web thriller from director Daniel Goldhaber and screenwriter Isa Mazzei isn't locked into the visual confines of a computer screen. Though there's plenty of online screen time, allowing for subtle bits of commentary and satire, the looser style allows the filmmakers to really explore the life and work conditions of their protagonist, rising cam girl Alice (Madeline Brewer). We meet her friends, her family, and her customers. That type of immersion in the granular details makes the scarier bits -- like an unnerving confrontation in the finale between Alice and her evil doppelganger -- pop even more.
RADiUS-TWC
Concussion (2013)
No, not the 2015 Will Smith biopic about the doctor who brought the devastating consequences of brain trauma in the NFL into the national awareness. The first, and better, Concussion stars Robin Weigert as a woman who suffers the titular concussion and subsequently becomes a sex worker with an all-woman clientele. Pretty sure that's not one of the effects of a concussion, but you can suspend disbelief for a bit to enjoy Maggie Siff's excellent turn as client #6. 
The Orchard
Duck Butter (2018)
Alia Shawkat and Miguel Arteta's Duck Butter relies on a simple premise: What if a couple had sex every hour on the hour for 24 hours? Shawkat appears in the indie comedy as one half of the pair doing the deed non-stop, opposite Laia Costa, as the two women decide to take up the spontaneous experiment of sorts when they decide they're fed up with millennial dating. While limited in its basic plot, the rawness and humanity of the film can't be contained by the humble four walls it largely takes place in.
Wild Bunch
Love (2015)
Threesomes. Blowjobs. Bathroom-stall fucks. Entangling in every position known to mankind. Gaspar Noé's Love made headlines for featuring loads of unsimulated sex, but there's tenderness at the center of this erotica, too, following a man who ruins his passionate romance with a fling, then finds himself in a noir-like search for his missing ex. Noé tracks the nonlinear timeline through spurts of graphic commingling, and wrings absorbing performances out of his unknown cast. Love is the definition of provocative drama and someone will absolutely judge you if they catch you watching it.
Lost City
Newness (2017)
Nicholas Hoult and Laia Costa are two absurdly attractive people who look absurdly attractive when they get together, which is what happens in Newness. As the title suggests, however, the new relationship shine begins to wear off, and the couple decide to search for that elusive sense of... newness. That means strippers, open relationships, and lots of blowout fights. Newness has an overriding melancholy tone that colors the portrayal of sex in a contemporary, dating-app-driven world, which gives substance to a story you've probably heard before.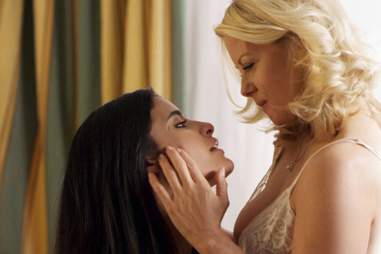 Wolfe Releasing
A Perfect Ending (2012)
In a porn trope as old as time, a woman who has never achieved orgasm before gets with a call girl who rocks her world. It's a staple of Netflix's own "Steamy" section, in case you prefer euphemisms, and it never shies away from its identity as superficial fantasy fulfillment. That's not a bad thing!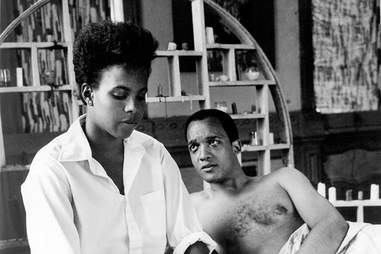 Island Pictures
She's Gotta Have It (1986)
Before checking out Spike Lee's Netflix original series of the same name, be sure to catch up with where it all began. Nola (Tracy Camilla Johns) juggles three men during her sexual pinnacle, and it's all working out until they discover one another. She's Gotta Have It takes some dark turns, but each revelation speaks volumes about what real romantic independence is all about.
FilmRise
White Girl (2016)
Inspired by writer/director Elizabeth Woods' own experience, White Girl plays like a high-dose rush of dopamine. The film examines how far the naive will go for passion, seen through the eyes of one college student who spirals out of control and begins dealing cocaine. From excessive partying binges to rooftop hookups, this sexy indie film shocks and awes in the dangerous, youthful habits it explores, all the while taking a critical look at whiteness and privilege. It's hot, but it'll burn you, too. 
IFC Films
Y Tu Mamá También (2001)
Before taking us to space with Gravity, director Alfonso Cuarón steamed up screens with this provocative, comedic drama about two teenage boys (Diego Luna and Gael García Bernal) road trippin' it with an older woman (Maribel Verdú). Like a sunbaked Jules and Jim, the movie makes nimble use of its central love triangle, setting up conflicts between the characters as they move through the complicated political and social realities of Mexican life. It's a confident, relaxed film that's got an equal amount of brains and sex appeal. Watch this one with a friend -- or two.
Next Films
365 Days (2020)
For every arty erotic film, there's a whole lot of trashy streamy movies -- and that trash tends to thrive once it finds a home on Netflix. The Polish movie 365 Days is one of those movies, becoming extremely popular among horny people everywhere when it made its streaming debut. The movie plays like Fifty Shades of Grey meets Beauty and the Beast meets The Room meets softcore pornography. The whiff of a plot -- which is mostly just there to get to the sex scenes -- finds a Silician mobster named Massimo (Michele Morrone) taking a young Polish woman Laura (Anna-Maria Sieklucka) prisoner while she's on vacation and giving her 365 days to fall in love with him. The problematic romance based on Blanka Lipińska's book series is corny as hell, objectively sexist, and extremely explicit. But, hey, if you're looking for a bare-boned sexy flick, it'll definitely do the trick!
Need help finding something to watch? Sign up here for our weekly Streamail newsletter to get streaming recommendations delivered straight to your inbox.