Naked bodies can be pretty easy to find on the internet. But some of us like our skin flicks to have a great story, and enjoy watching arty movies that are equal parts hot and highbrow. For films that are vaguely challenging to the mind and very easy on the eyes -- which are best enjoyed from the comfort and privacy of your own home -- Netflix has the uncovered covered.
These titles run the gamut from sad-movie-with-one-super-spicy-scene to we-know-you're-fast-forwarding-through-most-of-this, so sit back, pour yourself a nice glass of wine, and steam up your streaming queue -- and don't worry, it's easy to clear your viewing history when you're done.
Recommended Video
Surviving Marvel's 59-Hour Movie Marathon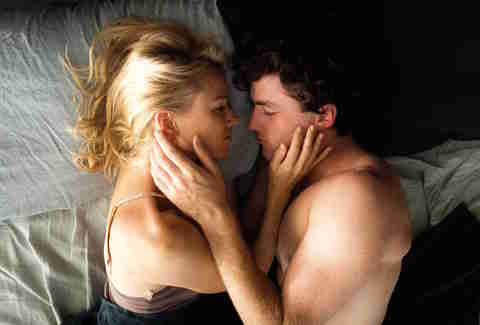 Adore (2013)
Thank goodness for Netflix: This movie came out in 2013, and some of us felt a little too judged to hand our tickets to the theater attendants. Most critics agreed that Naomi Watts' and Robin Wright's characters having sex with each other's sons was too eyebrow-raising to truly work (and raised a lot more questions we didn't want to think about), but it's still a fascinating idea. Watch these moms stare hungrily at the boys' beach bodies: They resist at first, then surrender, then keep surrendering. Bonus points for the lush scenery and ample butt-shots.
Below Her Mouth (2016)
One review for this light-weight, Canadian romance, which played the prestigious Toronto Film Festival back in 2016, describes the film as giving "cinematic voice to the female orgasm." The story's nothing new -- curious girl meets confident girl, whirlwind romance, sex galore, and plenty of introspection. Directed by a woman, April Mullen, Below Her Mouth is the rare erotic drama that give the female gaze its due.
Blue Is the Warmest Color (2013)
While best remembered for its stamina-filled, seven-minute sex scene, this movie features Léa Seydoux and Adèle Exarchopoulos figuring stuff out (about their bodies, about themselves) in the most exciting, French way possible. It does a pretty good job of destroying you with its love story, too. If you're unaware of the seedy logistics of how these scenes were produced, stay innocent and watch with fresh eyes.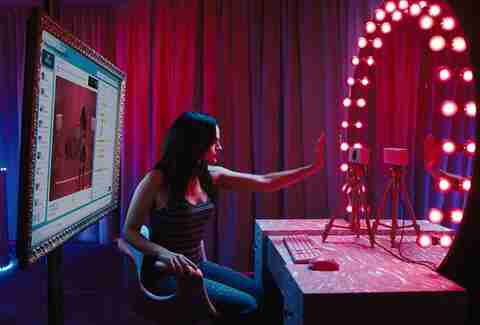 Cam (2018)
Unlike the Unfriended films or this summer's indie hit Searching, this web thriller from director Daniel Goldhaber and screenwriter Isa Mazzei isn't locked into the visual confines of a computer screen. Though there's plenty of online screen time, allowing for subtle bits of commentary and satire, the looser style allows the filmmakers to really explore the life and work conditions of their protagonist, rising cam girl Alice (Madeline Brewer). We meet her friends, her family, and her customers. That type of immersion in the granular details makes the scarier bits -- like an unnerving confrontation in the finale between Alice and her evil doppelganger -- pop even more.
Concussion (2013)
No, not the 2015 Will Smith biopic about the doctor who brought the devastating consequences of brain trauma in the NFL into the national awareness. The first, and better, Concussion stars Robin Weigert as a woman who suffers the titular concussion and subsequently becomes a sex worker with an all-woman clientele. Pretty sure that's not one of the effects of a concussion, but you can suspend disbelief for a bit to enjoy Maggie Siff's excellent turn as client #6. 
Love (2015)
Threesomes. Blowjobs. Bathroom-stall fucks. Entangling in every position known to mankind. Gaspar Noé's Love made headlines for featuring loads of unsimulated sex, but there's tenderness at the center of this erotica, too, following a man who ruins his passionate romance with a fling, then finds himself in a noir-like search for his missing ex. Noé tracks the nonlinear timeline through spurts of graphic commingling, and wrings absorbing performances out of his unknown cast. Love is the definition of provocative drama and someone will absolutely judge you if they catch you watching it.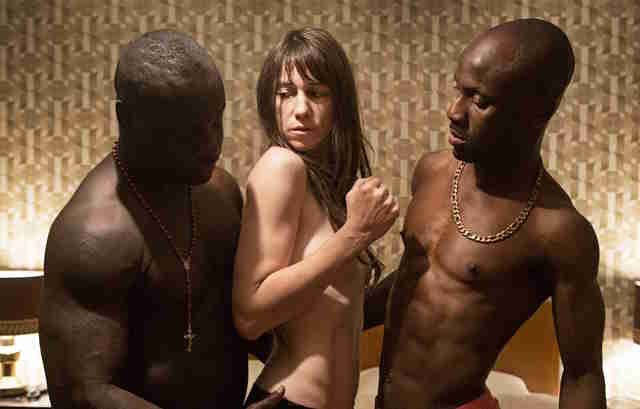 Nymphomaniac Vol. 1 & 2 (2013)
Provocateur Lars von Trier (Antichrist, Melancholia) made headlines for filling his orgastic opus with unsimulated sex. While the four-hour-long journey is filled with explicit scenes -- everything from train-car blow jobs to threesomes to fetish whipping where a riding crop takes care of the stimulation -- von Trier has more on his mind than pornographic subversion. His sardonic Nymphomaniac questions sexuality, the roles of men and women in one another's lives, and storytelling on a macro level. The movie's a triumph -- and not just for those who dreamed of seeing Shia LaBeouf thrust on camera.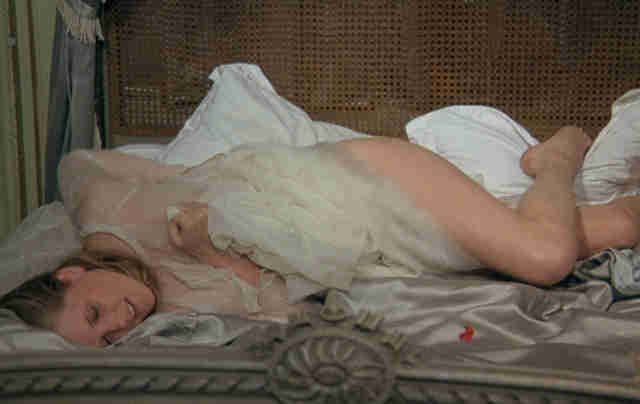 Immoral Tales (1973)
The first sentence of Polish director Walerian Borowczyk's New York Times obituary describes him as "a genius, a pornographer and a genius who also happened to be a pornographer," and in Immoral Tales, you can see why. The film is assembled from four shorts, each one diving into taboo subjects (virginity, masturbation). Borowczyk's movie is difficult to classify: Part supernatural allegory, part realist bacchanalia, the film is sacrilegious in the loudest, proudest way. It is called Immoral Tales, after all.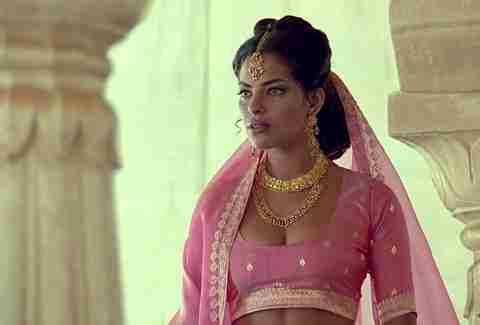 Kama Sutra: A Tale of Love (1996)
Set in 16th-century India, this intoxicating drama from Mira Nair (Monsoon Wedding, Queen of Katwe) follows a young woman named Maya (Game of Thrones' Indira Varma), a servant to a princess who strikes up a fiery romance with her future prince (LOST's Naveen Andrews). When politics mangle the relationship, Maya is cast away, only to find solace in the ancient arts of the Kama Sutra, which hones her already keen sense of sexual allure. Nair's clear priorities with the film are to make every second as sensual as possible. With lush photography and beautiful people in front of her, she makes a movie that lives up to the title.
Sex and Lucia (2001)
Dreams, reality, and the fiction of a page-turner collide in this sensual drama, about a distraught waitress and and a struggling writer. The two are lovers, commingling against gorgeous backdrops, but what is real and what is imagined? Hard to say, even after a couple of viewings, but director Julio Medem wants you to lose yourself to the heat of the situation.
Y Tu Mamá También (2001)
Before taking us to space with Gravity, director Alfonso Cuarón steamed up screens with this provocative, comedic drama about two teenage boys (Diego Luna and Gael García Bernal) road trippin' it with an older woman (Maribel Verdú). Like a sunbaked Jules and Jim, the movie makes nimble use of its central love triangle, setting up conflicts between the characters as they move through the complicated political and social realities of Mexican life. It's a confident, relaxed film that's got an equal amount of brains and sex appeal. Watch this one with a friend -- or two.
Sign up here for our daily Thrillist email, and get your fix of the best in food/drink/fun.