Naked bodies can be pretty easy to find on the internet. But some of us like our skin flicks to have a great story, and enjoy watching arty movies that are equal parts hot and highbrow. For films that are vaguely challenging to the mind and very easy on the eyes -- which are best enjoyed from the comfort and privacy of your own home -- Netflix has the uncovered covered.
We know you've already caught the, er, harrowing tale of sexual awakening that is Lars von Trier's Nymphomaniac Parts 1 and 2, so here are 10 sexy suggestions for what to watch next. These titles run the gamut from sad-movie-with-one-super-spicy-scene to we-know-you're-fast-forwarding-through-most-of-this, so sit back, pour yourself a nice glass of wine, and steam up your streaming queue -- and don't worry, it's easy to clear your viewing history when you're done.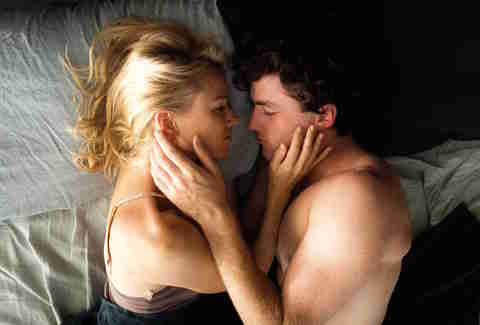 Adore
Thank goodness for Netflix: This movie came out in 2013, and some of us felt a little too judged to hand our tickets to the theater attendants. Most critics agreed that Naomi Watts' and Robin Wright's characters having sex with each other's sons was too eyebrow-raising to truly work (and raised a lot more questions we didn't want to think about), but it's still a fascinating idea. Watch these moms stare hungrily at the boys' beach bodies: They resist at first, then surrender, then keep surrendering. Bonus points for the lush scenery and ample butt-shots.
Blue Is the Warmest Color
While best remembered for its stamina-filled, seven-minute sex scene, this movie features Léa Seydoux and Adèle Exarchopoulos figuring stuff out (about their bodies, about themselves) in the most exciting, French way possible. It does a pretty good job of destroying you with its love story, too. If you're unaware of the seedy logistics of how these scenes were produced, stay innocent and watch with fresh eyes.
Atonement
This WWI love story is kind of a downer, but its sex scene cannot be denied. You instantly believe that Keira Knightley and James McAvoy's love will last forever -- barring some weird circumstance where a little girl lies about McAvoy and he ends up going to jail and getting shipped off to war, of course. Really, this sex scene, though. The passion, the longing, the library... what more could you want? Perhaps that famous green dress, so vibrant in HD?
Love
Not to be confused with Netflix's adorkable rom-com series, Gaspar Noé's erotic drama has so. Much. Sex. Like, literally everything you could imagine. However much you're imagining? Multiply that by 10. The film originally screened in in-your-face 3D, and loses some of that overwhelming effect on your laptop, but there's still a whole lot of fun, sexy times left over. I could tell you the plot, but… come on, no one's here for the plot.
Weekend
Russell and Glen meet at a club and then go home with each other. It's a simple start to an incredibly romantic, moving, and lovely film -- one of the best LGBT stories on Netflix. As the two grow closer over the span of a weekend, they confide more and more in each other, and go on to have more and more intimate sex. It's the kind of movie that both titillates and inspires: the perfect combo.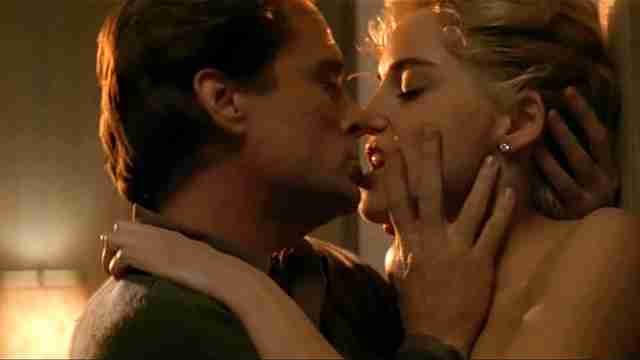 Basic Instinct
That icepick, though! Sharon Stone stars as Catherine Tramell in this erotic thriller with one of the most famous leg-crossing and uncrossings in history. You also might remember the mirror above the bed, or, again, the violent icepick scene that, honestly, is something those cowgirls in Westworld should try.
Y Tu Mamá También
Before he becomes the internet's new boyfriend with Rogue One, check out Diego Luna in a very memorable three-way. Director Alfonso Cuarón (Gravity) is always batting a thousand, and this coming-of-age tale is no exception. Come for a young Gael García Bernal, stay for one of the sultriest kisses you'll ever experience.
Room in Rome
Alba's a lesbian and Natasha's ready to be seduced in this short, sexy movie that feels sprung directly from somebody's sexual fantasy. It's confined mostly to one room and one night. The scenes are pretty varied erotically, and the conversation frank; plus, it prominently features someone gripping a bed frame for dear life. Classic move!
A Perfect Ending
In a porn trope as old as time, a woman who has never achieved orgasm before gets with a call girl who rocks her world. It's a staple of Netflix's own "Steamy" section, and if that title isn't a, um, ace in the hole, I don't know what is.
Sign up here for our daily Thrillist email, and get your fix of the best in food/drink/fun.
Other Stuff You'll Like In Stream On