The Sexiest Movies on Netflix
Netflix has the uncovered covered.
'365 Days'

| Next Film
'365 Days'

| Next Film
Naked bods are pretty easy to find on the internet. But some of us like our skin flicks to have a great story that doesn't start with a pizza delivery man ringing a lady's doorbell, and enjoy watching arty movies that are equal parts hot and highbrow. For films that are vaguely challenging to the mind and very easy on the eyes—which are best enjoyed from the comfort and privacy of your own home—Netflix has the uncovered covered.
These titles run the gamut from sad-movie-with-one-super-spicy-scene to we-know-you're-fast-forwarding-through-most-of-this, so sit back, pour yourself a nice glass of wine, and steam up your streaming queue—and don't worry, it's easy to clear your viewing history when you're done.
ALSO READ: Our round-ups of the sexiest movies on HBO Max and the sexiest movies on Amazon Prime
After (2019)
Like Fifty Shades of Grey before it, After is a super-popular series that began as a piece of fanfiction. Anna Todd's book-turned-movie isn't inspired by Twilight, though—no, this one originated as a fantasy about Harry Styles on Wattpad. That should tell you more than you need to know about After, which is by no means a good movie, but if hotness is what you're looking for, just know this one's made headlines for more than a few of its intimate scenes. Following innocent, college freshman Tessa (Josephine Langford) and her relationship with brooding, campus bad boy Hardin (Hero Fiennes Tiffin), it's got some questionable messages about toxic masculinity and power dynamics, but it sure does capture the excitement and scandal of early sexual experiences.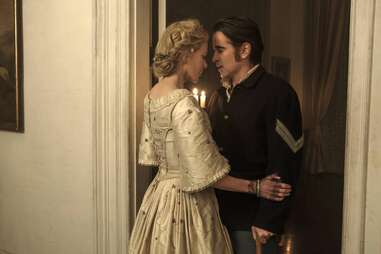 The Beguiled (2017)
This Sofia Coppola remake of the 1971 Clint Eastwood-Geraldine Page drama returns to the Farnsworth seminary, a haven for proper young women avoiding the corruption of Civil War. Tucked away in the mist-swept backwoods of Virginia, the disciples of Miss Farnsworth (Nicole Kidman) live regimented days, a strain of well-intentioned repression eventually imploded by the arrival of John McBurney (Colin Farrell), an injured Union corporal. Hospitable to a fault, Farnsworth and her girls tend to the soldier, who draws out their carnal hunger (no one can resist Farrell's chest hair) before lashing out with his own animal instincts. Simple, stylish, and threaded together from the quirks of female and male behavior, The Beguiled is a sexual Southern Gothic fairy tale that is wisely more humid than hot.
By the Sea (2015)
Written and directed by Angelina Jolie, By the Sea stars the filmmaker and her then-husband Brad Pitt as a couple in the '60s staying off the coast of France. As you can presume, it's a beautiful film to look at, and a spectacle for those fascinated by the relationship that ran the tabloids in the '00s. The excitement of their affair isn't there, though. This is a movie about a love fallen flat and the depression at the core of that (which is especially bleak, considering the couple called it quits just a year after the movie's release). Ripe with sexual tension, voyeurism, and a hot French couple staying next door, it recalls the moody, sensual French films of the '70s, though—so if you're the type that needs a bit of artiness with your sexy streaming choice, By the Sea is exactly that.
Cam (2018)
Unlike the Unfriended films or the indie hit Searching, this web thriller from director Daniel Goldhaber and screenwriter Isa Mazzei isn't locked into the visual confines of a computer screen. Though there's plenty of online screen time, allowing for subtle bits of commentary and satire, the looser style allows the filmmakers to really explore the life and work conditions of their protagonist, rising cam girl Alice (Madeline Brewer). We meet her friends, her family, and her customers. That type of immersion in the granular details makes the scarier bits—like an unnerving confrontation in the finale between Alice and her evil doppelganger—pop even more.
Chloe (2009)
Accomplished director Atom Egoyan remade the 2003 French film Nathalie with Julianne Moore as a wife suspecting her husband (Liam Neeson) of cheating, and Amanda Seyfried as the other woman. The twist is that after confronting the blonde bombshell over the affair, Moore's character becomes seduced herself, leading to her own sexual adventure. Egoyan pushes the conceit even further, but we don't dare tell you how it ends.
Closer (2004)
"Lying is the most fun a girl can have without taking her clothes off, but it's better if you do." How could you forget the iconic scene in which Natalie Portman delivers that line—clad in a neon pink wig while giving a lap dance? You couldn't! Plus, it went on to inspired not one, but two Panic! at the Disco songs. The tantalizing scene captures the provocative, deceitful flavor of the film, which sees the demise of two relationships when a man from one couple and the woman from another can't quit an affair. Although the infidelity never appears on screen, Portman, Clive Owen, Jude Law, and Julia Roberts are all on their A game, and you feel the betrayal, seduction, and their characters' brokenness in every flirtation and fight.
Duck Butter (2018)
Alia Shawkat and Miguel Arteta's Duck Butter relies on a simple premise: What if a couple had sex every hour on the hour for 24 hours? Shawkat appears in the indie comedy as one half of the pair doing the deed non-stop, opposite Laia Costa, as the two women decide to take up the spontaneous experiment of sorts when they decide they're fed up with millennial dating. While limited in its basic plot, the rawness and humanity of the film can't be contained by the humble four walls it largely takes place in.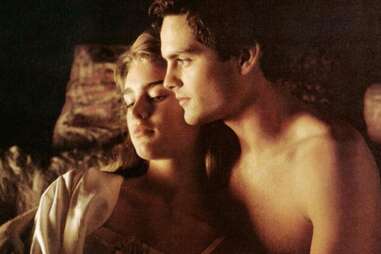 Endless Love (1981)
Endless Love, based on Scott Spencer's popular 1979 novel, is a lot more famous for its original song sung by Diana Ross and Lionel Richie than the movie itself. Fans of the book found it extremely disappointing and a misinterpretation of the source material entirely. For fans of erotic films (or those who went into this one blind, and, say, watched it as an impressionable teenager, picking up a skewed view of young love), this nearly X-rated movie about the relationship between 17-year-old David Alexrod (Martin Hewitt) and 15-year-old Jade Butterfield (Brooke Shields) is unforgettable. It's all about obsession and fantasy, baby—even if it's a parent's worst nightmare.
Frank & Lola (2016)
They don't make erotic thrillers like they used to, but sometimes movies like the indie Frank & Lola come along that call back to the classics. Although not as batshit as psychosexual movies of the past, this neo-noir from Matthew Ross is a twisty thriller examining the inherent violence of a man's possessiveness, jealousy, and lust for revenge. As you can expect, what begins as a passionate affair between a Vegas chef (played by the always standout Michael Shannon) and recently transplanted designer (Imogen Poots) takes a dark turn when secrets from her past start to reveal themselves. The dark turns don't stop from there, keeping you seduced until the very end.
The Mask of Zorro (1998)
After he launched the Pierce Brosnan era of the James Bond franchise with 1995's GoldenEye, director Martin Campbell turned his attention to another iconic character in need of an update: the vigilante swordsman Zorro. With Antonio Banderas donning the mask (and the cool hat) to play the dashing hero and Catherine Zeta-Jones battling on his side as the striking love interest Elena, the movie blends old-fashioned swashbuckling spectacle with pulse-pounding blockbuster craft and a dash of romance. It's one of the most purely pleasurable action movies of the '90s.
Newness (2017)
Nicholas Hoult and Laia Costa are two absurdly attractive people who look absurdly attractive when they get together, which is what happens in Newness. As the title suggests, however, the new relationship shine begins to wear off, and the couple decide to search for that elusive sense of... newness. That means strippers, open relationships, and lots of blowout fights. Newness has an overriding melancholy tone that colors the portrayal of sex in a contemporary, dating-app-driven world, which gives substance to a story you've probably heard before.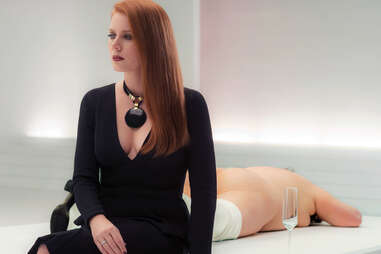 Nocturnal Animals (2016)
Seven years after A Single Man, his directorial debut, fashion designer Tom Ford stepped back behind the camera to construct a relationship thriller that rings of Cormac McCarthy. Only Ford could put together a movie this stylish and gritty about a woman (Amy Adams) haunted by her ex-husband's (Jake Gyllenhaal) latest revenge novel that unfolds on the screen with every page turn. It'll leave you wondering, "What the hell did I just watch?" in the best way possible.
The Other Boleyn Girl (2008)
Who needs historical accuracy in a period piece when you can have beautiful people dressed in elaborate costumes, only to rip them off in fits of passion? Based on Philippa Gregory's 2001 novel inspired by King Henry III's relationships with the Boleyn sisters—Anne, who he married, mistreated, and had beheaded, and Mary, who was his mistress—the film doesn't actually intend to be all that accurate. So if you're not a royals obsessive and can cast that aside, you're in for one titillating Tudor soap opera of a movie.
A Perfect Ending (2012)
In a porn trope as old as time, a woman who has never achieved orgasm before gets with a call girl who rocks her world. It's a staple of Netflix's own "Steamy" section, in case you prefer euphemisms, and it never shies away from its identity as superficial fantasy fulfillment. That's not a bad thing!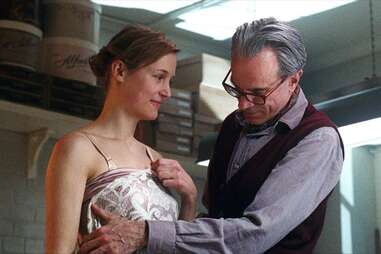 Phantom Thread (2017)
Reynolds Woodcock (the now-retired Daniel Day-Lewis) is the premier fashion designer of the era, a genius playboy who detects the contours of women, dresses, and life itself like Neo sees The Matrix. And though his sister Cyril (Lesley Manville) manages every second of his every day, a new muse, Alma (Vicky Krieps), slips by the alarms and disrupts his understanding of success with a simple trick: love. In Phantom Thread, everything from Woodcock's mansion to the draping gowns to pans of sautéed mushrooms are fashion-shoot-worthy (the Oscar voters noticed, too), but there's also a devilish comedic streak to the movie, like a prestige version of Curb Your Enthusiasm. Early on, Woodcock reveals that he sews secret messages into his garment; director Paul Thomas Anderson does the same in Phantom Thread, a drama rich with details and personal admissions.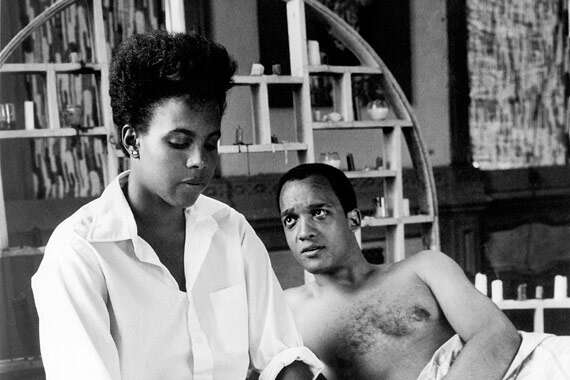 She's Gotta Have It (1986)
Before checking out Spike Lee's Netflix original series of the same name, be sure to catch up with where it all began. Nola (Tracy Camilla Johns) juggles three men during her sexual pinnacle, and it's all working out until they discover one another. She's Gotta Have It takes some dark turns, but each revelation speaks volumes about what real romantic independence is all about.
The Sweetest Thing (2002)
Of course many raunch comedies existed by the early aughts, but few were entirely fronted by women. So, enter the wrongly maligned The Sweetest Thing starring Cameron Diaz, Christina Applegate, and Selma Blair as party girls who treat men like toys to play with—until the man-eater of them all played by Diaz finds herself taken by a single meet-cute, which sends them on a wild trip to track him down. It's your typical rom-com—except spiked—full of ridiculous gags that groups of girlfriends find themselves cracking up over on a night out.
365 Days (2020)
For every arty erotic film, there's a whole lot of trashy streamy movies—and that trash tends to thrive once it finds a home on Netflix. The Polish movie 365 Days is one of those movies, becoming extremely popular among horny people everywhere when it made its streaming debut. The movie plays like Fifty Shades of Grey meets Beauty and the Beast meets The Room meets softcore pornography. The whiff of a plot—which is mostly just there to get to the sex scenes—finds a Silician mobster named Massimo (Michele Morrone) taking a young Polish woman Laura (Anna-Maria Sieklucka) prisoner while she's on vacation and giving her 365 days to fall in love with him. The problematic romance based on Blanka Lipińska's book series is corny as hell, objectively sexist, and extremely explicit. But, hey, if you're looking for a bare-boned sexy flick, it'll definitely do the trick!
White Girl (2016)
Inspired by writer/director Elizabeth Woods' own experience, White Girl plays like a high-dose rush of dopamine. The film examines how far the naive will go for passion, seen through the eyes of one college student who spirals out of control and begins dealing cocaine. From excessive partying binges to rooftop hookups, this sexy indie film shocks and awes in the dangerous, youthful habits it explores, all the while taking a critical look at whiteness and privilege. It's hot, but it'll burn you, too.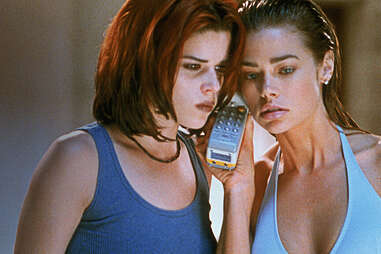 Wild Things (1998)
If you, like many, watched Wild Things at an impressionable age, it still might be one of the sexiest movies you've ever seen, despite its magnitude of problems. In Florida (of course), a perpetual bachelor high school counselor (played by a VERY sexy Matt Dillon) is accused of raping two students (Denise Richards and Neve Campbell). The story is far more complicated and twisty than that premise, which includes many a consensual sex scene, threesomes galore, and if you slo-mo in just the right way—Kevin Bacon's bacon. It's a really well-executed erotic thriller right as the genre gave its last gasps of air.
Yes, God, Yes (2020)
Yes, God, Yes is a hysterical, humble indie of divine intervention. The film from Karen Maine is a teen raunch comedy that's totally unlike other teen raunch comedies, following a high school girl (Stranger Things' Natalia Dyer) as she wrestles with newfound sexual urges while on a repressive, conservative church retreat. Dyer is utterly charming in the role as a naive but defiant young woman turned off by her peers' holier than thou attitudes, and the film's setting in the early '00s featuring flip phones and scandalous AIM chat rooms makes it all the more laughable. It's a rare sex comedy that has as much to say about the embarrassments of coming-of-age as it does about self-righteousness, and for that it feels like a teen movie sent down from the heavens.