18 SFW Porn Facts You Definitely Didn't Know
Shutterstock
Shutterstock
The pornography business isn't just a bunch of hot dogs being thrown into purses. It's a multibillion-dollar industry, and one fraught with secrets. To learn more about the thing that makes us clear our browser history hourly, we talked with some of the world's most famous porn stars -- plus insiders at Brazzers, Fleshlight, and Girlsway -- for some juicy (but not too juicy) SFW facts about the industry. You'll never look at coconut oil the same way again.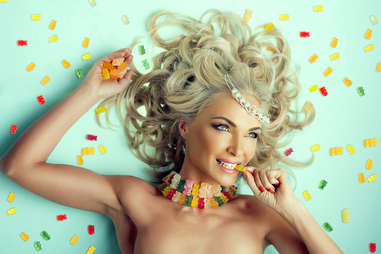 Gummy bears play a big role in porn
Yup, you read that right. According to Kayden Kross, "Many girls who do anal seem to subscribe to this porn logic that gummy bears just sit in the stomach, as opposed to other foods which are digested (as food should be). Digestion is largely considered to be an unwelcome guest at the anal sex table, if you will. Many girls eat gummy bears in lieu of food when they are scheduled to perform any sort of anal act.
"There is, I would assume, a wealth of evidence that would prove counterintuitive to this logic. Still, it prevails. This is why it is nearly impossible to visit a hardcore porn set that doesn't have gummy bears stashed in the supply box next to the baby wipes and the condoms."

Utah pays for porn more than any other state
The US state with the most paid online porn subscriptions is Utah. That's shockingly un-shocking.
The porn industry generated $97 billion last year
And the US contributed $13 billion to it, including $3 billion in Internet porn alone. USA! It should be noted that there's an abundance of free content online, making this number even more absurd!

Some porn stars enjoy onset banter
According to porn legend Lisa Ann, backtalk to the director was always her cup of tea: "I always enjoyed the banter/professional backtalk between the talent and the director. When the director suggests or corrects something that the talent is doing, the talent's response would always be 'Oh, yeah, so someone won't be able to [finish] to this scene because we did it this way instead of that way.' That was always a laughable exchange I valued and utilized quite often in my career!"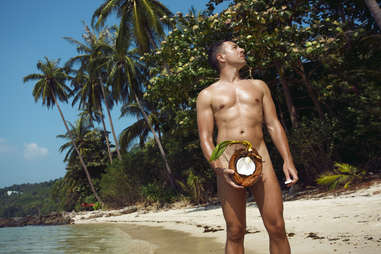 Coconut oil is great lube
When asked to tell us something interesting about the porn industry, performer Kendra Lust said, "You can cook with the same thing you use for lube: coconut oil! It's my favorite lube!" That's two uses for the price of one.

Female porn stars work all month long
According to porn star Asa Akira, when a girl shoots a scene on her period, she uses a makeup sponge to keep from bleeding on camera. Joanna Angel confirmed this notion, and hopefully this will inspire some sort of MacGyver homage in a future film.
Last year Pornhub reached nearly 80 billion views
In 2014, Pornhub reached almost 80,000,000,000 total views and used up 1,570,000 terabytes of bandwidth. That's a lot of penetration!

There is a ritual that porn stars do before anal scenes
Eva Lovia was a wealth of information when asked about the inner workings of the porn industry, and offered this tidbit: "There is an anal ritual for many girls. Yes, I said anal ritual. It usually involves a fast, an enema, and a random list of approved food. This is why civilian girls probably avoid it. I, for one, don't have one. I've always partaken after a bottle of wine and a full meal and have had a blast. For my first scene on camera I will probably participate in the anal ritual just for safety. No one wants an 'oops' caught on camera."
According to porn star Anikka Albrite, "A lot of girls clean their [behinds] out with methods such as shower enemas and colonics. It does a deep cleaning of the large intestine, so that we can have clean and sexy anal fun for our fans to enjoy!"
Nobody watches porn on Christmas
Christmas sees a 38% decrease in traffic. A close second is New Year's Eve, which sees a 37% decrease. (More like Rudolph the Blue-Balled Reindeer, amirite?) The most popular day for getting busy with yourself is December 27th, once Santa's done watching.

Women in the Philippines love them some porn
The country that's the most male dominated by porn viewing is Germany, where 85% of views come from dudes. Conversely, the country with the highest population of female viewers is the Philippines, where only 65% of views are male and 35% are female.
Ron Jeremy isn't even the guy with the most porn credits
Everyone's favorite gremlin, Ron Jeremy, participated in 2,216 films as an actor and lent a hand to another 285 as a director. But he's still not the leader. Legendary actor Peter North has racked up 2,583 titles to his name, and Tom Byron leads the pack, having participated in a whopping 2,886 titles over a 20+ year career. As for the females, Sharon Kane (1,039), Nina Hartley (1,028), Debi Diamond (626), and Jill Kelly (552) all sit atop the list.

Adult stars are actually very clean
The talent at popular porn site Brazzers is tested every 14 days to ensure no diseases get spread. In theory, porn stars are probably the safest individuals on the planet to hook up with, because they need to be clean in order to work.
People use porn to get through the Mondays
According to Pornhub, the most popular day of the week for traffic on its website is Monday, and the least popular is Saturday.

There is definitely a method to filming a professional porn scene
According to Teagan Presley, "To speed up shooting, each camera adds run time to a scene. So, if two cameras are being used, each position they would shoot for four minutes. That gives you eight minutes of each position. Then we switch positions. This speeds up the process. However, even with that method, a scene that plays for 30 minutes after editing may take a total of six hours on set after factoring in makeup, hair, and stills. A lot of work goes into a 30-minute scene."
Porn sets aren't one big party
Anikka Albrite tells it straight: "Also, a common misconception on porn sets is that we have drugs and alcohol available and that it's one big party. In all actuality, porn sets are extremely professional and paraphernalia are discouraged on set. We are all there to make a great production, get paid, and go home."

Kim Kardashian is more popular than Lisa Ann or Mia Khalifa
The most-searched individual on Pornhub is Kim Kardashian. I'm sure Kanye is very proud.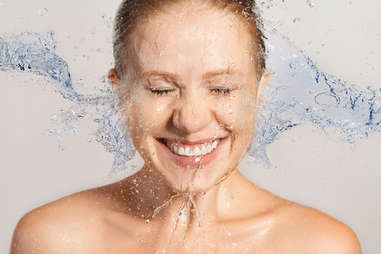 You may want to re-think your favorite face wash
According to Joanna Angel, "Sometimes, when the [male stuff] on our face dries up too fast, on occasion, we add Cetaphil to it for the photos." Yes, that's the face wash. She continues, "It looks so much like [male stuff] it's almost disturbing. I'm convinced that the owners of the company did that on purpose, since it is a face wash after all. Everyone wakes up in the morning and washes their face with [male stuff]!"

Shit happens
When asked to tell us something interesting that people may not know about porn, Christy Mack only had this to say: "No one cares if you poop."
Sign up here for our daily Thrillist email, and get your fix of the best in food/drink/fun.