Marvel's 'Shang-Chi' Is a Welcome Jolt of Energy for the MCU
The most awe-inspiring Marvel movie in quite some time.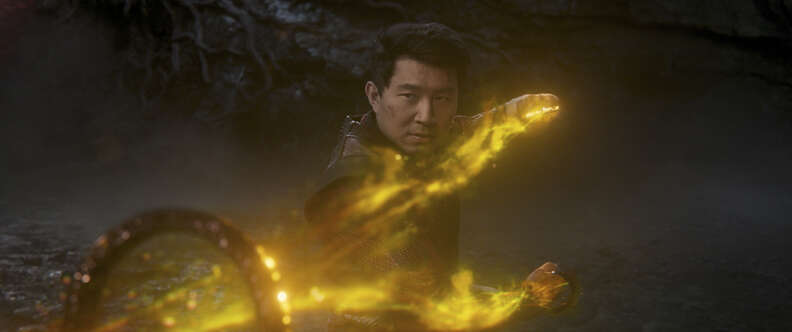 The Marvel Cinematic Universe has been in a bit of a rut lately, struggling to find itself again after the close of a very long universe-altering saga that bid farewell to the old team while introducing the first few members of the new one, as well as struggling to film anything in the midst of a pandemic to lure audiences to their streaming service. The long-awaited offerings since Avengers: Endgame, delayed a year or more and ranging in quality from prettygood to downrightterrible, have kept the series in standby mode, treading water until we get to the next big thing. Never before has Marvel's model of essentially using one film as a commercial to tease another been so transparent. By contrast, the martial arts cinema-inspired Shang-Chi and the Legend of the Ten Rings, from director Destin Daniel Cretton (Short Term 12, Just Mercy) and out in theaters Friday, September 3, combines a back-to-basics superhero origin story with an artistic sensibility that feels totally new.
The movie's lengthy prologue begins by reframing the Ten Rings as more than the Middle Eastern terrorist organization they were in the very first Iron Man. In the vague time period of "long ago," a great warrior (Hong Kong superstar Tony Leung, elevating the material into the stratosphere) harnessed the power of 10 mysterious and literal rings, basically glowing bracelets, which allowed him to best any enemy in combat and lead his forces on crusades to conquer new lands. Over the years, the Ten Rings shifted its interests to world domination of a different sort: spying on enemies, assassinating world leaders, that kind of thing. Their leader, who goes by Wenwu, kept himself alive through the centuries, until he met a woman from the mythical land of Ta Lo, and fell in love.
Their son, Shang-Chi (Kim's Convenience's Simu Liu), who Anglicized his name to Shawn when he moved to America, now works as a parking valet in San Francisco, trading banter with his best friend Katy (Awkwafina) and keeping his past as a trained martial artist in his father's army of spies a secret. Until, of course, his father sends his goons to collect what's his, and Shang-Chi is forced to stop avoiding his past and make the long journey home, dragging Katy along and collecting his equally skilled yet estranged sister Xialing (Meng'er Zhang) on the way.
As the first MCU movie to feature an Asian lead as well as the first with a nearly entirely East Asian cast (with the exception of Creed II's Florian Munteanu, who plays Razor Fist, a fighter with a sick machete arm, as well as another actor whose presence I will not spoil), there is doubtless considerable pressure on Shang-Chi to live up to expectations while also delivering the origin story of a character whose general vibe in the comics would today be considered ill-advised. But far from exoticizing its Eastern influences and cultural connections, Shang-Chi delivers a mix of East and West without downplaying one for the other. A good portion of the movie, maybe a third, is subtitled.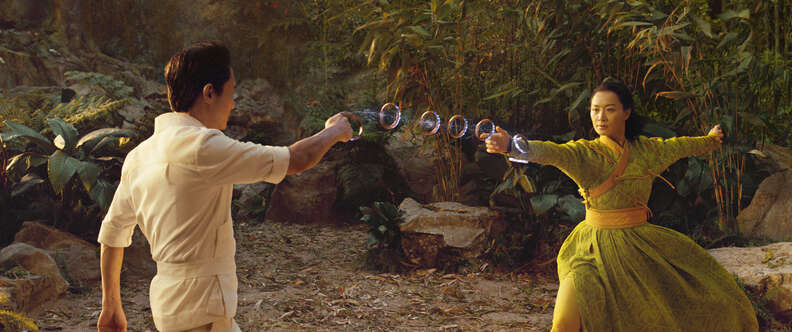 In fact, Shang-Chi's escape from home and assimilation into the West is presented as a fault, not a strength, and his relationship with his domineering father and the somewhat mystical elements of his past are intricately complex, rather than the cut-and-dry good-versus-evil moralisms these movies usually trade in. Leung's Wenwu is neither of the characters audiences had expected him to be: The movie notably does away with Shang-Chi's comic father, Fu Manchu (yikes!), altogether, as Marvel Studios doesn't own the rights to that character and he is also an extremely racist depiction of all kinds of things. It also elegantly sidesteps the whole Mandarin thing as well, making Wenwu a creation specifically for the MCU.
And I haven't even gotten to the fight scenes, which make the blurry, visually incoherent cut-to-pieces sequences in prior MCU offerings look like a small child smashing action figures together. Instead of encouraging your eyes to glaze over while you wait for the scene to end, the fights in Shang-Chi will make you sit forward in your seat, nodding to martial arts cinema greats like Stephen Chow (a poster of Kung Fu Hustle is on the wall of Shang-Chi's room, right next to The Warriors), and the dazzling, fantastical wuxia sequences of Zhang Yimou, with performers in luxuriously flowing fabrics sailing over each other on wire rigs one second and swinging around scaffolding in sneakers and bomber jackets the next. They do all end up in a mostly gray CGI battle at the end, and it's even more apparent, in this movie especially, how disappointing Marvel's reliance on excessive digital visual effects look in comparison to the vivid costumes and scenery and practical stunt choreography that came before.
But Shang-Chi as a whole is far from a disappointment, and feels more like the welcome burst of energy this series needs to find its purpose. I'm dying to watch Awkwafina meet Groot, and Simu Liu's quick-witted yet down-to-earth Shang-Chi is the type of character you can't wait to watch stealing scenes from Marvel veterans even as he carves out space in the saga that's all his own. The deeply felt and creatively considered Shang-Chi feels like a promise of everything the MCU could be capable of, and the excitement of something new.