In Sharknado 3: Oh Hell No!, Tara Reid watches in horror as sharks attack a NASA rocket. "How can they survive in space?" she screams. Ian Ziering's character, aptly named Fin, brings up a good point: "How could they survive in a tornado?"
Right. If you thought SyFy's notoriously cheesy franchise couldn't get more absurd, Sharknado: The 4th Awakens came to prove you wrong this weekend. There were pop culture references galore, several more chainsaws, and an almost innumerable variety of destructive tornadoes. Below, a recap:
(Warning: Substantial spoilers for the Sharknado movies, especially The 4th Awakens, follow.)
Recommended Video
This Pizza Is Covered in Fish Jerky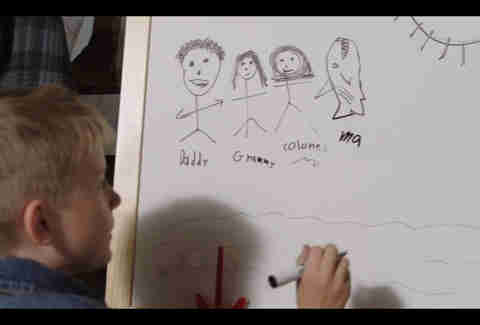 Lil' Gil thought his mom was a shark
At the very end of Oh Hell No!, space debris (kinda) crushed April (Reid). Fin's newborn son emerged from the shark that swallowed them whole without seeing or meeting his mother. In The 4th Awakens, set five years later, Lil' Gil, now a bit grown up, legit thought his mom was that shark. It was the dumbest and most heartbreaking part of the entire movie, but it set up a nice surprise.
Carrot Top played Fin's Uber Driver
As is tradition, there were plenty of celebrity cameos, including Erika Girardi, Seth Rollins, and David Faustino. One of the first, and most memorable, was Scott Thompson, aka Carrot Top. The redheaded stand-up's appearance is brief, but he's around long enough to make half a dozen Vegas jokes -- and a drunk driving one.
A Chippendales dancer subdued a shark with his penis
Real thing that happened.
Matt had a parachute wedding
Well, he tried. Gone are the days of Charles Hittinger as Fin's elder son. Last night it was Hannah Montana's Cody Linley, and Dr. Drew officiated his airborne nuptials before everybody almost died on the terrible, horrible, no good, very sharky Vegas trip. 
Fin went surfing with his car, I think?
At one point, pro surfer-turned-national 'nado whisperer Fin used the doors of a plummeting car to maneuver himself and his daughter-in-law (Imani Hakim) from the top of a casino onto a neon twister. Then he drove the car down said twister and onto the street in perfect timing. Then everyone watching said, Cool... wait, what?
"What happens in Vegas, stays in Vegas."
You bet this was a real quote.
Fin commandeered the boat from the Treasure Island hotel
And used the helm as a giant shuriken after crashing into a "sharkberg." Other iconic Vegas victims included the Stratosphere, the Bellagio -- whose water show became a game of whack-a-shark -- and the Welcome to Fabulous Las Vegas sign (R.I.P.).
Gary Busey turned Tara Reid into Iron Woman
This time around April became a cross between Iron Woman, the Bionic Woman, and Inspector Gadget. Turns out she survived Oh Hell No!, and her dad (Busey) made her full cyborg, complete with Terminator quotes and slightly better parenting skills.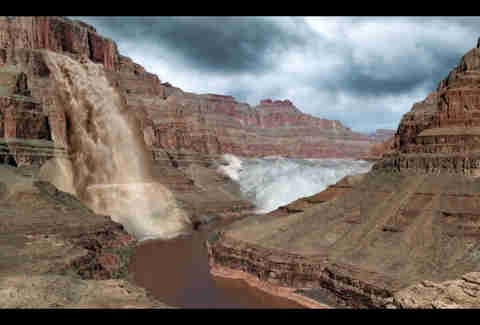 They blew up the Grand Canyon?
Comedian Tommy Davidson played the forward-thinking billionaire in charge of something called Astro-X, the tech powerhouse positioned at the forefront of this movie's "plot." His company was supposed to be using revolutionary energy systems to manipulate the atmosphere and prevent vortexes. Didn't go so well. In one scene, he blew up Arizona's national park to stop a massive flood.
There was so much f*cking Google Glass
So all the Astro-X employees could provide 'nado updates via Google Plus. Just kidding, but if you ever wondered what happened to this lost piece of tech, look no further.
The Gary The Shark commercials were surreal and outstanding
Between wild 4th Awakens set pieces, SyFy gave viewers a string of Total Wireless spots that chronicled the evolution of a Sharknado villain-turned-good guy. (Watch one above, and more here.) Inspiring, right?
There were so many new 'nadoes
Gilbert Gottfried played a stormchaser who summed the widespread variety up best: "The storm has been rushing through Texas; it hit an oil field, creating an oilnado; the oilnado exploded, creating a firenado; the firenado hit an electrical plant, creating a lightningnado." There were also bouldernadoes, sandnadoes, cownadoes, hailnadoes, lavanadoes, and, at the very end, a nuclearnado, the biggest and baddest yet.
"It wouldn't be Texas without a chainsaw massacre."
Another real quote -- declared by Caroline Williams, of Texas Chainsaw Massacre 2 fame, while standing next to Dog the Bounty Hunter.
There was a Lavalantula crossover
Steve Guttenberg, from one of SyFy's other infamous sagas, dropped by to donate a special car at one point. The implications of this are great: is there really a SyFy cinematic universe? Will there one day be a Lavalantulanado, starring Kobe Bryant for some reason? One hopes, one prays. 
Letterman's old pal Paul Shaffer was looking for work
If anybody knows of any jobs.
There were finally a ton of Wizard of Oz references
This movie, which took place all over Tornado Alley after a sandstorm picked up sharks and moved east from Vegas, was full of 'em. They squeezed in Dorothy's "Kansas" quote, there was a yellow-brick-road shout-out, and most elaborate of all, Stacey Dash showed up as the Wicked Mayor of Chicago to die under a house. After calling Chicago a state.
A whale swallowed a bunch of sharks that swallowed Fin and his crazy mech suit
For the Shepards, life comes at you fast. 
There was a shark defibrillator
About time.
Nova showed up riding the Eiffel Tower like a hoverboard
Fans might've missed Cassie Scerbo's character since she was away in France. But she capped Sharknado 4 with the best teaser possible: looks like there's room for another sequel! Maybe it'll be set in Paris, to finally quench director Anthony C. Ferrante's desire for a more foreign location? Maybe not? Who really knows? Just prep for a fifth accordingly. Like Lil Wayne, who should probably be in one of these soon, once said, Life's a beach, he's just playin' in the sand. 
Sign up here for our daily Thrillist email, and get your fix of the best in food/drink/fun.