'Sharp Stick' Is Lena Dunham's New Provocation
The 'Girls' creator returns with a new Sundance film.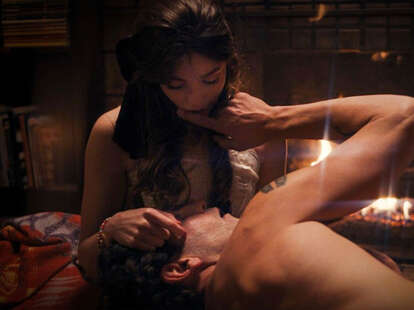 Film Nation
Film Nation
In the six seasons Lena Dunham's Girls was on the air the creator and star engaged in countless sexual provocations. There were rim jobs and cum shots and copious nudity that sometimes seemed designed to infuriate an easily infuriated audience. Four years after Girls finished, Dunham returns to the public eye with another sexual provocation, her new film Sharp Stick, which premiered yesterday at the Sundance Film Festival.
Like pretty much anything Dunham makes, Sharp Stick will invariably piss people off, but it's also far too complicated to be immediately dismissed. It's a messy movie with messy ideas about sex and the role it has in women's lives—another fascinating provocation from a filmmaker for whom provocation is like breathing.
That urge to push people's buttons shows up in the very first moments of the film. Dunham opens on a close up of the body of Taylour Paige, best known for playing Zola in the 2020 Sundance hit, gyrating to "Trader Joe" by Junglepussy. It's a closeup on a Black body that feels like both a rebuke to the criticisms lobbed at Dunham for the lack of diversity in Girls and like she's headed toward another misstep. But Paige's character Treina is not at the center of the story. Instead when Dunham pans out, we see the person filming what is supposed to be a TikTok video. It's Treina's sister Sarah Jo, played by Kristine Froseth.
Sarah Jo is a quiet girl with a mousy style who wears high knee socks, headbands, and messily eats yogurt. She lives with Treina and their mother, Marilyn (Jennifer Jason Leigh), a Hollywood wastoid constantly sipping a giant glass of white wine with ice and talking about her past adventures, like the time she was in a Duran Duran video. Treina and Marilyn gab like girlfriends about guys while Sarah Jo gazes up at them adoringly.
Sarah Jo, we soon learn, is a 26-year-old virgin, who never felt at home in her body because of the emergency hysterectomy she had at the age of 15, causing her to go through menopause when she was just 17. (It's a procedure Dunham knows about well, which has clearly inspired some of Sarah Jo's experience.) Longing for the kind of connection her sister talks about with her frequently divorced mother, she decides to pursue an affair with her boss: Josh (Jon Bernthal), the married father of the special needs child for whom she works as a caretaker. Josh, with floppy hair and a supremely good natured chill bro energy, declines her advances for mere minutes before diving head first into the romance, sweeping her off her feet and taking her on a vacation away from his pregnant wife (Dunham herself).
Bernthal is the movie's standout, perfectly straddling the line between dreamboat and doofus. Is he a great stay-at-home dad? Or a loser who doesn't work and mooches off his successful wife? Is he someone who sees the beauty in Sarah Jo? Or just a guy taking what he was offered? The actor, who has been a standout recently in everything from The Many Saints of Newark to King Richard, keeps those distinctions murky until they aren't anymore, and Dunham nails the writing of the character.
It is Sarah Jo who is more difficult to unpack. Her innocence is almost pathological to a sometimes confusing degree. The audience never quite understands how she retreated so far into herself, especially when she's grown up in a household where her mom's husbands and boyfriends were sneaking in and out at all hours. Froseth performs the role with gusto, but you're left with a nagging feeling that there's something more to the character that you just don't get.
Even so, her journey is consistently surprising. Leave it to Dunham to make "affair with a married man" just a jumping off point for the plot. Sarah Jo takes weirder and darker turns to explore her sexuality, which include an obsession with a sensitive porn star portrayed by Scott Speedman, using his former WB heartthrob status to great effect. Sarah Jo's experimentations are neither joyous nor overtly traumatic, and Dunham almost relishes squeamishness throughout this second section of the film.
Dunham's work has always been both almost confrontationally sex positive, and has appeared to regard sex as something viscuous and icky. The act can be pleasurable, but the emotional entanglements are often devastating. It's no different in Sharp Stick, which is neither a journey of empowerment nor punishment, landing in a place of either euphoria or disassociation. Thankfully, people will argue about it.