The Most Shazamed Songs of All Time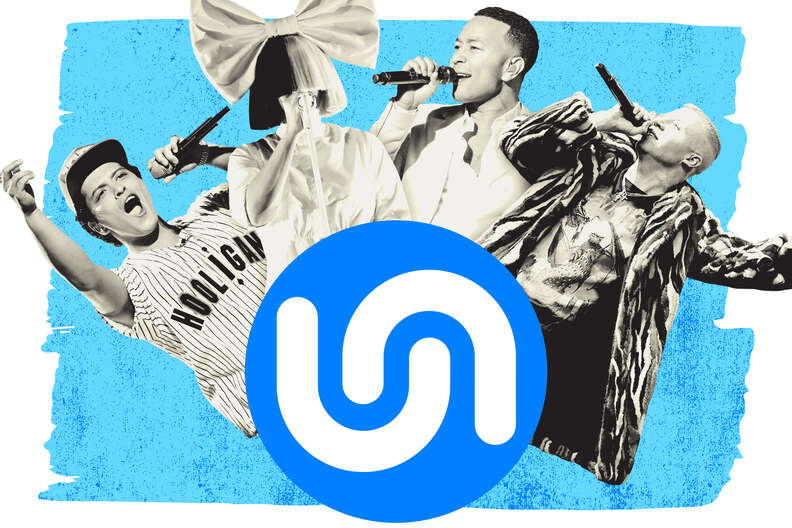 Evan Lockhart/Thrillist
Evan Lockhart/Thrillist
"Shazam it."
Shazam, the earworm-identifying mobile app, is the rare piece of technology that has earned verb status, joining Google, microwave, and skateboard in our everyday speech dictionary. Companies compete to be the "Shazam for [non-music thing]." There's Shazam for movies, Shazam for paintings, and Shazam for bird sounds. (One article recently bragged there will soon be "Shazam for mosquitoes.") Last year, Jamie Foxx began hosting an interactive musical game show on FOX called Beat Shazam (where humans faced off against an all-knowing Shazam-bot). The song ID-ing service, founded in the pre-iPod era of 1999, has endured to become not just an asset of a night out, but an authority we call upon for instantaneous knowledge.
But what exactly do people Shazam? Unlike Netflix, another lexicon-busting service, Shazam isn't shy about sharing its data: In 2014, the company introduced the Hall of Fame, which ranks the biggest hits on the service. While the top 20 mostly consists of songs that have found success on radio and the Billboard charts, it also offers a bizarre study in the pop music that Shazam users probably heard in a clothing store. Let's take a closer look and see what we can learn from this all-knowing musical genie.
Note: You can listen to a Spotify playlist of the 20 most Shazamed songs at the bottom of this post.
20. "Just Give Me A Reason," Pink feat. Nate Ruess
Total Shazams: 14,929,6767
One of the first things you'll notice about the top 20 most Shazamed songs is that most of the music world's A-list stars are almost entirely absent. There's no Drake, Beyoncé, Rihanna, Taylor Swift, Adele, or Kanye West. In order to really kill it on Shazam and crack the top 10, you need to sound vaguely familiar but just unique (and new) enough to make potential Shazamers open the app. It also helps if your song is a collaboration with two distinct vocal parts like "Just Give Me A Reason." (There's also a lot of piano ballads on this list.) Even if you have ears tuned to Pink's Mezzo-Soprano vocals, there's a decent chance you won't recognize the other singer. One Shazam later, you found out it's the guy from Fun. and the Format. Mystery solved.
19. "Cheap Thrills," Sia
Total Shazams: 15,024,743
Apparently "Cheap Thrills" was originally written by Sia and Greg Kurstin as a song for Rihanna's Anti, but ended up getting rejected. Listening to the track, it's not hard to imagine Rihanna's putting her own distinct twist on the vocals. The song went on to become Sia's first No. 1 single, giving it plenty of chances to get Shazamed off Top 40 radio, so it worked out for her.
18. "Get Lucky," Daft Punk feat. Pharrell Williams
Total Shazams: 15,046,068
The electronic wizardry of Daft Punk takes a backseat to the vocals from Pharrell Williams and guitar from Chic's Nile Rodgers on this old school disco track off Random Access Memories. Like more than a few songs on this list, it sounds like an older track that's been given some sonic reconstructive surgery. Think of Shazam as the necessary facial recognition software.
17. "Shape of You," Ed Sheeran
Total Shazams: 15,838,498
The line "I'm in love with the shape of you" always makes me think Ed Sheeran is crooning to a 3-D puzzle, but that might just be my personal problem. The problem millions of other people seem to have is knowing who is singing this song. Thanks to Shazam they now the answer: It's this guy. OK.
16. "Faded," Alan Walker
Total Shazams: 15,766,037
There are a handful of piano-driven songs on this list, which makes a certain amount of sense: People can't resist those sweet, sweet keys, especially if they're featured in a moody electro-house track. In a confusing twist, Alan Walker isn't actually the name of the singer of this song. The vocals were provided by Norwegian artist Iselin Solheim; Alan Walker is the producer/DJ bro who wrote it.
15. "Counting Stars," OneRepublic
Total Shazams: 16,035,986
This sounds a bit like a Matchbox Twenty song took a tab of ecstasy and had a religious experience, right? OneRepublic singer Ryan Tedder is known for his lucrative second career collaborating with acts like Beyonce, Adele, Maroon 5, and U2, so it's not surprising one of his biggest hits would end up getting Shazammed a bunch. It's the listening experience of having a word on the tip of your tongue but being unable to spit it out.
14. "Uptown Funk," Mark Ronson feat. Bruno Mars
Total Shazams: 16,096,426
Does this Bruno Mars starring funk throwback sound like The Gap Band? Well, the members of the Gap Band certainly thought it did and eventually earned a songwriting credit after reaching a settlement with all the other co-writers. (Rapper Trinidad James, whose "All Gold Everything" gets interpolated, also has a credit.) Shazam can't fight your legal battles for you, but it can help you get to the bottom of what exact type of funk Bruno Mars is gonna give to you.
13. "This Girl," Kungs & Cookin' On 3 Burners
Total Shazams: 16,267,507
This remix of a Cookin' on 3 Burners original by French DJ Kungs has a little something for everyone: house drums, peppy handclaps, disco-ready guitar licks, and chintzy horns. Its cheery phone commercial music masquerading as club material, but it's also pretty good. If a song could Shazam itself, this one would.
12. "Can't Hold Us," Macklemore and Ryan Lewis
Total Shazams: 16,719,356
Along with a certain red-headed English loverboy, Macklemore and Ryan Lewis are the only artists to land two songs in the Shazam top 20. Clearly, there's something about Macklemore's "little bit of humble, little bit of cautious" lyrical approach that makes people reach for their phones. The hook from Ray Dalton also sounds like any number of electro-pump-up anthems, so you're forgiven if it doesn't exactly stick in your head.
11. "Thrift Shop," Macklemore & Ryan Lewis feat. Wanz
Total Shazams: 16,741,376
If there's a crown prince of Shazam, it has to be Macklemore, the fur coat-rocking rapper from the Pacific Northwest. You may have forgotten, but for a brief period his breakout single, "Thrift Shop," was the legally required soundtrack at all public gatherings. (2013 was a dark year.) It was inescapable and became a Shazam staple, making this cold-ass honkey a household name in the process.
10. "All of Me," John Legend
Total Shazams: 16,892,088
While John Legend's piano-driven ode to his wife Chrissy Teigen doesn't exactly sound timeless -- if you listen closely, the production is crisp and modern -- it does have a dislodged from the present feel. If it was playing at a crowded bar, you might mistake it for a song from another era. One of the track's "perfect imperfections" is that it sounds generic enough to have come from any number of crooners.
9. "Cheerleader (Felix Jaehn Remix)," OMI
Total Shazams: 19,437,217
Watery soul ballads and thumping electronic dance tracks dominate most of this top 10, so it's cool to see "Cheerleader," a peppy Jamaican pop song, show up here. You can imagine summer BBQ attendees whipping out their phones to ID this charming, fleet-footed remix of OMI's more laid-back, reggae-indebted original. In an ideal world, Shazam exists to shut up the one guy at the party who keeps insisting this has to be a Shaggy or Sean Paul song.
8. "Rather Be," Clean Bandit feat. Jess Glynne
Total Shazams: 19,458,500
"Rather Be" peaked at No.10 on the US Hot 100 Billboard chart. The single hit No. 1 in the UK. And in the world of Shazam, where it never hurts to sound like a mishmash of '90s trends, it was clearly a big deal. Why exactly? Melancholy vocals, careening violins, a house-ish beat, and a Forever 21-core vibe. Pure Shazam-bait.
7. "Take Me to Church," Hozier
Total Shazams: 19,672,156
There's a decent amount of moody neo-soul performed by white guys in the top 10, and this gospel-tinged missive, about being so in love you worship someone like a dog, might be the moodiest of them all. Andrew Hozier-Byrne, the nice young Irish man who sings "Take Me to Church," has a powerful voice that gives the song an Adele-like power. But it's not an Adele song, which you probably found out after you Shazamed the hell out of this quirky, spiritual chart-topper.
6. "Thinking Out Loud," Ed Sheeran
Total Shazams: 20,121,499
Like another hit on this list, "Thinking Out Loud" shares the dubious distinction of sounding so much like a Marvin Gaye song that people who actually knew Marvin Gaye ended up suing the writer. Clearly, there's one thing Shazam is good for: figuring out if Marvin Gaye wrote whatever is playing as you wait to get a haircut. In this case, you'd quickly discover "Thinking Out Loud," is, in fact, not a cover of "Let's Get It On." Instead, it's performed by this guy. Cool. Thanks, Shazam.
5. "Blurred Lines," Robin Thicke feat. T.I. & Pharrell
Total Shazams: 20,333,247
It's hard to remember there was a time before everyone knew "Blurred Lines." A time before the Beetlejuice-suit incident with Miley Cyrus at the VMAs. A time before the singer alienated a good portion of his fanbase by naming a whole album after his famous ex-wife. A time before the song got locked up in a complex legal battle over copyright with Marvin Gaye's estate. In fact, there was a time when many people heard "Blurred Lines" and thought, "Hey, is this a Justin Timberlake song?" And then they would pause their conversation, take out their phones, open up Shazam, and discover Alan Thicke's son was the one purring "I know you want it" over that, yes, very Marvin Gaye-sounding beat from super-producer Pharrell. Then they would go back to doing whatever they were doing in 2013. Probably playing Candy Crush.
4. "Let Her Go," Passenger
Total Shazams: 20,768,443
Some of the songs on this list are so bland, generic, and forgettable that they don't even make decent movie trailer soundtrack fodder. If "Let Her Go," a sentimental ballad from British singer-songwriter Passenger, started playing in a romantic drama, you'd gasp at the lameness of the music cue. There's really only one home for a song this cloying: a beer commercial. Unsurprisingly, Budweiser went there during the Super Bowl a couple years ago, forever linking this treacly track with an adorable puppy who honestly deserves better. So do you.
3. "Lean On," Major Lazer Feat. MØ & DJ Snake
Total Shazams: 21,011,820
The chorus of this sensuous EDM track is about the search for "somebody to lean on" and the thrill of firing a gun. But if you don't have anyone to lean on or a weapon to shoot, you can always reach for your phone and fire up your Shazam app. That's what over 20 million people have apparently done at the sound of this song.
2. "Somebody That I Used to Know," Gotye feat. Kimbra
Total Shazams: 21,076,327
This off-kilter duet cuts you to the core: First you get Gotye's softly mumbled tale of woe, which describes love as "an ache I still remember," and then Kimbra's curtly whispered side of the story, which recasts the song's narrator as a manipulative dickhead. Who do you trust? Is that a xylophone? Wait, doesn't this sound like The Police a little bit? Only one way to find out.
1. "Wake Me Up," Avicii
Total Shazams: 23,134,160
This really is the perfect song for the Shazam era: It's part earnest soul-folk ballad, part big-tent EDM bro-down, and 100% indistinguishable from most trend-chasing chart-toppers of the last few years. At the beginning you think it's Mumford & Sons. Then you think it's Calvin Harris or Tiësto. Then it sounds like a weird jig -- like Michael Flatley on uppers. The mega-hit from the anodyne Swedish DJ Avicii, with its big synth wooshes and vocals from singer Aloe Blacc, pivots wildly between genres while still sounding safe enough to play at the halftime of a youth soccer game as kids scarf down oranges. There's a possibility Shazam was invented in an apocalyptic future and sent back in time, Terminator-style, just to help people identify this specific piece of pandering, market-savvy crap. Hasta la vista, Avicii.
Sign up here for our daily Thrillist email, and get your fix of the best in food/drink/fun.
Dan Jackson is a staff writer at Thrillist Entertainment and he would never dream of beating Shazam. He's on Twitter @danielvjackson.