What It Was Like Writing a Book on the Inimitable Carrie Fisher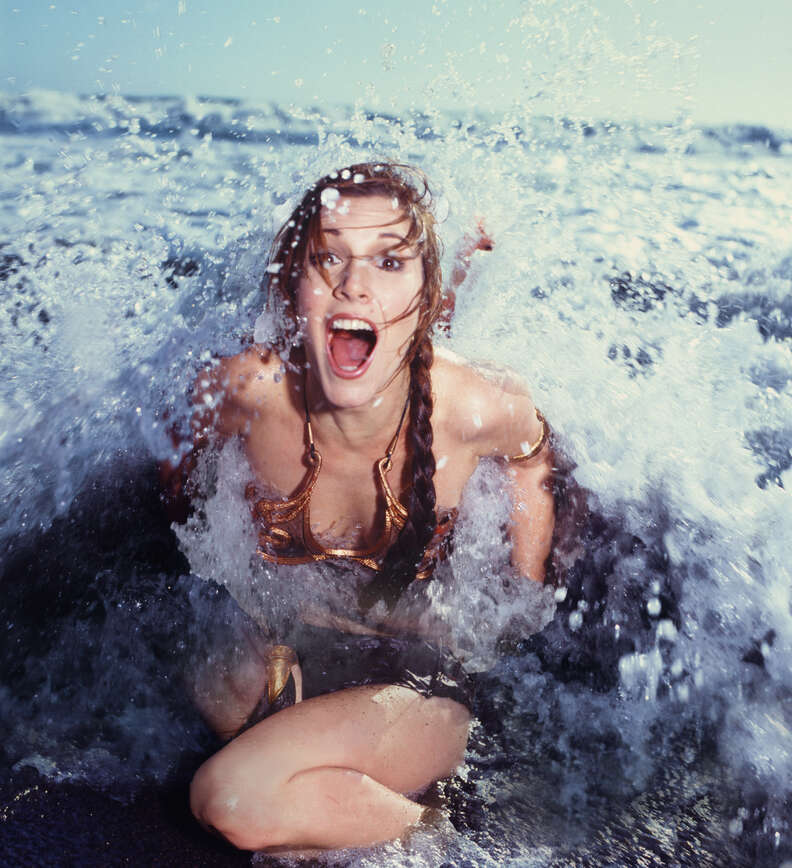 Aaron Rapoport/Corbis via Getty Images
Carrie Fisher was one-of-a-kind. As an actress, she was none other than Princess Leia in Star Wars and was part of the starring cast of a number of other films including Shampoo, The Blues Brothers, When Harry Met Sally…, and more. She wrote a number of books -- Postcards from the Edge, Hollywood Moms, Wishful Drinking, and The Princess Diarist. She wrote screenplays and worked as a script doctor on films like Hook, Sister Act, and The Wedding Singer. She even performed a one-woman spoken word show. Fisher was also a public spokesperson about mental health, openly discussing her bipolar disorder, drug addiction, and demons. The daughter of singer Eddie Fisher and actress Debbie Reynolds, Carrie Fisher was born into a world brimming with proverbial glitz and glamor, along with the pressures of meeting that same level of sparkle and ardor. Fisher passed away suddenly from cardiac arrest on December 27, 2016, at 60. From her Hollywood roots to her countless trend setting feats, Fisher paved the way for change.
So to write a portrait of the beloved icon's life, you need someone with talent of equal measure. Sheila Weller, an acclaimed journalist, is also the author of the New York Times bestseller Girls Like Us: Carole King, Joni Mitchell, Carly Simon -- And the Journey of a Generation, as well as numerous other books. Girls Like Us sat on the New York Times Bestseller list for eight weeks and has sold over 170,000 copies. It has since become a central text in Women's Studies programs. In her latest book, titled Carrie Fisher: A Life on the Edge, she tackled the gargantuan feat of writing an accurate and honest biography that chronicles Carrie Fisher's extraordinary life -- without ever getting the opportunity to meet Carrie.
The result of hundreds of interviews and an immense amount of research, the book exhibits a breathless amount of detail and takes the reader through Fisher's many peaks and pitfalls, the best moments of her life to the darkest. Her battle with bipolar disorder, her relationship with her mother, even her time working as a script doctor: It's all there. And yes, that includes a vivid portrait of her breakthrough role in Star Wars. Thrillist spoke with Weller about the biography, along with its many challenges and discoveries.
Thrillist: Carrie Fisher was the very definition of "cult of personality" -- a charismatic gravitational pull that compels pretty much anyone they ever meet. After speaking with her friends and family, what do you think defined "Carrie Fisher," the role model and icon we all admire?
Sheila Weller: Well, she said from a young age she wanted to light up the sky like firecrackers going off in Hong Kong on the Fourth of July. But wanting that and achieving it are two different things. Carrie just possessed what you can't manufacture -- rapier wit, a dazzling and wacky family background that was glamorous to people and that she played up (all that Hollywood Royalty stuff), great taste in furnishings, a brilliant and slightly mad (in a good way) mind, and the ability (you can't manufacture it) to, as a friend put it, make almost anyone she met into her "sidekick." She had more friends than just about anyone in Hollywood and beyond.
In terms of being a role model, well that's slightly different. I would say that, through her books, one-woman show, and the interviews she gave, her piercing and hilarious honesty about every aspect of her life -- her refusal to shade the truth; her insistence on putting everything out there. Even the worst things she'd done -- was refreshing, healing, and hugely admirable. She battled demons, bipolar disorder and drug addiction, but described the battles with a candor you simply could not not be floored by. People wanted to be as daringly honest, and humorously honest, as she.
Writing about someone you never get to meet is daunting in scope. How did you manage to construct as objective a timeline of Carrie's life using stories, interviews, and testimony that all differed in varying degrees?
Weller: Yes, it can be daunting but, as a writer, I have always relied on what my first book [Marrying the Hangman] editor and tragically recently deceased, Susan Kamil, called a "chorus of voices": people who knew my subject or subjects well, talking candidly about them. If you amass enough of those, you have a good portrait of your subject. There's also what the subject said and did -- reported in the media (for Carrie, a lot) and wrote (for Carrie, eight books, largely about herself) to use. As for a timeline, I go through each interview transcript and mark it up by date and make a whole Word doc of the chronology of a person's life before I start. It's a great way to do it.
In terms of juggling the various perspectives, some of which differed from one another: In Carrie's case, actually, there was less of that than one might expect. People had very consistent views of her. But disagreement and contrast in describing a person is also good. I like it when I have one voice seeing a person one way, another the other. Complex people -- and, boy, was she complex -- deserve close and respectful attention, which can also be complex and contradictory.
Carrie and Debbie Reynolds, her mother, had a close relationship, and in the biography, you shed truly eye-opening light on her childhood. In what ways do you think their mother-daughter relationship affected the person she became?
Weller: In a big way. Some of her friends said, and she said, that becoming as charismatic as her mother was important to her, that one way of coping with her mother's fame and charisma was to try to amass a lot herself. Which she did. Their relationship was intensely close, complicated, rocky at times, but ultimately, as Carrie said, "My mother was my husband." I think a lot of Carrie's mature humanity -- and there was a great deal of it -- came from her making peace with both of her aging parents and being their nurturer.
You were never able to meet her, but after talking and reliving through the discussions of Carrie's countless friends and family, do you feel like you were still able to meet her somewhere within the story?
Weller: Yes! Especially at the very end of her life, her last year. She had become so vulnerable and I was a little worn down by the whole process of writing about her that I felt, in a way, we had met in a bar and had a good round of drinks.
Do you feel like having not met her aided in conveying and developing her narrative?
Weller: She was so witty and strong and radiated a certain hauteur that, if I had met her, I would have been intimidated by her. Truly! So not having met her gave me the opportunity to write this book. She gave so many interviews, [which are] available on YouTube, that I felt I knew her, in all her iterations. And those include from her early Star Wars days, when she had long hair and was adorable and petite and spoke with a confident bit of an English accent through the middle period, short hair as in When Harry Met Sally... (and like the photo of her on the cover of the book), to the last 15 or so years, when she had a very different look to her face and a different, weary, almost slightly rural voice. So perhaps not having met her and just relying on the interviews and images and remembrances of others helped.
How would you divide and categorize each definitive step of her career?
Weller: 1970s, Star Wars and some other movies and plays. 1980s, the same, being an actress who was hankering to be a writer. 1985 and on, being "a writer who acts," not an actress who writes. The late '80s [and] on, novelist, memoirist, script doctor and actress. 2000, advocate for de-stigmatizing mental illness and all of the foregoing. Also, writer and performer of an incredible one-woman play performed all over the country and internationally, making people laugh and giving women identification and relief. All the while, dealing with her demons and playing in Star Wars, and being -- abidingly, all these years -- a friend to many. And a wonderful mother and daughter.
If you could meet her, having written the book, what would be the first thing you tell her?
Weller: I would say, "I hope you don't think I was too 'suck-uppy' to you in my book. You're a tough ironist so you would be the first to pick that up in someone's work."
Since you mentioned the honesty central to her infectious personality, do you feel Carrie really put a piece of her true self into every role?
Weller: No, not really. She did a lot more acting than people thought, and some plays and movies were mediocre. Does anyone remember the movie, Drop Dead Fred? I didn't think so. She was a consummate professional and was raised in the industry. She did what was required by each role.
If Carrie were sitting next to you during this interview, how do you think she would have answered the previous question?
Weller: The same way, but more ironically, like, "God, some of the movies I made were dogs…!"
Michael J Seidlinger is a contributor to Thrillist.