Love Netflix's 'Stranger Things 2'? Watch These Movies and Shows Next.
Stranger Things was the TV sensation of last summer, and its second season, out now on Netflix, is repeating the water-cooler domination. It's not too difficult to figure out why: the series appeals to Generation X-ers with 1980s nostalgia and plays to younger viewers by combining "old-school" techniques with theory-ready mystery. While some of the series' touchstones are pretty obvious -- Steven Spielberg's E.T the Extra-Terrestrial, Ridley Scott's Alien, and Brian De Palma's Carrie, to name only a few -- Stranger Things 2 is packed with ideas that keep it relevant in 2017.
So once you're done digging through the eight effortlessly entertaining chapters of Stranger Things, here are a few other movies and TV shows that will keep the imagination racing until the debut of Season 3:
After Stranger Things Season 1 watch...
Amazing Stories (1985)
This Steven Spielberg-produced series applies a wholesome dose of wistful warmth to the anthology style of Twilight Zone. Amazing Stories was a Wednesday night tradition for '80s kids who couldn't wait to get their eyeballs on the next Spielberg movie. Horror, sci-fi, adventure, oddball comedy -- this series had it all, and the awe still holds up in today's "golden age of television."
Where to watch it: Stream on NBC.com
Stand by Me (1986)
If you loved the kids in Stranger Things, then odds are you'll dig this fantastic Stephen King adaptation. This was the very first film to illustrate that there was more to King than scares, and while Stand by Me does, at times, have a dark and ominous edge to it, it's mostly a charming and engaging story of four young boys enjoying their last long adventure before adulthood. A movie of multitudes, from dead bodies to disastrous pie-eating contests.
Where to watch it: Rent on iTunes and Amazon Video
Cloak & Dagger (1984)
This highly entertaining but virtually forgotten espionage adventure features Henry Thomas (fresh off of E.T. the Extra-Terrestrial) and character-actor extraordinaire Dabney Coleman in not one, but two roles! Cloak & Dagger stages old-school spy hijinks in the "new-fangled" world of video games. Vector graphics: still thrilling 30 years later! This is a movie that champions smart kids and good parents, and clicks with the Stranger Things vibe.
Where to watch it: Stream on HBO GO and HBO NOW; rent on iTunes, YouTube, and Amazon Video
Midnight Special (2016)
The "other" 1980s sci-fi throwback from this year is close to a masterpiece (and might just be one in a few years). From Take Shelter director Jeff Nichols, Midnight Special is about a father and a cop who struggle to keep a strange little boy from falling into the hands of a cult, and later the FBI. The pursuit is clouded in mystery; there are numerous surprises regarding heroes, villains, and the source of the desperate kid's seemingly otherworldly powers. Like Stranger Things, Midnight Special lifts from the likes of Spielberg and John Carpenter, but still stands as an impressively original story. Brace yourself for one hell of an ending.
Where to watch it: Rent on iTunes, YouTube, and Amazon Video
The Gate (1987)
Few but the most ardent of 1980s survivors will recall this low-budget tale of kids doing battle with a collection of demons. Despite drawing inspiration from Gremlins (the reason this movie exists, honestly), The Gate still rolls along with original twists, a few nifty FX sequences, and enough solid scary bits. It was rare to find a PG-13 horror movie back in 1987 -- and still is today, really.
Where to watch it: Rent on iTunes, YouTube, and Amazon Video
Explorers (1985)
Explorers should have been a smash hit. From the always-reliable Joe Dante (The Howling, Gremlins, Innerspace), the movie follows three affable kids (including Ethan Hawke and the late River Phoenix) who manage to build a spaceship and head off to the cosmos. Unfortunately, Paramount rushed the final product and dropped it on the same weekend as the Live Aid concert. The movie bombed. The movie has become a favorite among Gen X-ers and those students of underrated summertime blockbusters. A sloppy ending aside, Explorers is still a fun, funny, charming movie.
Where to watch it: Stream on Starz; rent on iTunes, YouTube, and Amazon Video
The Monster Squad (1987)
Considerably goofier than most of the films on this list, we simply had to include this popcorn movie about a bunch of kids who face off against all the classic movie monsters, including Dracula, Wolfman, and Frankenstein's Monster. There's not much here in the way of subtext or high drama, but the kids are all funny and director Fred Dekker keeps things moving quite smoothly. If this were eight episodes rather than a movie, The Monster Squad would be totally bingeable.
Where to watch it: Stream on Hulu; rent on iTunes, YouTube, and Amazon Video
The Outer Limits (1963)
The series only ran two seasons, but this sci-fi spin on The Twilight Zone provided more than enough fantastic episodes to warrant full-bore cult status. The initial 49 episodes continue to dazzle sci-fi fans of all ages -- provided they're refined enough to give a dated ol' black-and-white sci-fi show a spin. Once you're done with the original, pick through over 150 more sci-fi stories produced for the 1995 reboot, which isn't quite as consistent but does feature some fine speculative storytelling.
Where to watch it: Stream both versions on Hulu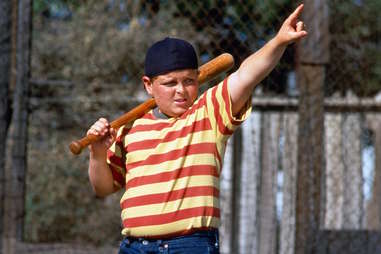 The Sandlot (1993)
There's nothing even remotely supernatural about this low-key, baseball-lovin' comedy (go for The Goonies if you need that fix), but The Sandlot does have one key element in common with Stranger Things: winning chemistry between surprisingly talented kid actors. We all know how painful a movie can be when the kid actors come off as too precocious, stilted, or obnoxious. The Sandlot is perfectly cast.
Where to watch it: Stream on HBOGo; rent on iTunes, YouTube, and Amazon Video
Super 8 (2011)
It'd be impossible to talk about sci-fi nostalgia movies without including J.J. Abrams' overhyped, yet smoothly appealing entry. Whether this virtual love letter to Steven Spielberg borrows too much from its inspirations is up to the viewer, but there's no denying that this "small-town kids save the day from an encroaching supernatural menace" movie pumps earnest love through its veins. A few eye-popping action sequences set it apart from the past.
Where to watch it: Rent on iTunes, YouTube, and Amazon Video
Eerie, Indiana (1991)
This kid-friendly take on Twin Peaks (only with more monsters!) was a short-lived affair. Only 19 episodes were produced, most of which were directed by Joe Dante, and the series never even made it to a second season. A millennial fanbase -- plus short stints on Netflix and Hulu (curse you, lapsed rights!) -- has allowed Eerie, Indiana to live on as a cult favorite. That it's also a clever, well-made piece of genre goofiness doesn't hurt. The final episode, where the stars break the fourth wall to ward off a hostile takeover of the show, is weird and wild.
Where to watch it: It's currently not streaming (legally), but it's available to Netflix DVD subscribers
After Stranger Things Season 2 watch...
Close Encounters if the Third Kind (1977)
In the first episode of Season 2 we get a nifty visual callback to Steven Spielberg's classic science-fiction film. Even if you've never seen the movie, you probably caught the moment; the "boy looking out an open door and seeing something otherworldly" image is also on the Close Encounters poster. The series doesn't actually have all the much in common with this particular film, but clearly the Duffer brothers wanted to throw a nifty visual cue in there. I you haven't seen this stunning story of obsession and curiosity, get on it.
Where to watch it: Rent on iTunes, Amazon, and Vudu
Ghostbusters (1984)
This creepy comedy classic plays a major role early in Stranger Things 2, not only because our heroes are more or less obsessed with the characters - going so far as to dress the parts for Halloween -- but Dustin's "ghost trap" ends up playing a fairly important role in the story. The producers clearly chose this movie because of how hugely impactful it was in the summer of 1984, which makes one wonder how Stranger Things 3 will deal with the cultural tidal wave that was 1985's Back to the Future.
Where to watch it: Rent on iTunes and Amazon
Gremlins (1984)
This movie isn't referenced by any of the characters in Season 2 but there's a great moment in the third episode when famed composer Jerry Goldsmith's score for Gremlins is plainly evident. And of course it arrives when a slimy little creature escapes from our heroes and causes all sorts of colorful mayhem. Understand all the layers of the reference by checking out Gremlins, a moral tale about monsters and always listening to directions, and its self-aware, hyper-cartoonish sequel.
Where to watch it: Stream on Netflix
Aliens (1986)
Not only does the second season of Stranger Things add a key member of the Aliens ensemble -- Paul Reiser once played the endlessly devious company man Carter Burke -- but it also turns your expectations on their head by (initially) presenting him as a shady guy. Throw in a few visual cues, especially once some of our main characters start wandering through underground caverns filled with hidden monsters, and it becomes pretty clear that the Duffer brothers are big fans of this particular James Cameron movie.
Where to watch it: Rent on iTunes, Amazon, and Vudu

The Ruins (2008)
The mid-section of Stranger Things 2 is laden with sentient, slimy, aggressive vines, and if you love that stuff you simply have to check out this memorably gruesome -- yet oddly underloved -- horror flick based on an equally nasty novel. It's a simple story about a bunch of young idiots who get trapped by a ruin full of killer vines. Fair warning though: these vines are much nastier, and the bloodshed is a lot more brutal.
Where to watch it:Stream on Hulu
Patrick (1978)
Poor, long-suffering Will struggles briefly with a sort of paralysis while stuck in a hospital bed, and that one quick moment made me think of the creepy cult classic from Australia called Patrick. Both the 1978 original and the 2013 remake have their moments, and do all they can to stretch their simple premise, where a telekinetic murderer torments is inquisitive nurse, into feature-length lunacy. This one may be a big reach on my part, but those Duffer brothers have probably seen Patrick by now.
Where to watch it: Stream on Shudder or Amazon Prime (with Shudder add-on)
Resident Evil (2002)
Most of the main characters (finally) come together near the end of Season 2, only the reunion isn't quite all that celebratory. Not only are they all firmly locked inside a top secret scientific facility, but they're under siege from horribly mutated dog-shaped creatures. That sounds a whole lot like the first Resident Evil movie -- if only for about half an episode, anyway.
Where to watch it: iTunes, Amazon, and Vudu
Sign up here for our daily Thrillist email, and get your fix of the best in food/drink/fun.
Scott Weinberg is a film writer and critic who has written for outlets such as Playboy, FEARnet, Nerdist, and many others. He tweets @scotteweinberg but ignores mean people.