10 TV Shows to Binge Next if You Loved 'The Night Of'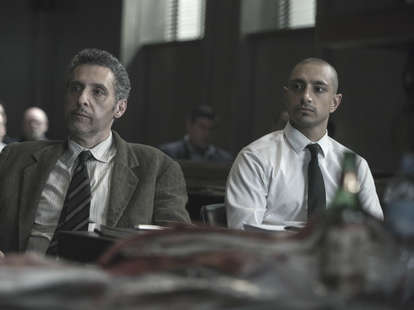 Craig Blankenhorn/HBO
Craig Blankenhorn/HBO
The summer, a time for loud car radio, staycation binge-watching, and movie theater air conditioning is nearly over. Luckily for you, we're not ready to say goodbye. Check out our hub of the best of summer movies, TV shows, and music for recommendations on how to keep the good times rolling.
If you're already missing The Night Of's spellbinding grasp following that impressive finale, we feel your pain. And we want to help you self-medicate. You've almost certainly already done hard time with prestige must-sees The Wire, Oz, and Homicide: Life on the Street, but if you've somehow overlooked them or didn't think they were for you, their gloomy realism and gritty take on the crime drama is the painkiller you're looking for.
But just in case, we've also rounded up some other TV shows that mesh well with the tone, subject matter, and caliber of The Night Of, the summer's best drama.
Criminal Justice
This 2008-2009 BBC anthology series ran for two seasons and proves that HBO's remake is faithful to a fault. (Let's just say those who loved learning about John Stone's eczema will not be disappointed.) In Season 1, Ben Whishaw (who played Q in the two most recent Bond movies) occupied the "Naz" role; here, he's a bright young soccer player who encounters a beautiful and troubled young woman (Preacher's Ruth Negga) while taking a joyride in his father's cab. Both seasons differ tonally from the American version, but it's not hard to see what got James Gandolfini all fired up.
Stream it on: Hulu
Top of the Lake
This enthralling seven-episode 2013 series, co-created, -written, and -directed by Jane Campion, follows a Sydney-based detective (Mad Men's Elisabeth Moss) as she tries to unravel a conspiracy in her small New Zealand hometown involving a missing 12-year-old girl, some dangerous locals, and a mysterious spiritual leader (Holly Hunter). You'll come for the great acting and careful plotting, but stay for the evocative misty-mountain visuals. It's the type of expertly made crime show that calms and unnerves in equal measure -- watch it before Season 2, starring Nicole Kidman, arrives on SundanceTV in 2017.
Stream it on: Netflix
American Crime
Like its completely unaffiliated basic-cable contemporary American Crime Story, this ABC anthology series uses a repertory-style cast to tell a different story each season. But rather than focusing on a celebrity-driven or headline-making case each time, like ThePeople v. O.J. Simpson, writer and director John Ridley (12 Years a Slave) trots out an original story. If you wish The Night Of had spent more time with Naz's bereaved parents, this is the heart-wrenching, family-oriented show to check out next.
Stream it on: Netflix
Broadchurch
The murder of a young boy stirs up a media frenzy and divides a tight-knit English coastal town, and the proper order of things is further disrupted by the unfiltered hotshot inspector (David Tennant) who arrives just in time to take on the baffling crime and vex a local detective (Olivia Colman) who wanted his job. The episodes of both seasons (a third arrives next year) mix in the main protagonists' complex personal lives with the well-paced investigation, ensuring that Broadchurch unfurls in a way that'll have you texting your friends to say, "I'm too sick to go out tonight" and automatically clicking "Next Episode."
Stream it on: Netflix
Rectify
You can think of Rectify as The Night Of in reverse: the SundanceTV series explores what happens when a technicality frees a death-row inmate (Aden Young) from prison after 20 years. While some in his small Georgia town remain on his side, others believe he really did rape and kill a young woman. The show's greatest strength, at least in its first two seasons, is that it isn't entirely concerned with its main character's guilt; the show is content instead to track how he (and everyone around him) copes with his new life. The fourth and final season begins October 26th, so bring the binge.
Stream it on: Netflix
Happy Valley
A police sergeant (Sarah Lancashire) is investigating the kidnapping of a local businessman's daughter by conspiring West Yorkshire locals; one of them is connected to the rape of her own daughter, who'd committed suicide eight years earlier. Tension builds at crime scenes and in familial moments, as Catherine swallows her suffering to parent her daughter's illegitimate son. Like The Night Of, the British series leaves room for flawed characters to make mistakes: Catherine isn't Sherlock Holmes, nor are her culprits Moriarty types. On this show, murders happen by accident -- which is even scarier than premeditation.
Stream it on: Netflix
Prime Suspect
This British series -- primarily known for making Helen Mirren a star (again) -- breaks a murder mystery into two feature-length movies. Like The Night Of, the show demonstrates how the police institution creates as many roadblocks as a crafty murderer. The seven seasons (comprised of 15 episodes and roughly 25 hours) are all solid, but start with the 1991 original, where Mirren's Jane Tennison assumes the role of senior investigating officer to investigate a serial killer, much to the chagrin of her male colleagues. Mirren imbues the been-there-done-that format with movie-star bravado, and as the show charts Tennison's rise up the chain of command, her material only gets meatier.
Stream it on: Hulu
Blue Murder
Detective Chief Inspector Janine Lewis (Caroline Quentin) is a single mom tasked with managing a full household and solving a high-stakes murder. That might sound like a potential sitcom premise, but it's not. This Brit crime saga, which premiered in 2003, manages to maintain a tone that's never too goofy or too serious. You might roll your eyes at the first few scenes as you adjust to dated music, VHS tapes, and flip phones. But we promise you won't be able to stop watching once you've finished the first episode. When it reviewed Season 3, the San Francisco Chronicle called Janine "the most fascinating British female cop since Jane Tennison." We agree.
Stream it on: Hulu
Show Me a Hero
The Wire creator David Simon adapted New York Times reporter Lisa Belkin's look at the Yonkers public-housing crisis into a six-part miniseries that probably sounds worse than a marathon of jury-duty videos emceed by your high school civics teacher. Twist: it's fantastic. Star Wars: The Force Awakens' Oscar Isaac stars as Nick Wasicsko, a Yonkers City Council member who, in 1987, became the youngest big-city mayor in the nation -- and quickly becomes a victim of US partisanship. In chronicling Wasicsko's efforts to desegregate the city's neighborhoods, Simon speaks on race, economics, and, with the DNA of The Night Of, a corruptible system. If you thought loudmouth egocentrics barking their way into American power positions was a 2016 trend, see Show Me a Hero for a shocking, sensitive, and fulfilling lesson.
Stream it on: HBO GO/NOW
The Sniffer
If John Turturro scratching his eczema on The Night Of was your jam, get a load of the lead character in this Ukrainian drama: a detective who uses his acute sense of smell to solve crimes. In situations where most of us would go, "Do you smell that?" The Sniffer takes a deep breath of stank and declares, "THAT'S A CLUE." I guess you could say he has a nose for solving mysteries. We'll see ourselves out.
Stream it on: Amazon Prime
Sign up here for our daily Thrillist email, and get your fix of the best in food/drink/fun.
Follow your nose to find the Thrillist Entertainment editors on Twitter.