Last night, after 10 glorious weeks of twists, tests, and player-piano pop music, Westworld Season 1 came to a climactic end. Thankfully, Season 2 looms on the horizon... but it won't be ready for viewing and rabid analysis until 2018.
So what in Arnold's name are we supposed to watch for the next year? Let the movies and shows below -- all available on streaming -- serve as second-generation hosts: previous projects by Westworld co-creator Jonathan Nolan, sequels to the 1973 movie that inspired HBO's hit, and tonal clones that'll feel a whole lot like the real thing. Just don't cut them open to see what's inside.
Recommended Video
This Pop-Up is Serving Real-Life Bob's Burgers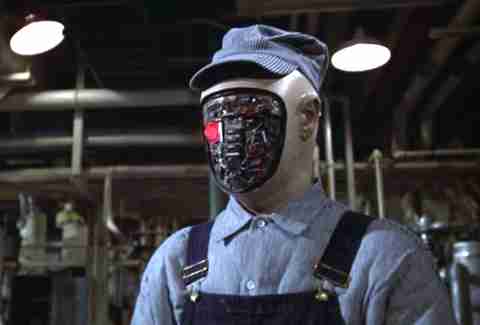 Futureworld
If you want an immediate fix of Westworldian fiction, look no further than Futureworld, the 1976 sequel to Michael Crichton's original movie. Two years after a robot shot his way through the Westworld park labs, Delos is back up and running, secretly cloning world leaders with their robot technology. Creepy stuff -- and total fodder for Season 2.
Where to watch: Stream on Amazon Prime
Person of Interest
Jonathan Nolan first teamed up with Westworld executive producer J.J. Abrams on this crime-hacker procedural, which ran from 2011 to 2016. A presumed-dead ex-CIA agent (Jim Caviezel) joins forces with a creepy billionaire (Lost's Michael Emerson) who has developed a futuristic "Machine" that predicts future potential crimes. The NYPD gets wise when Agent Reese sets out to save these possible victims, and the Machine raises potent questions about the implications of artificial intelligence.
Where to watch: Stream on Netflix
Interstellar
Jonathan Nolan wrote the screenplay for this star-gazing space-time saga, which was directed by his brother Christopher. Starring Matthew McConaughey as an intrepid NASA pilot stuck in space and separated from his daughter (Jessica Chastain) for the sake of saving the planet, Interstellar's hero finds himself trapped in an unfamiliar -- and visually dazzling -- new landscape. After the interdimensional adventure, rent the two other Nolan brother collaborations: Memento, which, much like Dolores asking "Where am I? When am I?," asks viewers to puzzle through an amnesiac timeline, and Inception, which explores dreams within dreams within dreams, much like Westworld's nesting doll of consciousness.
Where to watch: Stream on Amazon Prime and Hulu
Ex Machina
Before there was Dolores, there was Ava (Alicia Vikander), the deceptively innocent robo-girl at the center of Alex Garland's artifical intelligence mind-bender. When a computer junkie (Domhnall Gleeson, much like William arriving at Westworld) visits a tech titan's (Oscar Isaac's) bot-populated compound, Ava begins to outsmart her human masters -- to perilous results. Ex Machina's slick futuristic feel and wire-packed robots look straight out of Westworld, and its music choices are just as clever.
Where to watch: Stream on Amazon Prime
Humans
If you want more technophilosophy slathered on to your prestige TV drama, discover AMC's overlooked series Humans, co-produced with the UK's Channel 4. The series scales down Westworld's scope to examine a world accustom to robotic labor. But a hack to the "synth" system provides a select number of existing robots with souls — a wrench in the well-oiled machine.
Where to watch: Stream on Amazon Prime; Season 2 premieres in February on AMC
Her
William wasn't the first flesh-and-blood mortal to fall for his A.I. guide: in Spike Jonze's sly romance, a lonely man (Joaquin Phoenix) strikes up an all-too-real friendship with the Siri-like assistant inside his smartphone (voiced by Scarlett Johansson). If you ever wished Westworld was more like two hours of that steamy train scene William shares with Dolores, except set in the modern human landscape and doused in pastels, you'll love Her.
Where to watch: Rent on iTunes, Amazon Video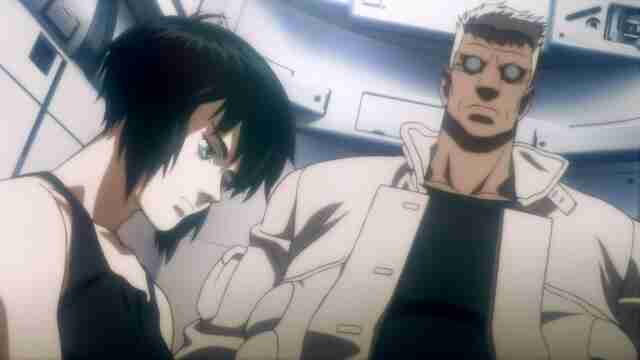 Ghost in the Shell
Nolan and Joy steeped Westworld in modern video-game tropes, but we guarantee they revisited this anime classic before setting out to tell their tale. Set in a world where most people have uploaded their consciousnesses into cybernetic bodies (i.e., ghosts in shells), the emergence of a "ghost hacker" terrorist pulls a security officer into a spiraling, neo-noir mystery with all of Westworld's contemplative detours. Before the Hollywood remake in March, you must see this movie.
Where to watch: Rent on iTunes, Amazon, YouTube
Sense8
If you think interwoven timelines and the hyper-evolution of robotic consciousness make for a whacked-out TV obsession, try Sense8, a global adventure envisioned by the Wachowskis for Netflix. Season 1 introduced viewers to eight "sensates," physically linked strangers who drift in and out of one another's points-of-view and memories. The characters range from a trans hacktivist to a diehard Jean-Claude Van Damme fan, and the action is as unique as you'd expect from the duo that created The Matrix.
Where to watch: Stream Season 1 on Netflix; Season 2 premieres in May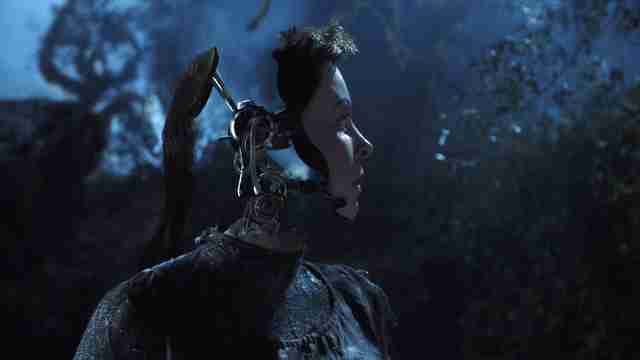 A.I.
In Steven Spielberg's futuristic fable, a robot ringer for Westworld's tiniest host (Haley Joel Osment) sets out on a quest to achieve humanity of his own. 2001: A Space Odyssey director Stanley Kubrick was working on this movie before he died, and Spielberg's takeover infuses a chilling story with warmth while maintaining a sense of futuristic realism.
Where to watch: Rent on iTunes, Amazon Video
Upstream Color
Writer-director Shane Carruth one-upped his intricate time-travel indie Primer with this science-fiction take on life, death, and the strange sensations of love. If you dug Westworld's interpretable pseudoscience, you'll dig this drama, which follows a couple infected by a parasitic blue larva, injected into their bodies by a hypnotist/farmer known only as the "Thief," who feels psychically connected to text of Thoreau's Walden and a litter of piglets. A weird and wonderful movie.
Where to watch: Stream on Netflix
World of Tomorrow
Does the Delos corporation want to use Westworld robots to extend the lives of the dead? It's a running theory, and parallels the cheeky glimpse of the future famed animator Don Hertzfeldt explores in this Oscar-nominated cartoon. World of Tomorrow sees a young girl named Emily make contact with an adult third-generation clone of herself, 227 years in the future, where robots thrive, emotion is capsuled in digital memory, and the human race is on the brink of extinction. Fun!
Where to watch: Stream on Netflix
Timecrimes
Westworld toyed with temporal shifts to rattle your brain, but Timecrimes dives into overlapping time-loop hysteria in order to melt you. Saying more would only undermine the fun of this realistic sci-fi thriller.
Where to watch: Stream on Amazon Prime
Dark City
Robots aren't the only ones who fight for their awakenings. In this meld of science-fiction and 1930s-style noir, an amnesiac man (Rufus Sewell) searches for clues that will exonerate him from a murder case as a paranormal clan of footsoldiers, known as the Strangers, hunt him down. Like Westworld, the bizarre setup only becomes more bizarre, as Dark City soars off the sci-fi deep end.
Where to watch: Rent on YouTube
Z for Zachariah
After the apocalypse, all that's left is Margot Robbie, Chiwetel Ejiofor, and Chris Pine. At least, that's the outcome this sci-fi survival story suggests, with three survivors of nuclear war trying to rebuild society on a farm reminiscent of Abernathy Ranch. Their world-rebuilding is similar to, albeit more nature-dependent, Westworld, with the trio's secrets, schemes, and manipulations feel straight out of Sweetwater.
Where to watch: Stream on Amazon Prime and Hulu
Sign up here for our daily Thrillist email, and get your fix of the best in food/drink/fun.