Game of Thrones has spent several years as a national sensation, winning awards, critical praise, and diehard fans along the way. While you could spend your spare time poring over George R.R. Martin's books and Reddit posts like Samwell Tarly in the Citadel's library, concocting theories about why Varys is secretly a merman, and publicly mourning the death of Margaery, you'll wind up driving yourself and everyone around you crazy. And, to paraphrase the Starks: The series finale is coming (eventually). It's time to catch up on all those non-Thrones shows you've been neglecting.
So, as you try to guess who will meet their end in grisly fashion as the race for the Iron Throne marches toward its bloody conclusion, take a break from Westeros and dive into some of these shows. The list is practically dragonless, but there's enough fantasy, violence, and thematic similarities to justify a hearty binge.
Recommended Video
The Most Relaxing Shows on Netflix (That Aren't 'Marie Kondo')
The 100 (2014-present)
Why it's for Game of Thrones fans: Brutal, agonizing character deaths! If you love getting to know a cast member over a series of episodes -- or whole seasons -- before having them ripped away from you, this show might be for you. But the tough-minded YA adaptation has more going for it than sheer agony: the back-room politics of its post-apocalyptic world call to mind the best deal-making we've seen in King's Landing, and the thorny moral dilemmas are just as rich as any of the tough choices Jon Snow's had to make up at the Wall. Don't let the show's soapy veneer fool you; this is dark, thoughtful material in a slick, teen-friendly package.  
Where to watch it: Stream on Netflix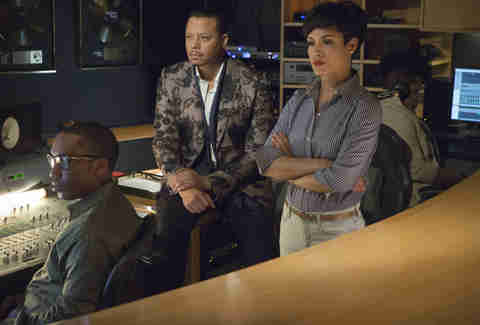 Empire (2015-present)
Why it's for Game of Thrones fans: At its core, Empire tracks the power struggles among a family dynasty populated with those who will stop at nothing to claim the throne of their record label. The sheer amount of backstabbing, murder, love triangles, and deception is a soapy delight; the Timbaland-produced soundtrack is a welcome bonus for pop hip-hop fans. That its characters and visual aesthetic bear little to no resemblance to the world of Westeros can act as a breath of fresh air for your fantasy-flooded eyeballs.
Where to watch: Stream on Hulu or FOX Now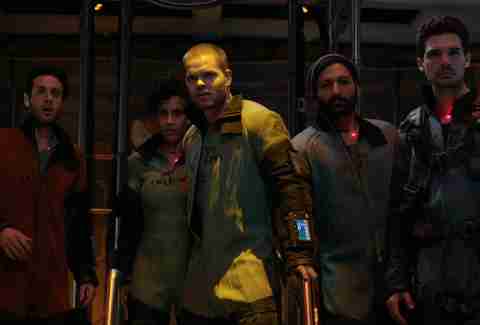 The Expanse (Syfy)
Why it's for Game of Thrones fans: Based on a series of novels by "James S.A. Corey" (Daniel Abraham and Ty Franck), The Expanse is a conspiracy thriller set in a future where humans have colonized the solar system. Just as Game of Thrones strayed from fantasy's wackier tropes, The Expanse leans into the humanist side of sci-fi, following Thomas Jane's detective Joe Miller and a team of starship pilots as they investigate the death of a space tycoon's daughter. Also like Thrones, the otherworldly tropes eventually begin bleeding into the story.
Where to watch it: Stream Season 1 on Amazon Prime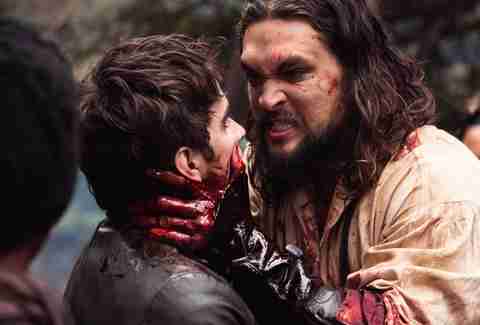 Frontier (2016-present)
Why it's for Game of Thrones fans: Khal Drogo! Khaleesi's husband got killed off fairly quickly in GoT, but not before becoming a star. Jason Momoa took time out from playing Aquaman to star in this Canadian import about the 18th-century North American fur trade. It's like The Revenant starring Khal Drogo, with fur pelts draping Momoa's considerable mass as he takes on Hudson's Bay Company. 
Where to watch it: Stream on Netflix
The Last Kingdom (2015-present)
Why it's for Game of Thrones fans: If you wish GoT had zero magic, The Last Kingdom will satisfy your rigid love of realism. Set in medieval England, it pits Danish invaders (aka VIKINGS) against the divided kingdoms on the British Isles. At the center of it all is Uhtred, an English noble captured and raised by the Vikings, but who subsequently fights for the English in battles that help "medieval" live up to its reputation as a time when the brutality of humans was perpetually on display in bloody hand-to-hand combat. You'll get all the familial intrigue, power struggles, sword fights, and troubled relationships that make Game of Thrones addictive. Just no White Walkers. 
Where to watch it: Stream on Netflix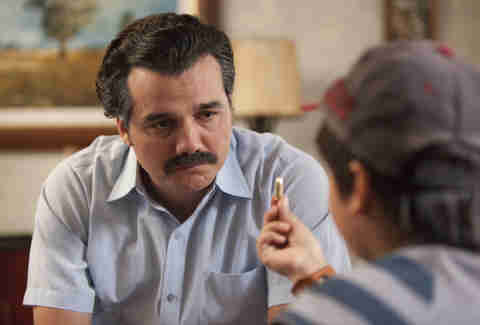 Narcos (2015-present)
Why it's for Game of Thrones fans: Killing off your show's lead character is a daunting prospect, but it's a potential pitfall both GoT and Narcos deftly navigate. When Eric Newman and José Padilha took over Narcos' reins for Season 2, they managed to orchestrate the demise of Pablo Escobar (Wagner Moura) with suspense and a sense of inevitability. The contrast between splashy cartel schemes and small-scale depictions of those they affected serves to ground an illicit drama in humanity, not unlike the way in which the macro-drama of warring kingdoms and an army of undead invaders plays out on personal levels throughout Thrones. 
Where to watch it: Stream on Netflix
Outcast (2016-present)
Why it's for Game of Thrones fans: While the White Walkers, the Zombie Mountain, and Cersei's fearsome pixie cut all strike fear into your heart, Game of Thrones has always had more fantasy than horror. If you want to up the scare quotient, watch this creepy exorcism drama based on a comic from The Walking Dead mastermind Robert Kirkman, which pairs complex familial history with terrifying imagery that would make Walder Frey's skin crawl. It's the type of stripped-down, character-driven genre show that makes for an ideal GoT stop-gap -- plus, there are plenty of unexplained mysteries to give your theory-hungry brain a workout.
Where to watch it: Stream on MAX Go
Outlander (2014-present)
Why it's for Game of Thrones fans: If you're hankering for another fantasy-prestige series involving time travel, violence, historical references, and romance, Outlander might be your best bet. It's produced by Ronald D. Moore, an alum of Star Trek and Battlestar Galactica, and like GoT, it's based on a book series (this one's by Diana Gabaldon), in which our heroine, Claire (Caitriona Balfe), a World War II nurse, gets flung back in time to the Scottish Highlands in the 18th century, separated from her husband by time and space. Unlike the bulk of Thrones, Outlander has earned heaps of praise for its competent grasp of the female gaze -- save for some gruesome, GoT-like instances of assault, Claire is prioritized and in control for the show's many steamy sex scenes. Season 2 brings Claire and her love interest Jamie (not to be confused with Jaime Lannister) to Paris for more pseudo-historical shenanigans and graphic sexual encounters. Plus, Edmure Tully (Tobias Menzies) shows up!
Where to watch it: Stream on Starz On Demand
Peaky Blinders (2013-present)
Why it's for Game of Thrones fans: Cillian Murphy stars in this early-20th-century period drama as Thomas Shelby, a World War I vet-turned-patriarchal crime boss who wants to up his family's social and financial status in England. The Shelbys' story plays out as historical fiction, loosely inspired by the exploits of real-life gangs based in Birmingham around the late 1800s and early 1900s. Rivaling bands of thugs clash for underworld influence here in a way that is not unlike on Game of Thrones, just on a less fantastical scale: high-stakes political power plays, shady back-room dealings, and gritty tussles abound, with enough blood to rival the Red Wedding. (The show's name comes from the razor blades stitched in the Shelbys' flat caps, after all.) And if you still miss GoT, take comfort in appearances from Locke (Noah Taylor), Doran Martell (Alexander Siddig), and the Night King (Richard Brake).
Where to watch it: Stream on Netflix
Preacher (2016-present)
Why it's for Game of Thrones fans: Seth Rogen and Breaking Bad writer Sam Catlin teamed up for an adaptation of the hard-R '90s classic by comic legends Garth Ennis and Steve Dillon, and the result is a madcap, supernatural mystery and one of the goriest hour-longs we've ever seen. The premiere introduced us to kick-ass man of the cloth Jesse Custer, his even deadlier ex-girlfriend Ruth, and Cassidy, an Irish vampire who loves to drink and pick fights. Based on our conversation with Catlin, all three are on a road to revelations -- about God, about hell, and about everything in between. 
Where to watch it: Stream on the AMC app, or purchase on Amazon and iTunes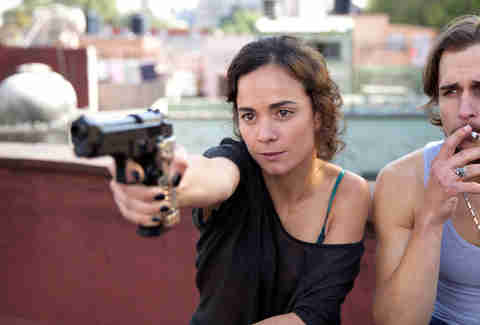 Queen of the South (2016-present)
Why it's for Game of Thrones fans: If the rise of Thrones' female characters through Season 6 got you fired up, take notes on "queenpin" Teresa's (Alice Braga) ascent to power in the male-dominated narco world. The USA series hews closely to its inspiration, Telemundo telenovela La Reina del Sur, which was a favorite of real-life kingpin El Chapo; the English-language version ups the gloss without trading in any of the grit. Dany's champions will recognize their heroine's grit and determination in Teresa, who shoots her enemies down in their tracks while learning the ropes of her new trade.
Where to watch it: Stream on Netflix
The Shannara Chronicles (2016-present)
Why it's for Game of Thrones fans: If you watch Thrones and live for every White Walker attack, pine for more Bran warging, wish every battle involved eight more dragons, or wonder why there isn't a wizard who can solve Westeros' problems with a single spell, there's a show for you. MTV spent serious cash realizing Terry Brooks' Shannara series, balancing out the hot-young-thing cast with what can only be described as fantasy geekery. All the made-up names, places, and objects of magical destruction introduced in the first season make explaining the plot a chore, but The Shannara Chronicles gamifies Thrones' drama with zanier action and colorful imagination. An acquired taste, but one that satisfies.
Where to watch it: Stream on Netflix
Wynonna Earp (2016-present)
Why it's for Game of Thrones fans: Wynonna Earp is a faster, sexier, funnier show than it has any right to be. The pitch is simple: the great-great-granddaughter of legendary gunslinger Wyatt Earp must lead the charge against an army of zombies. A hero fighting the undead? A badass woman in charge? Yep, sounds like it's perfect for the GoT set. Earp totes a gigantic, legendary magic pistol called Peacemaker. She has a bumbling, moronic Justin Bieber-lookalike as a sidekick/comic relief. There are several love triangles with the undead. One of those love triangles happens to involve Doc Holliday in the present. Perhaps the best summary of the show is this one-liner in its pilot: "I am the girl. With the big-ass gun." If you can't get on board, you may not like fun.
Where to watch it: Stream on Netflix
Sign up here for our daily Thrillist email, and get your fix of the best in food/drink/fun.