The Secrets Behind the Mouthwatering Food on 'Billions'
In the penultimate episode of Billions' triumphant second season, we see hedge fund guru Bobby "Axe" Axelrod (Damien Lewis) and his wife (Malin Akerman) celebrating the recent victory over his longtime rival, Paul Giamatti's District Attorney Chuck Rhoades, by topping his pizza with caviar, carefully scooping out and placing a dollop on a greasy slice cooked in his personal wood-burning oven.
If there's a better metaphor for the show's complex, outlandish, and visceral relationship with the rampant consumption of the rich and powerful, I haven't found it. Billions is the caviar-on-pizza of TV.
According to showrunners Brian Koppelman and David Levien, who co-created the finance thriller with New York Times columnist Andrew Ross Sorkin, the focus on culinary delights both highbrow (Momofuku's David Chang played himself earlier this season) and lowbrow (White Castle made a cameo in the pilot) is baked into the gooey center of the show.
"David and I are borderline obsessed with this stuff so our show is borderline obsessed with this stuff," explains Koppelman over the phone, taking a break from writing the show's third season. "We have this incredible reverence and love for the figures who've found a way to cut through the morass to become exceptional New York restaurateurs. There are reasons we've chosen the restaurants and the chefs we've highlighted."
In talking to the pair of Long Island-born writers, whose credits include Rounders and Ocean's Thirteen, it becomes clear that food functions like the show's film references and rock-and-punk-centric soundtrack do, each dish hand-selected to reveal deeper truths about these hyper-driven, obsessive characters. To get further insights into the show's power-hungry vision of New York, I asked Koppelman and Levien to break down some of the most mouthwatering food moments.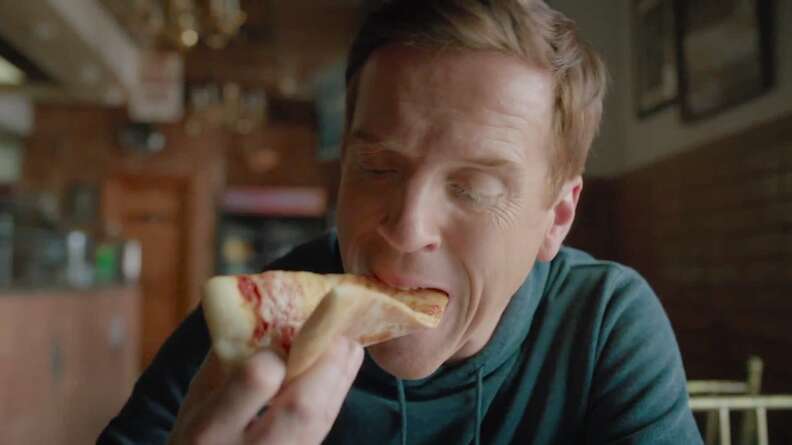 Bobby Axelrod enjoys a slice of pizza in the morning
The place: Rosa's Pizza
The first time we meet Bobby Axelrod in Billions, he's biting into a fresh slice at his favorite pizzeria, Bruno's. "In that particular scene, that was about understanding that Bobby was a guy with certain roots and that he remained true to them," says Levien. "Later, when we learn about the scope of his lifestyle, the fact that he's still connected to his childhood pizza place says a lot about a person, especially someone from the New York area."
At the same time, the scene also sets in motion plot details that will pay off down the line: Axelrod becomes an investor in Bruno's fledgling neighborhood institution, and later in Season 2, Bruno's nephew Marco, a young outer-borough striver, approaches Axe about a casino deal in the upstate town of Sandicot. Over the course of the season, the fate of the small town has hung in Bobby's tight grasp, serving as a microcosm -- like Hamsterdam on The Wire -- for how big businesses in America systematically gut small towns for profit.
And just think: It all started with a slice in Queens.
Chuck and Wendy's big Italian date night
The place:Babbo Ristorante
Midway through Season 1, Chuck Rhoades and his wife Wendy (Maggie Siff) go out on a rare dinner date with another couple. Koppelman and Levien had the perfect place in mind: Greenwich Village's Babbo, owned by Koppelman's friend Mario Batali. One meal at the pasta haven speaks volumes about the class and privilege Chuck and Wendy enjoy. "These are people for whom a nice night out at Babbo is a great and wonderful thing, but they're not thinking about whether it breaks the budget," says Koppelman. "They're not thinking about how to get a table at Babbo. They're people who can go there."
Koppelman and Levien are similarly familiar with the venue's white-tablecloth-filled interior. They spent many hours there developing Billions together, and even joined Preet Bharara, former US Attorney for the Southern District of New York, whose crusades against Wall Street traders served as an inspiration for the Rhoades character, for a meal at their favorite spot.
"We didn't 'take' Preet because Preet, in that job, wouldn't allow anyone to pay for him," notes Koppelman. "So we all paid for our own dinners. But we went to Babbo together."
Chuck breaks his diet and destroys a sandwich
The place:Mile End Delicatessen
If Season 2 had a food high-point, it was the fifth episode, which featured the aforementioned David Chang cameo, a backyard lobster feast, a shady meeting of billionaires at a greasy-spoon diner, and a suspenseful wiretapping at Michael White's Midtown eatery Ai Fiori. But the peak Billions food moment occurs at the end when Chuck Rhoades, the Ivy League Elmer Fudd to Axe's rags-to-riches Bugs Bunny, funnels his impotent rage into scarfing down a sandwich from Mile End Delicatessen in NoHo.
We see a lot of characters eating takeout at their desks in Billions -- Koppelman says it shows them staying "fueled" for their battles -- but Chuck's trip to Mile End might be the series' most poignant solo food moment. Just look at Giamatti devouring that meat.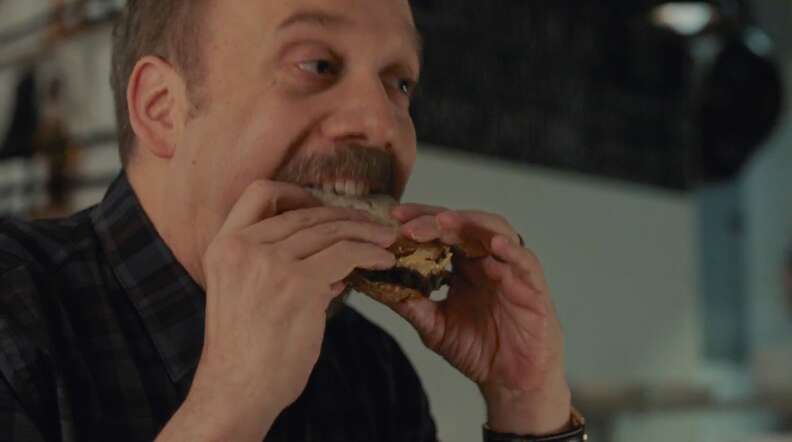 Does he remove some of the meat from his sandwich, dip it in the poutine, and eat it with his fingers? Of course he does. The man is in pain.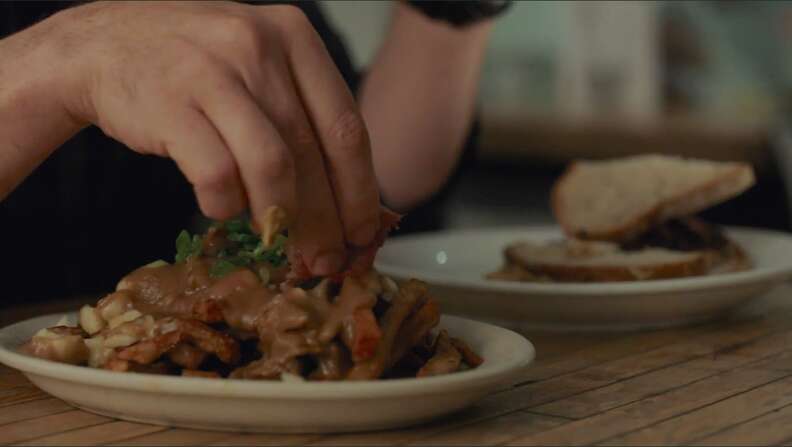 "Chuck was checking his diet, his desires, and his appetites for many episodes," says Levien, "and then for various reasons the lid flies off in that moment." Even the writer is impressed how the moment perfectly expresses Chuck's ordeal. "Watching Paul go after it in that scene was so amazing."
The only problem? When they shot the scene at the Jewish delicatessen, the kitchen was all out of weck. "There was a little weck shortage for a minute so he couldn't have beef on weck," laments Koppelman. "But we made due somehow."
That scene with the duck meat
The place:Peking Duck House
Though fruits and veggies occasionally pop up -- in one episode, Chuck flexes his dad muscles by cutting cantaloupe for his kids, while David Costabile's Wags loves his sushi -- Billions is a carnivore-centric show. In the same way Goodfellas (a Koppelman-and-Levien favorite) made slicing garlic into a spiritual act, Billions worships at the altar of meat. The creators staged an entire Season 2 scene in a walk-in meat fridge. Then there's Chuck and Rob Morrow's district judge's tense business lunch, set in Chinatown's Peking Duck House.
"So many chefs have mentioned to me that they love that we had these guys go to Peking Duck," says Koppelman. "It's like a regular commercial place in Chinatown, but it does this one thing and if you're a New York, obsessed food person, you've told yourself, 'I'm not going to go back there,' or 'I'm not going to get the crispy beef,' and then you just find yourself back at Peking Duck just slamming that duck and crispy beef over and over again over the years."
Like Babbo, Peking Duck is a place the writers have taken sources while researching the show. "A judge went with us," says Koppelman. "He was going to be an off-the-record source for us and we said where do you like to go, and he was like, 'Well, I walk over to Peking Duck.'"
The rumble in the chophouse
The place:Keens Steakhouse
Food is power in the world of Billions: a way to impress people, win influence, and, occasionally, dominate others, like when Chuck and his associate Bryan (Toby Leonard Moore) go to lunch at Keens, the Manhattan steak institution founded in 1885 by theater producer Albert Keen. As shot by director John Singleton (Boyz n the Hood), it doesn't feel like a meal between mentor and mentee. It's a battle in an arena.
"That scene and the location came to us at the same time," explains Levien. "We knew there would be a moment when they have this big conversation but we were immediately like, '[Chuck] should take him to a place that signifies a huge step in the careers in that office.' And the idea of serving this giant plate of quivering mutton was the perfect embodiment of the scene."
It's a food sequence that reaches the heights of the movies that have inspired Koppelman and Levien throughout their lives. The Chinese food scene in The Godfather. The late-night bull sessions in Diner. The frittata finale of Big Night. Even the heavenly omelet in Albert Brooks' Defending Your Life. The duo are chasing the brilliance of their cinematic heroes -- one meal at a time.
"You guys understand the power of things, like the power of a certain kind of scent," says Koppelman. "The first moment a taste hits you when you bite into something and the emotions that are released based on memory and possibility and satiation or lack of that. All that stuff is at play."
Sign up here for our daily Thrillist email, and get your fix of the best in food/drink/fun.