In 'Kidding,' Michel Gondry Taps Into the Dark Side of Jim Carrey's Mr. Rogers-Like TV Host
Showtime
Showtime
In Showtime's new series Kidding, which premieres on Sunday, September 9, Jim Carrey wears his hair in a neat cut hanging just below his ears and speaks with an almost unnerving sense of calm. He plays Jeff Pickles -- host of the popular children's television show Mr. Pickles' Puppet Time -- on the verge of a breakdown. In other hands, this might be the recipe for something out of a horror movie rummaging around Jeff's despair. But director Michel Gondry -- who also serves as an executive producer on the show -- has faith in Jeff Pickles' innate goodness. "I am convinced that his kindness for how ridiculous it can be is genuine," says Gondry during a recent phone conversation, his French accent almost as thick as the one wielded by Pickles' puppet baguette.
Carrey and Gondry last collaborated 14 years ago on Eternal Sunshine of the Spotless Mind, where Carrey was Joel Barrish, a man traveling through his own memories when he decides to erase them to rid himself of the ex who decided to expunge him. It's a deeply melancholy generational touchstone that also, almost bizarrely, seems to believe in the inevitability of love and heartbreak in equal measure.
That tone is similar to what you'll find in Kidding, which was created by Weeds writer Dave Holstein. When it opens, you'll find Jeff appearing -- alongside Danny Trejo -- on Conan, singing a song about feelings, accompanied by his trusty Uke-Larry. But we soon learn that Jeff's affirmative, permanent smile is masking a deep depression stemming from the recent loss of one of his twin sons, the circumstances of which play out in a flashback that mixes whimsy with tragedy: A snack cake truck driver is singing to "Jesus Christ Superstar" when he drives through a broken stoplight, slamming into the minivan carrying Jeff's family.
Throughout the first four episodes of the series that were made available to press, Jeff powers through his sorrow with a serene positivity that frustrates those around him. If he didn't seem so likely to crumble under the weight of his own optimistic facade, he would appear to be the most well-adjusted person on screen. But glimpses of madness pop through. He shaves a strip of his hair off, and he comes awfully close to stalking the wife from whom he is separated. He treats children with an intellectual respect he doesn't often afford to adults, who he treats, unsurprisingly, like children. He talks down to his family, but wants to teach his young viewers about death. The effect can be disconcerting.
"You have a guy who presents wisdom and has a connection with everybody in America when he's on TV, but when he steps in the real world, it's another story," Gondry explains. "And when the real world starts to collapse, he tries to use his wisdom to keep the pieces together, but everything collapses, ultimately."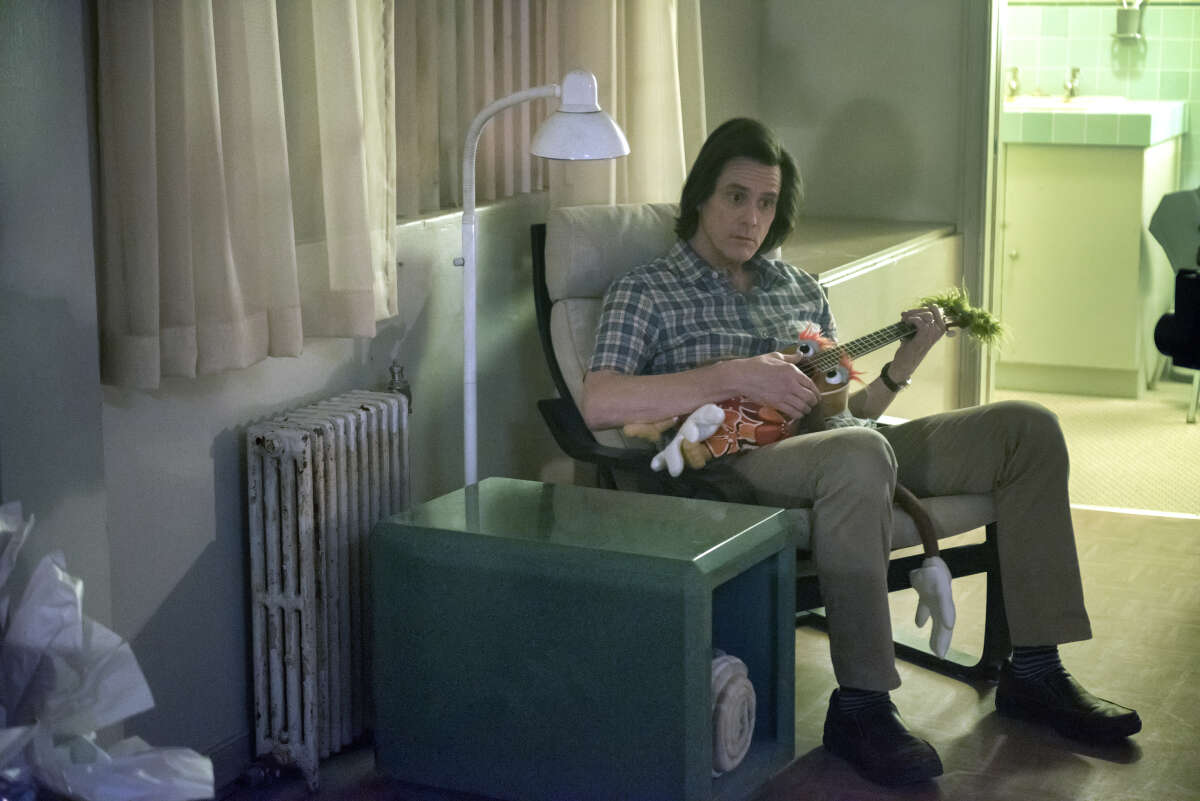 Gondry's work has always toed the line between dreams and reality -- a subject he is admittedly drawn to because of his own vivid imagination. The world of Mr. Pickles' Puppet Time is similarly hallucinatory. Still, while the aesthetic has yielded comparisons of Mister Rogers' Neighborhood meets Pee-Wee's Playhouse, Gondry says he was trying to avoid leaning on anything for inspiration.
"To me, it was more thinking of Jim Carrey as we know him and Jim Carrey as he is when we work together," he says. "I didn't want to be influenced... But I thought Jim Carrey has all these layers from happiness to despair within himself, so I was more interested to be able to do that and take the bits that I like and make them grow or use them." And though some of Jeff's puppets were designed before Gondry got on set, he wanted the ones he developed through drawings to be totally original -- like a conductor leading a pickle choir hidden in its body.
As you watch the initial episodes of Kidding, you keep waiting for it to make a turn into total darkness. There are hints of that, of course. Jeff's father (Frank Langella) wants to make sure he can monetize his son's brand, even if he loses his mind -- even going so far as to order the creation of a giant Jeff head for an ice skating show. His sister (Catherine Keener), the puppet master on his show, is dealing with her own problems after her daughter sees her husband getting a hand job from her piano teacher. On top of all that, Jeff's son is on a rebellious streak, hanging with a new pot-smoking crowd and trying to put bees in his mother's car. But, in keeping within Gondry's philosophy, it's Jeff's perspective that tends to win. "I don't need to have assholes in the movie. It doesn't interest me," he says. "I realize there are some in real life. I don't really want to see them in my movie."
Gondry alludes to the fact that sometimes this sunny outlook would conflict with what was in the script. "Sometimes Dave [Holstein], for the strength of the story, he wanted people to be more aggressive, more mean, and we talked about it and sometimes I shoot them more this way, and sometimes I succeeded to change his mind and shoot them nicer," he says.
What results is a counter to the world of antihero TV, which labors to make its audience empathize with the Walter Whites of the world. Although Jeff's tendencies might be just as internally self-destructive, Kidding asks, what if you had to deal with the most ingratiatingly nice person you could possibly imagine? And what if that person's cheery temperament, masking their emotional baggage, was maybe slowly destroying him?
Sign up here for our daily Thrillist email and subscribe here for our YouTube channel to get your fix of the best in food/drink/fun.