What the Ending of 'Sicario: Day of the Soldado' Means for the Series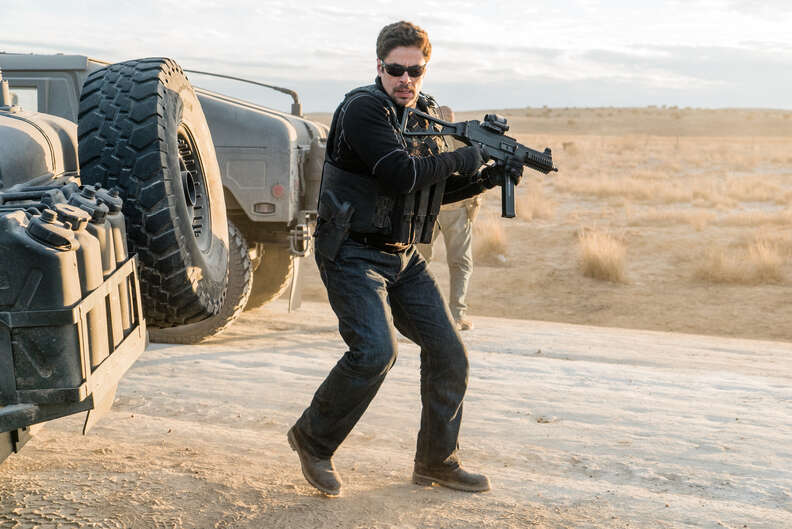 Richard Foreman, Jr. SMPSP
This post contains spoilers for the movie Sicario: Day of the Soldado, and discusses the ending of the movie in detail.
There was little about Sicario, director Denis Villeneuve's dread-soaked border drama, that indicated a sequel would be on the horizon. The Emily Blunt-starring film, which received a handful of Oscar nominations and made a little over $84 million at the box office, wasn't filled with loose ends, cliff-hangers, or unanswered questions that would send viewers begging for more as they exited the theater. It mostly just left you feeling hollowed out, flattened, and pulverized, like you were run over by a runaway tank. It was the feel-bad movie of the year -- possibly the decade. Not exactly franchise material.
But in an era when the artful combat movie Jarhead can inspire a string of presumably lucrative direct-to-DVD sequels and studios are always hungry for new IP, it's not exactly shocking that some executive would decide there's more story to tell about these characters. If Narcos, Netflix's mega-popular cartel history series, can run for multiple seasons, then why not spin the bloody chaos and stylized nihilism of Sicario into its own cinematic universe? As the cynical mercenaries, drug dealers, and government bureaucrats of the first movie know, there's always more money to be made. Clearly, a demand exists; here's the supply.
So, the awkwardly titled Sicario: Day of the Soldado arrives in theaters this weekend at a political moment when discussions about border security, immigration, and detainment have intensified in recent months. Even its admirers will admit the first Sicario wasn't exactly a politically sophisticated work of art -- what it lacked in nuance or authenticity it made up for in pure adrenaline-fueled intensity -- but Sicario: Day of the Soldado feels even blunter and dumber. In its frenzied opening, which pings between a suicide bombing at the border and another shocking act of violence in a Kansas City grocery store, the movie establishes an alarmist tone. It screams to be taken seriously.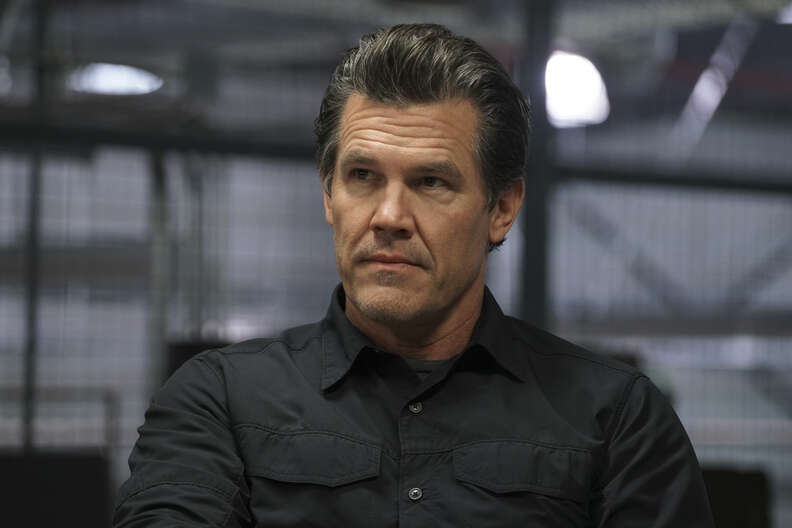 Soon enough, we're reunited with Josh Brolin's Matt Graver, a smug CIA agent, and Benicio del Toro's Alejandro Gillick, a hired gun whose family was murdered by the cartel. The pair are tasked with creating a war between two Mexican drug organizations by kidnapping the young daughter (Isabela Moner) of a kingpin, a mission they carry out with deadly efficiency and stomach-churning brutality. When things go wrong, del Toro is left in a classic action movie situation that should feel familiar to anyone who saw last year's Logan or any number of Bruce Willis movies from the '90s: Alejandro must protect the girl from both criminals and government soldiers alike. He might be a cold-blooded killer, but he's got a soft spot for this kid.
Sicario: Day of the Soldado had multiple strikes against it ever since it was first announced. The sequel lacks multiple creative personnel that made the first films so effective: Villeneuve, who went on to direct the prestige blockbusters Arrival and Blade Runner 2049, is out; Roger Deakins, the legendary cinematographer behind No Country for Old Men and Skyfall, is not involved; composer Jóhann Jóhannsson, who crafted the original's menacing score, passed away earlier this year; and Emily Blunt, the protagonist and soulful audience surrogate amidst all the darkness in the first film, isn't around to offset the macho energy. (She was presumably too busy being very quiet in the woods.) Who returned? In addition to del Toro and Brolin, screenwriter Taylor Sheridan, who penned the original and the script for the Oscar-nominated Hell or High Water, takes on the writing duties here, but the wry touches in first film are mostly absent and the pace feels off from the start.
He's not helped much by director Stefano Sollima, who helmed multiple episodes of the Italian crime television series Gomorrah and brings a workmanlike approach to material that demands a tight grip. Villeneuve was able to sell the tough-guy clichés of the first Sicario, but Sollima struggles to make Soldado's grisly twists come alive. In the final stretch of the film, del Toro's Alejandro transforms into an action movie version of Jason Voorhees, rising from the dead after a bullet-to-the-head execution. The assassination is carried out by a frightened Mexican-American teenager, who we meet earlier in the film as he's introduced to the criminal life. He doesn't finish the job and Alejandro unwraps the hood and the duct tape around his head to reveal he was actually shot through the cheek. He survived! You're supposed to gasp but the moment is profoundly silly.
That ridiculous quality is only heightened as Alejandro crawls through the desert, steals a car, and dispatches more bad guys with a grenade tossed out the window of his moving vehicle. In its quest to mint new "badass" scenes of violence and revenge, the story becomes completely untethered from narrative logic and basic believability. These beats would be entertaining if the movie was content with being a B-movie thriller, but Sheridan's script is weighed down by its half-hearted critiques of American imperialism and bleak attempts at poetry. "Fuck it all," says Brolin at one point, and it's hard not to agree with him.
That frustration becomes more pronounced as the movie wraps up. Brolin's Graver decides to save the girl, a choice that doesn't really scan with his behavior in the previous two hours, and there's no show-down between the two main characters. Instead, we cut ahead to a year after the events of the movie and we see the young boy who shot del Toro and he's now sporting tattoos that imply he's further entangled in the drug war. Alejandro confronts him at a mall and asks him a question: "So, you want to be a Sicario?" He's got plans for the boy's future -- and presumably the filmmakers have ideas for another movie.
According to interviews with the film's producers, Sheridan has a "master plan" for a trilogy. But will audiences want to follow along on this increasingly dark and body-strewn path? As good as del Toro is in the role -- he even sells the physicality of his big resurrection -- the movies around him are dour and grueling. The studio clearly wants this to be a high-end version of the Fast and Furious series or John Wick, two action tentpoles with humble beginnings, but the product they're peddling isn't exactly addictive. Instead, it's a stepped-on version of Villeneuve's original formula.
Sign up here for our daily Thrillist email and subscribe here for our YouTube channel to get your fix of the best in food/drink/fun.