We Figured Out Jared's Insane Backstory on 'Silicon Valley'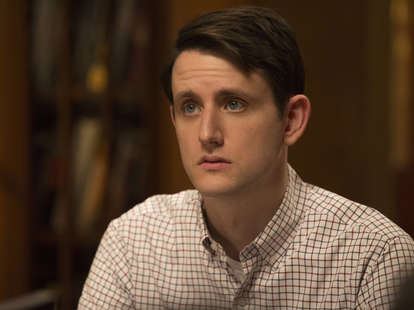 HBO
HBO
For the past three seasons, Silicon Valley's Jared (Zach Woods), the head of business development at Pied Piper, has provided us with lots of great strategy tips and jokes at his expense. After cringe-laughing at the billionth out-of-context detail about his upbringing, we wanted to get to the bottom of his broken past.
We carefully reviewed every hint Jared has dropped, and a few concrete details formed a sketch of a traumatized child turned dedicated business developer. Using Woods' interviews and lots of Valley dialogue, we filled in the gaps of his backstory. Below, re-meet Donald "Jared" Dunn (fair warning: shit gets dark).
His early life involved Child Protective Services
As Jared explains to Erlich in Season 3, his first CPS worker never located his birth certificate. (Ironically, in the absence of official documentation, there's a small chance that his name could actually be Jared.) It's unclear where he was born or how old he is, though he has specified familiarity with California's CPS on the Pied Piper blog.
Little information exists about Jared's biological parents, save for the fact that his dad abandoned him and his family for a militia in the Ozarks. Woods has said of developing the character that he believes Jared has been passed around the foster care system, or has "gone through a series of really dramatic things."
"We were always planning our big escape."
Growing up, Jared's relationship with his relatives and foster guardians was marked with abuse and neglect. His best friends were Winnie, a stuffed animal made out of a Ziploc bag, old newspaper, and marker, and an imaginary Harriet Tubman. "We were always planning our big escape," he has said of the latter. He created both to meet his emotional needs, and to make up for a lack of love and connection.
Jared has referred to taunts from his aunt and uncle often, so they might have housed him while he suffered from digestive issues that persist today. His uncle used to say that Jared's "ghost-like features" made him look like "a virgin that's been starved to death," and people thought Jared had a "wasting disease because of [his] slender frame." In Season 3, Jared ruins everyone's meal because he has too many dietary restrictions to leave a breakfast surprise to chance. Plus, we know he "wastes money at the butthole doctor" and his aunt called him "glasshole" to underscore the fragility of his posterior.
Jared's official Pied Piper bio credits a series of "largely well-meaning" foster parents with steering him in the right direction, so he was taken from his aunt and uncle at some point -- though foster care wasn't much better. On the blog, Jared wrote that he lived in attics and semi-enclosed porches, "which I paid for with endless, backbreaking chores and things no child should see." His willingness to sleep with the rats in Erlich's garage is not just proof of his resilience but evidence of a familiarity with doing so in the past. The Season 3 line "I haven't slept in a box in years" should come as no surprise.
Whenever he attempts to joke around with his colleagues, Jared misses the mark and often references incest and death. Through Seasons 2 and 3, Jared reveals that he has always wanted to be part of a suicide pact and has seen a naked dead person.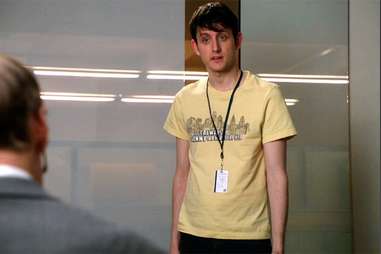 He was bullied through childhood but really found himself in college
A lanky kid who sported braces and then a retainer, Jared learned book smarts and survival skills in his formative years. Thanks to the unpredictability of the foster care system, he bounced between primary and high schools, where he was more popular with dumpsters and fists than with his peers -- which would not surprise his current co-workers. For example, he knows that if you flinch, the pain will never end. "If you keep screaming your name," he tells Richard in Season 1, "it forces the assailant to acknowledge you as a human." And did people mess with his lunch and his lunch money? You bet. According to Jared, hunger is the best sauce.
Judy Blume was a favorite of the young bookworm. Woods told BuzzFeed that Jared probably would have liked Are You There God? It's Me, Margaret. "In my head I feel like he loves old strong women," he said. "Like, I always thought his first crush was, like, Anne Frank."
Jared matriculated at Vassar College, a liberal arts school in Poughkeepsie, New York, where he studied economics and discovered a love for political documentary films. "During those happiest of years," reads his Pied Piper bio, "he sang second alto with the Joyce Carol Notes A Cappella Confrontation and was both coxswain for Women's Heavyweight Crew and co-founder of Take Back Take Back the Night."
His career would make most millennials jealous
After graduating with a B.A. in econ, Jared moved back to California to work stints at Google and with Congresswoman Nancy Pelosi. He found a more permanent fit with Hooli, the place "Donald" became "Jared." On day one, Hooli CEO Gavin Belson called Jared the wrong name. It stuck.
At Hooli, Jared honed his business development skill set, working as one of Gavin's right-hand men. He's a sharp start-up asset, especially when it comes to calculating burn rates and budgets. He also always has his finger on the pulse of tech news. Although he had a great job at Hooli -- a fat salary, stock options, on track to be a senior VP -- Jared likened the Google stand-in to an abusive spouse. The Hooli damages are so real, Jared subconsciously booby-traps his new workplaces with corporate resources (the SWOT matrix and the Scrum board) and keeps his old nickname.
As Woods told Gold Derby, Jared functioned as a Pinocchio-like puppet at Hooli. He awakens and becomes slightly more "real" when he meets Richard Hendricks and the Pied Piper team. "You pulled me out of that life, and you gave me hope and a sense of self-worth," Jared tells Richard in Season 2. "Like Richard Gere did to Julia Roberts in Pretty Woman. Every day here has been like that shopping-spree scene. I'm putting on hats!"
At Pied Piper, Jared serves as head of business development, a position that allows him to scarf up the crumbs of attention and human interaction he was, until this point, never given. No matter where he goes in life, however, one thing will always be the same: he's BYOC.
He's financially stable
Despite "crushing debt" from college, Jared is far more flush than the rest of the Pied Piper team. He owns a great condo, which he Airbnb'd out to cover his mortgage after he cut his own salary at Pied Piper. And those earlier gigs at Google (average business operations salary: $126,303) and Hooli were likely very lucrative. (Not to mention all the side income from organizing estate sales for his scads of elderly friends.) Hooli might have taken away some of his stock when he quit, but Jared is definitely a saver, not a spender.
He's a ladies man
Jared may not have the conventional leading-man looks of, say, a Pakistani Denzel, but as Russ Hanneman points out in Season 2, Jared is the guy in the house doing all the fucking. Partners are likely attracted to his strong listening skills, emotional sensitivity, and financial and career success, or maybe they also like to discuss controversial points in German history, birdwatching, and documentaries.
This season, inspired by Richard's attempts at dating, Jared proves his skills by shacking up with Carol (who also calls him Jared), and offscreen, Myriam, Sylvia, and Samantha. But he won't kiss and tell -- the only detail he shares is that he's been in love twice. To share any other sexual details, he says, would be "untoward."
Although Jared shows no signs of settling down right now, he still fantasizes about it. The lothario is a big fan of Bill Gates' Lanai wedding. "He rented every helicopter on the Hawaiian islands so that paparazzi couldn't use them to fly over," he recalled. "It was a positive, because now you can imagine that wedding however you want."
He's (probably) not a Nazi
Sleep-challenged Jared sometimes breaks out into aggressive German outbursts. Internet sleuths have offered various translations of the cryptic whisperings, which mention stealth throat-slitting and locking someone in a cage. These night terrors, combined with Hitler quotes ("Arbeit macht frei") and factoids (he played the bassoon) shared in the first two seasons, have led some Redditors to speculate about Nazist and Boys from Brazil-esque theories.
In an interview with Huffington Post, however, Woods shut down such thinking. "I think there's a psychological thing there," Woods said. "There's some Jungian idea of the shadow self, or something, where if there's no outlet for the darker parts of your personalities in your waking life, then it comes out in your subconscious, in your dreams." So rest assured that Jared won't act on these urges. As he says in Season 2, "I wouldn't know how to [rattle anyone]."
You want him on your trivia team
Thanks to eclectic cultural tastes and at least one scarring birding trip ("It's like when somebody says they want to go birding with you, but really they just want to get you alone in the woods so they can take your binoculars"), Jared would have the answers to most history-, ornithological-, and medicine-based questions. Plus, he enjoys Looney Tunes, most Audrey Hepburn and Julia Roberts movies, Stieg Larsson books, poetry, and Hitler's The Triumph of Will. His music tastes range from Cypress Hill to Christopher Cross -- especially the song "Sailing," which he used to keep himself sane while stuck overseas in Peter Gregory's self-driving car. He can also drop knowledge on the topics of Herb Cohen, the evolution of pornography, amyl nitrate, Richard Meinertzhagen, and hawk urine. Just don't ask him about Schrödinger's cat.
Sign up here for our daily Thrillist email, and get your fix of the best in food/drink/fun.
Follow the Thrillist Entertainment editors on Twitter: @ThrillistEnt.