Our recipes guru uses Brooklyn Slate to school us about cheese
We asked the Thrillist Recipe Guru what cheese to serve and how to serve it, and she didn't disappoint. Using Brooklyn Slate cheese boards, we got the tastiest lesson ever in history. Check out the cheese bidniss below, and scope the goods from Brooklyn Slate too.

Brooklyn Slate
Mined directly from the owner's private family quarry, the slate cheese boards and coasters are cut, cleaned, and then roughed up in Brooklyn for a casual, unfinished look. And each one comes packaged with a burlap bag for storage. So Brooklyn.
The cheese boards come with chalk, so you can label the goods you serve like in our photos. These things can take extreme temperatures without a problem too, so seat your morning coffee on a stone throne, kick back, and feel great about your life choices.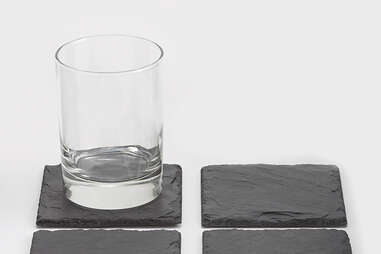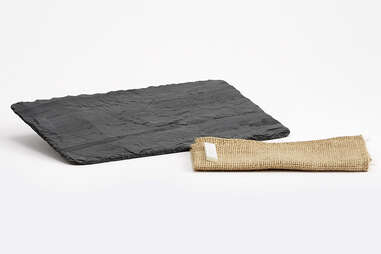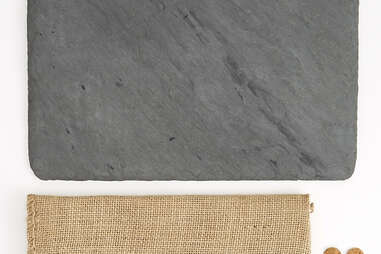 The Cheeses You Need
So, you've got a killer cheese plate...what now? For best results, you're going to want to serve up a variety of flavors and textures. You'll want to accompany the cheeses with charcuterie (that's finely sliced meat), jam, and nuts for a little spice. Cheese-wise, here's your shopping list, direct from our guru. Memorize this and impress literally everyone at the party:
Brunet: A fresh goat's milk cheese with a texture as fluffy as freshly whipped cream. Pair it with a sliced pear and clover honey (or if you're feeling ambitious, a honeycomb).
Brie or Camembert: Notoriously stinky French cheeses that are actually amazing, with buttery textures, a mild flavor, and a bloomy, white edible rind. Serve alongside pistachios, dried apricots, and prosciutto.
Challehocker: A hard cheese with a flowery aroma. If you can't find it in the market, opt for a gruyere, comté, or sharp cheddar. Serve alongside quince paste and smoked almonds.
Tallegio: Ultra pungent, featuring a meaty, nutty, fruity flavor. Eat it with charcuterie, especially something like speck or salami.
Stilton or Maytag Blue: Blues are your cheese platter's crown jewel — slightly aggressive, but relatively inoffensive; polarizing, but delicious nonetheless. Pair them with walnuts and grapes.

Pro-level Presentation
Now that you've got your cheese situation figured out, here are some plating tips. A cheese board isn't a real cheese board unless it looks damn good.
People eat with their eyes as well as their mouths, so make the effort to arrange your bounty with an artful eye, which starts with a proper foundation.
A simple plate won't do (and you're better off doing nothing at all than using your kinda clean cutting board as a base). Brooklyn Slate or bust.

"But how the hell do I make it artful?" you might be wondering. Easy:
Leave the cheeses a couple of inches to breathe — it prevents cross-flavor contamination and makes your board less cluttered.
Give each cheese its own knife and use the chalk to label your new board.

And one final, very important tip from our resident cheese whiz:
Cheeses taste best at room temperature, when nuances in flavor and aroma come out. Take them out of the fridge about an hour before serving but don't unwrap until you're ready.
Now go forth and conquer, you pro cheese plate-r. Make us proud and leave your friends and family wondering why they haven't seen this classy, civilized side of you before.