We never thought there'd be a day when our 120 square foot college dorm rooms felt big. But then we got jobs and moved to cities and had to pay rent and suddenly a glorified closet is our best housing option. Paying through the nose for an apartment that's not wide enough to lie down in is apparently now a rite of passage, but since when do rites of passage involve self-imposed sacrifice of health and sanity?
Now, we can deal with small spaces, but if you're anything like us, not having a way to prepare a simple meal is the last straw. At times we've resorted to ordering take-out every night just so we don't have to devote precious square inches of our 2 square foot countertop to plates. But eating chicken and broccoli every night is tedious. You just can't live in a tiny apartment with no kitchen.
But even the smallest kitchen can be functional. We've got the perfect solutions for your small space kitchen conundrums. But first we just...we have to vent.

Recommended Video
Send Foodz: Taste of Atlanta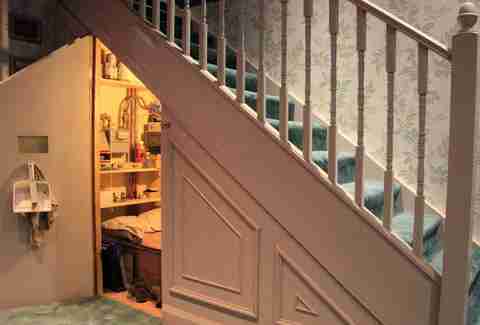 How Did We Get To This Point?
Welcome to the delusional state of 21st-century real estate, where most normal big-city dwellers willingly live in glorified broom closets. It's a culture that celebrates living in an uncomfortably small apartment and discourages moving back home, finding a roommate, or any other semi-reasonable step toward inhabiting a space that comes with breathing room.
This is a world where on apartment listings "cozy" means too small to own anything but a bed, "efficient" means there's so much hidden storage you live in a Transformer, "low-maintenance" means you can clean the whole thing with a single Swiffer sheet, and a fire escape definitely counts as a second bedroom.
Idiocy Has Become A Cultural Norm
In fact, there are so many people fighting to live in their dollhouse-sized dwellings that New York City has sanctioned its first micro-unit apartment building, to open in 2015, which is nuts. 250 square foot spaces with room for a Murphy bed or pull-out couch and little else. But compared to a real-life 100 square foot closet prison cell hovel apartment in Harlem, micro-units are the Palace of Versailles, gilded roof and all.
What do people who are so mind-reelingly desperate that they're living in 100 square foot apartments look for in a home? "It is just a place to put my bed," one resident said, likening his apartment to a glorified dorm room. While signing a lease on a 100 square foot living space might be the weird equivalent of hitting real estate rock bottom, it's possible to survive with the right gear.

Since When Is A Hovel A "Hot New Rental"?
Not everyone logs on to Craigslist looking for the smallest apartment available. Some of us are here because we've been duped by scum-of-the-earth real estate brokers and Craigslist users who are about as high and mighty as Hannibal Lecter, the con artists who are pushing the bounds of what a euphemism can be.
Little did we know that a "recently renovated" pad is actually a converted one-room apartment which was subsequently made into two separate apartments and possibly subdivided again. Or that "larger than it looks" means that it's just a little bigger than the photo on your actual computer screen. Or that "friendly building" means your space is so small that neither you nor the person in the apartment next to you has any real privacy. Or that cute "cupboard under the stairs mailing address" references refer to a literal cupboard under a literal staircase. 
Everything Has A Fix If You're Desperate Enough
Living in a Lego model home means making sacrifices and getting creative. Your bed is also a couch and kitchen table. Your stovetop is a standing desk in disguise. And your shower? That's a dishwasher if you want it to be. So what if your "recently renovated" kitchen is actually just a fridge that someone crammed into your entryway. There's always a solution.
This microscopic situation can be made to work. We can survive. Somewhere amid the dust bunnies in the half-inch between our bed and the bathroom door, a glimmer of hope remains.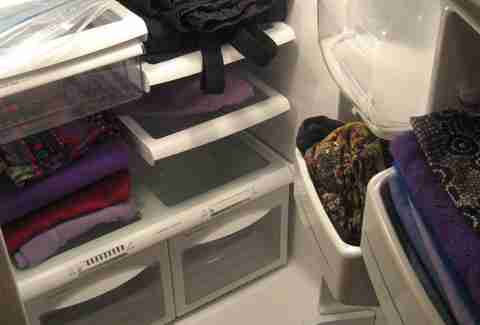 But using your kitchen for storage? That's not surviving, that's settling. And while you may have signed a lease on an apartment you'd never want to bring anyone home to, the size of your apartment doesn't have to dictate your quality of dining.
Believe it or not, it is possible to own all the kitchen stuff people in normal-sized apartments have. It's all a matter of buying the right pieces; and when it comes to your kitchen, stackable, multi-purpose, collapsible tools are what you need to make Ratatouille a reality (mouse included, possibly).

Here's What You Need:
Joseph Joseph Nest 9 Plus - $50
Stackable: Things that fit inside of each other save space and are fun to play with. Invite your friends over for a bowl-stacking contest (inspired by professional cup stacking). We'd suggest knife stacking, but that's still risky in a space as small as yours...
Multi-Purpose: The best way to save space is by buying items that do double (or triple or quadruple) duty, keeping you from having to buy similar-but-different crap that takes up space. An all-in-one bar tool or cutting board-meets-bowl-meets placemat will do the trick.
Collapsible: We've written off kitchen tools before because they take up space -- your hands can do the same thing as a food processor or mixer if you try hard enough. With a collapsible design, however, tools once deemed unnecessary -- a cheese grater, for example -- become must-haves (plus, freshly grated Parm is infinitely better than store-bought crumbly stuff and everyone knows it).
Point is, food is the universal escape. And if you can't escape your tiny apartment because you're afraid of your claustrophobia acting up while you walk down your impossibly narrow hallways, at least you can have a functioning kitchen.