How Goth Music and Fantasy Inspired Soccer Mommy's New Album
Sophie Allison, the brainchild behind the indie-rock favorite, explains what informed her great new album, 'Sometimes, Forever.'
Design by Maggie Rossetti for Thrillist / Photo by Sophie Hur
Design by Maggie Rossetti for Thrillist / Photo by Sophie Hur
For some, it can seem like you feel everything all at once, or nothing, with no in between. Being a Gemini-sun-Scorpio-rising, that's all too true for Sophie Allison of Soccer Mommy—and it's a sentiment she explores while closing out her new record Sometimes, Forever (out June 24 via Loma Vista Recordings), singing, "I don't know how to feel things small / It's a tidal wave or nothing at all" on "Still."
That undulation of feeling has been a theme of the Nashville-based indie-rock artist's music for years, from the pop-rock tunes about young love and self-esteem on her 2018 studio debut Clean to the physical and mental pain explored on 2020's color theory. On Sometimes, Forever, though, it's what encompassed the entire record, down to the title.
"The theme that ties [the album] together are these constant oppositions and back-and-forth—things that are constant but fading, and battling between different feelings," says Allison. "When I was writing it, I was just writing about whatever happened in my life, but then looking back on the tracks, the themes that were coming out to me were very opposing."
It makes for an excellent, engrossing record about the dichotomies many of us feel—from balancing dark and light emotions to the ecstasy of desire and the wariness of committing oneself fully to love. "For me, I can be very pulled into my emotions when I'm feeling them and feel like I'm always going to feel this way forever," Allison says. "I haven't been able to grasp easily the idea of things being able to constantly be back and forth—that they're not always present—[but] that's what inspired the album in the end."
Sometimes, Forever continues to hone in on the personal songwriting that has resonated with Allison's fans for years, but sonically, it's the biggest record she's ever released. Removed from her days as a bedroom artist, she's found with uninhibited production and rock arrangements that try to capture the sweeping emotions she explores in her songs in a bold, at times eccentric way. Altogether, it's mystical—like Allison channeled energy from crystals and a tarot deck to create a record that has a sense of magic. We spoke to Allison about everything that inspired the record.
Oneohtrix Point Never
From the onset of making the album, Allison was excited about the idea of working with producer Daniel Lopatin, who releases music under the moniker Oneohtrix Point Never. Known for his solo electronic work, scores accompanying Safdie brothers films like Good Time and Uncut Gems, and producing some of The Weeknd's records, he's gained a reputation as one of the most eclectic experimentalists in production. Allison knew from the get-go that he could help to capture what she was going for, which falls somewhere between encapsulating a live sound and creating something mystical.
The way [my collaboration with Daniel Lopatin] came about was my label sent over a list of producer ideas and he was on it, and I was really stoked about it. As soon as we reached out and he was interested, I was like that's what I want to do.
I was definitely a fan of his. He does so many interesting, different things. He's definitely not a one-trick pony. [As far as my favorite music of his,] I listen to Rifts a lot, which is basically all the early albums together, but it's nice because I can listen to them in one place with this long track list for three hours. I also love all of the soundtracks he's done, and I really like his work with The Weeknd. I thought that was pretty amazing and further showcased his ability to be interested in lots of different genres and be able to take them, make them cool, and have a bit of his flair on it, but not take away what's at the core of an artist's art.
I've also always been super into his ambient music and thought it was so beautiful and well-composed. That's a big part of why I wanted to work with him, because I wanted to make this album that had a feeling of us playing together as a band live, but then also this magical ambience with synths and an orchestrated backing with it. I wanted it to have this magical element, on top of something that was really true to the live sound, and I thought he'd be great at that. I don't really even care—like, maybe it could be crazy and not gel well, or it could be amazing—but I want to try it. We ended up being super on-the-same-page about everything, and that made it really easy and fun.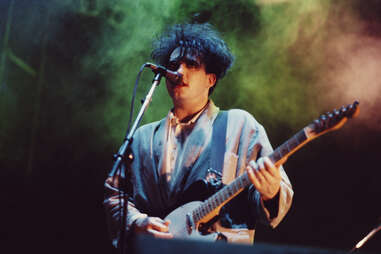 '90s alt rock and '80s goth music
With her buzzing riffs, Soccer Mommy has become synonymous with '90s alt rock ever since her breakout album Clean. On Sometimes, Forever, she continues to find inspiration within that genre. And yet she uses the studio tools at her disposal to go even bigger, like on the record's lead single "Shotgun," or more distorted-sounding, like on the opener "Bones." In addition to a '90s vibe, the singer-songwriter also looked to another source of nostalgia to capture what she was going for, dipping into '80s goth on tracks like the lush "With U" or the eerie, woozy "Unholy Affliction."
Before we got in the studio, [Lopatin and I] texted a bunch back and forth about production ideas. Dan would send a Jesus and the Mary Chain song and be like, "The drums on this one are perfect," or send a Portishead song and be like, "I want it to have these kind of dynamic," so it was a lot of references for specific parts. Dan was really into a lot of The Magnetic Fields' stuff [in terms of] production style ideas.
There was a lot of '80s music going in there, with a lot of goth rock. There's so much [influence of] The Cure or The Smiths. It's got this goth element, but it's also catchy and kind of upbeat. There are songs like "Shotgun," "With U," or "Bones" on the record that still have this pop-rock element to them, but we wanted to be able to give them a cool sound that wasn't just like everything that is going on currently in indie music.
We were really trying to follow this [concept] of getting these cool-sounding band takes that have a lot of character. Largely, I feel like the drums are kind of the most important part of that sometimes, but, in all, the intention was getting character there and then being able to add wacky synths or overdub the guitar, 12 strings, and stuff like that that would give it a little strangeness and magic behind something that otherwise could be fairly accessible.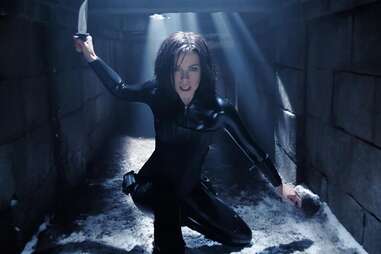 Fantasy pop culture
Allison has long been a fan of just about every kind of fantasy-based entertainment, and on Sometimes, Forever, her interest in the supernatural inspired the record. There's horror stories, like the creepy yet alluring "Following Eyes," and fantastical narratives, like the standout, devilish-sounding "Darkness Forever." Even love songs have their own sense of twinkly magic. Altogether, it makes it hard not to fall under the spell Soccer Mommy is casting.
There's multiple songs on the record that are dark, but they're dark in a fantasy aspect—like ghosts, demons, and stuff like that. A song like "Darkness Forever," for example, even the demo had this creepy vibe that led us to making it how we did in the studio. [Lyrically,] it's this story of someone losing their mind and burning their house down to absolve the demons that are inside of them and in the house. It's dark, but the lyrics and the story within there—if you really think about it—are a goofy fantasy bit. It's the same thing with something like "Fallen Eyes," which is this ghost horror-story thing, but supposed to have that little bit of magic.
I didn't want it to be an album that's completely dark, supposed to be terrifying, and something you can only listen to when you're in a really emo mood. I wanted it to be fun and exciting, and to feel that magic—even in songs that aren't lyrically fantasy-driven. A song like "Bones" has all these watery, washy guitar and synths going on. I wanted that magic to be present everywhere—to make songs that could be relatable or emotional about love. I wanted there to be a second element of being able to feel mystical.
There's so much fantasy shit that I love, and I love sci-fi, too, which can go into that world. I'm a huge Buffy the Vampire Slayer fan. I watch Vampire Diaries and Charmed. One recent show I really love is Netflix's live-action Winx. Anything vampire-related I will watch, and I'll also watch anything like the Underworld and Blade movies. They're both super dark and edgy, but it has this lighthearted action, almost a goofiness to it. That's the thing I love about fantasy: It can be mystical like fairies and dragons, or it can go completely the other way and be really goth with vampires and werewolves.
I read a couple things [along those lines] while I was writing the record. I read The Secret History by Donna Tartt, The Martian Chronicles by Ray Bradbury, and Mary Shelley's Frankenstein. Frankenstein didn't have an effect on the whole album, but I definitely was reading it when I wrote "Following Eyes" and wanted to create this really romantic language horror story. I've always been really in love and amazed with romantic writing, especially when it can blend really romantic language with descriptions of nature with something a little more sinister. I love that.
With summer festival season well underway, Coke is helping you and your friends drink it all in with 100 days of exclusive music experiences—only at Coke Studio. Featuring tracks and concerts from the best artists in the game and amazing offers dropping all summer long (including chances to win free festival tickets), drink, scan, and enjoy a Coke today to never miss a beat.
Gothic aesthetics
Allison's affinity for goth and fantastical elements even dipped into the aesthetics surrounding the record. She teased singles on Dungeons & Dragons-inspired baseball cards and the music video for "Bones," which she worked on with frequent collaborator Alex Ross Perry(the filmmaker behind Her Smell), takes place in the quintessential goth setting (a dungeon/cemetery, obviously). Like a psychic vision of sorts, it's the direction she knew was going to go for, and it seamlessly came together while working with Perry.
I told my manager I wanted to ask Alex Ross Perry to work with me on [another music] video, and I had this idea that I wanted to do a performance video with the band because it's been so long since we did one and it's a completely different band now. That also means less pressure on me to be on camera. I had this idea of being in a dungeon or somewhere stone—like, I really could picture stone walls, some kind of cellar or something like that, and I was playing in there with candles. Then I had this other idea of mixing it up with other shots at some point, in a field with flowers or something.
Alex ended up texting me, "Basically, I'm thinking we do a really nice stone-gray backdrop with white flowers—kind of play with things that are super uncolorful and colorful." I was like, "Yeah, that's actually exactly what I was imagining."
We [decided on Greenwood Cemetery, which is] a big graveyard in Brooklyn. I've always really loved cemeteries. That's kind of morbid, but I think they're always so beautiful and there's so much history. I don't find it that sad or depressing because it just feels like there's history, spirits of people, lots of beautiful flowers, and nature meshed together. Alex and I were just in tune, didn't even have to discuss any influences, and knew instantly what we were going to be doing.
Romantic comedies and teen movies
Although there aren't any direct references to teen movies or rom-coms on Sometimes, Forever, their dreamy, cinematic qualities are an integral part to Soccer Mommy in many ways. Their imagery feeds into her music videos—like the one for "Shotgun" that finds her on a film set of what looks like a picturesque teenage bedroom—and she's made references to them on songs like the single "rom com 2004." But above all, they've informed her storytelling-focused songwriting style for years.
I like to romanticize everything in my life in my mind. It's not in a direct way where I watch a rom-com and I'm thinking about a scene and I write something, but it definitely influences me. I could be mad at somebody, and I'm imagining this dramatic scene in my brain. I definitely can be writing a song that's supposed to be a love song and I'm trying to find where to start with it, where to go with it, what the story is. Even with old songs like "Scorpio Rising," when I'm writing something like that, I'm trying to picture this movie scene and progress that can lead through the song a bit because you have to have a story in those kinds of songs. You have to have a place to start, a place you're going to end, and a revelation, which is exactly what a rom-com does. I definitely use all of the tropes and the images that I've acquired from watching many of them over the years in my brain to create my own fantasy.