Did We Need a Romantic Obama Biopic? Because Now We Have One.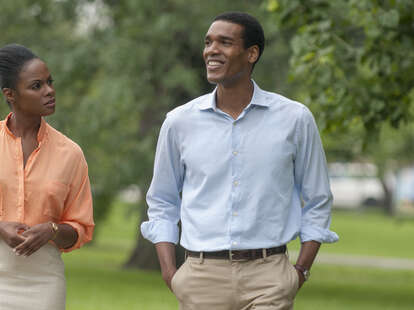 Courtesy of Pat Scola
Courtesy of Pat Scola
"Maybe they didn't expect you to be the best," says Michelle Robinson (played by Tika Sumpter) to her date in the new drama Southside With You. "Maybe you put that expectation on yourself." What she doesn't know -- and what we do -- is that her scrappy suitor will eventually become President Barack Obama (Parker Sawyers). She's just calling it like she sees it, naturally.
Debuting at the 2016 Sundance Film Festival, Southside With You adapts the Obamas' well-documented first date into a romantic walk-and-talk. The future POTUS and First Lady wander through the an art institute, pick at a picnic lunch, attend a community service meeting, stroll alongside the Chicago River, kick back a few beers, take in Spike Lee's Do the Right Thing (the movie is set in 1989), then bask in the beauty of a contemplative date. It's an opposites-attract story: Michelle is a prim, Harvard-educated lawyer who's so busy overcoming sexist and racist barriers in the workplace that she forgets who she's there to serve; Barack is a charmer whose big dreams are impeded by the resentment he harbors against his father. (Spoiler: they make it in the end.)
We're quick to canonize the leaders, innovators, and famous folks who fascinate us -- just usually not this quick. Southside With You is a laudation to an American power couple, and writer-director Richard Tanne treats the Obamas' history like scripture. Not unlike how every Jesus movie foreshadows the man's engraved conclusion, Southside expects us to see not just the two characters on this sweet date but the ones who are now noble voices in the political engine.
"Dad always said education was key," wonders Michelle aloud, as she wrestles with her own professional identity. Tracing a line through his own childhood, Barack jokingly reminds his date that, "Hawaii is in the States, you know." And during a vigorous speech, delivered with compassion and perfect cadence by Sawyers, Barack recounts the struggles of Harold Washington, Chicago's first black mayor. "He learned the hard truth of our country," he says. Short version: it's almost impossible to get anything done.
Fictionalizing a standing president's life is a relatively new tactic. Joe Klein satirized Bill Clinton's first presidential campaign with his 1996 book Primary Colors, which still resorted to thinly veiled stand-ins. Oliver Stone went for jugular in the serio-comedy W., which lampooned George W. Bush's reign at the tail end of the his second term. Southside With You stands apart with its positive approach, the story of a nice, flawed guy becoming a great man (by the film's definition). It's hagiography, the JFK-ing of Obama from leader to celebrity It almost vindicates itself.
If Southside With You succeeds at being anything beyond bizarre Obama fan fiction, it's giving these two "characters" an anchor. Michelle loves ice cream. Barack smoked boat loads of pot in his younger years. They're adorable people who bring all their baggage home. Obama, and all future Presidents of the United States, start out as people, not just avatars for a system.
If Southside With You were a little sharper, a little more fluid, a little less aware of its own grandeur, then its deconstruction of the Obamas would be essential. Instead, it's just an adorable 90-minute fling.
At a Sundance Q&A for the movie, Tanne fielded the inevitable question: are the Obamas weirded out by Southside With You? "We've heard from some pretty reliable sources that they are aware, and they are excited," he said. "They are also a little baffled by its existence."
The Obama administration's first bipartisan opinion?
Sign up here for our daily Thrillist email, and get your fix of the best in food/drink/fun.
Matt Patches is Thrillist's Entertainment Editor. He previously wrote for Grantland, Esquire.com, Vulture, The Hollywood Reporter, and The Guardian. He's never been to Chicago. Find him on Twitter @misterpatches.