Why Netflix's 'Space Force' Used a CGI Chimp and Ended on That Big Cliffhanger
Creator Greg Daniels explains all.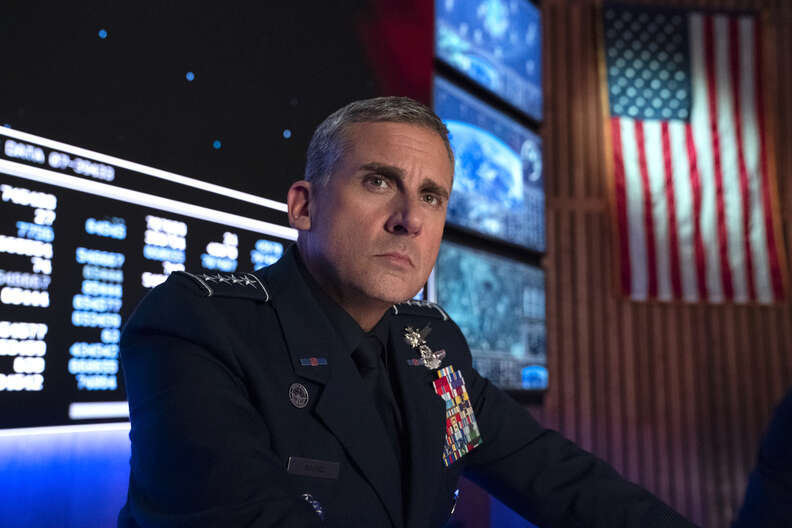 Netflix
Netflix
There's an extremely grim joke in the second episode of Space Force, the new Netflix comedy created by The Office colleagues Steve Carell and Greg Daniels. It involves a space dog and a space chimp and a space chimp's appetite, and even Daniels admits the darkness of the gag was addressed in the writers' room.
But if anything, the bit speaks to the big swings the two long-time collaborators are taking with this series, a workplace sitcom that is based on the very real branch of the military ordered into existence by President Trump. Carell plays Mark Naird, a four star general with a gruff voice who is thrust into the position of running this messy new entity. What initially seems like a promotion turns out to be a major headache. He picks up and moves his family from D.C. to rural Colorado where his teenage daughter, Erin (Diana Silvers), turns surly and his wife, Maggie (Lisa Kudrow), ends up in federal prison. At work he butts heads with the officious chief scientist Adrian Mallory (John Malkovich), and deals with the other quirky characters in his orbit, including social media manager F. Tony Scarapiducci (Ben Schwartz) and wannabe astronaut Angela Ali (Tawny Newsome).
The idea of making a show based on the Space Force was pitched to Carell by an executive at Netflix shortly after Trump announced his plans, and Carell brought it to Daniels. And although the series makes allusions to the current president and his predilections, it also isn't explicitly political. Daniels, who, in addition to developing the American version of The Office, co-created King of the Hill and Parks and Recreation, and created the new Amazon Prime series Upload, explained his thinking in a phone call with Thrillist during which he also discussed a few of the show's other mysteries and the cliffhanger ending.
Thrillist: Obviously, the very notion of a Space Force is funny. But how did you dive into the research?
Daniels: Well, there was very little known about Space Force at the time, I believe. We started to talk about what it meant for us. I think there was a feeling of contrast between the Apollo space program and how optimistic that was and inspirational, and this felt a little bit like, "Do we really have to militarize outer space?" It seemed like everything cool gets ruined. The internet starts out so much fun and then turns into Facebook disinformation campaigns and stuff. So there was this feeling of, "Is this that kind of thing?" So then we start doing our research and we went to SpaceX and we talked to all the engineers there and they were kind of saying, "We're not starting this. We need to protect the stuff that we are putting up in outer space." So we thought, "Maybe the theme is it's a shame that the whole world is treating outer space now as a gold rush or a colonial scramble or something." I think we broadened it out a bit. And we always wanted to make sure that the military people who were doing this were not the butt of the joke. That this would be a show that they would understand and like and that we would kind of get into their point of view as to how difficult it is to achieve this mission especially with all of the forces demanding a timetable and everything.
The political element of the show, the Trump of it all, seems pretty distant from your main characters. Mark and Adrian seem apolitical in a way. How did you think about handling that?
Daniels: I think that there's a lot of different ways of doing satire. One way is to be super specific and hammer away at one point from the news and the other way is to present an alternative person of integrity from a situation that they are in and let people identify with that person. To me, a more positive way, maybe, of making some points is to put yourself in this guy's shoes. I think that also we're sort of raising questions without answering them for everybody. You can answer them for yourself. We don't need to tell you the answer.
What were some of those questions for you?
Daniels: To watch this guy who is very patriotic and trying to accomplish this mission and to watch him negotiate with the scientific reality as well as the political timetable. I think that you are reminded of stuff that's happening in the world, but it's not a one-to-one thing. We're in the subject matter, we're in the area, we're trying not to be hamfisted about it. We're saying, okay, you guys are debating all of this all the time. Here's a person of good conscience who is also going through this and trying to keep his values.
The second episode has this big gag with the chimp and the dog. Was there any worry in the writer's room about how grim the joke with the dog was?
Daniels: Um, I will say that it came up. The comedy is that he's got these very high expectations for this chimp soldier. He just keeps being let down by the reality of what a chimp is capable of and what a chimp is like. If you do your research about chimps, it's quite horrible. It feels like the tension between fantasy and reality is smacking him around a little bit there.
You're working with Netflix now. What is the freedom like to be able to say: Okay, we're going to CGI a chimp?
Daniels: Well, I tell you that we didn't realize it would have to be a CGI monkey when we started. Yeah, we did a lot of research into chimps. There used to be chimps that were available for TV shows and they had chimp wranglers or whatever. You would rent a chimp. That is no longer allowed, which is probably good for the chimps, because they had a very short career in show business usually. Then they would live another 70 years in some sort of a chimp reserve somewhere. But anyway, they don't they don't allow actual chimps to be actors anymore. And then we looked into renting a robot chimp. We explored a number of avenues for the chimp, but then it turned out that there's this absolutely terrific CGI company called Weta that did the Planet of the Apes movies, and they turned out to be the best answer for chimps. It's expensive but, you know, the thing that you want to do for a TV show you have got to figure out where you are spending the money, where you are cutting back. We didn't have an unlimited budget. We would make the case that the show needed this and we would pay for it. The thing about the show in other aspects is it's all on our set. There wasn't any location days for that episode. So we took the savings from the lack of locations and we put it into the chimp.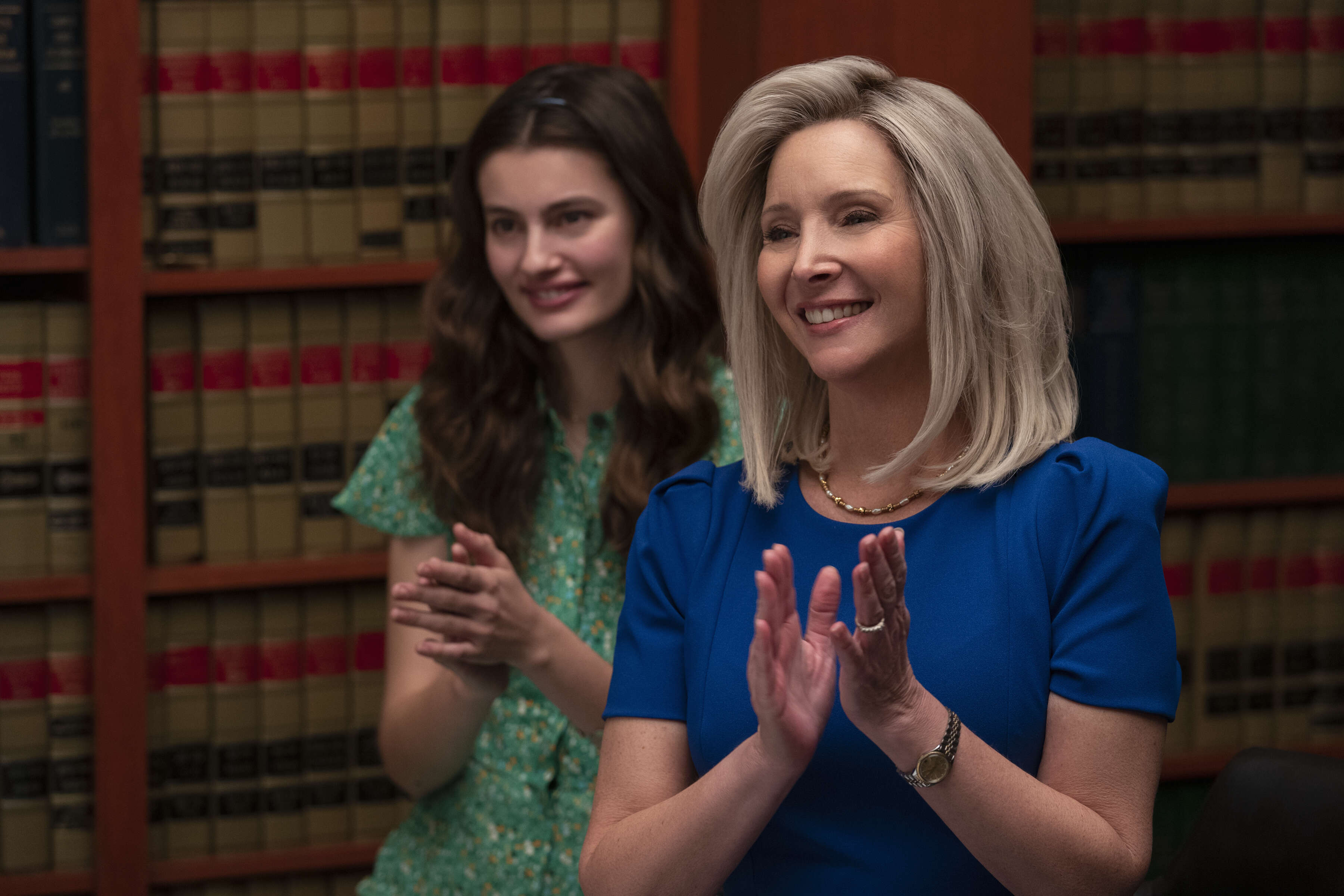 I wondered why you didn't want to reveal why Maggie was in prison.
Daniels: Well, you know, I'll tell you: It made Steve and me laugh a lot when we thought of the notion that she would be in maximum security prison with no explanation. It bothers the shit out of so many people including the writing staff at first. They thought it was a bit random and weird and that's an example of I guess trusting your first impulse. The more I had to defend it from some of the writers the more I liked it which is maybe perverse. To me it allows him to be the father to his daughter in a way that he hadn't really been as he rose through the ranks in the Air Force because he let his wife do a lot of the parenting. So just as he's taking on this incredibly high stakes professional role of starting a new branch of the military from the ground up he also has to take on this high stakes parenting role of being the sole parent and helping his daughter through this very difficult relocation to Colorado at an important time in our life.
Do you and the writers know what the reason for Maggie's imprisonment is?
Daniels: No, I mean we have a sense of what it is but we're kind of enjoying just dropping little hints here and there. It's a bit of a tease. I know it's a tease.
Speaking of teases, the finale ends on a cliffhanger. Mark is under arrest, Maggie breaks out of prison, and Erin gets kidnapped. Now all these fugitives are in a helicopter. How did you come to that conclusion and what did you want to set up for another season?
Daniels: I guess what we were enjoying there was the fact that there's some character change for Mark and he starts off with certain positives and certain negatives in his character. He's a bit inflexible and he needs to be a bit more creative and he has this friendship developing slowly with John Malkovich's character [Adrian]. They are rubbing off on each other and improving on each other. The country's very divided now and I think our intention is to be a little bit hopeful about the possibility of people learning from each other. The story is him, you know, finding certain qualities of flexibility and looking at it from another point of view that enables him to stand up for himself and what he believes in.
Have you plotted out where you might go in a season 2?
Daniels: Steve and I and three other writers have been plotting out season 2 for a while. And, yeah, we know where it's going.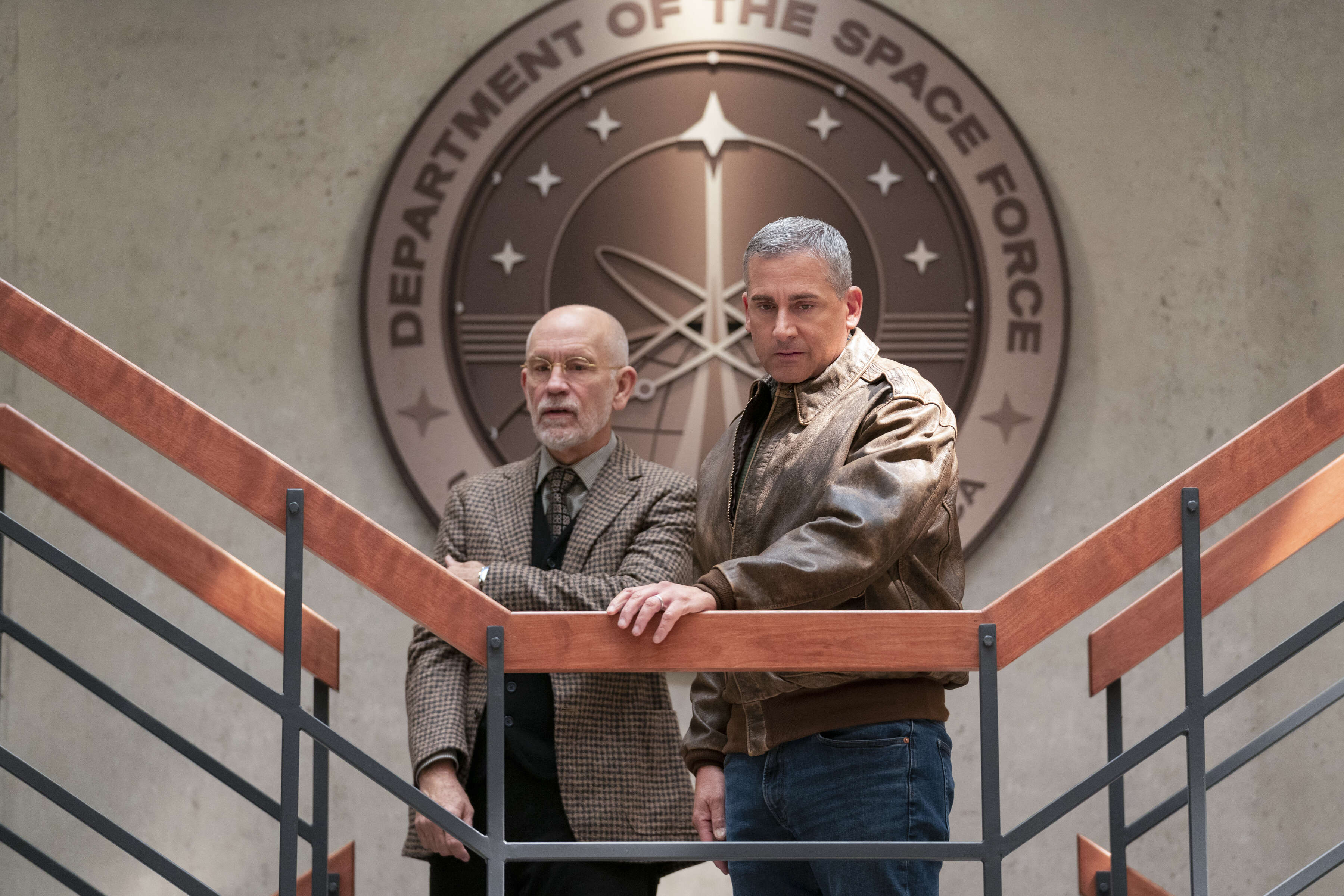 You mentioned the divided country. Do you see Adrian as an allegory for blue states and Mark as an allegory for red states? Watching it, it didn't seem quite as clear cut as that.
Daniels: I don't think it's a one to one thing like that, like an allegory, like an old political cartoon where a person has a label that says the Whig party or the Federalist party. I don't think it's like that. But I just think it's like we're portraying a guy who spent his career in the military, serving his country, he's patriotic. He's got some pluses and he's got some minuses. And then there's this other guy who is coming from a much more scientific academic background and he's got some pluses and he's got some minuses. Together they make a complete team and a complete person if they all do their pluses. I don't know. But they are human beings and it's a fictional TV show.
The workplace sitcom is nothing new to you and this does have elements of that. Was there anything that you had recalibrate moving from network shows like The Office and Parks and Recreation especially given how high stakes the idea of Space Force is?
Daniels: It's a different show. Right, it's not "The Office in space" at all. This character that Steve's playing now in his 50s, General Naird, is not at all like Michael Scott. It's different when you know you've got 10 episodes. They are all going to be viewed in order, all at the same time, probably over the same weekend. It's like you're doing a movie or something. Like a big fat movie. More so than series television where we would do 25, 27 episodes a year and they would be spaced out every week and four scripts from now you're not 100 percent sure what's happening and you can change directions based on feedback from fans. It's a different situation. It's more like a movie and we treated it more like a movie in terms of how we shot it and how we scored it. It's its own thing. We talked about how we weren't repeating The Office in any particular [way], but we did use a lot of the crew from The Office and we have a similar sense of humor.
Did you have scientific and military consultants on set?
Daniels: We have a very good military consultant. We have a very accomplished space consultant who would hook us up with astronauts if we needed to talk to people. And the writers' assistant, who is a key role on any show, was a retired Navy officer. We did a lot of research just online. It's pretty easy to do research now. I think we got a lot of ideas for episodes, but the consultants were mostly to say, "That's not realistic, that's not how they do it, rather than coming up with the ideas for things."
Were you watching the aborted SpaceX launch this past week?
Daniels: I was. I was on NASA.gov. I was watching it live. It was very exciting. Here's the thing. You're doing a comedy show but it's not fair to mock things that are terrific. The idea that these astronauts are going to back into space and are doing that is a very inspiring thing. We're trying not to mock that. We're choosing what we're going after. Mark Naird has a speech at the end of [Episode 10] where he is talking about the real enemy is arrogance. I think the show is making some good points to us. They aren't like easy surface points so much. The hope is that it's general a comedy and it's a character comedy and people will enjoy it. The things that we're talking about should be valid in other years than one year of 2020.
Is that the thinking in terms of referencing political figures? And not referencing Trump by name?
Daniels: I think that if you watch the show it is about values, and you can draw your own conclusions. I don't think it ever really convinces people who are undecided to shriek loudly. I think it's more persuasive when you are being more fictional.
Obviously there is an Alexandria Ocasio-Cortez stand-in...
Daniels: Who? There are certain places if you weren't more on the nose with the names I don't know if anybody would make the connection. I started writing for a show called Not Necessarily the News and we did a lot of news-related comedy and then I remember being shown some statistic about the number of people who even knew who the Vice President was and it was a lot smaller than you think. I think if you don't give people a little help with some of the characters you're just not saying anything.
Okay, one final question: "Kokomo?" What is your connection to that song?
Daniels: Well, you know that was another choice of Steve's. That particular song. I thought it was a great choice because for someone of the age that character is, that is a very totemic song of stress relief and that is how he was using it.
Need help finding something to watch? Sign up here for our weekly Streamail newsletter to get streaming recommendations delivered straight to your inbox.