How Spike Lee's 'School Daze' Created Film's Most Nuanced Portrait of HBCUs
Before there was 'Dear White People,' there was 'School Daze.'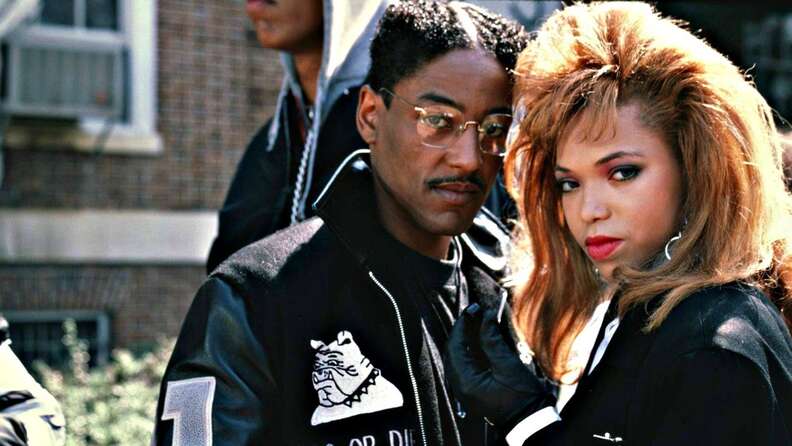 'School Daze'

| Columbia Pictures
'School Daze'

| Columbia Pictures
Before A Different World came into its own, before Higher Learning and Dear White People critiqued the fraught relationship between Black students and white students at Predominantly White Institutions (PWIs), and before grown-ish, there was School Daze. Spike Lee's 1988 sophomore feature took a critical look at Historically Black Colleges & Universities (HBCUs), revealing their beauty and complexity in a decade where Black faces were an afterthought in media.
In a nation built on slavery and white supremacy, the importance of HBCUs cannot be overstated. They provide Black people with a space all our own to learn and grow with each other away from racial biases, and they're often the foundation of networks of Black professionals, which prioritize the success and prosperity of Black people. School Daze is keen to acknowledge this, while also critiquing the effects of the aspirational status mentality that can often blind us to the suffering of the African diaspora.
Taking the momentum from his low-budget black-and-white first feature, She's Gotta Have It, to shoot on a much larger budget, Lee went directly to the campuses of real-life HBCUs Spelman, Morehouse, Clark Atlanta University, and Morris Brown to create a level of authenticity for the fictional Mission College and its diverse array of Black students—in glorious full color.
School Daze is a college musical comedy with a conscience; beneath the hijinks lies a bleeding heart for those suffering under apartheid in South Africa. Lee uses the backdrop of Mission College's homecoming weekend to juxtapose the capitalist mindset of American exceptionalism that the Black middle class had adopted in the '80s with the wider global struggle that endures outside the cushy confines of new money, unable to access the comforts and safety of success. As writer and activist Audre Lorde wrote in her revolutionary text A Burst of Light:
"So much Black blood has been shed upon that land, I thought, and so much more will fall. But blood will tell, and now the blood is speaking. Has it finally started? What some of us prayed and worked and believed would—must—happen, wondering when, because so few of us here in America even seemed to know what was going on in South Africa, nor cared to hear. The connections have not been made, and they must be if African-Americans are to articulate our power in the struggle against a worldwide escalation of forces aligned against people of Color the world over: institutionalized racism grown more and more aggressive in the service of shrinking profit-oriented economies."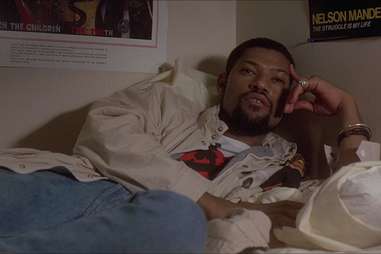 Dap (Laurence Fishburne), the main character and an outspoken student at Mission College, is a direct mouthpiece for the message of Lee's film: American Black people need to wake up and show their solidarity with Black people across the diaspora. Dap, in the tradition of activists like Lorde, knows how lucky he is to have a voice, and he rightfully lifts it up for his people.
Activists often come across in college-set films as overly idealistic, silly, or unsteady in their beliefs. But in School Daze, Dap remains firmly in the right throughout the entire film. He is the straight man of the story, encouraging his fellow classmates to consider the needs of others. He tells his cousin Half-Pint (Spike Lee) that pledging to the Gammas is a waste of his time and potential. Half-Pint doesn't listen and soon finds himself struggling to lose his virginity to prove himself a valuable pledge. Julian (Giancarlo Esposito), the head of the Gammas, is a vain, hyper-masculine bully who treats his girlfriend Jane (Tisha Campbell) as an object. Of course, Julian doesn't see the point of Mission College devoting time and resources to the Black people of South Africa and berates Dap for trying to steal attention away from homecoming and Greek activities.
Along with its political message, School Daze contains perhaps Lee's most earnest effort to understand the lives and struggles of Black women. In She's Gotta Have It, Nola Darling is largely a cipher—a projection of men's sexual insecurities in human form. The men in her life take turns trying to control her, with little success. School Daze also largely focuses on men, but instead of having the women in the film constantly reacting to the actions of men, it reveals the way male influence and patriarchy affects the way Black women feel about themselves and each other.
Lee certainly explores Black female characters more closely than in his debut. School Daze is one of the few films to address colorism head-on, and depicts the various ways Black men respond to Black women depending on their skin tone, facial features, and hair. The film even makes a gesture toward an understanding of misogynoir. Misogynoir, coined by Moya Bailey and further articulated by writer Trudy Hamilton, is misogyny directed toward Black women where both race and gender play a part.
At one point in the film, Dap's girlfriend Rachel (Kyme) remarks that she has always suspected he was with her because she was one of the darker-skinned women on campus. Associating darker-skinned women with a pro-Black image and lighter-skinned women with glamour, status, and upper-middle-class aspirationalism is a form of cultural branding, based in part by the way Black men evaluate the skin tones of Black women in the media and their personal lives. Black women then are forced to internalize that messaging, lending to an internalized misogynoir that remains rampant to this day. Dap's relationship with Rachel is certainly a purposeful foil to Julian and Jane, whose union is based mainly on presentation. Together, they are a picturesque light-skinned duo: Greek royalty, financially stable, and tentatively socially acceptable.
The tension between the dark- and light-skinned women onscreen was encouraged by Lee's offscreen insistence that they be separated on-set in order to create an authentic animosity. By the time the women face off toward the end of the movie, their disdain for each other is palpable. Their fight is brought to life by a dance-off in a vast hair salon, where they sing, wear team costumes, and insult each other over their respective hair textures and the negative implications that go along with them. The song—"Straight and Nappy"—is sung with childish petulance. The choreography echoes the showdown between the Sharks and Jets in West Side Story, but with jazzy music similar to that of Guys and Dolls.
Though the number focuses on hair, the skin color differences are clearly the backbone of the conflict. Those with lighter skin are often more likely to have straighter hair, while natural hair is largely associated with darker skin. The facts of the song and the stereotyping that propels them aren't necessarily true—but the song's simplicity is adequate shorthand for addressing the larger issues at play. The straight-haired women are referred to as "wannabes" to emphasize their need to be considered better than other Black women. The natural-haired women are referred to as "jigaboos," which is an old racist term in the tradition of "coon" and "pickaninny." The most cutting parts of the dance occur when the "wannabes" say "jigaboo"—they accompany the word by gesturing like minstrel performers or covering their faces with Mammy masks. The "jigaboos" are somewhat milder, highlighting the way the "wannabes" idolize whiteness and use their skin and hair to exalt themselves. When the number is over, their divide—both physically and socially—isn't resolved. This lack of resolution is apt; these debates about Black hair continue today across the diaspora.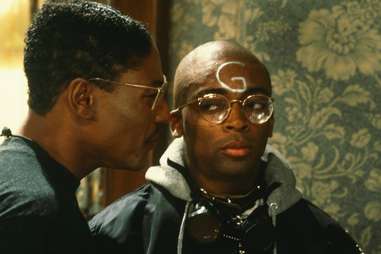 The most profound way Lee depicts women in School Daze lies in the climax where Julian chides Jane into sleeping with Half-Pint. Here, the role of women in the social hierarchy of Mission College collides with Half-Pint's misguided quest for masculine acceptance. Jane and Half-Pint's sexual encounter is an abusive one—Jane cries before it happens, ultimately going through it with because her boyfriend told her to. Half-Pint is hesitant at first, but all that melts away when he thinks about what he gains from Jane's loss of dignity. It is only after this horrific incident that Dap decides to fully chew out his cousin for choosing the Gammas over the bodily autonomy of a woman who wanted nothing to do with him. The climax of the film and the weight it holds in the story is entirely about Jane, and the way Julian and Half-Pint used her as a tool to tune up their masculinity. It propels the film into its final moments, leading into a fourth-wall-breaking refrain of "wake up!" that points its finger at the audience for getting caught up in the ultimately meaningless social-climbing depicted in the film.
It is no surprise then that Spelman, Morehouse, and Clark Atlanta University revoked access to their campuses during shooting, citing concerns over how HBCUs were being depicted in the film. Lee had to finish filming at the neighboring Morris Brown College to remain on schedule, according the DVD commentary. Personally, I think the colleges were too hasty in dismissing Lee's vision, which seems to be a call for HBCUs to expand their concerns to Black people outside the protective bubble of institutional money and career connections. School Daze takes on the heavy business of asking us as a people to hold onto our empathy and strive to expand it—first to each other, and then the world.