Spoiler Alert: A Lot of the World Is Uncircumcised, and It's Not Terrible
It's a bird. It's a plane. It's an uncircumcised penis?

At one time in the United States, spotting a foreskin was about as rare as spotting Superman. Though if you hung around Hollywood Boulevard for long enough, you might have seen both. (LA, you know what we're talking about.)

Here in the good ol' US of A, snipping at birth was pretty much routine. You came out of the womb, you were proclaimed a citizen, and they chopped off part of your little general. This was such a popular surgery that on the off chance your parents decided to keep you au naturel, you may have been the victim of shock and ridicule for sporting a hood when everyone else had shed their coats. Damn the gym locker room! Even the voice of female comedy, Elaine Benes, said those awfully judgmental words on her first encounter with the cloak, "Had no face, no personality." And with that decree, primetime television had voiced a pretty strong opinion on the vast uncircumcised population of society.

But, like most opinions surrounding sexual organs, this idea is subjective. If Jerry and Elaine were from, say Spain, they most likely would be spouting very different, though equally witty, opinions on the controversial cutting. Even in the United States, people are beginning to second-guess circumcision, with rates of newborn procedures dropping in the last decade to around 60% (and even lower on the West Coast). As a whole, though, America still has an insane lack of foreskin compared to the rest of the world.
Shutterstock
What countries practice circumcision?
Many African nations and nations with a predominately Muslim or Jewish citizenry practice circumcision. Canada and Australia were once known for their snipping, but rates are steadily declining.

However, most European nations don't participate.

Less than 20% of guys in the following European nations are circumcised:

Armenia, Austria, Belarus, Belgium, Bulgaria, Czech Republic, Cyprus, Denmark, Estonia, Finland, France, Georgia, Germany, Greece, Hungary, Iceland, Ireland, Italy, Latvia, Lithuania, Moldova, The Netherlands, Norway, Poland, Portugal, Romania, Russia, Slovakia, Spain, Sweden, Switzerland, Ukraine, and the United Kingdom.

Additionally, of the Americas, the red, white, and blue is one of the only countries that snip regularly.

Less than 20% of guys in the following Latin American nations are circumcised:

Argentina, Belize, Bolivia, Brazil, Chile, Colombia, Costa Rica, Cuba, Dominican Republic, El Salvador, Ecuador, French Guiana, Guatemala, Guyana, Haiti, Honduras, Jamaica, Mexico, Nicaragua, Panama, Paraguay, Peru, Puerto Rico, Trinidad and Tobago, Uruguay, and Venezuela.

It seems like a good portion of the world is refusing to shed their skin. This brings up another question...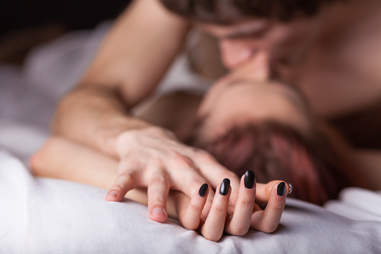 Shutterstock
Are there sexual benefits to being uncircumcised?
There have been many discussions on the topic on the wonderful world of Reddit. According to a few threads, women have some great reviews of bedding an uncircumcised dude. Here's what a few females had to say on the subject:

And this woman, acting as the voice of reason...