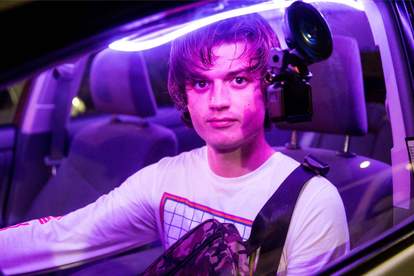 Social Media Thriller 'Spree' Is a Bloody, Funny Ride Through Online Hell
On Netflix's science-fiction nostalgia fest Stranger Things, actor Joe Keery established himself as a puffy-haired, eyebrow-furrowing heartthrob, the guy who looks like a jerk but ends up saving the day. After three seasons of the streaming hit, he's now flipped the script on his sweet persona by starring in a self-consciously edgy, unapologetically violent indie movie, one that lets him use his easy-going charm and disarming vulnerability for sinister purposes. That's the initial appeal of Spree, the ripped-from-your-feed social media thriller that just debuted at the Sundance Film Festival: You get to watch a wholesome TV hero break bad.
How bad are we talking? Without giving too much away, it's safe to say that Kurt, a full-time wannabe influencer and part-time driver for a ride share app called Spree, has more in common with Travis Bickle, Patrick Bateman, or Joaquin Phoenix's tortured Joker than any of the actor's previous roles. Spree director and co-writer Eugene Kotlyarenko (Wobble Palace) wants to provoke, shock, and troll his audience. To get that effect, Kurt must lie to everyone in his life, put himself in danger, and commit gruesome acts of mayhem -- all in the name of content. 
Unlike the socially alienated male protagonists of previous eras, Kurt grew up with an internet connection in his house and a smartphone in his pocket. That means he's lived most of his life in pursuit of viral fame, a fact established in the movie's blitzkrieg opening, which pings between clips of Kurt testing out vape pens, explaining 9/11, discussing his parents's divorce, and livestreaming his gaming exploits. Despite Kurt's best efforts -- he's got that faux-casual "hey guys" delivery down -- none of his jackass-ery catches on.
It's not for lack of trying. One of the best parts of Keery's performance is the way he plays the strange combination of naive earnestness and calculated cynicism that drives a person like Kurt to act in such a desperate manner, begging for followers and turning every awkward interaction into an opportunity to hawk his cringe-inducing brand. Even though he's filled with feelings of self-loathing and inadequacy, he knows he needs to present a slick, peppy version of confidence to his non-existent fans. That's what leads him to create his latest quasi-inspirational scam called "#TheLesson," which mostly consists of picking up passengers in his car, drugging them, and eventually killing them.
While Spree sounds unrelentingly bleak, Kotlyarenko and Kerry keep up a frantic comedic tone for the film's brisk runtime. Like the (excellent!) Unfriended movies and 2018's Sundance hit Searching, Spree unfolds in found footage style, telling most of its story entirely through cameras installed in Kurt's car and through the ever-watchful lens of a cell phone. Comments from Kurt's viewers pop up on screen, cheering on his exploits and accusing him of "faking" some of the more graphic acts. These are the small details that make a movie like this work. 
Early on, Kurt's stunt intersects with Sasheer Zamata's Jessie Adams, a comedian with a real following and a burgeoning career. He doesn't kill her and instead becomes obsessed with using her fame to boost his numbers. The movie has a keen understanding of how brand-building leads to parasitic social relationships, like when a more internet-famous teenager Kurt used to babysit tells him "don't double dip off my stream." Even Kurt's dad, an aspiring DJ with anger issues played by David Arquette, is looking to exploit him and make a quick buck.
Depending on where you spend your time online, Spree will either play like a daring recreation of archetypes documented in the media or a cartoon version of day-to-day life. Words like "incel" and "libtard" get thrown around, and one of Kurt's first passengers is a proud white supremacist, but the movie's big idea isn't that different from other online movies of the past decade like The Social Network or Ingrid Goes West. Basically, it's an argument for logging off. But, like the best influencers, Keery makes it impossible to look away.
Need help finding something to watch? Sign up here for our weekly Streamail newsletter to get streaming recommendations delivered straight to your inbox.