Your Summer Blazer Is Less Than $100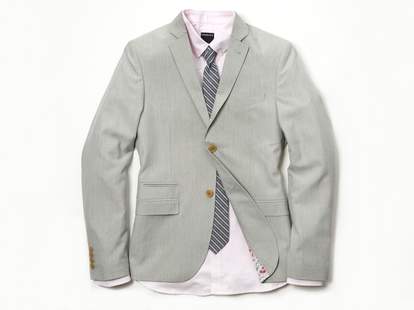 Got a hot date or a casual wedding to attend? Perhaps a hot wedding with someone you're casually dating? Looking for a reason to throw on some extra style? Then a Summer blazer is for you, and it doesn't have to break the bank. In general, you've got three options for these blazers: a killer pattern, a fresh color, or something dressy (not drab). Below are our favorites, but click through to find many more.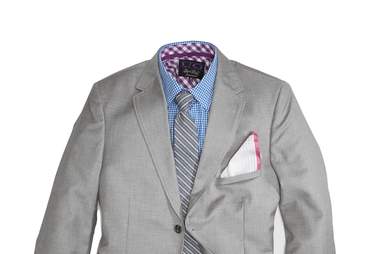 M.A.
Granite Two Button Blazer, by Goodale - $89

There will be occasions when you'll need to keep things proper, but it's warm and beautiful out, so leave that navy suit in the closet and go a few shades lighter than serious.
This chino blazer offers a relaxed fit and a comfortable feel. It's not super dressy, so it'll work equally well in the office or out at night.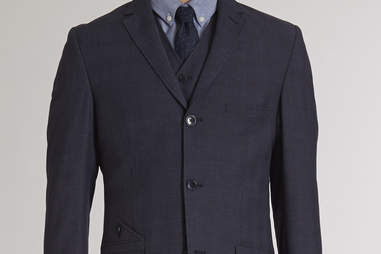 Three buttons definitely puts this jacket on the dressier end of the spectrum. Wear it with dark colors at weddings and more reserved dinners, or to any occasion during which you have to give a speech.

M.A.
Slim Birds Eye, by Edge by WD.NY - $85

The hellish death of Winter is behind us, so celebrate the sun with lighter colors. One rule: wear colorful jackets with subdued clothes, like jeans or chinos and a white shirt.
You could dress this one way up or wear it with a pair of nice shorts. It's got a modern fit that isn't too tight, and it'll match all your other light Summer colors.
M.A.
Of All Threads L/W Chambray Blazer - $45

This is your next everyday Summer blazer. Chambray is a great Summer fabric because it's breathable and light, looks excellent in a trim cut and comes in a lot of colors.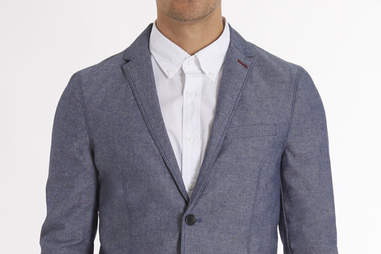 The trim fit is great, but it's the chambray material that takes this Ben Sherman blazer to the next level.