The Return of Spuds MacKenzie, The Bud Light Dog, Is a Big Deal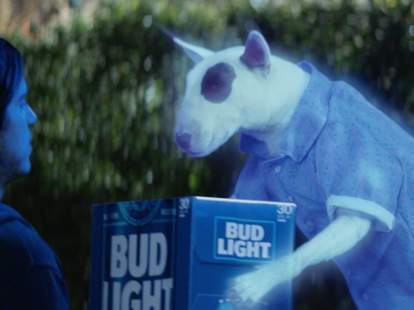 All dogs go to heaven, but only a select few show up as ghosts in Super Bowl commercials. Spuds MacKenzie, the lovable beer spokes-pup and one-time political lightning rod, has never been an ordinary four-legged creature, and his triumphant return to primetime tonight during Super Bowl LI was no ordinary advertisement. After nearly two decades away from the spotlight, this controversial pet is back -- even though some viewers might have no idea who he was in the first place.
If you're under 30, Spuds MacKenzie might sound vaguely familiar. Following his 1987 Super Bowl debut in a series of ads for Bud Light, the lovable English bull terrier became a mainstream phenomenon, appearing on talk shows with Dick Clark and earning his own plush toys, and he went on to inspire parodies on animated series like Futurama, The Simpsons, and Family Guy. Before the Taco Bell Chihuahua or Bullseye the Target dog, there was Spuds MacKenzie, king of commercial dogs.
What made Spuds so special? And why is he back to celebrate his 30th anniversary? Grab a couple cold ones and read on to find out.
Why is he back?
Ad campaigns never really die in a media climate that increasingly relies on nostalgia to sell products. Instead, they go into hibernation, then reemerge in new forms that speak to our collective memory of the past -- often with a few slick, winking updates. For example, while the original Spuds ads from the 1980s featured the velvet-ey voice-over skills of
Lifestyles of the Rich and Famous
host Robin Leach, the new Super Bowl commercial, which was created by the super-agency Wieden & Kennedy, features Carl Weathers (
Rocky
) as the voice of Spuds. It's double the nostalgia.
In the new spot, a guy is getting ready to spend a night in when Spuds -- now in computer-assisted ghost form -- floats into his slick bachelor pad and takes the young bro on a It's A Wonderful Life style journey. Why is Spuds inspired to come down from heaven? "My soul can't rest when people don't drink Bud Lights with friends," says the dog in the ad. "At this very moment your friends are hanging out and you're missing it."
But why did the company, which consistently makes waves at the Super Bowl with its ads, think now was the perfect time for Spuds to return? Bud Light VP Alex Lambrecht told Ad Age that the commercial, which will only air during the big game, is designed to tie into the company's "Famous Among Friends" campaign. What's old is new. New-ish.
"We wanted to do something that is appropriate to the cultural moment and we feel Super Bowl is that perfect moment to make a statement," says Lambrecht in the article. "On Monday, the day after the game, we will send out a final message from Spuds MacKenzie where he is going to be thanking all the viewers [and] all of his friends in the U.S. and being happy that he can go back to afterlife [and] enjoy a Bud Light with the Budweiser frogs."
Who is Spuds MacKenzie?
In 1987, the New York Giants defeated the Denver Broncos and won their first Super Bowl ever. The ads featured during the event included a
Diet Pepsi spot
where Michael J. Fox leaped out his window, ran through traffic, and intimidated some bikers on his way to getting a sugar water drink for his attractive female neighbor. Pierce Bronsan also
defeated a ninja
for a Diet Coke. But the
Back to the Future
star and the future James Bond were not the only stars on display that night.
The first set of Spuds MacKenzie commercials, which you can view above, followed a pretty strict formula: a party is going on, a dog named Spuds MacKenzie arrives with some Bud Lights, and people lose their shit. That's literally it. There's a Beach Boys-lite theme song in one version that dubs him "a super party animal," and the jingle gets a reggae and country remix in the other spots. Sometimes Spuds wears sunglasses. Sometimes he rides a skateboard. In one ad, he plays the drums.
Like many things from the '80s, Spuds MacKenzie is so defiantly low-concept that he can be a little difficult to explain. As noted in this excellent Mental Floss history of Spuds, the ads were designed to be slick parodies that used "overt self-awareness" to cater to the audience's hip sensibility. The simplicity of the ads -- or the dumbness, depending on how you view it -- flattered viewers who thought they could see through cheesy commercials.
Does the dog have a catchphrase? No. Does he talk? No. Do bikini-clad women in the commercials imply they want to have sex with him? Yes. If you compare the "classic" '80s version of the ad to the new one, that creepy, leering quality has been replaced with a more modern message about the canine beer enthusiast wanting you to spend time with your male and female friends. Apparently in his ghostly form, Spuds is less of a lothario.
But the women shown in the commercials had a surprising cultural impact: they inadvertently inspired Sir Mix-A-Lot's classic hip-hop song "Baby Got Back," which came out in 1992. "You had these Spuds MacKenzie girls, little skinny chicks looking like stop signs, with big hair and skinny bodies," the rapper later said in an interview with the AV Club. "I did it as a knee-jerk response to that kind of stuff. I didn't think it would ever be popular, but there were a lot of chicks out there with the J. Lo body, and they wore sweaters around their waists because they were told that they had fat asses–in a negative way, not in a good way."
Why was he controversial?
Spuds was not beloved by everyone. Republican Senator Strom Thurmond was not a fan of the dog's antics, arguing that ads were designed to target kids. "The stuffed animals, children's toys and T-shirts small enough to fit 12-year-olds indicate the real purpose of the campaign," said Thurmond in a 1987
L.A. Times
article about the controversy.
As Spuds mania gripped the country, the debate around the campaign also intensified. As Mental Floss points out, stores in Ohio pulled Bud Light containers that featured the dog dressed as Santa Claus, which violated a state liquor law, and schools had to ban students from wearing highly coveted Spuds gear in the classroom. In the coming years, Anheuser-Busch launched a responsible drinking ad campaign that was clearly a pivot away from the goofy, fun-loving antics of Spuds.
In 1989, Spuds was retired and the campaign was phased out amidst rumors of the dog's untimely death. It turns out, those rumors were completely unfounded: the furry thespian that played the original Spuds -- which was actually a female dog named Honey Tree Evil Eye -- still belonged to Jackie and Stanley Ole, a couple from North Riverside, Illinois who, according to this People article about Spuds death rumors, had a statue of it in their front yard. Evie, as the animal was more commonly referred to as, died in 1993 of kidney failure. She was 10 years old.
But her legacy lives on: the new Spuds featured in the Super Bowl LI ad was also a female dog, a bull terrier named Gigi. While it's unlikely that this particular ad will lead to Congressman condemning the beer company, children sporting Spuds gear on the playground, or the dog making the rounds on late night talk shows, it will leave an impression on viewers, setting the stage for another anniversary in 10 years. Spuds may have ascended to heaven, but he'll be back.
Sign up here for our daily Thrillist email, and get your fix of the best in food/drink/fun.