Stand-up Comics Explain How To Nail Your First Time On Stage
Stephen Lovekin/Getty Images
Shutterstock
Realize you're going to mess up
Almost every stand-up we talked to emphasized one thing above all: you will suck... but that's ok! Sucking is the first step in not-sucking.
"You're most likely going to suck your first time, so you might as well get it over with," says Hannibal Buress. "For real, even if you thought you did alright, you probably sucked. Keep it in perspective."
"When you mess up, it's only as big of a deal as you make it," says Hampton Yount. "The audience will forgive you and there's no rule that says you have to finish a joke. Reading an audience comes with time. I bombed for four years before I kind of mastered it."
"I remember I did a show at a university in north Florida as an MC for a battle of the bands," says Theo Von. "The audience booed me the first time around, but what they didn't know is that I was going to have to keep on coming out between each set to do a comedic bit. I literally had tears running down my throat."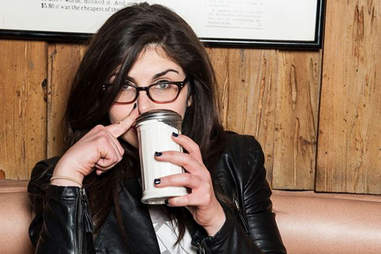 <a href="http://www.facebook.com/photo.php?fbid=10204371989355595&amp;set=o.296483683845758&amp;type=3&amp;theater" rel="nofollow" target="_blank">Justine Marino/Facebook</a>
Embrace that failure
So few people get real laughs their first time (and plenty of times after that), it's easy to get discouraged. Just don't quit -- every failure is a chance to learn more.
"The ones who shoot to stardom instantly and are successful from the get-go are the ones that quit," says Justine Marino. "It doesn't happen quickly. You're going to get a ton of no's, so you better love it. You almost have to be a glutton for punishment, because you're going to go on hundreds of failed 'job' interviews/castings."
"A huge part of it is being able to fail," says Erica Rhodes. "No matter how good you are, you are going to fail a few times."
 
Make nerves your friend
If you're not nervous at first, you may want to check to make sure you have a pulse. 
"If you're nervous, say you're nervous," says Von. "At the beginning, I felt like the crowd was against me, but know that they are not. They actually want you to do well."
Hell, Yount's leg shook for a whole year anytime he went onstage.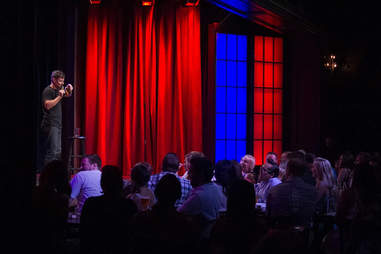 <a href="http://www.facebook.com/theo.von/photos/a.251941785149.306768.237955720149/10155976880980150/?type=3&amp;theater" rel="nofollow" target="_blank">Theo Von/Facebook</a>
Prepare, prepare, prepare
Practice = comedic perfection, or at the very least helps to prevent blanking out in front of a crowd.
"Study up," says Von. "Know what you're going to say verbatim. Whatever that means for you. Record yourself and play it back, practice in front of the mirror, your girlfriend, your cat. Also, don't go onstage wearing weird stuff like vests, gun belts, hats, tank tops, cologne."
 
Write everything down
You may not even use half of the jokes you write, but it will keep your creative muscles working. And in the meantime, you'll hone paper b-ball moves.
"Be meticulous about writing," says Buress. "You shouldn't be a comedian if you can't write jokes."
<a href="http://Callie Biggerstaff Photography via Hampton Yount/Facebook" rel="nofollow" target="_blank">Callie Biggerstaff Photography via Hampton Yount/Facebook</a>
Go see live stand-up comedy
Like any other art form, comedy is always evolving. Before you hit the stage, you'll need to see what performers of every level are doing live right now, not necessarily just what the biggest names are doing on Netflix.
"There are so many people that you haven't even heard of," says Martin Montana. "Get to know the local scene, but also get to actually know the comedians you are seeing. Even start following your favorites from club to club. The concept of the Internet celebrity isn't going anywhere, but it waters down the magic of seeing someone live."
Yount says it'll help to find your voice: "Make sure you watch comedy you don't like, so you understand what else is out there."
 
Don't be picky
Whether it's the airport lounge at 4 pm on a Tuesday or the city's hottest venue, don't turn your nose up at any chance to get on stage.
"My first time was at a bowling alley in downtown," says Montana. "The lineup included a banjo player and a poet. I remember I told everyone I knew. I had tons of friends show up for support. I wouldn't recommend that for a first time."
<a href="http://www.facebook.com/photo.php?fbid=591804067595269&amp;set=a.276467319128947.56385.100002970437369&amp;type=3&amp;theater" rel="nofollow" target="_blank">Erica Rhodes/Facebook</a>
Be yourself
If you're starting out, it's normal to look at people that you admire and try to imitate them, but it's a fine line. Sure, it's good for research, but otherwise, do you. Just know going into it that not everyone's going to like you. You're not Nutella, yo.
"To be successful, you have to really detach yourself from the result," says Marino. "Stop trying to please everyone, stop following the trend, and go find your real voice. The funniest things come from the truth. Look at me. I'm known as the Disney princess of dick jokes (that dichotomy between sweet and naughty). I'm obsessed with food, especially cupcakes and donuts and I love pop culture. And I have a Full House tattoo that says 'You Got It Dude' in French."
"Every subject and topic has been joked about," says Montana. "I remember one time, I saw a comic tell a joke similar to mine. I had to axe it and come up with something else on the spot. So talking about your life and what you know is always the best way to go. If you're telling an honest personal story, people shouldn't be able to do your material."
 
Don't have high expectations
...even if you actually do perform amazingly well, because not everyone is going to make it Buress-style big.
"The chances of making it are low," says Buress. "You'll make more money in tech. You go hit up Silicon Valley with your app idea."