There's a brand-new Star Wars movie coming this December... but it has nothing to do with The Force Awakens. For the continuing adventures of Rey, Finn, and Poe, you'll have to wait until Episode VIII (subtitle TBD) in two years. Or, you'll wait two years if you're the most patient person in a galaxy far, far away. If you're like us, and need a few teases to tide you over, we've got you covered. Here's everything we know about Episode VIII (spoiler-phobes, beware):
Recommended Video
Here's Every Oscar Nominee, From Worst to Best
Walt Disney Pictures/YouTube
It is definitely a movie and it is definitely coming out
On December 15th, 2017, in fact.
 
The main players are back
Daisy Ridley (Rey), John Boyega (Finn), Oscar Isaac (Poe), Mark Hamill (Luke Skywalker), Carrie Fisher (Leia Organa), Adam Driver (Kylo Ren), Domhnall Gleeson (General Hux), Anthony Daniels (C-3PO), and Andy Serkis (Supreme Leader Snoke) are all back. Gwendoline Christie will also return as Captain Phasma, clearing up whether our heroes smushed the chrome Stormtrooper in the trash compactor during the events of Star Wars: The Force Awakens.
 
J.J. Abrams is out, Rian Johnson is in
Johnson, who directs Episode VIII from a script he penned, is the man behind Brick, The Brothers Bloom, Looper, and most of your favorite Breaking Bad episodes.
 
Maz Kanata will return!
Johnson snapped an artsy black-and-white of actress Lupita Nyong'o in motion-capture mode, bringing the CGI character back to life.
Benicio Del Toro joins the cast as...
... to be determined. Del Toro joins fresh off his critically acclaimed turn in Sicario (plus a sci-fi-friendly supporting role in Guardians of the Galaxy). According to the actor himself, he's "like the villain" in Episode VIII. Snoke unhologrammed? A new Knight of Ren? Production's keeping mum for now.
 
Jurassic Park and Wild star Laura Dern will play...
... a leader in the Resistance. Maybe. Latino Review claims to have inside info on a scene involving Dern's high-ranking officer and Poe Dameron, at a time when "Princess Leia has been gravely injured and is receiving medical attention." Dern certainly has the chops to boss Oscar Isaac around.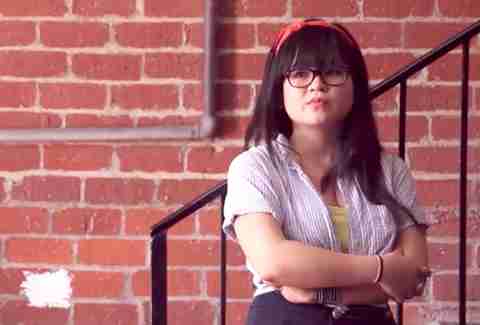 Newcomer Kelly Marie Tran plays a major role in the movie
Tran is a comedian who has appeared in Funny or Die and College Humor videos, as well as episodes of Comedy Bang! Bang!. Episode VIII will be her first major film role, and, according to John Boyega, she's a "lead." More surely to come.
 
Yoda could return
Director-voice actor-puppeteer Frank Oz reportedly visited Episode VIII's British sound-stage sets in early April. The reasons remain unknown, but you can imagine how the internet's collective imagination raced after that news broke. If anyone's hanging out with solitary Luke, if anyone's filling the grave underneath the supposed island tombstone, Yoda would be the guy. And speaking of the first Jedi Temple location...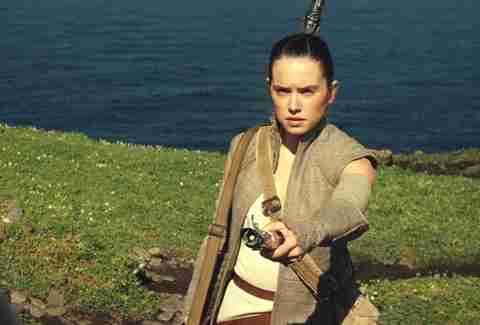 Episode VIII will return to Luke's island
LucasFilm celebrated the sequel's first day of shooting by releasing a reel of location footage, featuring Ridley, Hamill, and the Irish island standing in for the planet Ahch-To. A tease to throw us off Episode VIII's real tracks? Not quite. Camera-equipped fans recently spotted the production building out the temple elsewhere on the Emerald Isle.

The movie filmed in Dubrovnik, home to Game of Thrones' King's Landing
We know next to nothing about Episode VIII's plot, but set photos and reasonable rumors shed some light on why the movie required Croatia's castle-y exteriors.

One rumor-purveyor claims we're looking at a galactic casino (which may explain why the below aliens are dressed like extras in a James Bond movie).

On-set vehicles suggest a city chase scene a la Attack of the Clones.

A translated report from Croatia swears both Rey and Luke will be involved in the sequence. Well, they're right on at least one count, with Daisy Ridley spotted riding what looks like a lost NeverEnding Story character.
To clear near-universal confusion up: The Force Awakens and Episode VIII take place decades after this December's new Star Wars spinoff, which acts as a prequel to the original 1977 movie. Got it? And scrutinize for connections. At the MTV Movie Awards, Ridley debunked theories that Rogue One's lead character Jyn Erso is actually Rey's mother. "I'm not being funny you guys, but just because she's white and got brown hair... it doesn't mean she's my mom," Ridley said. "I think the amazing thing about [Episode VII] is that Finn and Rey don't come from anywhere, and they find a place. So to me, it's funny that people think it's so important because I don't really think it is."
 
Han Solo could return
Hey, comic-book characters die all the time then reappear in the new issue. The Star Wars franchise overlords didn't really kill off Harrison Ford's beloved character, did they? On a recent episode of Jimmy Kimmel Live!, Ford kept quiet on the issue. He didn't shoot down a possible return -- as a ghost?? -- keeping the door open for hopefuls. But let's not forget: Ford wanted Han Solo to die way back in the original trilogy.
Sign up here for our daily Thrillist email, and get your fix of the best in food/drink/fun.
Matt Patches is Thrillist's Entertainment editor. He previously wrote for Grantland, Esquire.com, Vulture, The Hollywood Reporter, and The Guardian. He's a bit of a Biggs Darklighter. Find him on Twitter: @misterpatches.