Everything We Know About the 'Star Wars' Universe's Behind-the-Scenes Drama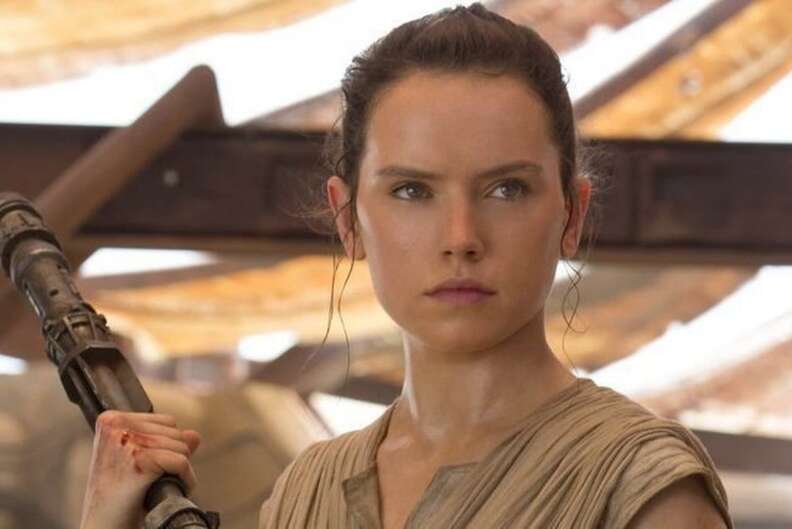 In 2012, Disney made the Wired-dubbed "deal of the century" -- they acquired Lucasfilm, and by extension the entire Star Wars brand, for a swift $4 billion. The steep price tag was essentially pocket change for Disney, a conglomerate worth an estimated $150 billion. The effort clearly paid off: the first Disney-produced Star Wars flick, The Force Awakens, was the highest-grossing domestic release of all time, raking in $936.7 million in the United States and Canada, and an additional $1.132 billion in other countries, for a worldwide gross of $2.068 billion. The Force Awakens broke so many records, its box office score has its own Wikipedia page. With a single movie, Disney earned back more than half of what it spent on the entire property.
The success of The Force Awakens apparently incentivized both Disney and Lucasfilm. Several of their already-in-the-works projects were reconfigured to match the tone of J.J. Abrams' seventh entry in the Skywalker saga. Word got out that Disney execs were suddenly worried about the darker tone of their planned spinoff, Rogue One, which was deep in production before its director, Gareth Edwards, was reportedly replaced by Tony Gilroy for extensive reshoots. That was the first major public sign of trouble, and would foretell a saga of high-profile Lucasfilm firings and rehirings.
The latest victim: Colin Trevorrow, who was on-tap to direct Episode IX, until Disney replaced him with The Force Awakens director J.J. Abrams. The second Star Wars spin-off, the untitled Han Solo story, also underwent a massive creative shift late in production, which led many fans to question a company that once seemed pledged to supporting interesting and up-and-coming auteur talent.
But Rogue One wasn't the start of Lucasfilm's turmoil. The Force Awakens was also plagued with creative issues and production woes, and another announced, then delayed, spinoff quietly dissolved before it ever began. With all of 2017's behind-the-scenes drama, you have to wonder: What is going with Star Wars, and how much is Lucasfilm president Kathleen Kennedy to blame?
Here's a deeper look at everything we know about the issues with the new era of Lucasfilm.
Michael Arndt's The Force Awakens draft is rejected
Arguably the first real sign of problems at Lucasfilm came in the form of Michael Arndt's rejected Episode VII draft. Arndt was known in the industry for his Oscar-winning screenplay for Little Miss Sunshine and his work with Pixar. According to The Hollywood Reporter, Ardnt's original script focused more on Luke Skywalker, which, unfortunately, became a storytelling issue.
"It just felt like every time Luke came in and entered the movie, he just took it over," Arndt told Entertainment Weekly.
Arndt eventually departed, and screenwriting duties were handed over to Lawrence Kasdan -- who co-wrote The Empire Strikes Back and Return of the Jedi -- and director J.J. Abrams. But rumor has it that the rushed pre-production meant that Kasdan and Abrams began filming The Force Awakens without a finished script. For some fans, that's why the film relies so heavily on A New Hope for iconography and storytelling beats. The truth of the matter may never be known.
Harrison Ford breaks his leg during reshoots
The actual production of The Force Awakens had its own problems. During a key scene on the Millennium Falcon, Han Solo actor Harrison Ford broke his leg, which caused a delay in filming and led to reshoots.
According to director J.J. Abrams, this delay was "the greatest gift to the movie" -- it let the creators "recalibrate" and rewrite the script, and gave the other actors extra time to rehearse.
It also gave certain members of the crew -- who were fired during the reshoots -- the impetus to spoil much of the film's plot. This clearly didn't affect the box office, but the fact that the entire timeline of the movie was released online before the premiere is possibly why word on The Last Jedi has been extra-tight. As of September, the film still only has a single teaser trailer's worth of official footage.
Director Josh Trank suddenly departs from an untitled Star Wars standalone
Star Wars Celebration – the Comic Con-esque convention dedicated exclusively to Star Wars -- is a hub for Lucasfilm breaking news, and in 2015, many anticipated an appearance by Josh Trank, who was set to direct a Star Wars spinoff. But Trank was a no-show at his planned panel, prompting rumors that Lucasfilm removed the drama-stirring young director after the lackluster response to his Fantastic Four reboot. Trank officially left the project in May 2015.
Rumors still swirl about Trank's potential spinoff. The consensus is that it was meant to focus on Boba Fett and other bounty hunters. To date, no one has been rehired to take on the project.
Gareth Edwards is replaced by Tony Gilroy in reshoots
The first major PR drama to come out of new Lucasfilm was the reported extensive reshoots of Rogue One. Depending on who you believe, as much as 40% to 60% of the movie was retooled after Disney saw a cut and worried about its darker mood. Veteran filmmaker Tony Gilroy reportedly handled all of the reshoots -- making upwards of $5 million in the process -- with the film's credited director, Gareth Edwards, taking a backseat.
Of course, Kathleen Kennedy and Edwards shot down any behind-the-scenes drama, which is business as usual when bad press catches wind. Edwards told EW that reshoots were "always part of the plan" and Kennedy denied that the changes were due to the success of The Force Awakens. "One of the things we're doing with these Star Wars stories is embracing the uniqueness of the different genres," she said. "And we're very deliberately leaning into the various styles of directors that we're approaching so that each of these movies will very intentionally have a very different tone and style from the saga films."
Edwards also claimed that no major scenes were reshot -- but he trailers tell a different story. Several large set pieces that pop up in the various teasers and theatrical trailers don't appear in the movie at all, including Jyn's confrontation with a TIE fighter, various shots of Darth Vader, the protagonists running through the legs of AT-ATs, and other character beats and lines of dialogue.
Another possible sign that Disney and Lucasfilm tone corrected Rogue One: composer Alexandre Desplat was replaced by Disney standby Michael Giacchino. The studio blamed it on scheduling conflicts, but you have to wonder if Desplat's more aching and majestic film scores were deemed too serious by the House of Mouse. Giacchino is, by contrast, known for his work with Pixar, and won an Oscar for his work on Up.
Lord and Miller exit the "Untitled Han Solo Movie," Ron Howard takes the reigns
While Edwards played ball with Lucasfilm over the Rogue One drama, the two directors attached to the next Star Wars standalone, Phil Lord and Chris Miller, weren't so amicable.
One of Kathleen Kennedy's early signs of promise as Lucasfilm president was hiring a slew of auteur-ish young directors right out of the gate. Edwards, Trank, Lord and Miller were all risky but exciting names at the time, with impressive entries into the film world that signaled what could have been major collaborations. Unfortunately, those risks didn't pay off, and in the case of Lord and Miller, may have spoiled the chances of similar endeavors for good.
Here's what went down: The Lego Movie directors Lord and Miller were signed on for the untitled Han Solo film, written by Lawrence Kasdan and his son, Jon. The movie is a prequel to the original trilogy, and follows a young Solo, with Alden Ehrenreich stepping into the iconic role. Filming began in January 2017, but in June, a mere two weeks shy of wrap, Lord and Miller were fired by Lucasfilm and replaced by Ron Howard.
The rumor mill had a field day. According to THR, the directors were behind schedule, filming only three setups per day as opposed to the 12 to 15 the studio expected. They also supposedly clashed with Kennedy and were frustrated over the lack of creative freedom. According to Star Wars News Net, Ehrenreich was one of the first people to voice concerns to Lucasfilm, and tensions eventually reached Lawrence Kasdan, who worried that the directors' improvisational style was straying from his script.
The ever-reliable Ron Howard -- an old friend of Kennedy's and someone who's worked closely with Star Wars OG George Lucas through the years -- stepped in to save the day. Filming is still underway, with Howard diligently sharing behind-the-scenes snapshots on Instagram and Twitter, effectively masking whatever bad blood was spilled early on.
J.J. Abrams replaces Colin Trevorrow on Episode IX
Rian Johnson must feel pretty good right now. To date, he's the only new Star Wars director without an ounce of bad press attached to his project, The Last Jedi -- the sequel to The Force Awakens, and the middle installment of the new Skywalker trilogy -- which comes out this December.
The same can't be said for Colin Trevorrow. Disney and Lucasfilm announced last week that they had mutually parted ways with the Jurassic World director, who was set to direct Episode IX. A few days later, his replacement became official: J.J. Abrams will return to write and direct, rounding out the trilogy he helped start.
Trevorrow's departure is hardly a surprise. He dredged up a fair amount of bad press in the last year, first with some questionable comments about female directors, and later with the release of his widely panned and box-office-flop film, The Book of Henry. According to reports, Trevorrow also had an ego problem, which clashed with Kennedy. "He's a difficult guy. He's really, really, really confident. Let's call it that," an anonymous studio executive told Vulture of Trevorrow's reputation.
Another anonymous source shed some extra light on the situation at Lucasfilm, telling Vulture that the behind-the-scenes musical chairs has to do with the tight ship Kennedy runs: "If you rub Kathleen Kennedy the wrong way -- in any way -- you're out. You're done."
There's been no official word on what Lucasfilm will do next, although reports claim that an Obi-Wan Kenobi prequel is in the works, with Stephen Daldry set to direct. Daldry is straight from the Ron Howard school of safe choices, which feels like Kennedy-induced course correction. No more risks for now -- it looks like the Lucasfilm house style is finally set. What that means for the future of Star Wars -- whose innovative original trilogy was famous for tossing out the rule book -- is anyone's guess.
Sign up here for our daily Thrillist email and subscribe here for our YouTube channel to get your fix of the best in food/drink/fun.
Lindsey Romain is a writer and editor living in Chicago. She covers politics for
Teen Vogue
and has also appeared in
Vulture
, Birth.Movies.Death, and more. Follow her on Twitter @lindseyromain.