Admit It: 'The Phantom Menace' Is Better Than 'Return of the Jedi'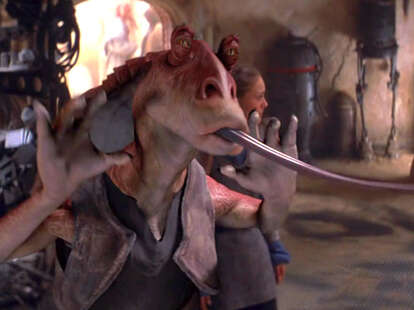 20th Century Fox
20th Century Fox
For years, Return of the Jedi was my favorite Star Wars movie. I loved that its plot was both quicker and more jam-packed than Star Wars and that it didn't have the dark turn of The Empire Strikes Back that 8-year-old me wasn't ready for. The menagerie of critters and criminals at Jabba's palace, the gang's Ewok-filled mission on the Forest Moon of Endor, the Millennium Falcon finally flying into battle -- I dug it all. Jedi was the ultimate toy box.
But growing up is hard and admitting certain truths even harder: Return of the Jedi is not a good movie. And The Phantom Menace, the bane of so many Star Wars enthusiasts, is the reason I know it.
Since The Phantom Menace's release 16 years ago, I've come to regard Jedi and Phantom as a pair. Both were the product of commerce. Both use fan service as a crutch. Both mistake doofy cuteness for "what kids like." Everything that ever went right and wrong in Star Wars went right and wrong along these two trilogy shorelines. But while The Phantom Menace is, apparently, hot garbage that had its way with our collective fandom ("thanks for nothing, George!"), haters tend to give Return of the Jedi an out clause simply for being part of the original trilogy.
Don't mistake this as critical praise. The Phantom Menace is not a good movie, either. But in the grand Star Wars spectrum, the 1999 film's important role as both an individual cinematic experience and a spark plug to a densifying fantasy franchise gets undercut when we bag up Lucas' prequel movies and throw them overboard. But in anticipation of this week's release of The Force Awakens, I feel compelled to give a point-by-point argument for why The Phantom Menace should no longer be regarded as the black sheep of the family.
Scrappy, clueless Anakin > Jedi wannabe Luke
To quote comedian Patton Oswalt, who eviscerated Lucas' decision to reduce the most formidable villain in movie history -- aka Darth Vader -- to a moppet: "Do you love Angelina Jolie? Does she give you a big boner? Well, then here's Jon Voight's ballsack!"
He's right. Anakin's story is dead weight next to the Qui-Gon and Obi-Wan adventures, and his infatuation with angels is creepier than anything Damian cooks up in The Omen. He is a textbook twerp. But so is Luke, 36 space years later. His son's arc in Jedi is contained and tailored in Star Wars '77 -- he escapes Tatooine and becomes the unlikely hero. In Empire, Lucas' adoration for Akira Kurosawa put Luke on a samurai's path. But in the 1983 original trilogy finale, Luke is a clumsy Jedi-in-the-making. He wraps up with an emotional goodbye with Yoda and little wisdom learned. Really, where is Luke headed? What does he come to realize in the end? And then there's the whole "Leia's your sister" thing...
Phantom Menace has a clear vision of what it's out to do. Star Wars '77 was a personal film for Lucas, art freak and speed junkie. The prequels are squarely for kids, and Anakin is every 9-year-old audience member's proxy. He spends most of the movie by adults' sides. He looks up in awe of Coruscant, the Jedi Council, and this weird thing called "world order." Lucas goes so far as to gift his younger audience the chance to jump in a Naboo starfighter and dogfight. Jedi fails because of a languid understanding of who's watching. Phantom owns it with the reviled, midi-chlorian-rich Ani.
Qui-Gon, Obi-Wan, and Padmé > Han, Chewie, and Leia
Jedi hits a snag in the supporting-character department, too. Leia spends the first half of the movie in a metal bikini and the second as the surrogate mother of an Ewok. Somehow, Han has less to do. The character (or Harrison Ford?) has so little motivation, Lucas resorts to "you're blind" to keep him flailing during the Jabba stretch. Empire ends with one of the greatest declarations of love in movie history. Return of the Jedi whisks them away on a sabotage-mission honeymoon. Lucas delivers the eighth episode of a TV series when we need a triumphant finale.
Intrigue and introductions go a long way in Phantom. There was never a character like Qui-Gon in the original trilogy, a thriving Jedi in a thriving society. Amidala echoed her mother's authority with chill, '90s-teen cool. Young Obi-Wan is hysterical. The original Star Wars movies were perfectly cast, but there's no argument: Phantom Menace's ensemble is a higher caliber. Liam Neeson, Ewan McGregor, and Natalie Portman all make up for Jake Lloyd's kid-actor flaws.
Senator Palpatine > Emperor Palpatine
The Emperor was terrifying in hologram form. Overseeing Vader and Luke's duel, he's... a cranky grandpa who can shoot electricity out of his fingertips. Caked in old-age makeup and black robes, Ian McDiarmid's haunting performance could only shine so much in Jedi. His Shakespearean evil comes out in Phantom. Preying on our knowledge of the future, McDiarmid dips his toe ever so slightly into the sinister pool. Contrast that to his pre-face-melt scenes with Darth Maul, which were energized enough to make fans wonder if his Senator Palpatine was really "Darth Sidious," the future Emperor. Duh, dudes.
Naboo and Coruscant > Endor
Phantom straddled the eras of practical special effects and CG painting. It looks like the classic films because it is shot on film. Only when Lucas delivered the garish, all-digital sequels did it become clear how essential grain, shadows, and a touch of imperfection meant to the Star Wars films (and worth noting: J.J. Abrams reverted to film for the upcoming Episode VII). Still, Phantom pushes the series forward. Lucas Industrial Light & Magic went all out designing the world, blending functional models (the Droid tanks, the Naboo fighters) and detailed, miniature landscapes. Naboo and Coruscant pop when gussied up with digital effects. No wonder the Trade Federation wanted to take control of Naboo -- look at those waterfalls!
Jedi is spectacular in its own right, but we've been to these places before. We've seen Tatooine. We've seen the Death Star. Endor looks like our backyard. How visual-effects artists filled in the blanks to make real locations otherworldly is a feat, but it's satisfactory compared to Phantom's palette.
Anakin's Tatooine > Jabba's Tatooine
Who needed to go back to Luke's sandy home world? In either Jedi or Phantom, really. Lucas mistakenly believes we have an emotional connection to this Outer Rim tourist trap. Nope. If you've seen one Tatooine season, you've seen them all.
Phantom's desert-planet detour makes a case for itself. How did the shift from peaceful order to Galactic tyranny warp a place we've seen before? How do you tether Luke and Anakin without winking directly to camera (even if a bare-boned C-3PO veers dangerously close)? Returning to Tatooine works like a bowl of gruel provides nutrients. Jedi's Tatooine stint, on the other hand, is egregious. As a kid, I had patience for Jabba's Palace and its spectrum of patrons. Now it's a slog, beginning with the revolving-door reintroduction of old friends and an explosive sequence that feels completely removed from the actual story it's setting out to tell. It's a James Bond cold open inflated to kill time, the cinematic equivalent of Jabba's tongue licking your face.
OK, the Rancor is cool.
Podracing > Speeder bike chases
This is a tough call. Endor's claustrophobic set piece remains a terrifying adrenaline rush. It's the rare instance where you think, maybe Luke and Leia could die. Avoiding collisions must have demanded serious tree-dar (which, as we all know, is one of the Force's most useful powers). But in the context of Phantom, it also feels like a test run. The podrace breaks blockbuster land-speed records. Intended as a riff on Ben-Hur's chariot sequence, the side quest harkens back to Lucas' American Graffiti. Jedi's speeder bike chase is stifled by technical limitations -- there are only so many angles and perspectives to which director Richard Marquand can cut. Phantom lets Lucas loose. It's controlled and imaginative. That little Rodian kid was so scared!
Mace Windu > Boba Fett
Blasphemy? Maybe. But here are two too-cool-for-school characters who don't actually do much in their respective trilogies. Love for Boba Fett seems to extend to "I can't wait to be this guy for Halloween." His ship, Slave I, is one of the sweeter rides in the galaxy, but Lucas screwed this one up. Fett faces few threats before experiencing jet-pack malfunction and biting the dust in the Sarlacc Pit. Don't tell me Expanded Universe novels wrote him back into existence -- Fett died and his persistence had little to do with Jedi.
Windu benefits from having very little to do. Lucas realizes Samuel L. Jackson was born to deliver Jedi wisdom. He allows him to dominate the Jedi council. His lightsaber is purple because he's his own man. Anyone upset about Windu's Revenge of the Sith fate is in the right. Like Fett, Lucas fails a vibrant character in his final moment. But we're not talking Sith. In Phantom, Windu is a badass.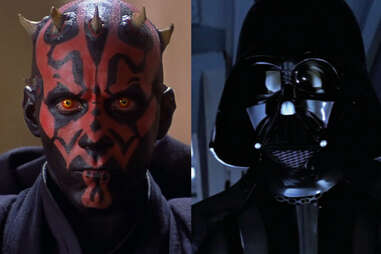 Darth Maul = Darth Vader
I love the meditative, man-weepy lightsaber face-off between Luke and Vader as much as the next guy, even if familial connection never delivers like it should. Darth Maul radicalized the Sith lords. Diversity counts for major points. So does amping up the lightsaber dueling. Jedis in their prime versus a two-saber killer. Maul falls in Boba Fett's basically-for-Halloween-costumes category, but he's the embodiment of what keeps Phantom worth a damn 16 years later. It's not just a movie, but a contemporary reimagining of Star Wars, the first taste of a universe most thought would never claw its way back to screens. There's a meta-glow to the movie. Darth Maul's few appearances recall trailers, posters, and the pre-release hype, which wound up more entertaining than the movie itself.
"Duel of Fates" > "Battle for Endor"
John Williams is the MVP of the Star Wars saga. He has done no wrong. Criticisms are only nitpicks. Here's one: Jedi couples the classic themes with what sound like outtakes from Raiders of the Lost Ark. Phantom reaches back to the past to find a present-day sound. "Duel of Fates" was the big, brassy action theme we needed to whisk us into the new millennium.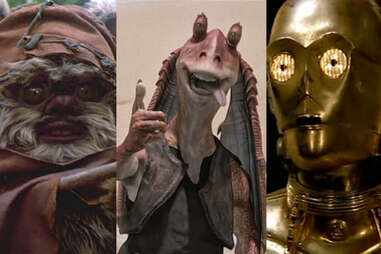 Ewoks > Jar Jar Binks > C-3PO
A battle for lesser evils. There's no defending Lucas' "Charlie Chaplin homage" (see: The Phantom Menace commentary for a full five-minute breakdown) over Jedi's walking teddy bears. Wicket is adorable! He deserved those two spinoff TV movies. Jar Jar's is heinous. The Gungan deserves his imprisonment in embarrassing memes and ludicrous fan theories. But no character whiffs harder than C-3PO in Jedi. Lucas doubles down on his batty bot's worst qualities. He is a shrieking source of worry. The protocol droid's shining moment is the recounting of Empire Strikes Back in the Ewok's "doo-doo" language. Throw this guy back in the junk pile. At least Jar Jar saved the day.
Rattail Jake Lloyd > Ghost Hayden Christensen
This is the world we live in now. We have to accept that.
Questions?
Sign up here for our daily Thrillist email, and get your fix of the best in food/drink/fun.
Matt Patches is Thrillist's entertainment editor. He previously wrote for Grantland, Esquire.com, Vulture, The Hollywood Reporter, and The Guardian. He is not trolling you. Yell at him about Star Wars on Twitter: @misterpatches.