J.J. Abrams wanted to revive the visual spirit of 1977's Star Wars with his trilogy-starter, The Force Awakens. His back-to-basics approach bled into character designs and special effects shots. The movie would be a confluence of nostalgia and state-of-the-art technology, an adventure for all ages -- and every pair of eyes.
Most of us take watching for granted. If the biggest blockbuster of all time arrives to our local multiplex, you go. If a new Netflix series drops, you binge. When the series finale of an award-winning TV show airs, you and the world tune in to experience it together. Now, imagine you couldn't see the screen.  
According to a 2014 report from the National Center for Health Statistics, an estimated 22.5 million adult Americans say they "have trouble" seeing or are unable to see at all. Blindness is an insurmountable hurdle for the rest of the population to imagine, tampering with every aspect of daily existence, but overlooked are the impairment's cultural blows. As Kim Charlson, president of the American Council of the Blind, put it in a recent interview, "Movies are such an important part of our culture and society, people talk about them every day, it's a social outing. People who are blind want the same experience." 
The good news: audio technology, and a little authoritative nudging, are dismantling the obstacle. In October 2010, Congress passed the Federal Communications Commission's Twenty-First Century Communications and Video Accessibility Act (CVAA), an update to existing laws that required major TV networks to provide video description for a minimum number of hours of programming. Currently, ABC, CBS, FOX, NBC, and any non-broadcast network with 50,000 or more subscribers must tailor at least 50 hours of each annual quarter's programming with video description tracks (and a proposal made by the FCC in March 2016 hopes to up the requirement to 87.5 hours). Line-blurring streaming platforms have followed suit; insistence by the American Council of the Blind led Netflix to add audio description tracks to shows. The first? Daredevil, the action series about Marvel's blind hero.
Now the movies are getting their due, both with in-theater audio setups allowing blind viewers to hear descriptions through headphones, and streaming releases with built-in descriptive tracks. One major release that bellowed through the blind community: The Force Awakens, which you can now download off iTunes with audio description.
These tracks are more nuanced than simple stage direction, capturing an actor's nuance or a lingering camera angle. They're also hyper-succinct, popping up between dialogue and wrapping up before essential sound effects. The Star Wars movies are more difficult to paint with words, even if you're fluent in Wookiee. The alien populations and soaring spacecrafts don't exist on Earth -- how do you convey that information? To give you an idea of how the blind "watch" the highest-grossing movie in movie history, here's how the narration describes a few choice moments:
Recommended Video
Thrillist's Best (and the Rest): What's the Perfect Fast Food Meal?
"The words 'Star Wars' appear in outer space, outlined in a curvy font. The title rapidly shrinks away into the dark void. A slanted message crawls after it."
"[Kylo Ren] suddenly ignites a lightsaber with smaller perpendicular blades at the hilt."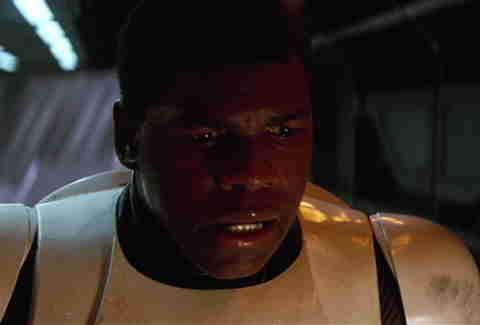 "Ducking inside a transport, he removes his helmet. His smooth, dark-skinned face glistens with sweat."
"Emerging in the desert, the scavenger pulls away its goggles and mask to reveal a pretty, feminine face."
"Getting up from the metal sheet, she grabs a rope and tows it, packed with gear, to a hovering, junky-looking speeder that resembles a USB thumb drive with a slated front grill."
"A goblin-like creature examines [Rey's] pieces."
"[Finn] spots a hippo-like creature drinking from a trough."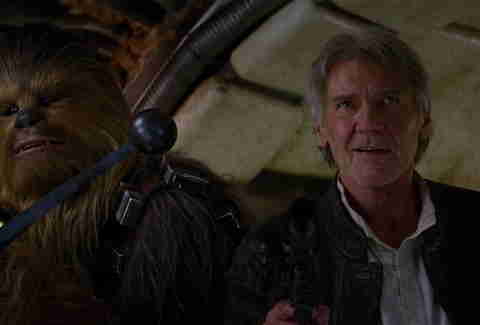 "[Han Solo's] hair now grey, the ruggedly handsome man directs the wookie in one direction while he inspects the ship in another."
"One rathtar rolls towards Han on its giant globular body, its tentacles lashing out. Han and Chewie run. BB-8 races after them. Han punches a Kanjiklubber, then hurls him into the rathtar's mouth, which is lined all the way around with sharp teeth."
"A rathtar's mouth closes around the cockpit ... rifling through items, Finn gives the spherical lightsaber training remote a puzzled look."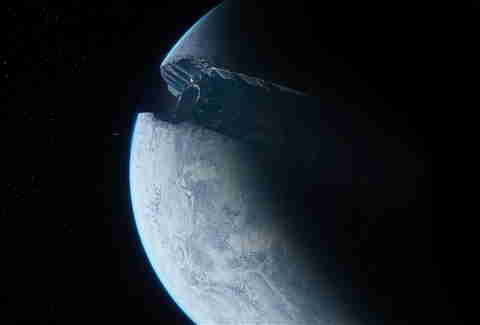 "Elsewhere, TIE Fighters fly toward a frozen white planet with its equator carved away to a mechanical core."
"Han leads the way into a tavern full of odd aliens. A short hairy being with pointy ears scampers toward a gaming table, where gamblers wager on metallic bouncy balls. At the bar, a four-foot-tall alien stacks cups on a tray then suddenly turns."
"The lights dim. Floor panels light up to reveal a long, winding hallway with cloaked metal walls. As Rey runs down it, it collapses behind her.  A mechanical right hand reaches out to R2-D2. A warrior is impaled by a lightsaber. As he falls to the ground in front of Rey, she jumps to her feet and finds herself staring down Kylo Ren, who stands flanked by six knights in a rain storm. He advances on her. As a little girl on Jakku, she watches a ship fly off. Rey finds herself in the snowy wood."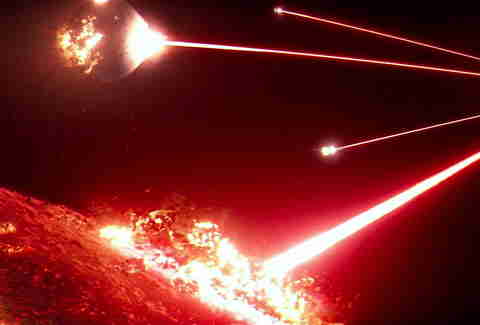 "The night sky lights up over a city. A flash wipes out everything. As the split beams strike all planets, they erupt into showers of earth and magma."
"Han moves distractedly towards a transport. Resistance soldiers fan out. Han remains fixated on the transport, until he locks eyes with Leia. Smiling at him, she shakes her head incorrigibly. Han returns a rakish smirk as she steps up to him."
"Kylo Ren turns a corner into [Rey] holding cell, and finds her gone. He ignites his lightsaber. From the corridor, two Stormtroopers see sparks flying out from the cell. One stops the other, and they turn back, heading away."
"The father and son now stand face to face. Han stands firm. Kylo Ren gazes at him darkly ... Blinking back tears, the fallen Jedi sways uncertainly as he studies his father's face. His chin quivers as he struggles to remain in control of his emotions ... Han inches closer to him. Kylo Ren lowers his tearful gaze, letting his helmet drop to the catwalk. He looks his father in the eyes, then reaches to his hip and holds out his lightsaber hilt. Han looks him over with a furrowed brow. With a calm expression, Kylo Ren offers up the weapon in both his gloved hands. A smile flashes on Han's face ... as the catwalk dims to the red glow of machinery lights, Kylo Ren looks up at his father again, his gaze growing sinister. Han gives a concerned light as they both clutch the saber tightly. Kylo Ren ignites the blade, which stabs through his father's torso. Han gazes despairingly at his son as he thrusts it deeper. He wrenches the lightsaber free in a shower of sparks. Trembling weakly, Han lovingly strokes his son's emotionless face. The ravish smuggler and hero of the Rebellion reels backward and plummets off the catwalk into the cloudy abyss. Kylo Ren stands by in silhouette with his red glowing blade. Keeping his emotions in check, the fallen Jedi lifts his dewy eyes."
"[Rey] closes her tear-filled eyes and concentrates hard. A serene look overcomes her. Kylo Ren trembles and grimaces with fury as they remain locked in their stalemate. Rey's eyes pop open with a newfound focus."
"[Rey] nears the summit and stops. Her jaw hanging agape. 20 feet ahead of her a cloaked and hooded figure stands with his back to her. he turns slowly to her. Rey moves in for a closer look. With a human left hand and a mechanical right hand, the figure pulls back his hood. Now sporting a beard, his hair tinged with grey, Luke Skywalker gazes at his young visitor. She takes his lightsaber from her vigil. As he gazes upon it, he draws a deep breath, then tightens his jaw in a hesitant scowl. Rey's imploring expression becomes resolute as she keeps the lightsaber held out in front of her. Luke levels his tormented eyes on her, and his lips slowly fall open. An aerial view circles them on the mountain top as they remain at a standstill."
Sign up here for our daily Thrillist email, and get your fix of the best in food/drink/fun.