On Friday, John Boyega and Daisy Ridley will go from relative unknowns to the most famous people on the planet, thanks to a little project called Star Wars: The Force Awakens. Disney announced those two Brits (along with a more-known American, Oscar Isaac) as the leads last April, but if the Star Wars rumor mill is to be believed, it could've just as easily been Zac Efron and Chloë Grace Moretz. Or... Leonardo DiCaprio and Judi Dench? Since you probably already forgot how insane the "exclusives" got, we've compiled every major news item and rumor starting with the movie's announcement in 2012 and ending with the release of the first trailer in late 2014. Some are more legitimate than others but, man, is it fun to imagine Daniel Day-Lewis with a lightsaber.
October 30, 2012: Disney announces it has purchased Lucasfilm, and will be releasing a new trilogy of Star Wars films starting in 2015. 
November 5, 2012: A "highly placed source" close to the film tells Entertainment Weekly that Harrison Ford, Mark Hamill, and Carrie Fisher may return in the sequel. "Harrison is open to the idea of doing the movie and he's upbeat about it, all three of them are," the source says.
November 15, 2012: Digital Spy asks Tom Hiddleston if he would ever consider a role in the new Star Wars franchise, using his prior work with producer Kathleen Kennedy on War Horse as the hook. "Absolutely, yeah. It would depend on the story and the character and things," he says. "I don't know, maybe people would associate me too closely with Loki -- I hope not. Kathleen's a filmmaker of such extraordinary experience and wisdom. She's one of the best producers I've ever worked for. She just knows her way around the medium and the art form and the industry, so I think I'd take it very seriously if they asked me."
January 3, 2013: /Film founder Peter Sciretta cryptically tweets, "Who said the lead character in Star Wars Episode VII is going to be a male star? :)."
January 24, 2013: Kathleen Kennedy confirms to The Wrap that J.J. Abrams will direct the first Star Wars sequel. In a story discussing the news, /Film claims that Kennedy talked to other directors including Ben Affleck and Matthew Vaughn, who might have pitched Chloë Grace Moretz for the lead.
March 7, 2013: When asked about the original trio returning, George Lucas tells Bloomberg Business, "We had already signed Mark and Carrie and Harrison -- or we were pretty much in final stages of negotiation. So I called them to say, 'Look, this is what's going on.' Maybe I'm not supposed to say that. I think they want to announce that with some big whoop-de-do, but we were negotiating with them." He adds: "I won't say whether the negotiations were successful or not."
May 20, 2013: Latino Review claims Jonathan Rhys Meyers has an offer for the starring role.
June 19, 2013: As an open casting call begins in the UK, Bleeding Cool confirms the following casting breakdowns: "Late-teen female, independent, good sense of humour, fit. Young twenty-something male, witty and smart, fit but not traditionally good looking. A late twentysomething male, fit, handsome and confident. Seventy-something male, with strong opinions and tough demeanour. Also doesn't need to be particularly fit. A second young female, also late teens, tough, smart and fit. Forty something male, fit, military type. Thirtysomething male, intellectual. Apparently doesn't need to be fit."
July 14, 2013: Latino Review reports that, while the previously considered Leonardo DiCaprio is no-go, Zac Efron and Ryan Gosling are in talks for roles. Its sources insist that Gosling read for Luke Skywalker's son, but Efron's part is a mystery.
July 25, 2013: A rep for Ryan Gosling tells HuffPost Entertainment in an email that the rumor about Gosling auditioning for Luke Skywalker's son is "not true."
July 30, 2013: MTV News asks Chloë Grace Moretz about the old rumors about her starring in Star Wars. "I mean, obviously there's interest. It's Star Wars. I'd kill to be a part of that franchise, but I don't know," she says. "J.J., I'll give you my phone number. You can text me."
August 28, 2013: Latino Review's latest exclusive claims Rachel Hurd-Wood has auditioned for the role of Princess Leia's daughter and that Alex Pettyfer also went in for an unspecified role.
September 2, 2013: Film Chronicles reports that Benedict Cumberbatch is confirmed for the film.
September 3, 2013: A rep for Benedict Cumberbatch tells The New York Daily News, "There is no truth to the rumor Benedict has been cast in Star Wars. I think the rumors are circling because J.J. and Benedict have just recently had a wonderful time working together on Star Trek."
September 5, 2013: A casting call for three roles goes out in New York. The first part calls for a young man who is "early 20s. Handsome, but not necessarily heroic. He is witty and smart. Physically fit." The second calls for a man in his "late 20s. Physically fit, handsome and confident." The third calls for a young woman who's "late teens. Physically fit, raw energy, independent and with a great sense of humor." 
An unnamed source also tells Jedi News that Ksenia Solo is being considered for a role, possibly Han Solo's daughter. The same site reports, via a source at RebelForce Radio, that Liam McIntyre read for a role, possibly as a Jedi.
September 15, 2013: After months of speculation, Jonathan Rhys Meyers tells Entertainment Weekly, "Look, I've worked with J.J. But I don't believe rumors."
September 21, 2013: Umberto Gonzalez of Latino Review tweets, "FREE STAR WARS (maybe) TWITTER SCOOP! Kathleen Kennedy & Lucas had lunch w/DANIEL DAY LEWIS @ Bistro in San Rafael this past Thursday. RT."
September 23, 2013: Jedi News claims to have the "first signed and sealed casting" in Episode VII: David Oyelowo, who would appear across multiple new Star Wars films, according to the report.
September 30, 2013: Latino Review reports that Sullivan Stapleton read for a role in the movie.
October 1, 2013: Saoirse Ronan confirms to Sky News that she auditioned for a part, adding, "so has everyone." Although the site speculates that she may have read for the role of Han Solo and Princess Leia's daughter, she declines to elaborate, since Disney would "chop off her head with a light-sabre [sic]" if she said more.
November 1, 2013: Michael B. Jordan tells The Associated Press that he auditioned for an unspecified role. "I mean, everybody's going in on this project. They're trying to figure out what they want," he says. "It's pretty crazy! … We'll see how it happens. I don't know how I can do everything."
November 2, 2013: Jedi News says Chiwetel Ejiofor is joining the cast in an "undisclosed role." The report references a feature in The Times which confirms Ejiofor met with J.J. Abrams.
January 11, 2014: The Hollywood Reporter says that Michael Fassbender met with J.J. Abrams in December, and that Hugo Weaving went out for an "Imperial commander" part. The same story also claims, "Girls star [Adam] Driver is being eyed for a role."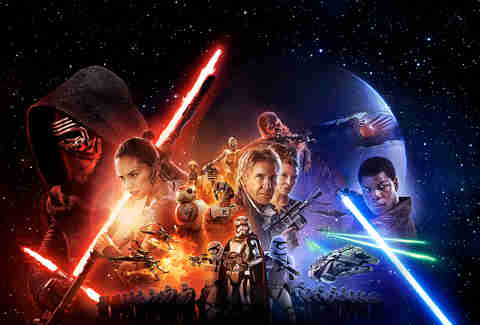 January 12, 2014: The Press Association asks Chiwetel Ejiofor whether he has a role in the movie. "Who knows? We'll just have to see. I don't know is really the only answer I can give you," he says. "I'm a huge fan of that world and JJ, but I don't know. I can't tell you."
January 19, 2014: Big Shiny Robot claims (without being able to confirm independently) that Judi Dench is being considered for the role of Mon Mothma.
January 20, 2014: Carrie Fisher essentially confirms she, Mark Hamill, and Harrison Ford are reprising their roles in an interview with TV Guide. She says the trio are expected to report to work in March or April, adding, "I'd like to wear my old [cinnamon buns] hairstyle again -- but with white hair. I think that would be funny."
January 31, 2014: Zac Efron confirms he met with the Star Wars team in an interview with MTV.
February 6, 2014: Sky Movies asks Gary Oldman if Star Wars is next for him. "They've called," he replies. "I'm more cynical about it now. I'll believe it when I'm on the plane home. The deal isn't done, but yeah, they've inquired."
February 26, 2014: Variety reports that Adam Driver has been cast as a villain in Star Wars, making him the first confirmed cast member.
March 12, 2014: Another Variety exclusive says Ed Speleers, John Boyega, Jesse Plemons, Matthew James Thomas, and Ray Fisher are vying for the lead role. Multiple anonymous sources tell the magazine these actors have "moved to the top of the list in recent weeks."
March 14, 2014: The Hollywood Reporter claims Lupita Nyong'o met with J.J. Abrams right before winning her Oscar for 12 Years a Slave.
April 9, 2014: Deadline reports producers are considering Maisie Richardson-Sellers for an unspecified role.
April 29, 2014: The Star Wars: The Force Awakens cast is officially announced. The release on StarWars.com reads, "Actors John Boyega, Daisy Ridley, Adam Driver, Oscar Isaac, Andy Serkis, Domhnall Gleeson, and Max von Sydow will join the original stars of the saga, Harrison Ford, Carrie Fisher, Mark Hamill, Anthony Daniels, Peter Mayhew, and Kenny Baker in the new film."
April 30, 2014: In a feature about the secrecy surrounding Star Wars, The Hollywood Reporter says Dev Patel tested for a role "as recently as three weeks ago."
May 16, 2014: Latino Review claims two remaining female roles are going to Maisie Richardson-Sellers and Katie Jarvis.
June 2, 2014: Lupita Nyong'o and Gwendoline Christie are added to the cast. "I could not be more excited about Lupita and Gwendoline joining the cast of Episode VII," Kathleen Kennedy says in the official release. "It's thrilling to see this extraordinarily talented ensemble taking shape."
June 11, 2014: IGN Middle East reports that Simon Pegg has a "secret role" in the film and was spotted on set in Abu Dhabi.
June 13, 2014: In response, Simon Pegg tweets, "I think this might be why everyone got a little bit confused. #phineasandferb #starwars http://go.ign.com/TQ8o6q"
June 27, 2014: Latino Review says Carrie Fisher's daughter Billie Lourd will appear in the film, possibly in a cameo role.
July 6, 2014: Crystal Clarke and Pip Andersen are also added to the team from the open casting call. Here's Kathleen Kennedy again: "The Star Wars universe has always been about discovering and nurturing young talent and in casting Episode VII we wanted to remain absolutely faithful to this tradition. We are delighted that so many travelled to see us at the open casting calls and that we have been able to make Crystal and Pip a part of the film."
July 17, 2014: Unnamed sources tell Latino Review that Christina Chong has landed an unspecified role.
September 1, 2014: BBC reports that another Game of Thrones alum, Miltos Yerolemou, has joined the cast in a minor role.
September 11, 2014: Greg Grunberg tweets, "Yes @smgulz it IS safe to assume I have a role in #StarWarsEpisodeVII - If I say more than that, JJ will have me killed."
October 16, 2014: In a silly (but official!) video on the Star Wars YouTube channel, Warwick Davis confirms he will return for Force Awakens.
November 26, 2014: Lizo Mzimba of the BBC tweets, "Pleased @JHenwick's in @StarWars VII. Big fan, from Spirit Warriors to Silk. And she's Nymeria Sand in @GameOfThrones next year!"
November 28, 2014: Fans begin speculating after the first trailer's release that Benedict Cumberbatch (yep, him again) might be playing a lightsaber-wielding villain in a hooded cloak or providing the voiceover for that teaser.
December 1, 2014: Benedict Cumberbatch once again denies he has a role in Star Wars. "I am not the voice of the Star Wars trailer, nor am I the hooded character with the rather cool new lightsaber," he tells a reporter at the Evening Standard Theatre Awards. When asked if he's involved at all, he replies with an emphatic, "No."
Sign up here for our daily Thrillist email, and get your fix of the best in food/drink/fun.
Kristin Hunt is a freelance writer for Thrillist, and likes to believe there's a Judi Dench and Zac Efron Star Wars movie in another galaxy far, far away. Follow her at @kristin_hunt.