'Star Wars: Episode VIII" Finally Reveals Its Terrifying Title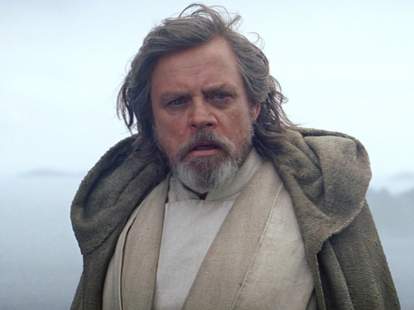 Star Wars: The Force Awakens was a title clearly meant to inspire hope. The word "awakens," with its implications of rebirth and renewal, was an ideal way for Disney and director J.J. Abrams to signal that their new movie would replicate the rollicking, buoyant tone of George Lucas's original Star Wars: A New Hope. On Monday, Disney finally revealed the official title for the latest entry in the Star Wars series and it sounds considerably less upbeat: Star Wars: The Last Jedi.
Despite the dark vibes the title gives off, we think the Force is strong with this one. In recent interviews Adam Driver, the actor who played Force Awakens bad boy Kylo Ren, has favorably compared Looper writer and director Rian Johnson's script to The Empire Strikes Back, which famously took on a more downbeat tone than the film it followed. (It'll be tough for this new movie to be any more grim than last year's Rogue One.) It makes sense the film's title has a touch of menace -- just look at the Sith-like black-and-red teaser image Disney released:
Let the speculation begin: who's the last Jedi of the title? Could it be referring to Luke Skywalker, played by the very bearded Mark Hamill, who we last saw standing on a windswept island at the end of Force Awakens? Or is it Rey (Daisy Ridley) the young warrior who sought his guidance? Fans have already speculated that the plot of The Last Jedi will mirror the Empire Strikes Back in specific ways, with Rey likely being trained by Luke in the same way the young Skywalker was mentored by Yoda in Empire.
Of course, this could also be a clever bit of misdirection. Maybe John Boyega's Finn is the last Jedi? Or Oscar Isaac's Poe Dameron? Or perhaps it's BB-8? We'll have to wait until December 15, when Star Wars: The Last Jedi arrives in theaters.
Sign up here for our daily Thrillist email, and get your fix of the best in food/drink/fun.