Everything We Know About 'Star Wars: The Rise of Skywalker'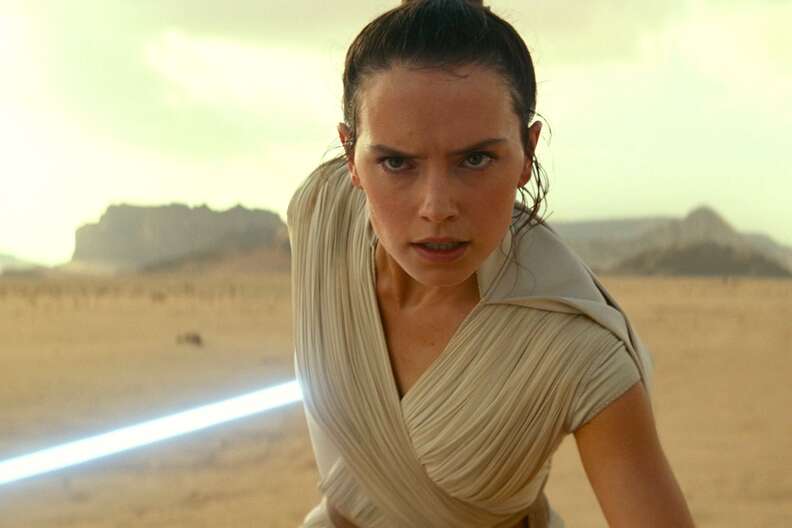 Daisy Ridley in 'Star Wars: The Rise of Skywalker'

| Disney
Daisy Ridley in 'Star Wars: The Rise of Skywalker'

| Disney
Warning: The following post contains spoilers from The Last Jedi and all previous Star Wars films.
When Star Wars: The Last Jedi stormed into theaters it offered just as many mysteries as it did spectacles: Was that truly the end of Luke Skywalker? Do we really know who Rey's parents are? And will we see Benicio del Toro's devious character again? Just as The Force Awakens left room for The Last Jedi to be a wide-open adventure, The Last Jedi did the same for its successor. As we look toward the movie previously known as Star Wars: Episode IX and now known as Star Wars: The Rise of Skywalker, the final chapter in the modern Skywalker trilogy, we're collecting everything we know and putting it in this here compendium.
Check out our review of Star Wars: The Rise of Skywalker.
What is the release date of The Rise of Skywalker?
You'll get the final entry in the third Star Wars trilogy on December 20, 2019. Which means it's time to get excited. And maybe sad. You'll be sad when the trilogy is over, right?
The film comes with a potential seizure warning
Walt Disney Studios issued a statement in tandem with the Epilepsy Foundation that The Rise of Skywalker contains several sequences with imagery and sustained flashing lights that may trigger seizures in those with photosensitive epilepsy.
Why is Episode IX called The Rise of Skywalker?
We'll see! But there are so many theories already. The title reveal teaser trailer back in April reignited the fan debates about whether or not a key character is part of the Skywalker line, or that it refers to a character we haven't seen yet, or just Luke Skywalker's influence generally. Suffice it to say we all truly won't know what's coming for us until we sit down in the theater in December. Exciting!
Who's directing The Rise of Skywalker?
With Colin Trevorrow out, many fans thought that meant Episode VIII director Rian Johnson would return, but he's busy on an all-new trilogy. So...? Disney opted to bring back The Force Awakens' J.J. Abrams to save Episode IX; he's co-writing the sequel alongside Chris Terrio (Batman v Superman). "With The Force Awakens, J.J. delivered everything we could have possibly hoped for," said Lucasfilm president Kathleen Kennedy. "I am so excited that he is coming back to close out this trilogy."
"I had no intention to return," Abrams toldRolling Stone. "But when the opportunity presented itself to finish a story that we had begun with these new characters, to tell the last chapter of their story, it felt like there was a chance to do it in a way where we could go beyond, and do better than we did in VII. I learned so much in that movie and I saw that this was a chance to sort of realize something that we hadn't quite achieved -- and part of that was it was simply the beginning of these new characters and their story. The opportunity to sort of take what we had learned, to take the feeling of who these characters are and what they are and give them a final chapter that felt in the spirit of what we begun? It was too delicious of an opportunity to pass up."
What is The Rise of Skywalker about [possible spoilers]?
Whatever ideas Trevorrow and his writers had seem to be off the table. The director was rumored to be "difficult" when it came to scripts, but his original plans were also likely impacted by Carrie Fisher's death. (Some have speculated that Episode IX was supposed to be a bit of a showcase for Fisher's character, Leia, as VIII was for Luke and VII for Han.) "Unfortunately, Fisher passed away, so by the time we were well under way with Episode IX, in our thoughts, we had not written a script yet," Kennedy said. "We've regrouped, we started over again in January, so sadly, Carrie will not be in IX." We do know from the footage in the trailers, though, that Leia will at least have a scene before what we're hoping is a fitting send-off.
Abrams is obviously a big part of that regroup. As The Last Jedi was making its way into theaters, he was pitching his ideas to Disney CEO Bob Iger. Since The Last Jedi ends with the Resistance evading the First Order -- but not before sending out a distress call to their allies -- does that mean Abrams will keep the whole Tom and Jerry-esque chase going? Or will IX buy some time for the Resistance to plan a counter attack? Or! Will Force-sensitive Broom Kid come and save the day??? (We don't know for sure, but we have some ideas.) If Abrams' comments above, about telling the "last chapter" of this trilogy, are to be taken literally, another showdown is imminent. In short, IX should conclude the main story lines introduced in VII. We've essentially moved to the Return of the Jedi phase of this trilogy (although hopefully there won't be any Ewoks involved).
Thanks to the teaser from April and the sizzle reel that came out of August's D23 Expo, there are more than a few theories running rampant on the Internet. The big moment in the teaser comes right at the end when, after a shot of what looks like the wreck of the Death Star partially submerged in an ocean, we hear Emperor Palpatine's iconic evil laugh. Ian McDiarmid all but confirmed his character was returning to the series when he appeared onstage at this year's Star Wars Celebration, to thunderous applause. And his voice is all over the sizzle reel. He's also front and center in the movie's new poster.
The final trailer for the film didn't add too much new plot information, but it did drive Palpatine's presence home with yet another creepy voiceover and a shot of the emperor's throne, which was based off of sketches originally from 1981. We also get some healthy identity drama on Rey's part ("People keep telling me that they know me. No one does."), but no dice on new information regarding the Dark Rey that was teased in the D23 sizzle reel. In the end though, we get a teary-eyed shot of Rey wielding Luke's lightsaber. Perhaps most jarring was the emotional revelation that this could be the end for C-3PO, who appears to give a sentimental goodbye in the trailer. Also, new alien friend Babu Frik is there messing with C-3PO's circuits.
Are Finn and Poe boyfriends?
Any thought of Finn and Poe finally getting together romantically has been shot down. Speaking to Variety, Abrams made it clear that Finn and Poe aren't dating because "that relationship to me is a far deeper one than a romantic one." Abrams did hint that The Rise of Skywalker would have an LGBTQ character, saying, "in the case of the LGBTQ community, it was important to me that people who to see this movie feel that they're being represented in the film." However, given Disney's lackluster track record with LGBTQ representation in its mainstream film releases, don't count on anything major.
Is Rey going to turn to the Dark Side?
There are a lot of theories about Rey (see below), but one of the big ones is that she might spell the end for the Jedi/Sith light/dark dichotomy as the Star Wars universe knows it. Will Rey be the first True Neutral Jedi? Will she fight for the good guys until something tempts her over to the other side? The D23 sizzle reel ends with a couple shots of Rey dressed in black Sith clothes, wielding a double-lightsaber with Darth Maul vibes. What does it all MEAN????
Who's returning for Episode IX?
Lucasfilm says it won't use CG technology to revive the late Carrie Fisher's Leia, but expect your core group of heroes and villains to definitely return: Rey (Daisy Ridley), Finn (John Boyega), Poe (Oscar Isaac), and Kylo Ren (Adam Driver). Also possible: the other surviving members of the Resistance, including Chewie, C-3PO, R2-D2, BB-8, that one Porg, and Rose (Kelly Mary Tran); lower-key baddies like General Hux (Domhnall Gleeson) and mayyyyyyyybe Captain Phasma (Gwendoline Christie), aka the Star Wars Kenny; and some of those clutch allies, like everyone's favorite weirdo, Maz Kanata (Lupita Nyong'o).
Keri Russell is hopping aboard
Variety reported in July that Keri Russell was reportedly joining the cast in a role that demanded "action-heavy fight scenes." While fan theories ran rampant for a while — Rey's mom? Luke Skywalker's wife? Future Rey? — it turns out that she's playing Zorri Bliss, a "masked scoundrel" decked out in a deep purple bodysuit and hawkish mask. The character's identity was originally revealed in Annie Leibovitz's The Rise of Skywalker portraits for Vanity Fair; Bliss is seen in the Thieves' Quarter of Kijimi. The Rise of Skywalker marks a fun reunion for Russell and Abrams, whose collaboration began with Felicity more than 20 years ago and also includes the Abrams-directed Mission: Impossible III in 2006.
Richard E. Grant and Naomi Ackie are also joining the cast
Oscar-nominated Richard E. Grant (Can You Ever Forgive Me?) is joining the cast as Allegiant General Pryde, a First Order officer who works with Domhnall Gleeson's General Hux. Naomi Ackie (The Bisexual) plays Jannah, a resistance fighter who ambidextrously wields a bow and arrow and fights mounted on a horse-like Orbak.
Billy Dee Williams will reprise his role as Lando Calrissian
Coming on the heels of the new Lando is… the old one! According to The Hollywood Reporter, Billy Dee Williams will again don his cape as the Socorran smuggler-turned-galactic-hero -- perhaps a good opportunity to cap the character's storyline -- for an Episode IX appearance. In what capacity? Not sure, but as The Verge notes, Lando is one of the saga's last remaining elder stewards and could "end up serving as an unlikely bit of connective tissue, giving characters like Rey (Daisy Ridley), Finn (John Boyega), and Poe (Oscar Isaac) a tether to the events in the original films -- while also responding to the dual loss of Leia and Han in a truly personal way." Not to mention that it'll be good to see him interacting with his old pals C-3PO, Chewbacca and R2D2 again (not to mention Nien Nunb, his Return of the Jedi copilot). Of course, Lando was also a major part of Solo: A Star Wars Story, and reintroducing him back into the main storyline adds weight to the spinoff as well.
Could Greg Grunberg come back?
Yes, this is a question that no one is asking. But we are! Onscreen, Grunberg is Blue Squadron pilot Temmin 'Snap' Wexley. Offscreen, the actor is childhood friends with J.J. Abrams. (Yeah, they go way back -- see also: Felicity, Alias, Mission Impossible III, etc.) Though Grunberg wasn't in The Last Jedi, many have wondered if the top recon flier will re-team up with his old pal to bolster the Resistance in Episode IX. Yahoo Entertainment posed that exact question this summer and got a promising response: "You know what -- we'd better or else my wife is going to kill me for growing a beard," Grunberg told the site during a video interview, scratching said beard as he answered. "I can't officially say anything, but this is getting itchy, and I'm getting itchy to go over there and do it." Many have interpreted the comment as an unofficial confirmation. We wouldn't be surprised if it came to be.
Along with Yoda?
[Potentially BIG spoiler! Final warning!] We will spare you the writing-a-Yoda-piece-of-news-in-Yoda-speak jokes and just say that the Star Wars producers have plans to let the li'l 900-year-old green guy teach one more lesson. Sources told the New York Daily News in April that "the success of the scenes featuring Yoda in The Last Jedi were huge," and that "Yoda will again appear as a ghost as he acknowledges Rey's success and growth as a Jedi." Lucky her.
And Obi-Wan Kenobi?
We're not talking about that standalone Kenobi project, which, entered a weird state of purgatory thanks to Solo's poor box office performance when it was rumored to be a movie spinoff, and that is now confirmed to be in the works as a Disney+ live-action series. Rather, we're talking about whether Obi-Wan will appear in The Rise of Skywalker: In one of the more exciting Star Wars rumors in recent memory, Ewan McGregor, who will return to the Star Wars fold for the Disney+ series, may have suited up for Episode IX as well. "Ewan will secretly film for the next Star Wars movie," an unnamed source told British tabloid The Sun last year, which kind of automatically makes the "secret" part of that claim untrue, but hey, it's an unnamed source in a British tabloid. "Disney have been mulling over a stand-alone film for Obi-Wan. There have been concerns about getting the story right." Great Scot! (Truly.) That first quote has yet to be confirmed -- stay tuned -- but we don't blame you for being hopeful.
And Luke?
Two words: Force. Ghost. Although, yeah, two words that might not be worth much. Speaking to IGN about a Luke Episode IX reappearance, actor Mark Hamill cast his doubts. "People are saying, 'Are you going to be a Force Ghost in [Episode IX]?' I said, 'I really don't know. No one's really talked to me about it.' To me, I feel I had a beginning, middle and an end in the original trilogy. On [The Last Jedi], the first thing I said was, 'Can't we push my death to IX?' Because now I don't have a beginning, middle, and an end -- I have a beginning and an end." Give the guy another end!
And... Han Solo?
How dead is Han? Pretty dead, right? We think so, but you'd be surprised -- or maybe you wouldn't -- at how many theories exist to push his survival. Some fans believe he fell into a "time warp," others think he got shot into space where he somehow survived carbon-freezing, and... really, Harrison Ford just wants everyone to let the character be dead! Don't despair. No matter how dead Han might be, his dice will -- "wink wink" -- live on forever. And we do know that Darth Maul, who was similarly sliced in half in the first movie in another Star Wars trilogy, survived that ordeal, as he turned up in a surprise cameo in Solo.
What's the deal with Rey's lineage?
Right, right, right, this old thing: Who the heck are Rey's parents? Can we consider this case closed, or is there potentially another revelation on the horizon? According to Simon Pegg, director Rian Johnson might have (unintentionally?) altered the plans J.J. Abrams had mapped out for Rey's origins when, with the help of Kylo Ren and the Force, he revealed her parents were a pair of junk-trading bums. (Of course, this is a big "might.") On a recent Happy Sad Confused appearance, Pegg told the podcast, "I know what J.J. kind of intended, or at least was being chucked around. I think that's kind of been undone slightly by the last one. There was some talk of a relevant lineage for her." To which we say… big whoop? Isn't it possible Kylo was just being a dick, as he's wont to be? Couldn't there still be a relevant lineage?
Seems like there's an easy way to clear this hurdle. If it's a hurdle at all. In Johnson's defense, he also told HuffPo that he handled the whole parent thing the way he did to up the drama. "What's going to make life hardest on [Rey]? It would be the big 'I am your father' twist [from The Empire Strikes Back]," the director told the site. "And same thing with Rey and her parentage... The easy thing would be, 'Yes, your parents are so and so and here's your place in the world. There you go.' The hardest thing she could hear would be [...] 'No, you're not going to get the answer. This is not going to define you. You're going to have to find your own place in this world. Kylo is going to use that even as leverage to try and make you feel insecure, and you're going to have to stand on your own two feet.'" In other words, this case is not closed! Expect it to resurface in Episode IX.
Speaking of: This will probably be the end for Daisy Ridley
Or, so she hopes. For now. Maybe. Etc. You get it. In an interview with Rolling Stone, Daisy Ridley, the actress who plays Rey, said she didn't want to return for more movies after Episode IX -- mainly because she thought she was only signing up for a set amount of installments. "For me, I didn't really know what I was signing on to. I hadn't read the script, but from what I could tell, it was really nice people involved, so I was just like, 'Awesome.' Now I think I am even luckier than I knew then, to be part of something that feels so like coming home now," she told the magazine. "I am really, really excited to do the third thing and round it out, because ultimately, what I was signing on to was three films. So in my head, it's three films. I think it will feel like the right time to round it out." Seems pretty sure! Though, when asked if she'd return in a few decades like some of her predecessors, she seemed down. (So long as the apocalypse hasn't happened.)
Episode IX might also be John Williams' last Star Wars movie
The acclaimed composer (and father of Toto's Joseph Williams) seemed to confirm as much in a recent interview with radio station KUSC. "We know J.J. Abrams is preparing one now that I will hopefully do next year for him," he said (via EW). "I look forward to it, and we'll round out a series of nine that will be quite enough for me." Fair enough!
Are fans mad about Episode IX yet?
Yeah, I mean, we haven't heard if there's going to be another weird milking scene, but people are already pissed.
This post has been updated throughout.
Sign up here for our daily Thrillist email and subscribe here for our YouTube channel to get your fix of the best in food/drink/fun.
Follow the Thrillist Entertainment editors on Twitter @ThrillistEnt.