New 'Star Wars: The Rise of Skywalker' Footage Teases Rey's Dark Side and Badass Saber
The new sizzle reel for Star Wars: The Rise of Skywalker, the final (at least for now) installment in the LucasFilm trilogy of trilogies, is mostly a nostalgia trip. Remember Luke and the twin suns of Tatooine? Remember Yoda? Remember the unbearably awkward chemistry between Natalie Portman and Hayden Christensen? Indeed, the video, first unveiled at D23 over the weekend, takes a long time to get to anything new. However, when it does, it makes a hell of an impact, giving us an image that's destined to inspire unending analysis.
As in the teaser trailer released this past April, this one features the unmistakably creepy voice of Ian McDiarmid as Palpatine, a.k.a. Sith dark lord Darth Sidious. The footage also shows off Rey's double-bladed lightsaber not unlike the one used by Sidious' old pal Darth Maul. She's wearing a hooded cloak, and looks, well, like she's been visiting the stylist used by basically everyone on the Dark Side. So: Is Rey going bad?
We're going to guess that, in the long run, probably not. But really, who knows? Some have speculated that this shot is probably from some kind of fantasy sequence, and is possibly in her or someone else's head. Regardless, where Rey ends up is naturally one of the biggest questions The Rise of Skywalker has to answer. That mouthful of a title has elicited speculation as to whether J.J. Abrams, taking the helm of the franchise once again, will try to retcon the idea that her parents are simply nobodies, a notion Rian Johnson established in the much-debated The Last Jedi. But this new wrinkle could suggest a narrative that's less like Luke's and more like his dear old daddy Anakin's. Or it could just all be one big fake-out.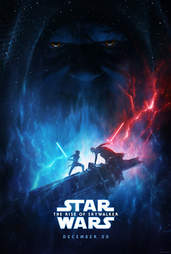 Lucasfilm
Meanwhile there are other brief but tantalizing shots in the D23 drop: Rey, Finn, Poe, Chewbacca, and C-3PO stumbling upon some kind of festival; C-3PO with red eyes; Rey and Kylo Ren battling with lightsabers as waves crash beneath them, mimicking the (very cool) new poster that shows Palpatine watching the action with great interest.
All will become clear -- hopefully -- when The Rise of Skywalker arrives on December 20. Until then, we'll just wait for more tiny teases.
Sign up here for our daily Thrillist email and subscribe here for our YouTube channel to get your fix of the best in food/drink/fun.