Who would have guessed that C-3PO would get the most emotional beat in the final trailer for Star Wars: The Rise of Skywalker? Sure enough, the faithful comic-relief droid seems to be saying goodbye, possibly forever, in the footage, which was released during ESPN's Monday Night Football telecast on the same day that tickets for the final installment in the Skywalker saga went on sale.
Babu Frik, the newest alien added to the franchise's roster, tinkers with C-3PO's wiring, when Oscar Isaac's Poe Dameron asks: "What are you doing there, 3PO?" The droid responds in Anthony Daniels' comforting accent, "Taking one last look, sir, at my friends." Cue mournful Chewbacca growl. It's a moment that drives home that this really is the conclusion of a decades-long movie event. It also introduces a horrible prospect: What if C-3PO, one of Star Wars's constants, actually dies?
Recommended Video
Art of the Meal: Chloe Rose Makes Super Mario Bros Art With Hot Sauces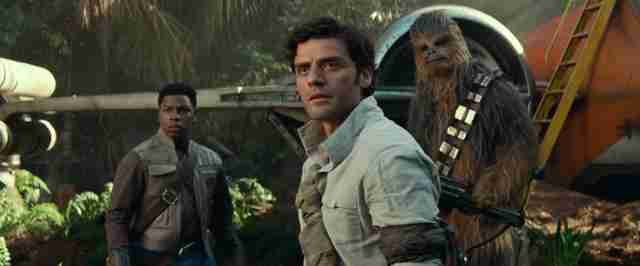 While the trailer doesn't offer any new looks at Dark Rey -- the potentially villainous turn of the new trilogy's protagonist teased in a featurette in August -- it does tease out more emotional turmoil for Daisy Ridley's character. "People keep telling me that they know me," she says. "No one does." As Kylo Ren (Adam Driver) emerges from mist, drenching wet, we hear him reply: "I do." That's enough to keep fans guessing as to the nature of their relationship until December 20 (December 19 if you score Thursday night tickets), especially given another shot that appears to show them working in tandem.
There's also the matter of that one ominous voiceover that's been a constant in all the marketing materials for the film. Palpatine is back, once again, seemingly alluding to Kylo and Rey's union. "Long have I waited, and now your coming together is your undoing," he hisses. The good news? It all ends with Rey brandishing Luke's blue lightsaber, with a look of serenity on her face.
All of this is to say that these two minutes and 37 seconds have given us a lot to chew over while we wait to see how J.J. Abrams has decided to wrap this whole thing up. We'll be freaking out over the space horses and nervously fretting over C-3PO's fate until our butts are in the theater.
Sign up here for our daily Thrillist email and subscribe here for our YouTube channel to get your fix of the best in food/drink/fun.