Keeping It Real: Stars Who Exposed "Reality" TV
Like "jumbo shrimp" or "low-cost health care," reality TV is one of the great oxymorons. While the genre may purport to show the real lives of teen moms, Beverly Hills housewives, and home renovators, behind-the-scenes teams of writers, producers, and editors craft or manipulate nearly every baby daddy argument, kitchen remodel, or white wine throw.
But while some reality stars are happy to maintain the fiction, others have refused to play along. Some walked away from their shows, and many former reality stars have spoken out about the difficulty of trying to be a "real" person on camera. This is the true story of what happens when reality stars stop being "real" and start being honest.
IT'S EASY TO LOSE YOURSELF
Anyone who signs up to be on a reality show should expect that what they say and do on camera could be taken out of context. After all, the producers have to create must-see television out of mundane, everyday life. Reality show cast members rarely have a say in how they're depicted in the final edit.
Recently, Teen Mom 2 star Jenelle Evans reacted negatively to an episode that exaggerated a fight between her and her husband. She took to Instagram and threatened to quit the show, blasting MTV by writing that, "They treat all of us as if we are in a freak show and in cages. WE aren't human beings to @mtv what-so-ever."
And while you can say people knew what they were signing up for, sometimes they don't even realize it's happening until afterward. Jillian Harris from The Bachelor and The Bachelorette was surprised by the lengths the producers of her shows went to manufacture drama. As she told Today, "I had no idea I would be so easily manipulated." As time went on, Harris had trouble distinguishing fact from fiction, saying she "forgot about my 'real' life so fast. I was like experiencing a really fabulous version of Stockholm Syndrome, with fancy meals, hotels, and clothes!"
Today, Harris runs a lifestyle blog where she shares styles, design tips, recipes, and personal entries. Looks like she found a version of the good life that isn't so head-spinning, and better yet, lets her represent her own image of herself.
Advertisement
Courtesy of Bai
Bai brings flavor to your taste buds without compromise. And now Bai's celebrating musicians who make magic happen in your earbuds -- without compromise. Here are the stories of three artists who always stay true to themselves and refuse to sacrifice.
STRUGGLING ONLY FEEDS THE BEAST
Sometimes reality stars bite the hands that feed them in very public ways. As a cast member on Real World Cancuntold Cracked, one housemate rebelled by getting a very blunt tattoo. Most tattoos blur over time, but this one was deliberately blurred by producers in order to prevent its being broadcast. "One time [castmate] Joey got really mad that they fined him for breaking a rule, and he actually had the balls to run away from the house," the cast member, who went by "Pat" to remain anonymous, recalled. "No one knew where Joey was. He comes back with this brand new tattoo on his wrist that says, 'F--- MTV.' "
As Jersey Shore party gal Snooki and countless other reality stars have proven, the quickest way to fame is often through extreme behavior. Because of this, many reality stars feel pressured to pick fights, get drunk, or throw tables in order to create buzzworthy moments.
Realizing that there's going to be a life beyond share of screen time can be a bit of a revelation to the characters, who are often young and completely inexperienced with broadcast media, yet are asked to play the worst versions of themselves. As Sandy Malone from Wedding Islandwrote in The Huffington Post, "You do not have to make an ass of yourself because production thinks it will look good on television."
THE EASIEST THING TO DO IS NEVER GET INVOLVED
Another pitfall of reality TV is how the genre perpetuates stereotypes. Condensing life into half-hour or one-hour storylines can lead to harmful clichés like black women being portrayed as angry or gay men as catty and promiscuous. When you have no say in how you're edited, your best bet is to never sign away your likeness.
Actress and writer Hollis Andrews turned down the chance to star on Little People LA because she wanted better representation for little people in the media. Seeing Peter Dinklage win an Emmy for this role on Game of Thrones inspired Hollis, who realized she had no interest in being part of a reality "freak show." She wanted to pursue her career in her own way instead of "faking friendships and attending events that I had no interest in just so people in their living rooms could have something to watch on Tuesday nights."
Refusing to give in to stereotypes paid off big time for actress and former reality star Laverne Cox. As the first African-American transgender person on a reality show, Cox was pressured to fill the "angry black woman" role on VH1's I Want to Work for Diddy. But as she told Buzzfeed, "I remember being really conscious of not wanting to fight with another black woman on camera." Cox stuck to her guns, refusing to "give television the satisfaction of seeing two black women going at it" in her elimination episode. It's the sort of grit she would put to outstanding use in her acclaimed and groundbreaking role on Netflix's Orange Is the New Black.
Alo Ceballos / Getty
BUT IF YOU DO SELL OUT, MAKE SURE YOU GET PAID
But while the price of fame can be high for reality stars, the savvy ones who take control of the narrative can come out with hefty bank accounts. Some people can walk away from reality TV before it's too late. Get in, get your money or exposure, get out -- don't get stuck forever trying to wring a little bit more out of the experience. Good sense like that is how Kevin Jonas, onetime pop musician and star of Married to Jonas found a rewarding career as a developer not once but twice -- first in real estate and then with mobile apps. After quitting the TV game, he founded a construction company called JonasWerner, and then developed a food app.
While some use money as a stepping stone to a better existence, others use a better job as a means to more money. When HGTV stars Chip and Joanna Gaines announced they were leaving their hit series Fixer Upper, their reasoning was to spend more time with their family and focus on other opportunities. According to Page Six, however, the couple were looking to get a better contract from the home makeover network. Their move seems to have worked, as the handy duo now has a new show on HGTV.
Tiffany Pollard from VH1's Flavor of Love and I Love New York put the struggle between being your authentic self and making your mark on reality television best. As she told Steve Harvey, "If you're going to spit and you're going to throw a glass of alcohol at people, just make sure your shoe line is getting endorsed."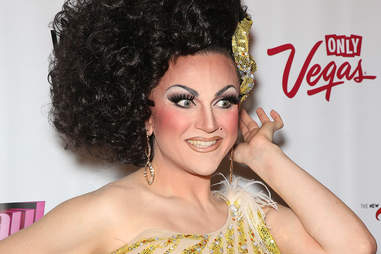 Gabe Ginsberg / Getty
BUT PRINCIPLES STILL WIN OUT SOME DAYS
Occasionally, reality stars get opportunities to be the best version of themselves. TV duo Tia & Tamera Mowery, the stars of '90s favorite Sister, Sister quit their hit series Tia & Tamera after three seasons. As Tamera Mowery said on her talk show The Real, their decision to leave the show came after Style Network tried to turn the twin sisters into bickering Real Housewives of Atlanta clones. "We were not going to have any part of that drama," Mowery said. "My sister and I are about positivity and love, and especially for the African-American community."
While that's laudable enough, good character (and a good character arc) doesn't have to mean the end of the reality drama, though. Recently on RuPaul's Drag Race, Ben de la Creme lived up to her name by being a good sport and eliminating herself, saying the other contestants wanted it more. She walked off with style too, bringing back contestant Morgan McMichaels and quitting by revealing a lipstick with her name written on it in Wite-Out.