On the FX series Archer, you are either the hunter or the hunted -- or you're someone watching people hunt and get hunted, or you're just a bit character who no one cares whether you're hunting or not. But unless you are master spy Sterling Archer, you are not hunting with a bow and arrow. Why? Because, to date, Archer is the only Archer character who is also an actual archer.
For that reason, and because Archer returns to FX for its seventh season this March 31 at 10pm ET, we here at Thrillist knew we needed to tap the world's most famous archer named Archer to rank famous archers for us. In his own words, here's how Sterling Archer assesses his peers in the archery business.
Recommended Video
This Go-Kart Is so Fast, You Can Take It Anywhere
12. Oliver Queen/Green Arrow
I have to come clean and admit something: I'm not a 13-year-old girl. This means I don't like watching the CW, nor do I like watching hard-to-follow Batman/Robin Hood wannabe teen dramas.
11. Cupid
A chunky baby shooting arrows sounds cute until you've seen Pam Poovey dress up as Cupid for Halloween. Or should I say dress down? Either way -- ew.
10. Merida (Brave)
We put this movie on for A.J. during a plane ride, and she cried the entire time. Like father, like daughter: we both hate Scottish accents!
Warner Bros. Pictures/YouTube
9. Legolas (Lord of the Rings)
Thanks to the mouth-breathing nerds in support staff, I know way too much about the Prince of the Woodland Realm. Bottom line, if a group of nearsighted men with man boobs get erections talking about a character around the watercooler, he can't be that much of a badass. #teamgimli
8. Daryl Dixon (The Walking Dead)
His face reads as untrustworthy to me, like he's going to try to oversell me a bag of meth. Aside from that, I'm not very intrigued by a character who can kill zombies -- that's about as impressive as someone who can play the ukulele or bake a birthday cake.
7. Neytiri (Avatar)
I have fond memories of watching this enormous nine-foot-tall warrior on the big screen because I kept nudging Lana throughout the movie to ask if they were related.
6. Katniss Everdeen (The Hunger Games)
Say what you will about having to kill an arena full of children, but you have to be very skilled and very soulless to get the job done.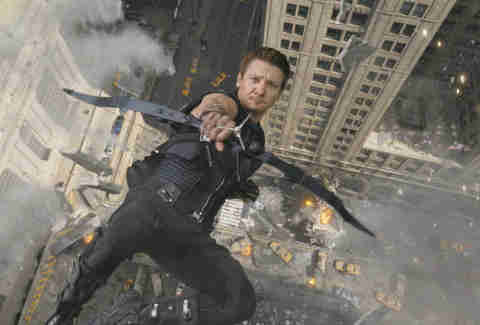 5. Hawkeye (The Avengers)
Hawkeye is an exceptional fencer, acrobat, and marksman, and one of the few men (aside from me) who can pull off a fitted black vest. He was also deaf for, like, 20-something years. Having tinnitus, I can empathize deeply.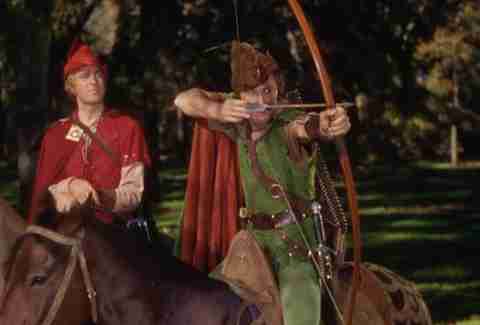 4. Robin Hood
Robin Hood is a classic. He's an archer and a swordsman whose stories were regaled as early as the 15th century. Yes, he wore tights and had a gang of "merry men" that would follow him around, but who said philanthropy can't be flamboyant?
3. John Rambo
Rambo is an icon who could "kill a man instantly or take down an Alaskan Kodiak Bear," which is incredibly badass and specific. And although PTSD-induced rage and being overly referenced by Reagan is not awesome, Rambo blowing up an entire village with a bow that has an explosive Torque tip is most definitely awesome.
2. Malory Archer
Mother and I used to have a New Year's tradition where she would use a crossbow to shoot a champagne bottle off of my head and then say, "I'm the reason you'll get to live to see another year. Go clean out the garage and think about that."
1. Lars Andersen
Yes, he's inarguably a huge nerd who wears bucket hats and practices the ancient skill of archery alone in his basement. But come on: he can split an incoming arrow in two, shoot through a soda tab, and catch an arrow and reshoot it before he hits the ground. He's the most impressive thing to come out of Denmark since… insulin? Wow, thanks for contributing, Denmark.
Sign up here for our daily Thrillist email, and get your fix of the best in food/drink/fun.
Sterling Archer is a private investigator living in Los Angeles and the protagonist of FX's hit animated series Archer, which returns for its seventh season on March 31 at 10pm.