Max on 'Stranger Things 2' Is This 15-Year-Old, Breakout Star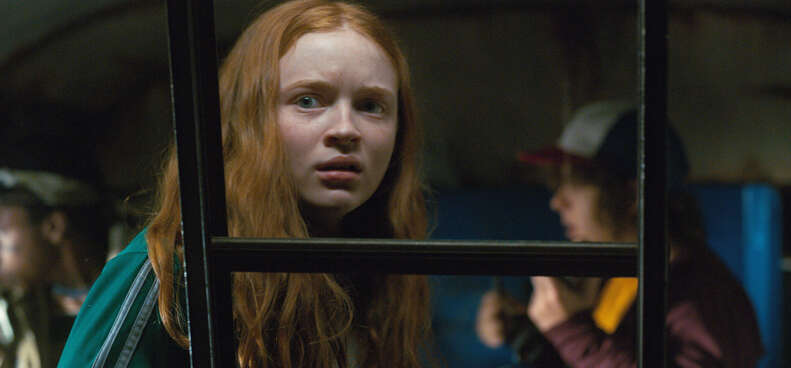 Mild spoilers for Stranger Things 2 follow.
"She's incredible, she's Mad Max." That's what Stranger Things kids Lucas and Dustin have to say about their gang's new recruit, Maxine, a no-bullshit California transplant who whips the boys' butts at the arcade and might as well be Rodney Mullen's long-lost little sister.
Mystery simmers beneath the redheaded tomboy's steely persona, but more intriguing than Max, you might say, is the girl behind her: Sadie Sink, a 15-year-old Broadway pro turned TV star.
"I don't really give a crap what you say about me," she toldW Magazine recently, "and Max doesn't either." After five call-backs and a screen test, the Stranger Things 2 team deemed Sink a lock. Never heard of her? Consult our cheat sheet below to learn more:
She made her TV debut on The Americans
Like some of her talented co-stars, Sink's professional acting career began on Broadway. But around the time she was starring in Annie, the Texas native managed to squeeze in a guest spot on The Americans, appearing briefly in Season 1's "Mutually Assured Destruction." Her character Lana was the fearless, shotgun-toting daughter of a secret arms dealer. The small but fun part was enough to convince Sink that screen acting was "where [she] needed to be."
Where to watch it: Rent on YouTube, iTunes, or Amazon
She broke out on American Odyssey
After building industry cred with one-off parts on The Americans and Blue Bloods, Sink bagged a recurring role on NBC's American Odyssey. You can find her in almost every episode of the military thriller's lone season as the hopeful Suzanne Ballard, the 12-year-old daughter of a sergeant (Anna Friel) wrongfully presumed dead. Though the show ultimately got cancelled, it came during a good year for Sink: She returned to Broadway for four months in 2015 to act with Helen Mirren in The Audience.
Where to watch it: Stream on Netflix
She hit the big screen with Chuck and The Glass Castle
It wasn't long before Sink started booking movie roles. Her first credit came with the boxing biopic Chuck (2016) as Liev Schreiber's on-screen daughter. Then there was the adaptation of Jeannette Walls' memoir, The Glass Castle, in which she played a young version of the author's sister, Lori. The roles might not have been huge, but Sink proved quickly that she could pull her weight alongside top-tier talent. (Fun fact: The latter project impacted Sink in more ways than one, as off camera, co-star Woody Harrelson inspired her to go vegan.)
Where to watch it: Rent both movies on YouTube, iTunes, or Amazon
Stranger Things 2 is her biggest TV role yet
After her detour to the big screen, Sink got Stranger Things 2. The role required three-hour-a-day skateboard practices, but she "was a bit of a no-brainer," creator Matt Duffer toldUSA Today. "We read her with Gaten and Caleb, and there seemed to be innocent, child chemistry." As the punk skater girl, Sink attracts the attention of Dustin and Lucas, which irks the boys' ringleader, Mike. Says costar Finn Wolfhard: "I'm not really happy with [her] because I'm kind of envious because they're in love and I'm not."
Where to watch it: Stream on Netflix
Sign up here for our daily Thrillist email and subscribe here for our YouTube channel to get your fix of the best in food/drink/fun.
Sean Fitz-Gerald is a staff writer at Thrillist Entertainment. Find him on Twitter: @srkfitzgerald.