The Wild Story Behind the 'Stranger Things' Upside Down Tunnel Drawings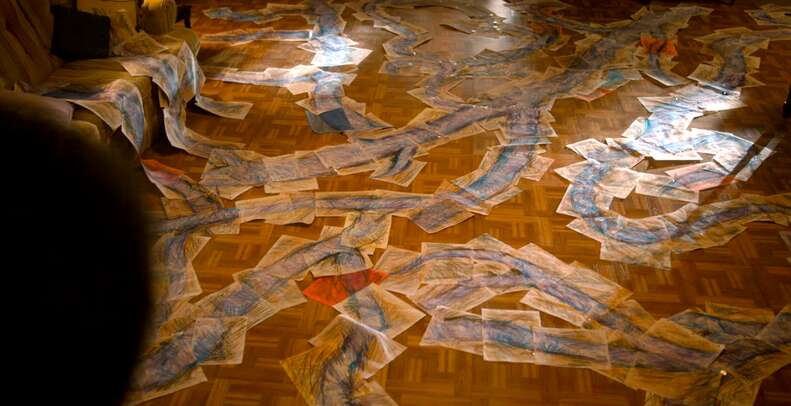 Netflix
Netflix
A mosaic of psychically illustrated drawings depicting the interdimensional tunnels under a small, Indiana town doesn't just crayon itself into existence, you know. Someone has to draw it.
In Stranger Things 2, that someone is Will Byers. While obsessives of the Netlfix series are eagerly awaiting Stranger Things Season 3 and some firm answers on what (or who?) the Mind Flayer really is, why it's obsessed with the nerdy kid, or what its master plan for our Earthly plane will be, one thing they did learn in the series' second installment is that when a shadowy monster gets in a person's head, the host becomes a prolific, Crayola-wielding Willem de Kooning.
Throughout Stranger Things 2, Will cranked out our first glimpse of the "shadow monster" along with hundreds of other expressionistic drawings, bits and pieces of a larger piece that his mother, Joyce, her boyfriend, Bob, and the other Hawkins boys eventually paper on the walls of the Byers home. Though the show is filled with blockbuster-worthy special effects and some of the finest under-20 acting of the last decade, the wow factor of Stranger Things is in the details, with the drawing-covered set standing as the show's pièce de résistance.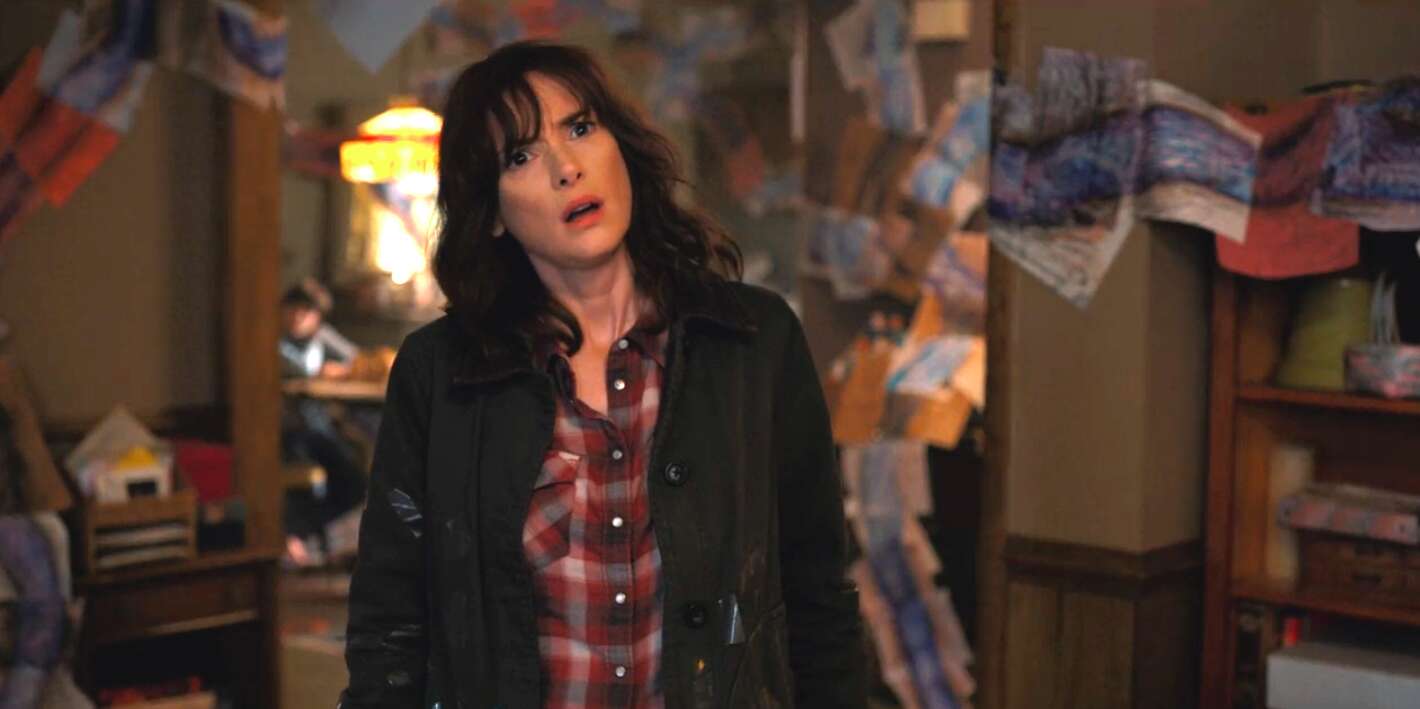 Will can't take all the credit; to pull off the magnitude of the possessed boy's artistic streak, Stranger Things property master Lynda Reiss and her team of drawing experts had to create over 3,000 illustrations, churn them out in a way that Will might if they were actually living in 1984, then canvas the Byers house in such a way that, when the Duffers brothers needed to shoot scenes that didn't involve a mural of mutant Upside Down tunnels, they could easily fly in for the shots.
Prop people are sticklers for details, and Reiss, whose credits include American Beauty (where she found the iconic plastic bag) and True Detective (where she made Rust Cohle's clue board, which she notes did not include yarn), lives for burrowing down into the lives of her characters and sculpting out their histories through a materialistic lens. Stranger Things is cluttered with details, from '80s-authentic props that require months of Ebay-ing to source, to every mysterious newspaper clipping shuffled through in the hunt for answers. Reiss tells Thrillist to look for photos of the convenience store owners that Eleven encountered during her first Eggo raid, and "missing dog" ads that line up to animal bones found in both Season 1 and 2. "[My biggest fear is] that Reddit will come down and go, that doesn't make sense," she says.
Stranger Things 2's lengthy shoot ran from November 2016 through the first week of June 2017, and the drawing project took about four months of work. When Reiss and her team first began imagining a house cluttered with creepy, crayon drawings, they only had the Duffers' story arc to go off -- the scripts weren't done. Working with concept artist Jenny Birdsong, who was also responsible for turning pre-visualized Shadow Monster effects and photographs of the Byers home exterior into Will's haunting rendering of the Mind Flayer, the prop people toiled over exactly what kind of images would emerge from a young man grappling with otherworldly forces, and what it would look like assembled on the walls of the house. Only after settling on colors and patterns did Reiss receive the script where Bob discovers that the pages form a map of the Hawkins tunnels.
"Scale wise, my job was to get it all dialed in correctly," Reiss says. "Bob would have a map on the table and they'd go around tape measuring. But if anything was truly to scale the map would be 196-feet wide. That's why there's a line in there, 'It's not exactly to scale…'" Reiss rejiggered her concept to include lakes, rivers, quarries, and other landmarks to give the scribbles clear dimension. They had to be jagged and visceral, but also identifiable enough that Bob could sniff it out. "The logistics got very intense."
The drawing process had its own hurdles. Six 800-crayon Crayola bulk boxes, from which Reiss only took the blues, the blacks, the browns, and the teals, provided them with a total of 1500 crayons used on all the illustrations.
Paper was a greater concern: how much blank white paper would Will really have at his disposal? According to Reiss, along with a traditional paper stock, viewers will also notice three-lined notebook paper, colored construction paper, wrapping paper, brown bag paper, and even pages from a 1983 Sears catalogue and a 1983 Indiana phone book. "I ripped out those pages, double-sided copied them, then ripped the sides so they look like they were ripped out," she says. Details.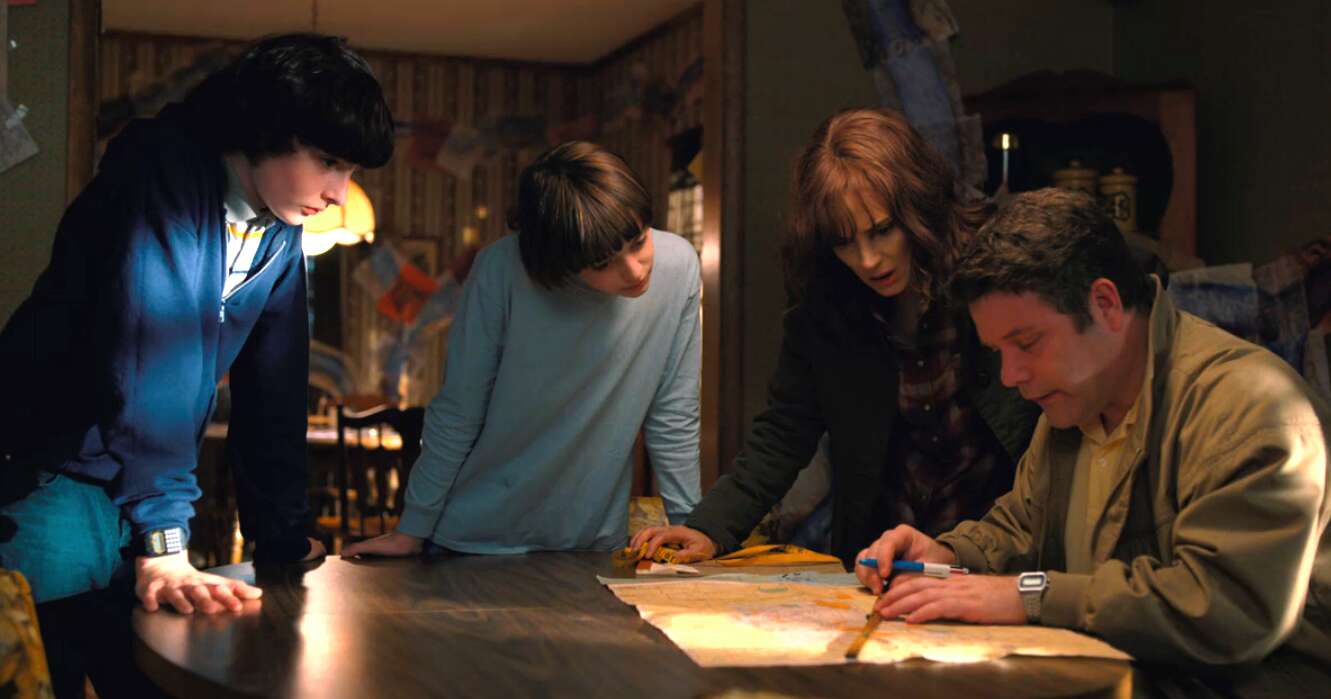 Reiss charted the winding course around the Byers house with Post-It notes to allow the Duffers to pick patterns and settle on a density of images. The finished pieces were both precise and erratic; black scribbles would run one direction, teal another. And each piece overlapped, sometimes askew, instead of connecting like a puzzle, to ensure that the finished wall art would feel like, as Reiss puts it, "this giant insanity."
The assemblage of drawings had to survive two months of shooting, according to Reiss, and there was no time to take anything down. To work around the hectic schedule, the team essentially built panels of paper illustrations slapped together with packing tape, which could be manipulated as necessary (and in the case of more abused sections, completely replaced on the fly). Reiss says, of her four-person drawing team, two would remain on set with with new Scotch tape, old Scotch Tape, and two of each crayons to repair any roughed-up illustrations. Don't worry, Redditors: all the front-facing tape Joyce uses to put up the in-world drawings is period accurate.
Reiss, who recently added director to her resume, aims to efface what she does from the finished product audiences eventually binge-watch. You're not supposed to notice the variety of paper on which her team of artists drew monstrous tunnels upon, you're supposed to feel the lived-in mood they create. When she steps back from the problems at hand, like, say, mounting a giant wall maze across a multi-room Indiana home, the details make the design-driven answers easy to find. There's just one part of the Stranger Things job hasn't gotten easier: the Eggos.
"We just went with Eggos in Season 1," Reiss says. "We didn't ask for any. But in Season 2, Eggo and Netflix came to some fabulous agreement with each other. But I'm still paying for Eggos! I have to physically go out and buy Eggos! Why don't I get free Eggos?!"
Sign up here for our daily Thrillist email and subscribe here for our YouTube channel to get your fix of the best in food/drink/fun.
Matt Patches is the Executive Entertainment Editor of Thrillist. He previously wrote for Grantland, Esquire.com, and Vulture. Find him on Twitter @misterpatches.