16 (Stranger) Things You Never Knew About 'Stranger Things'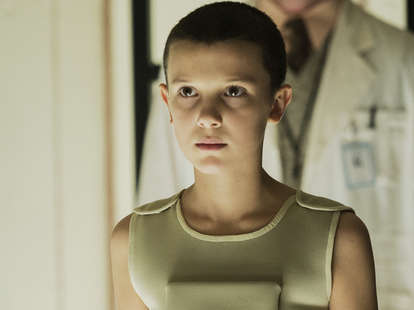 Netflix
Netflix
The story behind Netflix's Stranger Things is as fractured and fantastic as the adventure at its center. You may have heard how a dozen television networks rejected 32-year-old twins Matt and Ross Duffer's pitch created before the streaming service finally said yes. But did you know Stranger Things is based on a true (depending on who you ask) story? Or that some of the cast members can sing like they're on Broadway because they were on Broadway? You may know what happened to Barb, but what about Barb's day job? We know you need the answers, so read on, and discover the truth behind this summer's streaming sensation:
The series was originally set in New York
Netflix first announced the Duffers' series as Montauk, a paranormal drama set in the title Long Island town. This was a reference to one of Stranger Things' real-life inspirations: the Camp Hero experiments, conducted from the 1960s to the 1980s (more on that in a moment).
The Duffer brothers didn't want to change the title, despite moving the show to Indiana
Even in the final stages, the Duffers internally referred to the show as Montauk. It wasn't until the absolute last moment that they settled on Stranger Things.
There were alternate titles, but we'll never hear them
The creative staff made a list of alternate 1980s titles before settling on Stranger Things, and that list is still in existence. Unfortunately, Matt Duffer thinks they're terrible, so we'll never see them: "I hope this never, ever comes out on the internet -- the list of alternate titles for the show. I was like: if you leak this, I will kill you. It is so embarrassing."
Eleven was originally a Jean Grey-like badass right from the beginning
In early drafts of the Stranger Things pilot, Eleven used her telekinetic powers to escape the facility. Instead, the Duffer brothers decided to tease out how powerful Eleven actually was and left the escape from the facility to the viewer's imagination.
There may have been real-life Elevens
Conspiracy theorists believe that the "laboratory" at the aforementioned Camp Hero was used for "The Montauk Project," a set of secret experiments on children that tried to tap into their psychokinetic abilities. Often these subjects were stolen from their families, just like Eleven. Also adapted to the series are rumors that scientists wanted to use the psychic kids to spy on other world powers. In Stranger Things, it's the Russians. In the Camp Hero conspiracy… it's aliens…
The monster is supposedly real, too
The experiments at Camp Hero apparently came to an end in 1983 when one of the subjects, Duncan Cameron, created a Bigfoot-like monster using his psychic powers. The monster led to the end of the experiments at Camp Hero and the below-ground research site was filled with cement.
The crew imagined the Stranger Things monster as an evil Pixar character
People working behind the scenes dubbed the Upside Down monster "Petals" because of the way its head flaps open like a flower bud. Petals was partially a practical animatronic effect, and was introduced to the younger cast members as a monster from Pixar's Monsters, Inc. so they wouldn't be afraid of it.
And the Duffers cited Mad Max: Fury Road to convince Eleven to shave her head
When the Stranger Things duo pitched the idea of a near-bald look for Eleven, actress Millie Bobby Brown and her parents were terrified. A magazine photo of Charlize Theron in Mad Max eventually convinced her it was "badass" idea.
An explanation for "the Upside Down" totally exists
The Duffer brothers have a 30-page document about "the Upside Down," and we didn't even get hints at everything that's in it. According to Ross Duffer, "If there was going to be a Season 2, we would reveal more of that 30-page document, but we'd still want to keep it from the point of view of our original characters."
The Duffers say the Upside Down is bad for human health
Living in the Upside Down for a week is going to have long-lasting negative effects on Will. At the end of the first season we can see Will inadvertently flash into the Upside Down, but humans from "our side" were never meant to live in the Upside Down for an extended period of time. "That's a place we wanted to go and potentially explore in Season 2. What effect does living in there for a week have on him?"
The oldest pop-culture reference in Stranger Things is from 1818
Stranger Things is wall-to-wall '80s nostalgia, but internet detectives swear this bit of Eleven's story is a classic literary allusion.
There's a Talking Dead-style after show on YouTube
The "AfterBuzz" network, which does wrap-up and recap programming for other popular television shows, was conscripted by Netflix to produce Stranger Things after shows for your binge. Although, who stops binging Stranger Things to react with internet strangers? Well, it's an option.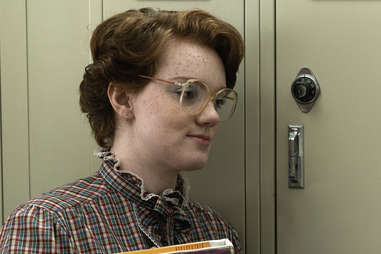 Even the people who killed off Barb are obsessed with Barb
According to Ross Duffer, the internet's fascination with the geeky teen girl started in the Stranger Things offices. "We were always talking about Barb and 'what about Barb' and 'poor Barb' -- we talked about it in the writers room almost every day. So it's great to see that people responded in that way. It's so weird that people are using the phrases that we used in the room like a year ago. I think part of it is that usually in these horror movies, it's these very popular girls who take their tops off who get taken. And so there's something particularly tragic about the loner character getting snatched and not making it out of the Upside Down."
Season 2 will address Barb's unceremonious demise
The Duffers loved Barb, but still weren't prepared for her popularity. They've promised that next season, we will learn how the town comes to grips with her death (which was, early on, going to be super gory). "We'll make sure there's some justice for Barb," said Matt Duffer. "People get very frustrated, understandably, that the town doesn't seem to be really dealing with Barb. That stuff is all happening. We're just not spending any screen time on it."
The real-life Barb is looking for employment
First-time actress Shannon Purser had to quit her job working at a Georgia movie theater recently because people were coming to gawk. While she loved the attention and friendly fans, the invasion ended up being a little inappropriate for theater employment. Someone hire Barb, please!
Eleven and Dustin can sing
Speaking of the actors, Gaten Matarazzo, who plays Dustin, has appeared on Broadway with productions of Priscilla Queen of the Desert and Les Misérables. Hanging out with Gaten on set, Millie Bobby Brown was already an amateur vocalist. The child actors bonded on set by singing and harmonizing between takes.
Sign up here for our daily Thrillist email, and get your fix of the best in food/drink/fun.
Dave Gonzales is a pop-culture writer who owns all the
Pokémon Go
gyms in the Upside Down. Follow him @Da7e.