Netflix's runaway hit Stranger Things, about a secret government experiment that may have something to do with a boy's disappearance in a small Indiana town, has been the pop-culture crown jewel of summer. You know it. We know it. Aaron Paul definitely knows it.
While the '80s-set sci-fi saga does feature a few familiar faces, most notably Winona Ryder (as the boy's desperate mother) and Matthew Modine (as a creepy scientist), the cast mostly comprises up-and-coming actors. We have series creators Matt and Ross Duffer to thank for these immensely watchable and meme-able new talents, whose work everyone should follow, whether in a second season of Stranger Things or not. Below, a run-through of where to watch the lesser-known cast members now and in the future.
Millie Bobby Brown
On the show: Brown plays Eleven, a taciturn heroine with telekinetic powers who goes toe to toe with the series' main antagonist (or herself?).
In real life: Born in Barcelona, this 12-year-old singer-actress has also worked on Grey's Anatomy and Modern Family, as well as on Intruders, a 2014 sci-fi series that Stranger Things and Brown fans should absolutely check out. The part of Eleven, for which she got to channel her inner Imperator Furiosa, marks her biggest role to date, but after auditioning for The Boss and The BFG to no avail, her next goal, she has said, is to appear in a film.
Finn Wolfhard
On the show: Wolfhard plays Mike Wheeler, a persistent middle-schooler who leads a quartet of D&D devotees.
In real life: Despite his age, Wolfhard grew up watching '80s and '90s movies. He was inspired to enter showbiz because of his dad, a screenwriter; other credits include spots on Supernatural and The 100. You'll next see the 13-year-old Canadian co-starring in Andrés Muschietti's take on Stephen King's It, which reportedly puts him right back in the '80s.
Gaten Matarazzo
On the show: Matarazzo plays Dustin Henderson, the toothless, ever-quotable voice of reason in Mike's crew.
In real life: Like Dustin, Matarazzo has cleidocranial dysplasia, a genetic disorder that affects bone and teeth growth. It's something he embraces. The Duffer Bros. evidently do, too, seeing as they wrote the condition -- along with Matarazzo's love for snacks -- into the show. (Fun fact: he was the first kid they cast.) Aside from Stranger Things, you might have seen this 13-year-old New Jerseyan on The Blacklist or on Broadway's Les Mis. Yep, you bet he has pipes.
Caleb McLaughlin
On the show: McLaughlin plays Lucas Sinclair, Mike's skeptical best friend and next-door neighbor.
In real life: Also a Broadway-trained actor, McLaughlin made his stage debut as The Lion King's Young Simba. He has notched screentime in Law & Order: SVU and the Jennifer Lopez-starring NBC series Shades of Blue. If you didn't see him in The Lion King, you'll get to see more of McLaughlin's singing and dancing skills in next year's New Edition: The Movie, a BET project for which he'll play a young Ricky Bell.
Noah Schnapp
On the show: Schnapp plays Will Byers; a member of Mike's crew, he's Ryder's onscreen son who seemingly vanishes into thin air.
In real life: When he turned 10, Schnapp blew out birthday cake candles alongside Tom Hanks and Steven Spielberg while on set for Bridge of Spies. That gem comes from Variety, which last year declared him a rising talent to watch. Schnapp has a memorable frightened face (above); he also has a famous voice, recently lent to Charlie Brown in the latest Peanuts movie.
David Harbour
On the show: Harbour plays Jim Hopper, the surprisingly competent police chief of Hawkins.
In real life: You might recognize Harbour as Manhattan's Reed Akley or The Newsroom's Elliot Hirsch. He also recently appeared in Suicide Squad and Black Mass -- and, yes, boasts respectable facial hair experience. Find him next year in the action-thriller Sleepless, along with Michelle Monaghan and Jamie Foxx.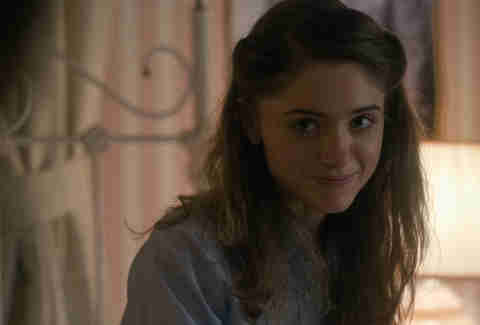 Natalia Dyer
On the show: Dyer plays Mike's sister, Nancy Wheeler, a brainy high schooler who straddles the line between geeky and cool.
In real life: This Nashville native began acting at the age of 8, as Scout in To Kill a Mockingbird. After playing Clarissa in the Hannah Montana movie, the current NYU student nabbed parts in After Darkness and Leah Meyerhoff's colorful coming-of-age indie hit, I Believe in Unicorns.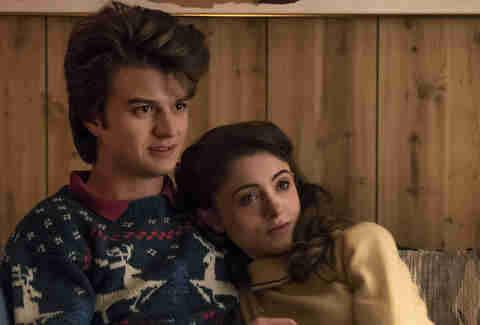 Shannon Purser
On the show: Purser plays Barb, Nancy's inspirational and lovable BFF.
In real life: Stranger Things marks the 19-year-old's first TV role -- and what a role! Fan love for Barb has been so strong that Purser had to leave her summer job -- working at a movie theater -- to lay low. The Atlanta native is currently taking online classes at Kennesaw State University, because she hopes to continue acting full-time.
Mark Steger
On the show: The Monster is not all CGI -- a costumed Steger plays the so-called "Demogorgon," a humanoid who snatches inhabitants from Hawkins and hunts in an alternate dimension called the Upside Down.
In real life: Steger has used his talents as an actor and choreographer to create some of the unearthly characters you see in Paranormal Activity, The Last Witch Hunter, Indigenous, I Am Legend, American Horror Story, World War Z, and Men in Black II. A compilation of his work, which includes appearances in Tool's "Schism" music video and "Until It Sleeps," by Metallica, can be found here. The veteran artist also tub-thumped an inventive multimedia comic, titled Gearbox.
Randy Havens
On the show: Havens plays Mr. Clarke, a science teacher at Hawkins Middle School who's very generous with his time; he also serves as the A/V Club adviser for Mike and his friends.
In real life: Havens' mustache will ring a bell if you watch Halt and Catch Fire. If not, the Atlanta improv alum's résumé also lists Archer, Sleepy Hollow, and House of Payne. Most importantly, it turns out Havens is really generous when it comes to real-life curiosity doors, too.
Cara Buono
On the show: Buono plays Karen Wheeler, the protective mother of Mike and Nancy.
In real life: This Bronx native almost won an Emmy for her portrayal of Dr. Faye Miller in Mad Men, where she was the anti-Betty Draper. Other notable recurring roles: Martine on Person of Interest, Sheriff Anna Turner on The Dead Zone, and Kelli on The Sopranos.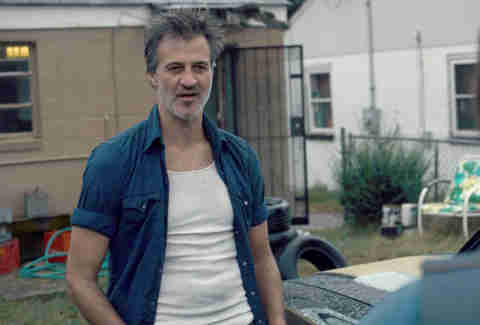 Ross Partridge
On the show: Partridge plays Lonnie Byers, Will's weaselly, divorced dad.
In real life: Before he was making you roll your eyes on Stranger Things, this New Yorker popped up in such projects as Jurassic Park, Law & Order, NYPD Blue, and the Duplass brothers' Baghead. Last year he wrote, directed, and starred in the 97-minute drama Lamb, an award-winning adaptation of Bonnie Nadzam's novel of the same name.
Peyton Wich
On the show: Wich plays Troy, a middle school bully at Hawkins who has shockingly good access to sharp objects.
In real life: Wich started acting at age 9, his first big projects soon coming in the form of Dawn of the Planet of the Apes and Impact Earth. The 13-year-old's softer side will be on display in the Renee Zellweger-starring drama Same Kind of Different as Me, out next February -- unclear if his character pees his pants.
Sign up here for our daily Thrillist email, and get your fix of the best in food/drink/fun.