Recommended Video
We Ranked Our 7 Favorite Celebrity Cameos on 'Friends'
What's going to happen in Stranger Things 3? Justice for Sean Astin's Bob? A spinoff starring Eight? The '90s? We imagine you devoured 2 like Taco Bell -- furiously, and in a way that left you with lots of embarrassing questions -- and now you're wondering when it's socially acceptable to go back. Understandable. We don't have all the answers, but we do have some. For the latest on Hawkins' next nightmare, consult the below compendium, which we'll update as more info becomes available.
When is Season 3 coming out?
Just before the clock struck midnight on the last night of 2018, Netflix sent fans into the new year with the exciting news that Stranger Things 3 will (finally!) return on July 4, 2019. 
Along with the release date, they shared the official poster of the forthcoming season, featuring the foreboding phrase, "One summer can change everything," and a graphic of the young cast watching fireworks explode over what looks like a local fair. This is Stranger Things, though, and of course Millie Bobby Brown's Eleven looks terrified, even as she holds her sweetheart Mike's hand, as some sort of darkness continues to encroach on their quaint Indiana town. 
The season comes nearly two years after Stranger Things 2, but the long wait will likely be worth it, as Netflix's VP of original content Cindy Holland told Deadline that "more special effects" and a higher production value contributed to the lengthy gap between seasons.
Is there a trailer?
Yes! The full-length trailer for Stranger Things 3 dropped in late March following the release of a foreboding teaser (for that, see below) the day prior. It starts out as a sunshiny glimpse into summertime in Hawkins (county fairs, hanging by the pool, galavanting through fields), and a look at the core AV Club plus Eleven plus Sadie gang declaring they're "not kid anymore" and moving into the frightening, uncharted territory of adolescence. And, of course, that's not the only thing haunting the kids, the Upside Down still has yet to cease to exist! Season 3 looks just as nostalgic, and even more cinematic!
There's also a creepy, vermin-infested teaser
Demogorgons aren't the only creature infesting Hawkins -- there's also a frightening abundance of rats! And they're running from (or toward) something!
After a whole lot of silence since the early 2019 announcement of the Season 3 premiere date, Netflix went ahead and shared a cryptic, brief teaser in mid-March to get fans excited in anticipation of the new trailer drop the very next day. Accompanied by the caption, "It's almost feeding time," the video shows a hoard of rats scurrying across what looks like an abandoned building. Are they the ones feasting off of something (probably gross and dead, as vermin are one to do)? Or are they trying to escape? Perhaps from flesh-eating monsters from the Upside Down who've turned to animals to lay low? That, we don't know! While only a split-second of a clip of these little critters were featured in the actual trailer, it's safe to say they may be a large part of Season 3, or at least a clue to whatever mystery unfolds. 
You can watch a scene, too
Sleazy, but beloved human villain Billy (Dacre Montgomery) is back, and he's appropriately the local lifeguard with a power trip in the sun soaked season. Netflix shared a clip of the character on duty in late May to satisfy fans' appetites for more Season 3 reveals, and it's just hot enough to hold you over for that July release. In the short scene, the teen is the subject of everyone's affection, including a group of glammed up moms anticipating the start of his shift. He's got it all: that hair, aviators, a whistle, and a commanding demeanor to get kids to stop running alongside the pool. It's all enough to make the ladies swoon -- particularly Mike and Nancy's mom, Mrs. Wheeler, who you may remember was quite taken with Billy in Season 2. Will an affair unfold between the two? Only time will tell!
Stranger Things 3 will have (slightly) fewer episodes than last season
The third installment will only have eight episodes -- a slight decrease from 2's nine, but the same as the first season's total.
We know what the episodes are titled
To fill fans' void of the show, but keep them constantly speculating about Season 3, Netflix dropped a teaser trailer revealing the eight episode titles as they did for Season 2. Accompanied by the classic eerie theme, they reveal the titles "Suzie, Do You Copy?" "The Mall Rats," "The Case of the Missing Lifeguard," "The Sauna Test," "The Source," "The Birthday," "The Bite," and "The Battle of Starcourt." At this point, it's all very mysterious! 
Who's coming back?
Since the core cast is signed for six years, the better question: "Who isn't?" Sadly, you won't see much, or any, of Barb and Bob (RIP). But be prepared to see the return of pretty much everyone -- i.e., Mike (Finn Wolfhard), Will (Noah Schnapp), Eleven (Millie Bobby Brown), Lucas (Caleb McLaughlin), Dustin (Gaten Matarazzo), Max (Sadie Sink), Joyce (Winona Ryder), Hopper (David Harbour), Karen (Cara Buono), Nancy (Natalia Dyer), Jonathan (Charlie Heaton), Steve (Joe Keery), and bad boy Billy (Dacre Montgomery) -- else.
You can get a look at the cast in a series of Stranger Things 3 posters
Netflix shared a series of character posters, each accompanied with the phrase and tagline for Season 3, "One summer can change everything." Very dramatic! They look a bit like vintage VHS sleeves, and each cast member is seen in front of a county fair booming with fireworks. Not too much can be gleaned from the photos, aside from the fact that something is likely to go down at said fair, and we can guess who may be sharing ample screen time this season, as the images were posted in groups (the boys, Eleven and Max, "Jancy," "Jopper," Dustin and Erica, plus the new Scoops team, and Billy on his lonesome). 
A month out from the premiere, Netflix also dropped a new official poster. It is, of course, very '80s inspired, featuring illustrations of the whole cast of characters with El (in a very fun scrunchie) at the forefront. It also includes a handful of landmarks that were notably featured in other teasers, like Starcourt Mall, the Fun Fair, and the steel works, which is where the rats (who appear dead on the poster) were presumably running in one of the clips Netflix shared in anticipation of Season 3. Expect these to be the sites where some paranormal shit goes down!
Contrary to reports, the Duffer Bros. are staying
Near the end of February, a report from Moviefone suggested the Duffer Bros. would drop their showrunning duties after Season 3. Netflix promptly debunked the rumor via Twitter, writing, "Don't drop your Eggos. Rumors that the Duffer Bros are leaving Stranger Things after season 3 are false." The initial story claimed that the brothers were being courted for newer projects, and while there might be some truth to that, they'll likely stay involved with Stranger Things until it's finished. As Matt told EW in February 2018: "There hasn't been anything dangled in front of us that's been exciting enough [to leave]. To abandon this show before it's done feels wrong to me."
Where will Season 3 take place?
Mostly Hawkins, but don't forget about Kali, perpetually on the lam. The seventh episode of 2 was the show's way of starting drama outside Hawkins and fleshing out its world. As the brothers have already admitted, the saga would get too insane and unbelievable if it just stayed in one place forever. ("They're going to have to get the fuck out of this town!" Ross told Vulture. "It's ridiculous.") So, don't be surprised if you see more side quests.
When will Season 3 take place?
Season 3 will jump ahead to summer 1985 (aka when Back to the Future came out!) -- in large part to keep up with the aging-child-actors dilemma. "We're never going to do a storyline that pretends the kids are younger than they are," Levy told Collider. Considering the characters will all be around 14 -- and the actors a little older -- we might see them getting ready to start high school.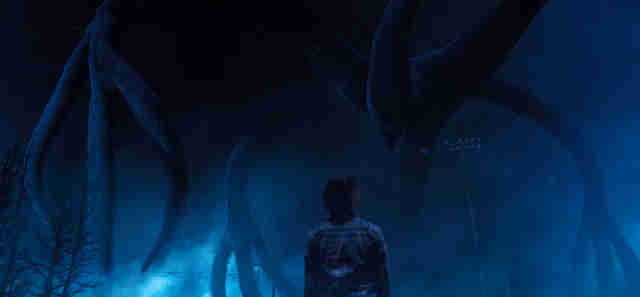 The Mind Flayer is still lurking
As seen in the Season 2 finale, the Mind Flayer is still stalking Hawkins, hungry as ever. "Yeah, we don't end it on a totally happy note, do we?" Ross told THR. "The hope we wanted people to get out of it is that this thing [is still out there]. They've shut the door on the Mind Flayer, but not only is it still there in the Upside Down, it's very much aware of the kids, and particularly Eleven." Also, it won't be alone. "You might assume that," Levy told Glamour, "but you would probably end up being wrong. We're [going to be] dealing with forces of evil that are new." (See ya, Demodogs.)
So expect more scares
While the creative team hasn't been able to elaborate much on 3's Mind Flayer, we do know it will be using "new strategies." That could mean more genuinely eerie moments, though nothing unwatchable. "It's very much the Stranger Things I think people know and love," Levy told EW at PaleyFest. "Season 3 has legitimately creepy moments and events, but it's incredibly warm and character-based because at the end of the day, I think that's what people love most about Stranger Things."
What's going to happen to Eleven?
Because of a Dungeons & Dragons theory popularized by Nerdist, some fans predict the vengeful Mind Flayer will set its sights on Eleven. The thinking: Eleven would be a stronger host than Will, so the Mind Flayer could possess her, sow chaos, and use her powers to augment its own (see: Mind Flayer Lich, Mind Flayer Arcanist). In other words, Hawkins' guardian angel could very well become its angel of death.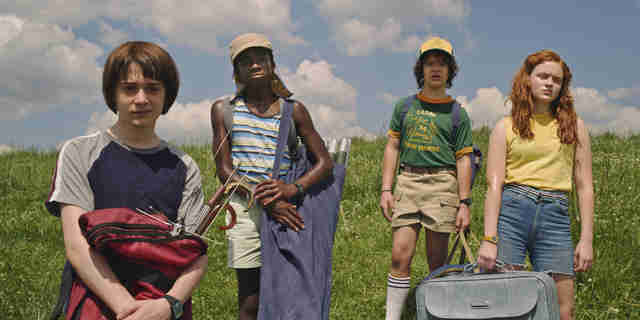 Will might not be totally OK
How did that smoke monster survive an entire season in the Upside Down? Schnapp, who plays Will, says he thinks the Mind Flayer still has a hold on his character. "I feel like it can't be [out of him]," he told THR. "There's this massive monster taking over all of Hawkins, and all you have to do is light a few fires and turn on a few heaters, and he's gone? It just doesn't make sense to me, really." (Same.)
But he should be able to relax (a little)
Sure, Will's still scarred by the Mind Flayer, but he's going to get a break in Season 3. "I feel like we really put Will through the wringer," Matt told THR. "We're not going to put Will through hell for a third season in a row," Levy added, in an interview with Glamour. "He'll be dealing with stuff, but he won't be at rock bottom the way we forced the amazing Noah Schnapp to play."
Kali's coming back
Though Season 2's trip outside Hawkins became the most contentious episode by far, its focus, Kali, isn't going anywhere. "It feels weird to me that we wouldn't solve [Kali's] storyline," Matt said at Vulture Fest. "I would say chances are very high she comes back."
Love will still be in the air
The relationships -- Mike and Eleven, Max and Lucas -- you saw forming at the end of 2 will carry over to 3, according to Levy. At least for a little. "They're like 13- or 14-year-old kids, so what does romance mean at that stage of life?" he said at PaleyFest. "It can never be simple and stable relationships and there's fun to that instability."
There will also be more Steve-Dustin bromancing
Without a brother or a father figure, Dustin will keep looking for Steve to fill the void. "In Season 2, [their friendship] was all very cute and there was a funny factor to it because it was unexpected, but now that it is expected, I want to see them connect more and be more familiar with each other," Levy told Glamour. "I want them to have a connection like they've really had a connection for a year -- like they're brothers."
There's a new character named Heather
Variety reported that Francesca Reale (Haters Back Off) will appear in the series as Heather, a reoccurring role billed as a lifeguard at the community pool. It's said that something dark happens to the character, and based off the confirmed episode title "The Case of the Missing Lifeguard," she... probably disappears! Whether or not she her disappearance is caused by a demogorgon and sees the same fate of, say, our beloved Barb, or maybe the result of a new force in town, that's unclear.
You can get a sneak peak at the new character interacting with Billy in the poolside clip that Netflix shared in May, embedded above. 
There is also a new character called Robin
And she's played by Ethan Hawke and Uma Thurman's daughter, Maya Hawke! She's "an alternative girl who is equal parts sharp and playful. Bored with her mundane day job, she just wants a little excitement in her life... and gets more than she bargained for when she uncovers a dark secret in Hawkins."
There will also be a new setting
The series is still extremely '80s. As one of the most beloved features of the series is its attention to (sometimes cringeworthy and other times adorable) nostalgic details, Season 3 is leaning into one of the decade's most iconic venues: the shopping mall. A teaser shared in July 2018 featured an all-too-real dramatized advertisement for Starcourt Mall, "a shining example of the American dream." In the clip we're shown lots of bitchin' fashions, like very short shorts and the ever-hot emerging prep style, as well as classic mall staples like Claire's and the Gap. But most importantly, we're shown a quick shot of Scoops Ahoy, a nautical-themed ice cream shop that Steve and Maya Hawke's newcomer character Robin work at. Based on the teaser alone, it appears Steve may meet the new girl on the job, and one could speculate that a romantic relationship might ensue between the two of them, especially now that Nancy's securely with Jonathan. 
The end of the short visual leaves us with the note, "Coming next summer," not only illustrating the fictional shopping center's upcoming opening, but further driving home when we'll be seeing new episodes. Until then, we can only dream of what great 1985 summer styles we'll be graced with, and what sort of Stand By Me summer malaise references will infuse the summertime season.
Also, if you consider the fact that this teaser was dropped first, on top of the confirmed episode titles that reference the mall ("Mall Rats," "The Battle of Starcourt"), it's possible that hints are being dropped that this setting will be a major focus of the season -- and perhaps where the darkness is looming. 
Erica will be a series regular
Yeah, Lucas' little sister (Priah Ferguson) will be back with more one-liners. (And an army of friends, to boot!) From Netflix: "No longer content with sitting on the sidelines, Erica finds herself on a wild mission to save Hawkins from a dangerous and unexpected new threat."
Dr. Martin Brenner might resurface
Where the heck did this guy go? Not to the grave, per the creators. "I would say that if we were going to kill Brenner... as an audience member watching the show, if that was his death, that would be very unsatisfying to me -- when the monster jumps on him and we cut away," Matt told IGN last year. "He would deserve much more than that as an ending. So yes, there's a possibility of seeing him again."
Mike's mom is getting a bigger role
Perhaps the most intriguing post-Season 2 tease has been that of Mike's mother, Karen Wheeler. Her romantic subplot with Billy was minimized and shelved for the future, and with unhappiness brewing, the writers have said she's going to be especially vulnerable in Season 3. "We have much more story for Karen that is linked to her discontent and her dissatisfied sexuality," Levy told Glamour. "We're not done with Karen Wheeler and her failing marriage."
Another beloved character will die
With death to Barb (Season 1) and Bob (Season 2), this show is slowly becoming Netflix's version of Game of Thrones torture. Will Season 3 say goodbye to a new face? An old face? Another person whose name starts and ends with 'B'? "I don't know [who]," Matt told Variety last year. "We have some ideas, but it's all too early." Speculate and plan accordingly.
A new soundtrack is on the way
If you were obsessed with the synth-heavy soundtracks of the first two installments, know that you can continue to fill out your vinyl collection with some more of those eerie, sweet sounds because Stranger Things: Soundtrack From the Netflix Original Series, Season 3 is on the way. The collection is said to include "15 classic tracks," plus an original cast recording. Who in the cast is set to sing, or what tune that might be, is TBD -- but please let it be a Dustin and Steve bromance duet. There's also a strong chance that it'll be from one of the Stranger Things kids' bands. Whatever it will be, that plus the rest of the record will be available on digital, CD, and cassette right after the season is released on July 5, and vinyl will be available later in the summer on July 26.
Wait, will the 'Stranger Things' lawsuit halt Season 3?
Since the series wrapped up production and already has a release date, that seems highly unlikely. That doesn't mean it couldn't affect information regarding Season 3 from getting leaked or the future of the series, though. For context: Filmmaker Charlie Kessler filed a lawsuit in LA Superior Court in April 2018 claiming the Duffer Brothers stole the plot of Stranger Things from him, alleging he met them at a Tribeca Film Festival after-party in 2014 and pitched a similar story (a film called The Montauk Project). While the Duffers have called the whole suit "completely meritless," their attempts to brush it under the rug are no more, as a judge denied their request for a summary judgement in April 2019 and now they'll have to appear in court for a trial scheduled to begin May 6. 
To prevent any plot points and confidential information about the series and its upcoming season from being released, the Duffers have already brought forth a motion requesting much of the trial be sealed. The Hollywood Reporter noted an attorney for the brothers said, "Public disclosure threatens substantial harm not only to their legitimate privacy interests, but also as to their ongoing commercial efforts, including by revealing confidential information that may be included in future episodes of Stranger Things." So, if this motion isn't passed, that could mean spoilers abound… but that probably won't happen. What's really at stake is whether or not Kessler will win the suit, which doesn't necessarily mean an immediate end to the series, but rather he would acquire a large sum of monetary shares in it, as if it's a joint-venture he was involved in all along. 
This post has been updated throughout. Stay tuned for more updates as they are announced.