Everything We Know About 'Stranger Things' Season 4
The hit sci-fi series is returning to Netflix in summer 2022 with what's said to be its biggest season yet.
'Stranger Things 4'

| Netflix
'Stranger Things 4'

| Netflix
Stranger Things 3 hit Netflix in July 2019, bringing the same '80s immersion and openheartedness that made previous seasons such a sensation. Gorier and gooier than ever, the season also featured plenty of good goofs while introducing great characters like Robin (Maya Hawke) and Alexei (Alec Utgoff). While Season 3 had a pretty definitive conclusion, the series' infinitely bingeable quality left us wanting more.
Luckily, this isn't the end of Stranger Things. Season 3's post-credits scene raised more questions than it answered, while also expanding the scope of the series outside the isolated boundaries of Hawkins, Indiana. It's hard to believe that Eleven, Mike, Dustin, Will, Lucas, Steve, and the rest of the crew are free from their supernatural escapades, so here's everything we know about Stranger Things 4 so far.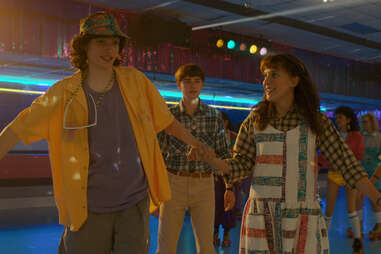 When will Stranger Things 4 premiere?
We finally—finally!—know when Stranger Things will hit Netflix again. In February, Netflix announced that Season 4 will actually be split into two parts, with the first volume of episodes arriving May 27. So fans don't have to feel like they're in the Upside Down wondering when Volume 2 will drop, the streamer also already announced that the back half of the season will premiere on July 1. Along with the news, Netflix shared a note from the Duffer Brothers on Twitter, clarifying the decision to split the season in half. They wrote, "Given the unprecedented length, and to get it to you as soon as possible, Season 4 will be released in two volumes … So that's the good news. It's coming soon. And it's better than ever."
That means new episodes will be coming a whopping three years after Stranger Things 3. Don't get frustrated and go all demogorgon, though: Not even our friends in Hawkins could defeat COVID-19, and the pandemic is what greatly affected the series' production schedule. Anyway, the wait should be worth it: This season is said to be bigger and better than ever. When announcing the release date, the Duffer Brothers shared, "With nine scripts, over 800 pages, almost two years of filming, thousands of visual effects shots, and a runtime nearly twice the length of any previous season, Stranger Things 4 was the most challenging season yet, but also the most rewarding one. Everyone involved is incredibly proud of the results, and we can't wait to share it with you."
Is there a trailer for Stranger Things 4?
Netflix dropped a full-length trailer in April 2022 and, uh, it doesn't look like Stranger Things as we've known it! Gone are the humble adventures fighting off herds of demodogs and taking down state-funded government labs. A whole bitchin' war is brewing!
The preview shows a shift in tone—signaled in part by a Journey needle drop of "Separate Ways"—with half the kids in a somber, post-Battle-of-Starcourt Hawkins and half struggling to adjust to life in California, but it looks like all of them are about to face the most terrifying, violent threat yet. We get a glimpse at some sort of powerful force from the Upside Down that may or may not be the Mind Flayer but is definitely ready to face off, a government agent tasking El with fighting whatever that thing is and/or ending the whole-ass Cold War, and even more dark, moodiness. "War is coming," the source of evil from the Upside Down says, so that should further convince you this might be the most dramatic season yet.
Are there any teaser trailers for Stranger Things 4?
If the full-length trailer isn't enough to hold you over before the May 2022 premiere, Netflix has actually been releasing teasers for Season 4 for a long while now. The first, titled "From Russia With Love," came way back in February 2020 when Netflix anticipated the show's release to be much sooner than 2022. The clip showed Hopper stuck in Siberia, and confirmed that our trusty, beloved father figure to all of Hawkin's tweens was still alive.
After fans had a chance to ruminate over that teaser for over a year, Netflix dropped another in May 2021. The trailer called "Eleven, are you listening?" gives an eerie look at what's ahead and confirms some long-running theories. It transports you to the Hawkins Lab where a handful of children with psychokinetic abilities seem to be playing and getting a creepy lesson from Papa—Matthew Modine's character who's been absent since Season 1, but rumored to be MIA. While we never actually see his face, the clip ends just outside of Eleven's door and flashes to her as Papa (aka Dr. Brenner) says, "Eleven, are you listening?" It's ripe opportunity for Season 4 predictions, because who knows whether it will reveal more about Eleven's past and show her having flashbacks, or maybe something more complex, like her traveling through time back to the lab or her trying to locate the scientist through her abilities in the present.
The streamer released another, more traditional first look in August 2021 when it announced the show's 2022 release date. That sneak peak features both footage from past seasons and some shots of the upcoming one, including more images of Eleven in the lab, a very creepy red cloudy sky, the gang snooping around an abandoned house, and a mysterious old grandfather clock. Overall, it's super ominous—especially with one of the kiddo's voiceover that says, "Something's coming. It is almost here."
The third teaser couldn't be any more different from the others. Titled "Creel House," it introduces entirely new characters—a Rockwellian family in the '50s—as they move into a beautiful old mansion. Like everything else in Hawkins, it turns out everything is not as it seems when animals on their lawn and members of the family start dropping dead. With the father the only surviving member, it's fair to assume he's Victor Creel. He was one of the names listed in early casting announcements and said to be sent away after he was accused of committing gruesome murders. By the looks of "Creel House," something darker is at fault.
It seems likely that Mr. Creel in the '80s timeline will connect with the Stranger Things gang, as the clip also shows them (led by their dad Steve Harrington) breaking into the now-abandoned home. The teaser closes out with a shot of a creepy grandfather clock that's appeared in these videos of the new season for a long while. Fans have been quick to point out that this clock strikes 3:00—as does the one in the first teaser. So, yeah, there's lots to unpack!
The final teaser arrived on Stranger Things Day. It reveals that when the Byers and Eleven left Hawkins, they settled in sunny SoCal… where things have been not so sunny for El, in terms of trying to fit in at school. In the clip, she writes a letter to her dearly beloved Mike, saying she's excited to be reunited over spring break. While the quirky series might tease a traditional spranggggggg breakkkk party fest set in spring 1986, El and the gang likely won't be hanging out poolside. Explosions, shoot outs, and creepy secret agents seems more like what's in store!
If you're really itching to dive into the new season before it drops, Netflix also released the first eight minutes of the premiere a week out from when the new episodes hit streaming. The foreboding clip shows something we've never seen before: Dr. Martin Brenner, seemingly a normal guy, outside of Hawkins lab. In 1979, he's shown getting ready for the day before heading into work where he quickly becomes Dr. Brenner, the creepy and not normal guy as fans recognize him. There, he goes into a sterile playroom where there are dozens of Eleven lookalikes in hospital gowns and he asks Ten to complete some tests. They start out "simple," but then he's tasked with using his mind to see what's going on in another room with "Six and Dr. Ellis." As it turns out, some very bad things! After passing out, Dr. Brenner wakes up to discover a very bloody scene. So if you ever wondered what happened to all of the other kids like Eleven who didn't escape the lab, as the ones from Season 2 did, well, El herself (or some dark force) massacred them all. It may just be an eight-minute clip, but consider yourself hooked.
Who will return for Stranger Things 4?
All of those A/V Club geeks and their friends that you know and love will be back for Season 4. Of the main cast, you can expect to see Millie Bobby Brown (Eleven), Finn Wolfhard (Mike), Gaten Matarazzo (Dustin), Noah Schnapp (Will), Caleb McLaughlin (Lucas), Natalia Dyer (Nancy), Winona Ryder (Joyce), Joe Keery (Steve), Sadie Sink (Max), Charlie Heaton (Jonathan), and Maya Hawke (Robin). Lucas' younger sister Erica will also be back and given more time to make scathing, sassy remarks, as Priah Ferguson has been upped to series regular, per Deadline. The same goes for everybody's favorite conspiracy theorist Murray Bauman—Deadline reported Brett Gelman is also now signed on as a regular. Sadly, his bromance with Alexei (RIP Alexei) is obviously no more.
Last season tried to play with fans' heartstrings when it didn't seem clear whether or not David Harbour's Hopper was really dead, but don't you worry: It's confirmed that he's returning. Monsters from the Upside Down haven't gotten to him yet. (It's the Russians he has to worry about—more on that below.)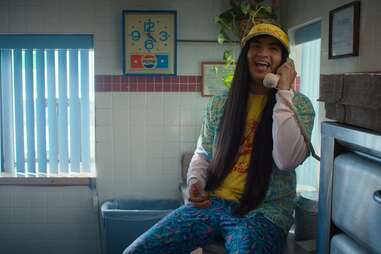 Are there any new cast members in Stranger Things 4?
With each new season, the sci-fi series tends to introduce fans to new characters—some of which including Season 3's Robin (Maya Hawke) and (RIP) Bob Newby (Sean Astin) becoming fan favorites. Season 4 is no different, with more than a few additions joining the cast; Deadline reported a handful in late November 2020.
As the show frequently casts '80s staples, from star Winona Ryder to recurring appearances by Cary Elwes and Paul Reiser, another legend is joining this time around. Robert Englund, who's played Freddy Krueger in the Nightmare on Elm Street franchise for years, is a new cast member playing Victor Creel, a man who's been committed to a psychiatric hospital since the '50s for a gruesome murder. At the hospital, he'll appear opposite Jamie Campbell Bower (The Mortal Instruments, The Twilight Saga), who's portraying Peter Ballard, a caring orderly.
Aside from that new setting, Stranger Things is also headed to Siberia where we'll meet some new faces, including Dmitri, a charming, potentially trustworthy guard played by Tom Wlaschiha (Game of Thrones), and Yuri, a Russian smuggler portrayed by Serbian actor Nikola Djuricko.
Perhaps the most interesting announcement was Joseph Quinn's (Catherine the Great, Overlord) casting taking on Eddie Munson, a metalhead who runs the official D&D club at Hawkins High, The Hellfire Club. According to Deadline, "Eddie will find himself at the terrifying epicenter of this season's mystery," so figure him a new major character.

Plus, a few more newbies include Sherman Augustus (Westworld) portraying Lt. Colonel Sullivan, a no-nonsense man trying to wrangle in the evil plaguing Hawkins, and Mason Dye (Bosch, Teen Wolf), who plays a handsome high school jock named Jason Carver whose life starts to unravel at the hands of the darkness pervading town. Also, Eduardo Francho (Booksmart) is likely the latest pal in the main crew, as he'll be portraying a friend of Jonathan's named Argyle, a stoner and employee at Surfer Boy Pizza.
Those aren't the only rad developments. Netflix announcedeven more character additions in May 2021, including one named Vicky who's supposed to be pretty pivotal to the plot. The Duffer Bros. themselves made a video announcing that newbie, saying that even though she's introduced this season, "she plays a big role in the events to come." Netflix obsessives will be excited to know that she's played by star of the cult teen series Anne With an E, Amybeth McNulty. Other than that, what we know about her role is that she's "a cool, fast talking band nerd who catches the eye of one of our beloved heroes." Ah, young love.
In addition to Vicky, it seems like the show is filling out the students of Hawkins High. This season, we'll also meet basketball star Patrick, played by Myles Truitt (Black Lightning), whose life spirals out of control after being met with "shocking events." Grace Van Dien (The Village) plays another student named Chrissy—the head cheerleader and most popular girl in school, no less, who's hiding a "dark secret." Plus, Regina Ting Chen (Queen of the South) will play the school's caring guidance counselor, Ms. Kelly. So, Hawkins might not be that small of a town after all with all of these new additions, but that's sci-fi world-building, baby!
What is the plot of Stranger Things 4?
Back when Netflix announced that Season 4 was a go, they made it clear that the upcoming installment was going to be bigger than ever by declaring: "We're not in Hawkins anymore." It's cryptic, but also literal since the sci-fi series is headed to Russia to combat the Ruskies, on top of creatures from the other realm. Last season ended with Hopper maybe killed by a demogorgeon—but without a body to prove it—or potentially transported to Russia, as seen by the wild post-credits scene that revealed Upside Down monsters and an "American" were stuck in a USSR government building. In February 2019, Stranger Things cleared up any lasting worries that the creature-fighting cop was dead by dropping a teaser showing Hopper forced to work at some sort of Russian labor camp. You may recall back in Season 1 that the reason Eleven accidentally opened up the portal to the Upside Down in Hawkins Lab was that American government officials wanted to use her and others like her to spy on the Soviets. So, it seems like the series is returning to that grand plot now with Hopper over there and the US' Cold War enemies in their own alternative dimension pickle.
When the teaser dropped, the Duffer Brothers said, "Although it's not all good news for our 'American'; he is imprisoned far from home in the snowy wasteland of Kamchatka, where he will face dangers both human…and other. Meanwhile, back in the states, a new horror is beginning to surface, something long buried, something that connects everything."
They echoed that sentiment yet again in fall 2020, saying to Deadline that Season 4 will feature "a new horror is beginning to surface, something long buried, something that connects everything." We can only begin brainstorming what that might mean, but based on the details revealed in the news of additional cast members, we can parse a few theories. It's possible that whatever's haunting Hawkins, it could date back to the '50s and have made innocent people out to be evil and convicted of crimes they didn't commit—like Robert Englund's upcoming character. Or, since it sounds like whatever darkness is coming to surface has been there awhile, maybe Hawkins Lab has been doing controversial research of other dimensions for decades.
While Hopper may not be in Hawkins anymore, most of the cast and plot still is, so it'll be interesting to see how they presumably try to get their friend home. Based on the teaser trailers, it seems like everything will culminate over spring break in 1986, which is when El and the Byers will finally return to Hawkins after moving away at the end of Season 3. It's hard to say what dangers they're going to face or how they're going to bring Hop back to safety, but the cast has stressed how "epic" the season is and that it's supposed to be "the darkest season" yet. (While nothing's confirmed, images of clocks have been repeated throughout the trailers—so might time travel be the latest, big sci-fi concept the show's tackling? or at least some more multi-dimension-traveling?) Whatever is in store, there's definitely reason to get amped.
What are the episodes of Stranger Things 4 called?
In November 2021, Netflix announced there are nine episodes in Season 4 and revealed the titles. In order, the episodes are as follows:
"Hellfire Club"
"Vecna's Curse"
"The Monster and the Superhero"
"Dear Billy"
"The Nina Project"
"The Dive"
"The Massacre at Hawkins Lab"
"Papa"
"Piggyback"
As Stranger Things 4 will be split into two volumes, the first seven episodes will drop on May 27. Get ready to really pencil in some viewing time because each episode—not just the premiere and finale—are extra, extra long. Variety reported that most episodes come in around 75 minutes, with Episode 7 at 98 minutes and Episode 8 at 85 minutes. When Netflix said that this season is "super-sized," it meant it!
As for the meaning behind each episode title, we can only pull our best Murray Bauman and start theorizing. "Hellfire Club" is definitely the easiest of the bunch to guess, referring to Hawkins High's official D&D group (per the new character announcements). It actually seems like we'll be gaming in the Forgotten Realms quite a bit, since Vecna in "Vecna's Curse" is said to reference a D&D creature. The more D&D nerds on Stranger Things, the better. Otherwise, "Dear Billy" might be an episode centered on Max, now that her brother's gone. "Papa" could finally see the return of the scientist who's been MIA for seasons, and perhaps "The Nina Project" will get into the Russians' equivalent of the experiments that Hawkins Lab has been up to. That's all speculation, but there's more than enough time to start brainstorming what it all means until the premiere.
Is this the last season of Stranger Things?
It's not, but Season 5 will be. In February, news broke that the series was renewed for one more installment and that it would be its last. At the time, the Duffer Brothers wrote in a note, "Seven years ago, we planned out the complete story arc for Stranger Things … we predicted the story would last four to five seasons. It proved too large to tell in four, but—as you'll soon see for yourselves—we are now hurtling toward our finale. Season 4 will be the penultimate season; Season 5 will be the last."
It sounds like the showrunners have known for a while how the series is going to wrap up. In a 2020 conversation with Deadline, Matt Duffer said, "We've known the ending of the show for quite awhile." He explained that they went into the show not knowing if it would get renewed, which is why Season 1 ends as if it could be a contained limited series, but they always knew if they got the opportunity to go beyond a first season, they "had an idea of where it would go."
While fans will be sad to see Stranger Things end, they should be excited to know that there are even more projects from the Duffers in the works at Netflix. When Stranger Things was renewed for a fourth season, it was announced that the Duffer Brothers inked a multi-year deal for films and series. While neither party has disclosed the exact details of that contract, Deadline reports that industry sources estimate it was likely comparable to the multiyear, nine-figure agreement that Netflix holds with Game of Thrones creators David Benioff and D.B. Weiss. They've since teased the possibility of other stories set in the Stranger Things universe, so spinoffs might be a part of that major deal.
While we can't wait to see where the Duffer Brothers are planning to take us with their predetermined conclusion to the epic series, we still have Season 4 to get excited about. Thankfully, it's finally on its way.