Stranger Things 3 hit Netflix in July, bringing the same '80s immersion and heart as previous seasons. Gorier and gooier than ever, the season also features plenty of good goofs while introducing new fan-favorite characters like Robin (Maya Hawke) and Alexei (Alec Utgoff). While season three had a pretty definitive conclusion, the series' infinitely bingeable quality left us wanting more. 
Luckily, this isn't the end of Stranger Things. The season's post-credits scene raised more questions than it answered while also expanding the scope of the series outside the isolated boundaries of Hawkins, Indiana. It's hard to believe that Eleven, Mike, Dustin, Will, Lucas, Steve, and the rest of the crew are free from their supernatural escapes, so here's everything we know about Stranger Things 4 so far. 
Recommended Video
These Are the 3 Shows You Should Be Binging Right Now
When will Stranger Things 4 premiere?
Before we can even think about a release date, Netflix needs to officially renew the series for a fourth season. That being said, according to Netflix Stranger Things 3 was the most viewed four-day premiere in the platform's history. We can, with reasonable certainty, expect official confirmation for Stranger Things 4 eventually.
Even past the series' status as Netflix's flagship horror series, the Duffer brothers told Vulture that they originally envisioned the project spanning four seasons. However, executive producer Shawn Levy clarified to EW that "we're definitely going four seasons and there's very much the possibility of a fifth." 
While there's no release date set for the fourth season, we'll likely have at least a year of breathing room given that the shortest gap between seasons thus far has been 15 months. Expect Stranger Things 4 to hit Netflix in late 2020 at the absolute earliest. 
What is the plot of Stranger Things 4?
While we don't know many details, the Stranger Things formula is pretty tried and true at this point. Weird, supernatural things start to happen in Hawkins, Indiana, and a crew of adolescents has to stop a horrible monster from destroying everything. 
This time around, however, things are a bit different. At the end of Stranger Things 3, the Byers moved out of Hawkins along with Eleven, who moved in with Joyce, Will, and Jonathan after Hopper's death. The only people from the main crew left in Hawkins now are Mike, Dustin, and Lucas along with Nancy, Steve, and Robin.
Further complicating things is the fact that the season's post-credit scene revealed not only that the Russians have a demogorgon in captivity but also an American prisoner. The scene finally pushed the series out of Hawkins, nodding towards a potential global focus in Stranger Things 4. Given the Russian's actions in the third season, it's likely that they're still attempting to find a way into the Upside Down with the goal of turning its creatures into weapons. 
Perhaps most importantly going into Stranger Things 4, Steve and Robin work at Family Video now.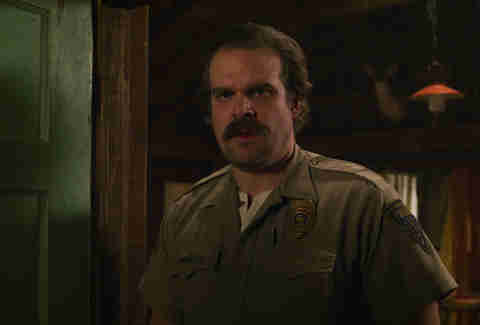 Is Hopper alive?
According to actor David Harbour, yes. He told SlashFilm that the Russian's American prisoner is most likely Hopper, who was presumed dead after the Russian's dimension-piercing drill exploded at the end of season three. We never saw his body, however, and when the same device malfunctioned at the beginning of the season, it turned the technicians operating it into goo. Stranger Things isn't a series to tone down the gore factor, so the absence of Hopper's body is a pretty substantial clue. 
Who will return for Stranger Things 4?
It's pretty safe to assume that the main cast of the series will be back, so we can likely expect Millie Bobby Brown (Eleven), Finn Wolfhard (Mike), Gaten Matarazzo (Dustin), Noah Schnapp (Will), Caleb McLaughlin (Lucas), Natalia Dyer (Nancy), Winona Ryder (Joyce), Joe Keery (Steve), Sadie Sink (Max), and Charlie Heaton (Jonathan) to return for the new season. Also likely to return are Robin, a fan-favorite season three addition to the cast played by Maya Hawke, and Erica (Priah Ferguson), Lucas' younger sister. 
Of course, Hopper's (David Harbour) return is still up in the air, but it's probably a fair assumption that he'll be back in some capacity.