Everything We Know About 'Stranger Things' Season 4
We're not in Hawkins anymore.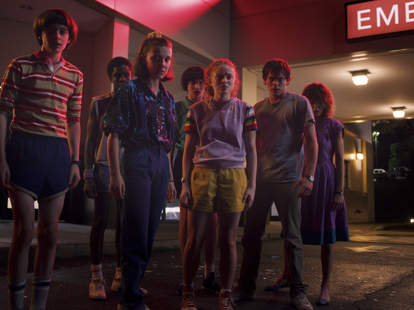 Stranger Things 3 hit Netflix in July 2019, bringing the same '80s immersion and heart as previous seasons. Gorier and gooier than ever, the season also features plenty of good goofs while introducing new, great characters like Robin (Maya Hawke) and Alexei (Alec Utgoff). While Season 3 had a pretty definitive conclusion, the series' infinitely bingeable quality left us wanting more. 
Luckily, this isn't the end of Stranger Things. The season's post-credits scene raised more questions than it answered while also expanding the scope of the series outside the isolated boundaries of Hawkins, Indiana. It's hard to believe that Eleven, Mike, Dustin, Will, Lucas, Steve, and the rest of the crew are free from their supernatural escapes, so here's everything we know about Stranger Things 4 so far. 
When will Stranger Things 4 premiere?
Despite TV Line reporting back in October 2019 that the new season was slated to start filming in January 2020 and wrap everything up by August, not even our friends in Hawkins could defeat the coronavirus, and Stranger Things was one of the many series that Netflix halted production on in mid-March. In June, the Duffer Brothers mentioned to Deadline that were able to get in three weeks of filming, which star Finn Wolfhard told The Guardian in an interview was actually ahead of schedule. It's unclear how much they have left to shoot, but in mid-June the writers shared on Twitter that all of the episodes were written, so now it's just about filming the remainder of them. Since they have a good portion shot, things are looking up for the sci-fi series, but a mid-2021 release seems like the earliest as to when we'll be seeing new episodes. 
How many episodes will there be in Stranger Things 4?
While nothing has been formally announced, it looks there will be eight installments in Season 4, based on IMDb. That sounds about right, since that's the episode count the series usually goes with, aside from Season 2 which had nine. 
Who will return for Stranger Things 4?
It was pretty much always a given that the core A/V Club crew and their teenaged friends were going to be back, but based on a sweet homemade video that Netflix shared of the cast's first table read, it looks like just about everyone is returning for Season 4. Of the main cast, you can expect to see Millie Bobby Brown (Eleven), Finn Wolfhard (Mike), Gaten Matarazzo (Dustin), Noah Schnapp (Will), Caleb McLaughlin (Lucas), Natalia Dyer (Nancy), Winona Ryder (Joyce), Joe Keery (Steve), Sadie Sink (Max), Charlie Heaton (Jonathan), and Maya Hawke (Robin). Lucas' younger sister Erica will also be back and given more time to make scathing, sassy remarks, as Priah Ferguson has been upped to series regular, per Deadline. The same goes for everybody's favorite conspiracy theorist Murray Bauman -- Deadline reported Brett Gelman is also now signed on as a regular. Sadly, his bromance with Alexei (RIP Alexi) is obviously no more. 
Last season tried to play with fans' heartstrings when it didn't seem clear whether or not David Harbour's Hopper was really dead, but don't you worry: It's confirmed that he's returning. Monsters from the Upside Down haven't gotten to him yet. (It's the Russians he has to worry about -- more on that below.)
What is the plot of Stranger Things 4?
Back when Netflix announced that Season 4 was a go, they made it clear that the upcoming installment was going to be bigger than ever by declaring: "We're not in Hawkins anymore." It's cryptic, but also literal since the sci-fi series is headed to Russia to combat the Ruskies, on top of creatures from the other realm. Last season ended with Hopper maybe killed by a demogorgeon -- but without a body to prove it -- or potentially transported to Russia, as seen by the wild post-credits scene that revealed Upside Down monsters and an "American" were stuck in a USSR government building. In February 2019, Stranger Things cleared up any lasting worries that the creature-fighting cop was dead by dropping a teaser showing Hopper forced to work at some sort of Russian labor camp. You may recall back in Season 1 that the reason Eleven accidentally opened up the portal to the Upside Down in Hawkins Lab was that American government officials wanted to use her and others like her to spy on the Soviets. So, it seems like the series is returning to that grand plot now with Hopper over there and the US' Cold War enemies in their own alternative dimension pickle. 
When the teaser dropped, the Duffer Brothers said, "We're excited to officially confirm that production on Stranger Things 4 is now underway -- and even more excited to announce the return of Hopper. Although it's not all good news for our "American;" he is imprisoned far from home in the snowy wasteland of Kamchatka, where he will face dangers both human…and other. Meanwhile, back in the states, a new horror is beginning to surface, something long buried, something that connects everything." 
Later in June, Hop himself (David Harbour) spoke to Deadline about what you can expect from his character's experience in the USSR. "First of all it's all very epic and very big in a Stranger Things way," he said, "There's monsters, there's horrors, there's scares, there's also like great Indiana Jones-type action, but also we get to see some of Hopper's really deep backstory that we've hinted at with the boxes in Season 2, and I'm really excited to let people see these really deep colors in him."
Hopper and the show at large may not be just in Hawkins anymore, but the brunt of the cast still is and it'll be interesting to see how they presumably try to get their friend home. It's likely what will bring the whole gang of teens and tweens back together, considering Eleven moved away with the Byers at the end of Season 3.
According to the Duffers, it's going to be the "biggest and most frightening season yet." Sign us up.
What are the episodes called?
As of right now, all we know is the premiere is called, "Chapter One: The Hellfire Club." The showrunners shared the episode name in a tweet featuring a picture of the front page of a Season 4 script. It's hard to say what that means. Did the Hawkins kids form a new society to prep for the Cold War? Is that what the Russians are calling themselves? Maybe Will Byers and Eleven took up trap shooting in their new town -- but the titles often are a giveaway into what the new season is about. That may be all we know right now, but it's more than enough to get brainstorming. 
Is this the last season of Stranger Things?
The short answer: maybe, but probably not. Netflix announced in September 2019 that it was renewing Stranger Things for a fourth season, which was no surprise given that the series' third season (according to Netflix) was the most viewed four-day premiere in the platform's history. 
The renewal also came with news that Stranger Things showrunners the Duffer Brothers had inked a multi-year film and series deal with Netflix. While neither party has disclosed the exact details of that contract, Deadline reports that industry sources estimate that it was likely comparable to the multiyear, nine-figure agreement that Netflix holds with Game of Thrones creators David Benioff and D.B. Weiss. 
While it's unclear if the deal is exclusively tied to Stranger Things projects, the Duffer brothers previously told Vulture that they originally envisioned the series spanning four seasons. However, executive producer Shawn Levy clarified to EW that "we're definitely going four seasons and there's very much the possibility of a fifth." Given the series' success over the years, we're going to hazard that Season 5 will probably end up being a go.
Whenever it is that Stranger Things ends, the Duffer Bros. already know what's going to happen. Gizmodo pointed out that in conversation with Deadline Matt Duffer said, "We've known the ending of the show for quite awhile." He explained that they went into the show not knowing if it would get renewed, which is why Season 1 ends as if it could be a contained limited series, but they always knew if they got the opportunity to go beyond a first season, they "had an idea of where it would go." 
While we can't wait to see where the Duffer Brothers are planning to take us with their predetermined conclusion to the epic series, but we still have a ways to go before we get to Season 4. Continue to check back, though, as we'll continue to update this post when more information regarding Stranger Things 4 is announced. 
Need help finding something to watch? Sign up here for our weekly Streamail newsletter to get streaming recommendations delivered straight to your inbox.