Steve From 'Stranger Things' Finally Meets His Son Jean-Ralphio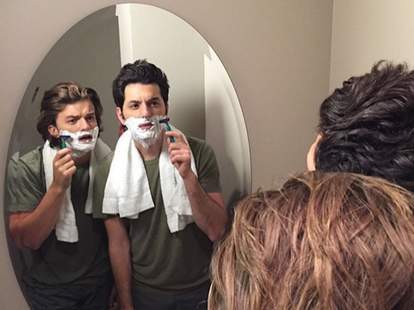 As Stranger Things mania gripped the nation this summer, one fan theory weighed most heavily on the minds of anyone with a Netflix password: was well-coiffed bad boy Steve Harrington actually the father of entrepreneur Jean-Ralphio from Parks and Recreation? Though the actors who played the two characters, Joe Keery and Ben Schwartz, acknowledged the theory in the press, we never saw the two lookalike characters together… until now.
That's right: perhaps by traveling through some interdimensional time portal, Steve met his son Jean-Ralphio last night, and it was as glorious as you would hope. The debate surrounding the veracity of this controversial theory has officially been settled. There's no question that Steve is Jean-Ralphio's father. Just look at this tweet.
Apologies if your brain melted while viewing that photo. This photo confirms that not only did Steve somehow travel through time, he also managed to purchase the exact same outfit his son was wearing, a stylistic change from his normal long-sleeve Polo look. It's unclear how he would've obtained such modern looking threads in the 1980s. Maybe there's a Gap somewhere in the Upside Down? So many unanswered questions remain. 
Is there video footage of this bizarre father-son bonding incident? Of course there is.
So strange. How did the two spend their time together? Just some classic father and son teaching time.
After carefully examining this photo for hours for clues, I think there's only one conclusion to make: Steve will be growing a beard in Stranger Things season two and something will go very wrong with that beard. Why else would Steve travel through time to teach his son about shaving? That's the only logical explanation. Bring on bearded Steve.
Sign up here for our daily Thrillist email, and get your fix of the best in food/drink/fun.
Dan Jackson is a staff writer at Thrillist Entertainment, and believes Li'l Sebastian is in the Upside Down somewhere. He's on Twitter @danielvjackson.