Sturgill Simpson's Netflix Anime Is a Badass Apocalyptic Companion to His New Album
'Sound & Fury'

| Netflix
'Sound & Fury'

| Netflix
When you think of the downhome comfort, emotional tales of heartbreak, and easy-going rhythms of country music, you probably don't think of anime as its logical counterpart. But Sturgill Simpson, the proudly defiant outlaw country singer behind 2016's Grammy-winning, genre-bending album A Sailor's Guide to Earth, has a knack for taking ideas that seem potentially goofy on paper -- like singing about LSD, Psilocybin, and DMT on a smokey, sentimental ballad -- and somehow turning them into bizarrely evocative, uniquely singular works of art.
His latest experiment Sound & Fury, a 40-minute anime project featuring the songs from his new record of the same name, is another example of his gift for possibly risky, slightly stoner-ey alchemy. Overseen by Japanese director Jumpei Mizusaki of the animation studio Kamikaze Douga, it's a series of hyper-violent, post-apocalyptic vignettes that's equal parts Mad Max and Heavy Metal, and loaded with subtle nods to classic anime works like Cowboy Bebop, Neon Genesis Evangelion, and the eternally running One Piece. Like The Lonely Island's Unauthorized Bash Brothers Experience and Thom Yorke's Anima, both unclassifiable music-adjacent works released this year, it's available to stream on Netflix.
Simpson is hardly the first musician to go the anime-album route -- Interstella 5555: The 5tory of the 5ecret 5tar 5ystem, a visual adaptation of Daft Punk's 2001 record Discovery, was released back in 2003 -- but he might be the first country artist to dive all the way in. To make sense of the project, we had our resident anime fan (Leanne Butkovic) and our resident Sturgill Simpson fan (Dan Jackson) dig into Sound & Fury to see if it satisfies as a piece of animation and as an album. Grab a giant sword and ten-gallon hat and read on.
Dan Jackson: OK, so I've been really looking forward to this new Sturgill Simpson album. I really admired A Sailor's Guide to Earth, which had a melancholy and forlorn nautical theme, but he's always struck me as a country artist with the capabilities and temperament to make a really fun, mildly sleazy shit-kicker rock record. He's a classic country shape-shifter, a restless guy who hates to be pinned down by critics or his own audience. In a recent New York Times profile, he name-checked the Bee Gees, Cheap Trick, T. Rex, and La Roux as musical inspirations, a typically "huh" list of eclectic reference points. I read that and was like, "Sign me the hell up!"
Still, I was a little skeptical of the Sound & Fury anime going in. These "album visualization" tie-ins, which have grown more popular post-Lemonade, tend to be a little corny and tossed-off. From the vague description in the Times profile, which said it was about "how vicious systems take advantage of the people who must live by their rules," it sounded a bit heavy-handed to me. What did you think of actual animation and the (sorta confusing) narrative?
Leanne Butkovic: First off, thank you for confirming for me, a person who knows very little about Sturgill Simpson outside of "country man" and all those name drops in The Dead Don't Die, that this album builds on his already atypical discography. When I first watched that teaser, I thought, "that's a lot of synth for a country record!" but turns out, he's kind of funky already! Anyway, I was also skeptical that this could work, but I'm pleasantly surprised at how much I enjoyed Sound & Fury overall and how well it captured the spirit of action anime with its huge, violent setpieces where the hero narrowly escapes death by the skin of their teeth. The big bads remind me of pirate bosses from one of the million episodes of One Piece; the evil purple dust evokes Cowboy Bebop's nefarious Red Eye concoction; it even works in a cute animal! Classic anime shit.
I will admit the different animation styles from song to song felt disjointed for me, more as if it were like an hour-long run of another Netflix property, Steven Soderberg's Death + Robots, nor am I completely sold on the narrative as a whole. (The dedication to the "lost souls and victims of senseless violence" at the end felt a bit on the nose, as you already mentioned, though I respect the sentiment, of course.) But I think the core of it -- the vigilante justice alongside robots and swords imbued with the souls of murdered fighting against the caricature bad guys -- holds up fine, working in references to Mortal Engines (not anime, but whatever), Heavy Metal, and even Neon Genesis Evangelion, especially with its dashboard tech and ruined Japanese cityscape and a dual-pronged Lance of Longinus-style sword in the post-credits sequence. How did you feel about it as a non-anime watcher? What was your favorite part?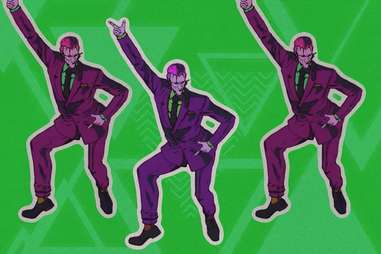 Dan: Yeah, as an anime-idiot, I was thinking about Heavy Metal a bunch. The graphic violence, questionable nudity, and overall bong-hit ambiance felt very familiar and oddly comforting to me, a person who definitely watched Heavy Metal on DVD in college. I'm glad these are still the pulpy tropes and dopey clichés that artists reach for when they want to do something "badass" and "frickn' sick, man," and I can picture teenagers watching this together in a basement -- if teens still watch things on basements that aren't TikTok videos. The switching up of the animation style didn't distract me much because it mostly reminded me of The Animatrix, another common anime entry-point for dummies like me.
On the whole, I thought the movie was a blast, but a couple parts really stood out to me. My favorite section was the deliriously choreographed dancing to "A Good Look," a really fun song that sounds like Queens of the Stone Age doing AM radio boogie-rock. I was also really into the live-action(?) section with the flaming skateboard and the woman in the yellow hazmat suit, which had strong Back to the Future vibes. It struck that satirical mix of irreverence and dread that I associate with '80s movies like Escape from New York, They Live, and The Running Man. Did you have a favorite part? Also, as a Sturgill-noobie, what did you make of the music?
Leanne: College kids and teens are definitely gonna love all the anime tiddies in here! Which conveniently leads me directly to the part that was most fun for me, too: that dance bit/story recap/character introduction during "A Good Look." Having your core cast do out-of-character dance routines is a big trope in anime intro sequences that you'll see all the time, from slapstick-y series like Assassination Classroom to more serious fare like Death Parade. That inclination actually has real roots in Japan: it's based on Parapara dancing, which is essentially choreographed, synchronized moves that you'd associate with boy bands and girl groups, that first got really popular in the '80s at the same time Euro-disco and new wave was getting big. I agree, the skateboarding sequence was also tite, and I'd be remiss not to mention the rock n' rollin' "Last Man Standing" where the cute cat gets incinerated (RIP cat), along with the rest of the world. Always fun to kick off the apocalypse with some high-energy tunes! Then, the post-credits fight was a fun, satisfying way to cap it all off. Decapitate those frickin' bad guys!!!
I enjoyed the music, but to be totally honest, I don't know that I'll go back and listen to the album on its own. I'm rude, I know!!! Obviously, in this dialogue-free setting, it's what pushes the whole thing along, but at the same time, I didn't find it the most compelling element amid the zaniness of the animation; it was a backing track to me that got overwhelmed by explosions and people getting their arms and heads cut off. I acknowledge my logic is faulty here and I won't make excuses for it, but Sound & Fury didn't quite make me a "fan" of Sturgill as much as I have a deeper respect for his artistic vision and what he's doing for the country genre. As a Sturgill stan, how does Sound & Fury work as a standalone album for you?
Dan: Yeah, the danger with a project like this is that it potentially ends up changing how you would normally hear the record. After I watched the anime this morning, I listened to the album on my commute and I'd be lying if I didn't say that tracks had me picturing muscle-cars driving across the desert, warriors chopping off heads, and prisoners leading a rebellion through the power of a green ooze. My brain has been rewired to think of these songs in anime imagery -- at least for now. Still, the lyrics on Sound & Fury, like the line about "looking out the window at the world on fire," lend themselves to that type of stylized mayhem. It's not like he made a super chill record then released a hyper-violent, trippy anime. The two work well together.
I did find that tracks like "Best Clockmaker on Mars" and "Mercury in Retrograde," which didn't have the most visually-striking anime segments, worked better for me on the album than they did in the film. It's likely some of the anime imagery will fade from my mind as I listen to the album more in the coming months, which I definitely plan on doing. Like I said above, this is exactly the type of record I was hoping Simpson would make, so I'm excited to dig into it more.
Here's something I was thinking about towards the end of the movie: What other musicians would I want to see an anime project from? On the country-side of things, it'd be fun to see similarly out there from Kacey Musgraves or Eric Church. Obviously, lots of rappers love anime -- Kanye West has referenced Akira as one of his biggest creative inspirations -- but I'd love to an R&B anime from an artist like Frank Ocean or Kehlani. That could be cool. Who is on your "please make an anime" dream list?

Leanne: Hmm, a dream list??? I would love to see what artists like Rina Sawayama or Kero Kero Bonito or even freakin' Billie Eilish, all cool notable weirdos, do with an album anime. Hell, it'd be cool if The Pillows, who already have experience doing this, more or less, with their always-on FLCL soundtracks, went full concept with their own anime one day. But I think you've nailed who's most likely to be next: Kanye's gonna do it, right?? I could also see Grimes swooping in and dropping one out of the sky in conjunction with her upcoming record, Miss_Anthropocene. Or maybe Denzel Curry got inspired from guesting on Netflix's Carole & Tuesday. Regardless, I think Sound & Fury made the case for more projects like this in the future, and I'm excited to see whatever musicians and animators cook up. Just keep the cute cat safe next time, please.