HBO's Succession seemed to come out of nowhere. Created by British comedy writer Jesse Armstrong -- of Peep Show and The Thick of It fame -- the slick, slimy show about a dysfunctional family who own a global media empire quickly became our 2018 summer obsession. It's hard not to fall under the Roy family's spell; they're so enticingly dramatic and duplicitous that Succession feels at times like a soap opera, at other times like a horror movie, and still others like a screwball comedy.
Brian Cox stars as Logan Roy, a Rupert Murdoch-like media titan, who reveals his plans to leave the family company -- an empire that spans newspapers, TV stations, and even theme parks -- but walks back on that promise after his ambitious son Kendall (Jeremy Strong) shows interest in taking over. Also involved in the family's in-fighting is Logan's daughter Shiv (Sarah Snook), other sons Roman (Kieran Culkin) and Connor (Alan Ruck), wife Marcy (Hiam Abbass), and great-nephew Greg Hirsch (Nicholas Braun).
The show is a dark comedy in the vein of Armstrong's other projects, with a handsome pedigree: Oscar-nominated director Adam McKay directed the pilot, and executive produces alongside newspaper columnist Frank Rich and actor Will Ferrell. That street cred, coupled with the show's inherent watchability, made Succession a breakout hit last summer. We can't wait for it to come back very, very soon, but until it does, here's everything we know about Season 2.
Recommended Video
Tackle 7 Pounds of Seafood in One Sandwich
When does Succession Season 2 come out?
Succession Season 2 premieres on HBO on Sunday, August 11. The series was officially renewed for a second installment just one week after it first debuted in June 2018, so Season 2 comes nearly one year after last year's finale. Who could stand waiting any longer to check in on the Roys anyway? 
How many episodes?
Eight new episodes are in the pipeline for Season 2, which is (unfortunately) two less than Season 1's count. But don't worry -- that doesn't mean it will be any less rife with cutting insults. 
Is there a trailer?
HBO dropped the full-length trailer for the new season in July 2019, revealing the upcoming episodes look even more tense than Season 1. The clip shows the Roys coming to terms with the fallout of Kendall's mistakes so, as Logan puts it, they can get back on track to becoming "the number one media conglomerate in the world." And his plan for that: looking like being a pseudo "big happy family." (More family wellness retreats are part of this package, but getting rid of violence in the workplace, not so much.)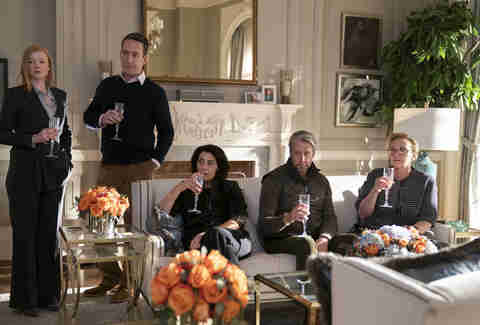 Will the whole cast return?
The entire core, ensemble cast will be back: Brian Cox (Logan Roy), Jeremy Strong (Kendall Roy), Kieran Culkin (Roman Roy), Sarah Snook (Shiv Roy), Matthew Macfadyen (Tom), Nicholas Braun (Greg Hirsch), Alan Ruck (Connor Roy), and Hiam Abbass (Marcia Roy). As much as the Roy kids might want to kill each other for a coveted management position or board spot, they're all still breathing (for now) and the show wouldn't be the same without them. 
The same showrunners are back, too
The series is still helmed by creator Jesse Armstrong, among executive producers like Will Ferrell, Adam McKay, and others. Plus, while it's unclear how many episodes he'll be directing, The Hollywood Reporter shared McKay will be behind the camera again this season, too. They said the Big Short and Vice filmmaker was set on "shooting the series on film" because "it just needed that old-school elegance and warmth." That was just one of the indulgences the showrunners insisted on; they also brought on a handful of consultants to guide the cast and crew on how the one percent acts in just about every way of life, from business decisions to dress code, and even how to get on and off a helicopter. We trust the showrunners cashed in on the Season 2 excesses, and the luxurious results should be good.
Are there any new cast members?
Some of the most interesting news regarding Season 2 came with the casting of Oscar winner Holly Hunter. In May 2019, Deadline reported the star will take on the recurring role of Rhea Jarrell, "the politically savvy CEO of a rival media company." According to THR, Hunter is opposite Cherry Jones (Signs, 24) who appears as the owner of the company Hunter works for -- a liberal media empire that much resembles the Sulzberger family, famed for owning the New York Times since the late 1800s. Hunter going head-to-head with the Roys? We can't wait to see it!
Aside from Holly Hunter and Cherry Jones, Annabelle Dexter-Jones (The Deuce) is also a new addition who'll be playing Kendall's latest love interest.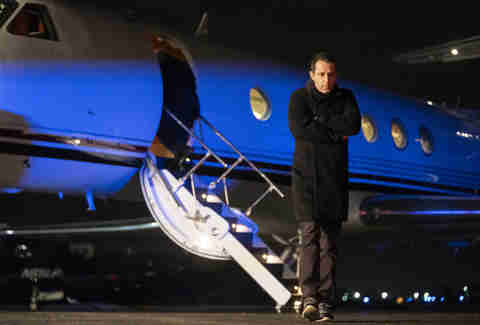 What will the plot be?
Season 1 of Succession ended with a bang. Kendall Roy was planning an aggressive takeover of the family company, but wound up doing a Chappaquiddick, accidentally killing a young waiter in a car crash while out looking for drugs and driving drunk during Shiv and Tom's wedding reception. Logan, who learns about the boy's death, offers his son a deal: He can make it so the crime never happened as long as Kendall stops pursuing the company's top spot. Kendall breaks down in his father's arms and the two share a tender moment, but it's unclear what will happen next. If Kendall takes his father's offer, which seems most likely, he'll be working under him for the foreseeable future. But if he doesn't, he'll undoubtedly face jail time.
Season 2 kicks off still reeling from this incident, according to THR. Matthew Macfdayen, who plays Tom, said, "Now that Logan has sort of got Kendall under his thumb really, it's where it goes with that." As for other members of the Roy family, THR notes Shiv (Sarah Snook) is attempting to get her hands on a promotion while managing leftist politician Gil Eavis's (Eric Bogosian) presidential campaign, and Tom lands a high position at the family's Fox News-like network. 
Of Tom's new slimy role, Matthew Macfadyen told THR, "He's aware it's a right wing thing, but he's very pleased to be shimmying up the greasy pole." This is likely where the family is going to clash with Holly Hunter's liberal media tycoon personality, and what, in part, could lead to them being forced to testify before a Senate committee hearing -- a plot point reportedly featured in the upcoming season.
While the personal and professional often mix for the Roys, Macfadyen told THR a bit more about what to expect from his character's marriage with Shiv. "At the end of the last season, they reached a business arrangement for the marriage, which he sort of struggles with in the second season," he said. "That's all really good fun to play. They do have a plan. She's in the world of politics and their business model is that she pursues that, maybe even toward the White House, and then he's still shimmying up the greasy pole at work." He added, "I think Tom is just trying to cope with this new [open] marriage. He's looking at it like, 'Have you had sex with someone else? Are you allowed to do that? Am I allowed to do that? I don't really want to do that.' And that's all ripe for hilarity."
Where is Season 2 set?
Of course, Succession will always hail from the wealthy, upper crust of Manhattan, meaning many NYC board room meetings and brownstone scenes to come -- but as last season saw a number of destinations like New Mexico and Scotland, so does round two. This time around, production went all in with scenes in the Hamptons (an inevitable pick), as well as Iceland and Croatia. What the Roys will be doing there -- vacationing? Escaping trial and media damnation? -- TBD.