Kendall Roy Is More Chaotic Than Ever in the 'Succession' Season 3 Premiere
Our favorite sad boy is masking his inner turmoil with overconfident jerkiness.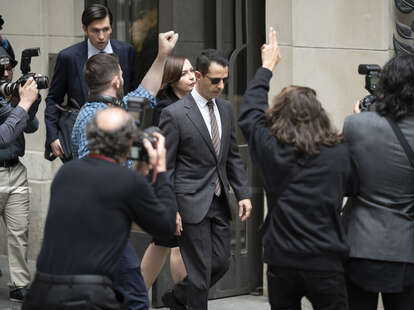 The third season premiere of Succession is a portrait of two men in crisis from the fallout of the Season 2 finale, where Kendall Roy revolted against his father, publicly bringing up allegations of sexual misconduct on the Waystar Royco cruise lines. It opens with Kendall hiding in a bathtub, and his father, Logan Roy, asks his other child Roman, "You want to suck my dick?" as he gets into a car that will take him to a room where he will wait to board a plane to a country with no extradition laws. Once again it's Logan, played by the great Brian Cox bristling and beasting, versus Jeremy Strong's Kendall, who is always more fragile than he would like to admit.
This installment, titled "Secession," is coordinated chaos. The characters are constantly in transit. Logan is absconding to the Balkans where he'll be safe, for the time being, from legal repercussions. He sends Gerri (J. Smith Cameron), Shiv (Sarah Snook), and Roman (Kieran Culkin) to New York while he decides their fate within the company from afar, determining who will serve as interim CEO while he steps aside. (It's Gerri, much to the dismay of Shiv, who left her career in lefty politics to pursue her father's affections last season.)
Meanwhile, Kendall is plotting his next move from a company car, which he may or may not be entitled to, with his trusty assistant Jess (Juliana Canfield) and Cousin Greg the Egg (Nicholas Braun), the only member of the immediate family stupid enough to join him immediately. As the van moves through New York on the way to Kendall's ex-wife's apartment, the only place he's safe to go, Greg says, "This is like OJ, if OJ never killed anyone." Kendall, smiling, replies: "Who says I never killed anyone?"
Think back to the Season 1 finale where Kendall did kill someone, the waiter at his sister's wedding who he got high with and then drove into a body of water. This is the kind of energy that Kendall is bringing to his mutiny, a slightly unhinged desire to play with fire. Kendall is bolder than he's ever been before, but he also seems more erratic and destined for a big fall—even though it's hard to imagine how he could sink even lower than we've seen him.
He's in full douchebag mode. When he meets with his new PR team (played by singer Jihae and Red Scare podcast host Dasha Nekrasova), he talks over them, announcing how he wants to get "the Bojack guys" and kids from the Harvard Lampoon to write him "cool tweets." He approaches media outreach like an alien with only a vague idea of how real people perceive someone like him. Kendall is ostensibly on the side of righteousness here, having dumped a dirty Waystar Royco dirty secret out into the public, but he's just so disgustingly confident that it's impossible to see anything he's doing as actually noble.
At its heart, Succession has always been about the tragedy of Kendall Roy, a man with a gilded upbringing who can't help but make the wrong move even when he's trying to make the right one. If this first hour back seems like table setting—well, it is. It feels almost as if it should have been billed as a two-parter with a "To Be Continued" at the end. But it's an appropriately jittery episode of television, with Kendall's unnervingly brash energy coursing through it. This is only just the beginning.