6 New Anime Series to Watch This Summer
A mass petrification event befalls humanity one day, turning the entire world to stone. An alternate universe Tokyo saddles a fire-wielding task force with staving off spontaneous human combustion. A group of high school students set off down the clumsy and occasionally awkward path to adulthood. What do all of these things have in common? They're all themes from summer 2019's new crop of anime series.
It turns out, this year's summer shows are explosive inside and out, from curiosities like Fire Force to the rock-driven romantic boys' love series Given. Instead of heading out into the dead of summer's sizzling heat, stay at home and take in one of the 30+ new anime series kicking off for the season. But, since there's nothing more annoying than sitting through a disappointing series, which of the latest shows are worth investing your time in? Try one (or all) of these six hand-picked for anime fans with a variety of tastes. Whether you're ready to embark on an intergalactic adventure or just spend an inordinate amount of time at the gym getting swole, there's a show out this summer for you.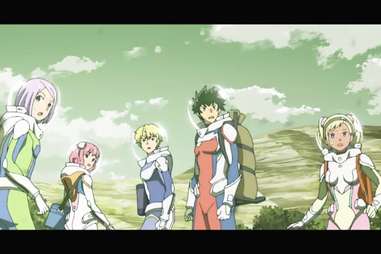 Astra Lost in Space
Premiere date: July 3
Where to watch it:Hulu, Funimation Now
Anime and sci-fi go hand-in-hand, and Astra Lost in Space is one that'll fill the void left behind by the absence of new Star Trek Discovery episodes, or any of the best sci-fi and fantasy TV from this year. It's 2063, and a group of students from Caird High School have taken a commercial space flight to the planet McPa to touch down for Planetary Camp, whatever that means! Everything seems fine at first, but while exploring the surface, the students stumble upon a bizarre sphere of light that ends up sending them hurtling through the depths of space.
Displaced in the outer reaches of the inky black of the universe, they've got to figure out a way to get back home -- up to and including hopping on an abandoned spaceship and doing their best to cross the thousands of light years-long bit of space between them and their home planet. Super easy, right? Naming their dilapidated spaceship Astra, the distressed students buckle up and accept their situation, forcing themselves to head out to various alien planets in a bid to collect supplies, refuel, and work to figure out a way to finally get back home. It's an epic twist on your typical spacefaring anime, and more in line with classic sci-fi shows of yesteryear.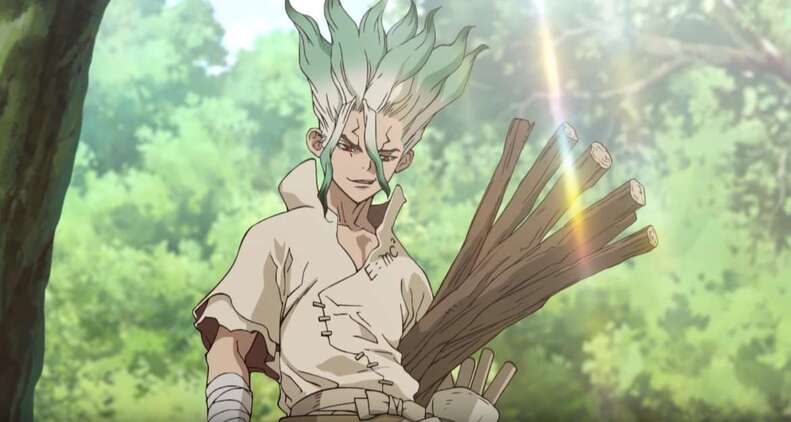 Dr. Stone
Premiere date: July 5
Where to watch it: Crunchyroll, Funimation Now
Picture this: You're a normal, everyday high school student named Taiju Oki. There's this girl (a really cute one!) you've been in love with ever since you were both kids. Today's the day you're about to confess your true feelings. Just as you're about to call out to her and tell her how you really feel, a shining green light appears, petrifying every single human on earth. In an instant, everyone has been turned to stone. Just your luck!
That's the premise of shonen manga epic Dr. Stone, which is already off to an exciting start. After the petrification, thousands of years pass, yet one day, Taiju breaks free of his shell, only to find that his scientifically-inclined friend Senku Ishigami has been thriving in this new age. He's been working on a way to turn every single petrified human back to normal by using time-tested experiments to figure out how to reverse the damage. Together, they work to restore the human race to its former glory, rebuilding civilization one day at a time.
But what caused the mass petrification event in the first place? Will Taiju ever get to confess to his lifelong love? Dr. Stone will attempt to answer these questions and more as it explores the constructs of society, the mystery behind the sudden flash of light that started it all, and perhaps why Senku's hair looks like a leek. You'll be hooked from the first episode, so luckily there's plenty of manga chapters to read through if you can't wait for new installments to air.
Fire Force
Premiere date: July 5
Where to watch it:Crunchyroll, Funimation Now
In an alternate version of Tokyo in the future, the Special Fire Force Company 8 is formed to combat fire-based monsters that are terrorizing the city. Created as a result of spontaneous human combustion (yeah, you read that right), the special unit can only be staffed by Infernals, a group of humanoids who can create and control fire. The series follows new employee Shinra, who's just come into his own power as an Infernal. While he's still getting familiar with what he's capable of, Shinra's a destructive force to be reckoned with. Only, he tends to smile when he's anxious, leading to some very awkward and tense interactions with others.
Fire Force is the latest project from Soul Eater's Atsushi Okubo, and it's a frenetic, colorful romp through a bizarre, unpredictable future. It's definitely one of the most out-there premises this season, but even so, its held down by a very human story at its center. You can't help but root for the awkward Shinra, especially when he's crippled with fear and anxiety, and the colorful Fire Force squad is one that you'll want to get to know even more intimately as soon as the first mission ends.
O Maidens in Your Savage Season
Premiere date: July 5
Where to watch it: HIDIVE
Growing up can be more terrifying than facing off against ferocious monsters. It can also be absolutely hilarious, too. O Maidens in Your Savage Season follows the five girls of their high school's literature club: Kazusa Onodera, Niina Sugawara, Momoko Sudo, Hitoha Hongo, and Rika Sonezaki. As they begin trying to get to know each other a little better during an early club meeting, they establish one important baseline: At least one of them wants to have sex before they die. Nice.
That hilarious admission leads to some particularly side-splitting moments sprinkled throughout this slice-of-life adventure that explores the secret world of high school students and their clumsy ascent from adolescence to adulthood. You'll laugh, you'll cringe, and you'll undoubtedly wipe a few tears away when watching. Thanks to Mari Okada's masterful writing that runs the gamut from emotional to humorous, O Maidens is grounded with a serious backbone about these girls' highly relatable everyday lives that keeps it from devolving into oversexualized nonsense. If you're feeling a little nostalgic for those high school days gone past, O Maidens in Your Savage Season is worth diving into.
Given
Premiere date: July 11
Where to watch it:Crunchyroll
High schooler Ritsuka Uenoyama plays guitar alongside bandmates Haruki Nakayama (bass) and Akihiko Kaji (drums). When he reluctantly begins teaching classmate Mafuyu Sato how to play guitar, he realizes that Mafuyu shouldn't be relegated to jamming out on an instrument -- he's a talented singer! Throughout Given, Ritsuka and Mafuyu grow closer as they work together to develop their band and begin to understand where the other's coming from… all while developing some serious boy crushes.
If you're into shows like the celebrated Yuri!!! on Ice or the legendary musical boys' love, or yaoi, series Gravitation, Given looks like it's torn a page right out of those series' songbooks. From adorable kisses between bandmates to drama instigated by older romantic interests crashing the party, it's delivers the kind of touching interactions between these high school students coming of age that you've been craving since Yuri!!! ended back in 2016 (though a movie is set to come out this year). And when we get so few boys' love shows these days, you've got to take what you can get. Hopefully, since this is animation block NoitaminA's first yaoi offering (on Japanese channel Fuji TV; Crunchyroll has the simulcast), it'll pull out all the stops and really dazzle viewers with some seriously romantic overtones -- and solid J-rock tunes.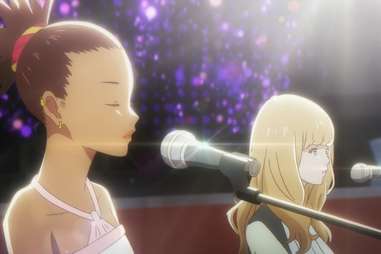 Carole & Tuesday
Premiere date: August 30
Where to watch it: Netflix
Carole & Tuesday is the latest project directed by the legendary Shinichiro Watanabe (Cowboy Bebop, Samurai Champloo), and his influence echoes through just about every facet of the series, which is unlike any other anime you've seen before. Set in the distant future on Mars ('kay), a teenager named Tuesday Simmons wants a break from her privileged life as the sheltered daughter of a politician. She runs away to Alba City with dreams of becoming a musician. Armed with just her suitcase and her Gibson guitar, she knows she can make a difference, but she won't have to do it alone. Shortly after making it to the city, she ends up meeting a young woman named Carole Stanley, who happens to be a virtuosic piano player. As the two share a common goal of making it as musicians on Mars, they decide to work together to make their dreams come true, teaming up to form the duo Carole & Tuesday, with their eyes set on super-stardom.
This series is filled to the brim with exciting original songs and catchy tunes you won't be able to get out of your head, as well as a diverse cast with a cast of talented real-world musicians lending their voices to bring their songs to life. It's just wrapping its run on Japan's Fuji TV, but Netflix has the exclusive distribution rights, meaning the rest of the world will have easy access to one of anime's all-time greats' newest series, arguably one of the best of the year.
Brittany Vincent is a contributor to Thrillist.