The Movies About to Blow Up at Sundance 2016
<strong>Belgica |&nbsp;</strong>Courtesy of&nbsp;Thomas Dhanens
You might not know this, but the Sundance Film Festival -- which kicks off today and runs through the end of January -- is the steak part of your annual movie diet. Hollywood supplies the dessert -- do you prefer your Batman v Superman a la mode? -- but the safe-betting executives in Hollywood ask independent filmmakers to provide the meat. The annual gathering in Park City, Utah, is ripe with bold concepts and fresh-faced stars-in-the-making that should appear on next year's Oscar ballots like 2015 darling Brooklyn and countless others before it. If you ever wonder "What movies do I really need to see?" the answer is very often something that played at Sundance.
I'm headed to this year's festival to report from the ground. But before we get to the reactions, here's a look at the movies that are already stirring up prospective attendees. Their trending moment on Twitter is only days away.
Courtesy of Francisco Roman
Wiener-Dog
Cast: Greta Gerwig, Kieran Culkin, Danny DeVito, Zosia Mamet
Director: Todd Solondz
In its own words: "This film tells several stories featuring people who find their life inspired or changed by one particular dachshund."
Why it's already buzzing: The second "wiener"-themed film of the fest -- the other being an Anthony Weiner doc -- Wiener-Dog is a loose follow-up to the 1996 cult film Welcome to the Dollhouse, with Gerwig filling in for Heather Matarazzo as the all-grown-up version of Solondz's beloved tortured-youth, Dawn Wiener. Anticipated mostly because it's going to be weird. Solondz is also the director of Happiness, that masturbation-heavy indie movie you watched in college that one time.
Courtesy of Gene Page
31
Cast: Sheri Moon Zombie, Malcolm McDowel
Director: Rob Zombie
In its own words: "The story of five carnies in 1976 kidnapped on the morning of Halloween and held hostage in a remote industrial hell."
Why it's already buzzing: Censors have already slapped Zombie's carnival-themed take on Saw with an NC-17 rating. People are dying to find out why. Not literally, of course.
Courtesy of Elliot Davis
The Birth of a Nation
Cast: Nate Parker, Armie Hammer, Aja Naomi King, Jackie Earle Haley, Gabrielle Union
Director: Nate Parker
In its own words: "This story follows Nat Turner, a literate slave and preacher whose financially strained owner, Samuel Turner, accepts an offer to use Nat's preaching to subdue unruly slaves.
Why it's already buzzing: As the world rolls its eyes at the whitewashing of this year's Oscar nominations, they also turn to Sundance for a much-needed shot of diversity. Parker, an actor you've seen in movies like Non-Stop and Beyond the Lights, could bring that relief with a movie about violence, protest, and freedom in the antebellum South.
Courtesy of Joyce Kim
Swiss Army Man
Cast: Paul Dano, Daniel Radcliffe, Mary Elizabeth Winstead
Directors: Daniel Kwan and Daniel Scheinert
In its own words: "Hank, a hopeless man stranded in the wild, discovers a mysterious dead body. Together the two embark on an epic journey to get home."
Why it's already buzzing: The directing duo behind Swiss Army Man are music video and Children's Hospital veterans. The premise sounds like a serious Weekend at Bernie's. Dano's one of the brightest young people working today. It's just math!
Courtesy of Anonymous
Holy Hell
Director: Anonymous
In its own words: "Just out of college, a young filmmaker joins a loving, secretive, and spiritual community led by a charismatic teacher in 1980s West Hollywood."
Why it's already buzzing: This documentary edits down 20 years of footage, shot within the Buddha Field cult, and is purposefully shrouded in secrecy to protect the director from interference by former members. Spooky.
Courtesy of Alex Hyner
Sleight
Cast: Jacob Latimore, Dulé Hill, Seychelle Gabriel, Sasheer Zamata, Cameron Esposito
Director: JD Dillard
In its own words: "After a young street magician is left to care for his little sister following their mother's passing, he turns to dealing drugs."
Why it's already buzzing: Attend Sundance enough times and your star-dar goes off around certain projects. Latimore is an on the rise star -- a musician, a bit player in the Maze Runner series, and big on Twitter, the new Teen Beat -- but if Sleight rests on his shoulders and is great, he should be a breakout name of the festival. Also, magic rules.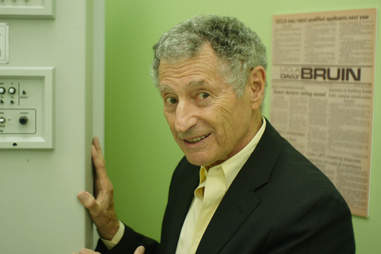 Courtesy of Peter Zeitlinger
Lo and Behold: Reveries of the Connected World
Director: Werner Herzog
In its own words: "Does the internet dream of itself?"
Why it's already buzzing: Herzog is a master documentarian known for his German-accented narration (if you haven't seen Grizzly Man or Cave of Forgotten Dreams, head directly to Netxflix). In Lo and Behold, he takes on the Internet. The whole, sprawling beast, from beginning to end. And I can tell you that he utters the phrase "malevolent druid dwarf," so you know it goes everywhere.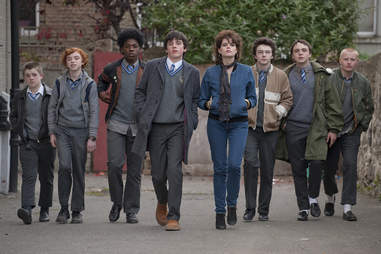 Courtesy of John Carney
Sing Street
Cast: Ferdia Walsh-Peelo, Lucy Boynton, Jack Reynor
Director: John Carney
In its own words: "A boy growing up in Dublin during the '80s escapes his strained family life and tough new school by starting a band to win the heart of a beautiful and mysterious girl."
Why it's already buzzing: Did you see Once? Did it melt your heart? Carney directed the Irish music phenomenon and is back in similar territory for this School of Rock-looking crowdpleaser. Duran Duran, Hall & Oates, The Cure, The Clash are all on the soundtrack, so brace a nostalgia bomb.
Courtesy of Allan Amato
Yoga Hosers
Cast: Lily-Rose Depp, Harley Quinn Smith, Johnny Depp, Justin Long
Director: Kevin Smith
In its own words: "When these sophomores get invited to a senior party by the school hottie, the Colleens accidentally uncover an ancient evil buried beneath their Canadian convenience store.
Why it's already buzzing: Love him or hate him, Kevin Smith sticks to his guns. After last year's Canada-set body horror movie Tusk, the Mallrats and Clerks director tackles... whatever the heck a "yoga hoser" winds up being. I'm curious enough to show up at midnight for its premiere.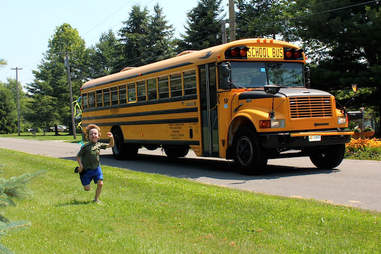 Courtesy of Mark Barden
Newtown
Director: Kim A. Snyder
In its own words: "This film traces the aftermath of the worst mass shooting of schoolchildren in American history as the traumatized community finds a new sense of purpose."
Why it's already buzzing: Second Amendment talk dominates both Republican and Democratic primary debates. Gun control is on the country's mind. And appropriately, Kim Snyder's doc takes us back to one of the most horrific moments in the conversation, from the point-of-view of those who survived it. Newtown won't be an upper, but it will be the talk of the festival. Expect Netflix or another giant distributor to pick this up and shove it down NRA members' throats.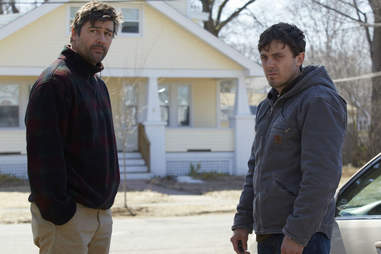 Courtesy of Claire Folger
Manchester by the Sea
Cast: Casey Affleck, Michelle Williams, Lucas Hedges, Kyle Chandler
Director: Kenneth Lonergan
In its own words: "After his older brother passes away, Lee Chandler is forced to return home to care for his 16-year-old nephew."
Why it's already buzzing: If you live outside New York, you haven't seen Lonergan's best work. An award-winning playwright, his dealings with Hollywood haven't gone well. His last film, Margaret, sat on a shelf for six years before being dumped. He also wrote the Rocky & Bullwinkle movie, Analyze This, and an episode of Doug. But Lonergan's an under-appreciated master, and the Sundance crowd will be flocking to his latest pet project, which sounds so emotional, I'd write it off if it were anyone else.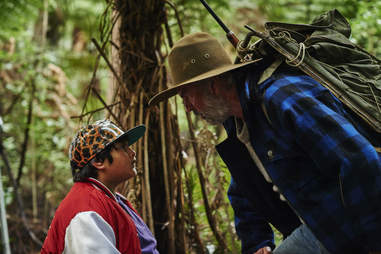 Courtesy of Taika Waititi
Hunt for the Wilderpeople
Cast: Julian Dennison, Sam Neill, Rima Te Wiata
Director: Taika Waititi
In its own words: "Ricky is a defiant young city kid who finds himself on the run with his cantankerous foster uncle in the wild New Zealand bush."
Why it's already buzzing: Waititi stopped by Sundance last year with his uproarious horror comedy What We Do in the Shadows. As he prepares to direct Thor 3 -- yes, that's how Sundance successes work -- he'll drop this tiny, Jemaine Clement-less movie on the festival crowd.
Courtesy of Gregory E. Peters
Goat
Cast: Nick Jonas, Ben Schnetzer, Virginia Gardner
Director: Andrew Neel
In its own words: "A 19-year-old boy pledges his brother's fraternity in an attempt to prove his manhood."
Why it's already buzzing: Written by Pineapple Express and Prince Avalanche director David Gordon Green, this movie is mostly known for Nick Jonas' serious-acting face. But fraternity misconduct is a hot button issue in need of dramatizing and picking apart. Done right, and it's the new Full Metal Jacket.
Courtesy of Annette Brown
The Fundamentals of Caring
Cast: Paul Rudd, Craig Roberts, Selena Gomez
Director: Rob Burnett
In its own words: "Ben becomes a caregiver to earn money. His first client, Trevor, is a hilarious 18-year-old with muscular dystrophy."
Why it's already buzzing: The Sundance movies loaded with famous people are, more often than not, busts. But Burnett, whose resume includes Late Night with David Letterman and Strangers with Candy, taking a serio-comedy material with Rudd, the most likable guy on the planet, is low risk. There's nothing wrong with a sweet movie. Open your heart, bro.
Courtesy of Thomas Dhanens
Belgica
Cast: Stef Aerts, Tom Vermeir, Charlotte Vandermeersch
Director: Felix van Groeningen
In its own words: "In the midst of Belgium's nightlife scene, two brothers start a bar and get swept up in its success"
Why it's already buzzing: A few years back, van Groeningen made a beautiful movie called The Broken Circle Breakdown. His follow-up looks like 90 minutes of tipsy Belgian dancing. Depending on how much beer I can drink before the premiere, Belgica could be the film of the fest.

Sign up here for our daily Thrillist email, and get your fix of the best in food/drink/fun.
Matt Patches is Thrillist's Entertainment Editor. He previously wrote for Grantland, Esquire.com, Vulture, The Hollywood Reporter, and The Guardian. This is his fifth Sundance, so trust him! And follow his reactions on Twitter @misterpatches.